20th Tour de Beauce Bell - 2.2
Canada, June 14-19, 2005
Main Page Results Overall standings Stage Details Previous Stage Next Stage
Stage 4a - June 17: St-Jean-de-la-Lande, ITT, 27 km
Tuft toughs it out, takes lead
By Matt Hansen in St. Georges
Nathan O'Neill (Navigators Insurance)
Photo ©: Rob Jones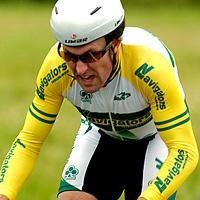 Symmetrics Svein Tuft has taken over the lead of the Tour de Beauce Bell by just five seconds, placing second on the stage behind Navigators' Nathan O'Neill. Tuft, who was a favourite to take the jersey, managed to stay under a minute behind the Aussie TT specialist which means tonight's criterium and the two following circuit races should come down to the wire.
As per tradition, grey skies prevailed, and the first twenty cyclists rode their time trial in drizzle; once again temperatures were just over 10 degrees. However, by the time the favourites began warming up the rain stopped, and although there was a wind, it was nothing like the past few days. There were a few riders who weren't in contention for the overall who still said they wanted to ride hard. Jittery Joe's - Kalahari's Tim Johnson was one of them. "Even though I'm not up there for the overall I want to try to go hard, just as a personal test. It's not often we get to do a TT, especially 27km, so I hope to ride it 100%."
Johnson should be one of the riders to watch on the weekend, after a few failed attempts to grab a stage. "Quebec city and Sunday will be days where I really want to try and get a good result. I didn't feel so good the first few days and now my legs seem to be coming back."
Svein Tuft (Symmetrics)
Photo ©: Rob Jones

Symmetrics TT specialist Eric Wohlberg was straightforward about the morning's events. "I'm sure after this we will have the yellow jersey. Svein's got a good buffer on O'Neill and he's [Tuft] is riding well. We'll see." Wohlberg too would give it a go. "We want to keep as many guys on our team in the top-ten. I mean, to say that I could take the stage or win the overall, well, that's not going to happen. I just don't have the legs right now."
Mark Walters, another good rider against the clock and still in the hunt for the overall said that he was a bit nervous. "My legs hurt, but so do everyone else's. Nathan's going really well. Heck, even when he's not going well he time trials well. Svein should take the time out of Rollin but as far as him and me...well, we'll see."
How it unfolded
The first rider who broke forty minutes was Jittery Joe rider Bruno Langlois, who held the lead for a while, before it was then passed to Italpasta - Transport Belmire's Chris Isaac, and first stage winner Martin Gilbert. The times kept on falling as the classification riders made their way on the ramp. Christian Meier (Symmetrics) rolled in what would be the fastest time for a few more spots, taking 37:27. By then, the real match-up of the day was already well underway. The wind was still a factor, with a tough cross-head wind on the second leg of the Y-shaped out and back course, which made the climbs and false flats that much more difficult...especially on tired legs.
Nathan O'Neill (Navigators Insurance)
Photo ©: Matt Hansen

The thirteenth rider to go O'Neill, stormed the course, riding a blistering 35:24. With Walters struggling on the undulating course, it became apparent the race for the yellow would be between O'Neill, Tuft and possibly Louder, unless the young Rollin had the ride of his life. Louder pulled off a good ride: 36:45, and ultimately ended up third. Tuft, known as a strongman (the twenty-year-old trains as an Ultimate Fighter in the winter and has a reputation for thoroughly enjoying hard, manual labour) rode the course well, finishing in a time of 36:16. That meant that Tuft took the jersey, but only by five seconds, assuming Rollin didn't surprise them all. As time ticked by, the yellow jersey was nowhere to be seen. Finally, the 23 year old Quebec rider appeared, who had impressed many the past few days but just didn't have it today, finishing over three minutes behind Tuft at 39:44.
Rollin was disappointed in his ride but knew very early that holding the lead was just not to be. "I knew by the first hill I had lost the race. I just didn't have it in the legs. But I'm still happy to have had leaders' jerseys the past few days [Rollin wore both the yellow and the white points jersey] and it was good experience for me. I hope some day I can finish the race in the yellow."
Tuft was pleased to take the jersey - as was widely predicted - but it was by no means easy. "It was hard out there. Really frickin' hard. My legs hurt...it's always hard to ride a TT when you are in a stage race, as opposed to when you are fresh. And the course, the hills, they all hurt. But now we have the lead and a few tough days are ahead of us. But we have a good team, so we will see."
Jeff Louder (Navigators Insurance)
Photo ©: Rob Jones

O'Neill agreed that Symmetrics has been impressive and that Tuft is the rider to beat. "They are a good team and Tuft's a good bike rider. He's been around and ridden on good teams, so it will be hard to dislodge the jersey from him. But there's two difficult stages ahead of us, after the crit tonight."
Wohlberg said his squad was up for the challenge. "I felt ok today, but now we all have a different job ahead of us."
Navigators is definitely, on paper, a stronger team, so the next few days should prove to be interesting. Health Net's John Lieswyn agreed that the bike race is far from over. ""Symmetrics is one the top three teams. These next few days will be hard to defend; it's up and down and it's tough. Svein has been around a long time and I'm sure he and his team will ride smart. Wohlberg has experience and it will be hard for Navigators, and for us, well we will still be aggressive but we are a bit of a dark horse."
The threat of rain is still present for tonight's criterium, and most riders agree that if it is a downpour they will petition the officials to nullify the results to avoid a dangerous race, such as the case in 2003.
Svein Tuft (Symmetrics)
Photo ©: Karoline Thériault

Tonight's crit is set for 6:00pm on the streets of St. Georges.
Photography
For a thumbnail gallery of these images, click here
Images by Rob Jones/www.canadiancyclist.com
Images by Matt Hansen/matthewhansen.net
Images by Karoline Thériault
Results

1 Nathan O'Neill (Aus) Navigators Insurance                  35.24.04
2 Svein Tuft (Can) Symmetrics                                 0.51.86
3 Jeff Louder (USA) Navigators Insurance                      1.21.34
4 David O'Loughlin (Irl) Navigators Insurance                 1.54.80
5 Christian Meier (Can) Symmetrics                            2.03.69
6 John Lieswyn (USA) Health Net pb Maxxis                     2.04.30
7 Dawid Krupa (Pol) Paged - MBK - Scout                       2.07.25
8 Eric Wohlberg (Can) Symmetrics                              2.20.95
9 Kacper Sowinski (Pol) Amore & Vita-Beretta-Polska           2.29.39
10 Glen Alan Chadwick (Aus) Team Cyclingnews.com              2.32.02
11 Mark Walters (Can) Navigators Insurance                    2.45.52
12 Mike Jones (USA) Health Net pb Maxxis                      2.50.92
13 Martin Gilbert (Can) Volkswagen-Trek                       3.26.50
14 Dominique Perras (Can) Canadian National Team              3.41.67
15 Doug Ollerenshaw (USA) Health Net pb Maxxis                3.43.98
16 Cesar Grajales (Col) Navigators Insurance                  3.44.03
17 Justin England (USA) Health Net pb Maxxis                  3.55.98
18 Brandon Crichton (Can) Italpasta - Belmire Transport       3.57.33
19 Krzysztof Mermer (Pol) Paged - MBK - Scout                 3.59.10
20 Chris Isaac (Can) Italpasta - Belmire Transport            4.02.13
21 Vassili Davidenko (Rus) Navigators Insurance               4.02.91
22 Dominique Rollin (Can) Equipe du Quebec                    4.20.00
23 Bruno Langlois (Can) Jittery Joe's-Kalahari                4.24.43
24 Oleg Grichkine (Rus) Navigators Insurance                  4.28.71
25 Alexandre Nadeau (Can) Equipe du Quebec                    4.31.99
26 Jonathan Sundt (USA) Jittery Joe's-Kalahari                4.45.42
27 Timothy Johnson (USA) Jittery Joe's-Kalahari               4.45.59
28 Cory Jay (Can) CRCA/Sakonnet Technology                    4.47.96
29 Peter Sanowar (Can) Italpasta - Belmire Transport          4.51.52
30 Jeremy Vennell (NZl) Team Cyclingnews.com                  4.59.78
31 Kevin Lacombe (Can) Volkswagen-Trek                        5.00.44
32 Max Plaxton (Can) Canadian National Team                   5.11.72
33 Mike Sayers (USA) Health Net pb Maxxis                     5.17.06
34 Jacob Erker (Can) Symmetrics                               5.17.15
35 Zach Bell (Can) Canadian National Team                     5.24.31
36 Cameron Jennings (Aus) Team Cyclingnews.com                5.25.32
37 Raphaël Tremblay (Can) Volkswagen-Trek                     5.28.35
38 Kimmo Kananen (Fin) Amore & Vita-Beretta-Polska            5.29.47
39 Evan Elken (USA) Jittery Joe's-Kalahari                    5.30.06
40 Ryan Roth (Can) Canadian National Team                     5.34.99
41 Chris Kuhl (USA) CRCA/Sakonnet Technology                  5.36.81
42 Charles Dionne (Can) Canadian National Team                5.38.19
43 Wojciech Kalemba (Pol) Paged - MBK - Scout                 5.43.87
44 Przemyslaw Mikolajczyk (Pol) Paged - MBK - Scout           5.44.44
45 Sven De Weerdt (Bel) Team Cyclingnews.com                  5.46.07
46 Mathieu Roy (Can) Equipe du Quebec                         6.06.65
47 Richard Bowker (NZl) Italpasta - Belmire Transport         6.18.19
48 Jean-Sébastien Béland (Can) Equipe du Quebec               6.43.16
49 Finn Heitmann (Ger) Stevens Racing Team                    6.43.71
50 Andrew Pinfold (Can) Symmetrics                            7.05.84
51 Dustin Macburnie (Can) Yeti                                7.19.45
52 Leigh Palmer (Aus) Team Cyclingnews.com                    7.26.26
53 Bradley Fairall (Can) Symmetrics                           7.37.95
54 Johny Hayes (USA) CRCA/Sakonnet Technology                 7.38.18
55 Peter Morse (Can) Yeti                                     7.44.93
56 Cory Lange (Can) Symmetrics                                7.51.82
57 Jean-Sébastien Maheu (Can) Volkswagen-Trek                 7.55.61
58 Nat Faulkner (Can) Italpasta - Belmire Transport           8.08.84
59 Jamie Burrow (GBr) Amore & Vita-Beretta-Polska             8.09.91
60 Domenico Passuello (Ita) Amore & Vita-Beretta-Polska       8.13.95
61 Jens Schwedler (Ger) Stevens Racing Team                   8.20.70
62 Daniel Maclaren (Can) Italpasta - Belmire Transport        8.21.71
63 Tomasz Lesniak (Pol) Paged - MBK - Scout                   8.31.86
64 Alex Richer (Can) Yeti                                     8.59.09
65 Claudio Bartoli (Ita) Amore & Vita-Beretta-Polska          9.03.14
66 Tom Barras (GBr) Team Cyclingnews.com                      9.40.56
DNS Jean-François Laroche (Can) Equipe du Quebec
DNS Christian Heule (Swi) Stevens Racing Team
 
General classification after stage 4a
 
1 Svein Tuft (Can) Symmetrics                             13.37.59
2 Nathan O'Neill (Aus) Navigators Insurance                   0.06
3 Jeff Louder (USA) Navigators Insurance                      0.26
4 John Lieswyn (USA) Health Net pb Maxxis                     1.13
5 Dawid Krupa (Pol) Paged - MBK - Scout                       1.15
6 Mark Walters (Can) Navigators Insurance                     1.46
7 Glen Alan Chadwick (Aus) Team Cyclingnews.com               1.49
8 David O'Loughlin (Irl) Navigators Insurance                 2.28
9 Kacper Sowinski (Pol) Amore & Vita-Beretta-Polska           2.29
10 Mike Jones (USA) Health Net pb Maxxis                      2.56
11 Dominique Rollin (Can) Equipe du Quebec                    3.09
12 Eric Wohlberg (Can) Symmetrics                             3.26
13 Brandon Crichton (Can) Italpasta - Belmire Transport       4.02
14 Krzysztof Mermer (Pol) Paged - MBK - Scout                 4.05
15 Jacob Erker (Can) Symmetrics                               5.23
16 Dominique Perras (Can) Canadian National Team
17 Doug Ollerenshaw (USA) Health Net pb Maxxis                5.24
18 Christian Meier (Can) Symmetrics                           6.06
19 Wojciech Kalemba (Pol) Paged - MBK - Scout                 6.09
20 Cameron Jennings (Aus) Team Cyclingnews.com                8.00
21 Jean-Sébastien Maheu (Can) Volkswagen-Trek                 9.37
22 Kimmo Kananen (Fin) Amore & Vita-Beretta-Polska           10.21
23 Charles Dionne (Can) Canadian National Team               10.30
24 Mike Sayers (USA) Health Net pb Maxxis                    12.20
25 Martin Gilbert (Can) Volkswagen-Trek                      13.44
26 Cesar Grajales (Col) Navigators Insurance                 14.57
27 Justin England (USA) Health Net pb Maxxis                 15.09
28 Vassili Davidenko (Rus) Navigators Insurance              21.21
29 Chris Isaac (Can) Italpasta - Belmire Transport           21.31
30 Timothy Johnson (USA) Jittery Joe's-Kalahari              22.14
31 Max Plaxton (Can) Canadian National Team                  22.40
32 Oleg Grichkine (Rus) Navigators Insurance                 22.50
33 Cory Jay (Can) CRCA/Sakonnet Technology                   23.17
34 Chris Kuhl (USA) CRCA/Sakonnet Technology                 23.58
35 Finn Heitmann (Ger) Stevens Racing Team                   24.12
36 Raphaël Tremblay (Can) Volkswagen-Trek                    24.23
37 Domenico Passuello (Ita) Amore & Vita-Beretta-Polska      24.37
38 Jamie Burrow (GBr) Amore & Vita-Beretta-Polska            25.38
39 Sven De Weerdt (Bel) Team Cyclingnews.com                 26.07
40 Tomasz Lesniak (Pol) Paged - MBK - Scout                  26.20
41 Claudio Bartoli (Ita) Amore & Vita-Beretta-Polska         26.32
42 Nat Faulkner (Can) Italpasta - Belmire Transport          26.37
43 Andrew Pinfold (Can) Symmetrics                           28.32
44 Kevin Lacombe (Can) Volkswagen-Trek                       28.41
45 Alexandre Nadeau (Can) Equipe du Quebec                   30.32
46 Dustin Macburnie (Can) Yeti                               31.08
47 Cory Lange (Can) Symmetrics                               33.53
48 Jeremy Vennell (NZl) Team Cyclingnews.com                 37.17
49 Ryan Roth (Can) Canadian National Team                    39.01
50 Bradley Fairall (Can) Symmetrics                          39.55
51 Jonathan Sundt (USA) Jittery Joe's-Kalahari               42.30
52 Richard Bowker (NZl) Italpasta - Belmire Transport        44.04
53 Leigh Palmer (Aus) Team Cyclingnews.com                   45.12
54 Bruno Langlois (Can) Jittery Joe's-Kalahari               46.21
55 Tom Barras (GBr) Team Cyclingnews.com                     46.29
56 Przemyslaw Mikolajczyk (Pol) Paged - MBK - Scout          47.14
57 Evan Elken (USA) Jittery Joe's-Kalahari                   47.27
58 Mathieu Roy (Can) Equipe du Quebec                        48.03
59 Jens Schwedler (Ger) Stevens Racing Team                  50.17
60 Jean-Sébastien Béland (Can) Equipe du Quebec              58.14
61 Zach Bell (Can) Canadian National Team                    59.38
62 Peter Morse (Can) Yeti                                  1.03.43
63 Peter Sanowar (Can) Italpasta - Belmire Transport       1.05.25
64 Alex Richer (Can) Yeti                                  1.28.28
65 Johny Hayes (USA) CRCA/Sakonnet Technology              1.31.23
66 Daniel Maclaren (Can) Italpasta - Belmire Transport     1.48.40
 
Points classification
 
1 David O'Loughlin (Irl) Navigators Insurance                   37 pts
2 Jeff Louder (USA) Navigators Insurance                        37
3 Dominique Rollin (Can) Equipe du Quebec                       33
4 Svein Tuft (Can) Symmetrics                                   31
5 Mark Walters (Can) Navigators Insurance                       30
6 Dawid Krupa (Pol) Paged - MBK - Scout                         30
7 Domenico Passuello (Ita) Amore & Vita-Beretta-Polska          26
8 John Lieswyn (USA) Health Net pb Maxxis                       23
9 Martin Gilbert (Can) Volkswagen-Trek                          22
10 Kacper Sowinski (Pol) Amore & Vita-Beretta-Polska            21
11 Nathan O'Neill (Aus) Navigators Insurance                    20
12 Vassili Davidenko (Rus) Navigators Insurance                 19
13 Mike Jones (USA) Health Net pb Maxxis                        19
14 Glen Alan Chadwick (Aus) Team Cyclingnews.com                17
15 Krzysztof Mermer (Pol) Paged - MBK - Scout                   14
16 Wojciech Kalemba (Pol) Paged - MBK - Scout                   13
17 Tomasz Lesniak (Pol) Paged - MBK - Scout                     12
18 Christian Meier (Can) Symmetrics                             11
19 Eric Wohlberg (Can) Symmetrics                               10
20 Brandon Crichton (Can) Italpasta - Belmire Transport         10
21 Jacob Erker (Can) Symmetrics                                 10
22 Kimmo Kananen (Fin) Amore & Vita-Beretta-Polska              10
23 Tom Barras (GBr) Team Cyclingnews.com                        10
24 Charles Dionne (Can) Canadian National Team                   6
25 Jean-Sébastien Maheu (Can) Volkswagen-Trek                    4
26 Jean-Sébastien Béland (Can) Equipe du Quebec                  3
27 Doug Ollerenshaw (USA) Health Net pb Maxxis                   3
28 Przemyslaw Mikolajczyk (Pol) Paged - MBK - Scout              2
29 Timothy Johnson (USA) Jittery Joe's-Kalahari                  2
30 Dominique Perras (Can) Canadian National Team                 2
31 Jonathan Sundt (USA) Jittery Joe's-Kalahari                   1
32 Max Plaxton (Can) Canadian National Team                      1
 
Mountains classification
 
1 Wojciech Kalemba (Pol) Paged - MBK - Scout                    36 pts
2 Mike Jones (USA) Health Net pb Maxxis                         24
3 Nathan O'Neill (Aus) Navigators Insurance                     17
4 Cesar Grajales (Col) Navigators Insurance                     14
5 Glen Alan Chadwick (Aus) Team Cyclingnews.com                 14
6 Krzysztof Mermer (Pol) Paged - MBK - Scout                    12
7 Dawid Krupa (Pol) Paged - MBK - Scout                         12
8 Jean-Sébastien Béland (Can) Equipe du Quebec                  10
9 Timothy Johnson (USA) Jittery Joe's-Kalahari                  10
10 Kimmo Kananen (Fin) Amore & Vita-Beretta-Polska              10
11 Jeff Louder (USA) Navigators Insurance                        9
12 Vassili Davidenko (Rus) Navigators Insurance                  8
13 Dominique Perras (Can) Canadian National Team                 8
14 Doug Ollerenshaw (USA) Health Net pb Maxxis                   7
15 Dominique Rollin (Can) Equipe du Quebec                       6
16 Chris Isaac (Can) Italpasta - Belmire Transport               6
17 John Lieswyn (USA) Health Net pb Maxxis                       6
18 Mark Walters (Can) Navigators Insurance                       5
19 Kacper Sowinski (Pol) Amore & Vita-Beretta-Polska             4
20 Justin England (USA) Health Net pb Maxxis                     3
21 Svein Tuft (Can) Symmetrics                                   1
22 Oleg Grichkine (Rus) Navigators Insurance                     1
 
Team classification
 
1 Navigators Insurance                                    40.54.44
2 Symmetrics Cycling                                          4.08
3 Health Net pb Maxxis                                        8.48
4 Paged - MBK - Scout                                         9.56
5 Canada National Team                                       31.16
6 Team Cyclingnews.com                                       33.25
7 Volkswagen Trek                                            34.42
8 Amore & Vita – Beretta                                     36.50
9 Equipe Du Quebec                                           41.02
10 Italpasta - Transport Belmire                             48.07
11 Jittery Joe's - Kalahari                                1.50.19
12 CRCA/Sakonnet Technology                                2.13.43
13 Yeti                                                    2.24.03