Giro pro bike special: Stuart O'Grady's fixed-wheel Wilier
Fixed Wilier for O'Grady's maglia rosa bid
The prologue of this year's Giro d'Italia is 1,150m long, straight and flat. Hardly seems worth lugging around a time trial bike with gears and all the trimmings for does it? Stuart O'Grady doesn't think so either as he'll be rolling out of the start house on a very special one-off fixed-wheel Wilier. Tim Maloney has the details.
The fix is in.
Photo ©: Tim Maloney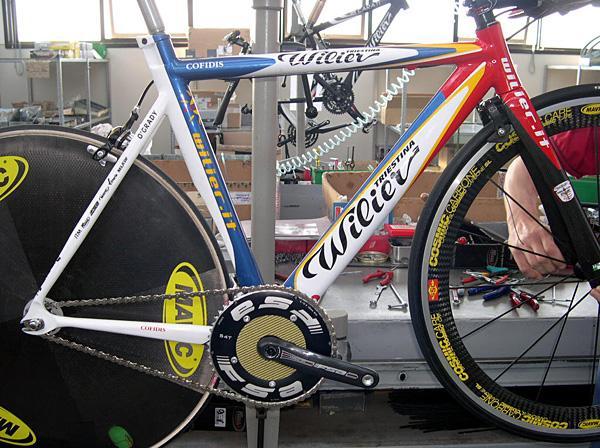 The rear end
Photo ©: Tim Maloney

While Stuart O'Grady and his Cofidis teammates Sylvain Chavanel and Jimmy Engoulvent were testing their positions in a Paris wind tunnel last month, the sprint specialist from Adelaide, Australia had an idea. O'Grady suggested to Andrea Gastaldello of Cofidis bike sponsor Wilier Triestina that Wilier build him a special one-off track-style bike for today's straight, flat 1.15km prologue of the Giro d'Italia in Reggio Calabria.
All-aluminium main frame
Photo ©: Wilier

O'Grady is best known as a roadman, but his track palmares includes an Olympic gold medal in the Madison at Athens last year, so he's hardly unfamiliar with riding fixie. Using a special, fixed gear, track-style bike was obvious for the short, straight shot that could lead to pink glory. "Stuart thought he could have an advantage with this type of bike," Gastaldello told Cyclingnews, "so we got to work and came up with this special bike for him. Now we're hoping for a good result on Saturday!"
The front brake
Photo ©: Wilier

Before Wilier Triestina shipped the special Giro prologue fixie bike to O'Grady in Reggio Calabria, Cyclingnews managed to sneak in the back door of Wilier's plant in Rossano Veneto to snap a few spy pix. Stuart's Wilier Triestina fixie is similar to the Team Cofidis Scandium-framed road bikes that Cofidis uses alongside their Le Roi carbon fiber bikes, but without the white carbon fiber stays. Wilier Triestina then substituted rear track dropouts for the normal road dropouts.
ITM aero bars
Photo ©: Wilier

This special bike has a Mavic rear disc wheel with a 14 tooth cog, and the drivetrain is completed with FSA carbon fiber 172.5mm cranks. O'Grady will use a front chainring of either 53 or 54, depending on the conditions, as the Lungomare Falcomata' along the Straits of Messina in Reggio Calabria can often be windy. Up front, O'Grady will likely have Mavic's iO five spoke wheel and both hoops will have Vittoria 180g track tyres.
The finishing touches
Photo ©: Tim Maloney
At the end of his kilometer and change sprint, Wilier Triestina has a mounted a Mavic rear brake and a low-profile Zero Gravity front brake, tucked behind the fork for better aerodynamics. ITM's new carbon fibre Nivola TT handlebars with Vision brake levers complete the package for this unique bike that will probably only be ridden once. Hopefully for O'Grady, Cofidis and Wilier it will will pay off with a maglia rosa for the Australian rider.
Photography
For a thumbnail gallery of these images, click here