Grand Prix of Wales - CDM
United Kingdom, August 20, 2005
Main Page Results World Cup standings
Arndt takes points for Wood
Ljungskog moves a little closer
By Kristy Scrymgeour
Judith Arndt (Nürnberger)
Photo ©: John Pierce/Photosport International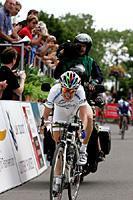 Judith Arndt (Nürnberger), donning the rainbow jersey of World Champion, led her team to victory in Wales today, the first World Cup series race to hit British shores. Riding primarily to help her teammate Oenone Wood maintain the series lead, Arndt's win took possible points away from Suzanne Ljungskog (Buitenpoort - Flexpoint), preventing her from taking back the lead.
On a course obviously designed for hometown hero Nicole Cooke, who prefers tough steep climbs, it was ironic that Cooke couldn't start today due to an ongoing knee injury. Organizers did a good job in making the course tough however, described by Olivia Gollan of Nürnberger as "bloody hard." The 114km incorporated three laps of 38 km each. Within each lap was a very hard 4.5km climb at Wentwood followed b a steep, fast descent, and another climb to the finish of over 1km. The final climb was extremely steep, climbing 500m to start with before dropping slightly and climbing again before flattening out with 300m to the finish.
The first two laps of the race didn't see much aggressive activity, with the climbs enough to make things tough. Emma Pooley (British National Team) hammered up the climb on both laps, tearing people's legs apart as she went. At the top of the main climb each lap, a group of about 20 riders found themselves with a gap. The steep descent helped to get things back together each time and it was groupo compatto going into the last lap.
After the descent on the final climb the attacks started, with Nürnberger riders Tina Liebig and Olivia Gollan starting things off. With 15km to go, Dutch rider Adrie Visser (Van Bemmelen - AA Drink) put in a very strong attack that looked like it could be dangerous. Gollan tried to bridge, but didn't make it and ended up on the front of the bunch, her attack countered by Liebig, whose surge helped bring the bunch back up to Visser with 12km remaining in the race.
The flurry of attacks continued with Sigrid Corneo and Modesta Vzesniauskaite (Nobili Rubinetterie), Liebig, Gollan and Natalie Bates (Van Bemmelen - AA Drink) all trying their hand. Nothing stayed away and with 4km remaining, Bates was back on the front leading out to the bottom of the final steep ascent to the finish, hoping to help her teammate Theresa Senff.
From the bottom of the climb, it was full on. Senff attacked but the major players were able to go with her. A group of about ten pulled away from the bunch. Towards the top Arndt hit the front with Wood on her wheel ready to lead out. Seeing the opportunity to let her teammate go, Wood backed off, opening up a gap. This forced Ljungskog to have to come around Wood, but she couldn't reach the World Champ, who had 30m by the finish line. Ljungskog won the sprint for second place in front of Wood, but the 50 points for second place were not quite enough to take over the series lead, as Wood was able to hold onto third place, earning 35 points.
Arndt was happy with the way things worked out and told Cyclingnews after the race, "it wasn't a very aggressive race, but when attacks went, one of us was always there. We worked really well together. The climb to the finish I went as hard as I could to actually lead Oenone out," she added, "but she gapped me off and Ljungskog couldn't close the gap. I never looked back and just gave everything. I'm very happy that Oenone keeps the jersey and that Olivia had a really good race. She looks so much better again [after recovering all season from a head injury] and this is good."
Wood now leads the series by only four points from Ljungskog with three races remaining. Next week in Plouay is another good course for Ljungskog, but the remaining two are flat, lending more to Nürnberger's sprinting strength.
Photography
For a thumbnail gallery of these images, click here
Images by John Pierce/Photosport International
Results
1 Judith Arndt (Ger) Equipe Nürnberger Versicherung                 3.13.11
2 Susanne Ljungskog (Swe) Buitenpoort - Flexpoint                      0.02
3 Oenone Wood (Aus) Equipe Nürnberger Versicherung
4 Anita Valen (Nor) Vlaanderen - Capri Sonne - T Interim
5 Modesta Vzesniauskaite (Ltu) Nobili Rubinetterie - Menikini - Cogeas
6 Andrea Graus (Aut) ELK Haus Tirol Noe
7 Mirjam Melchers-Van Poppel (Ned) Buitenpoort - Flexpoint
8 Theresa Senff (Ger) Van Bemmelen - AA Drink
9 Sue Palmer-Komar (Can) Canadian National Team
10 Svetlana Bubenkova (Rus) P.M.B. Fenixs
11 Trixi Worrack (Ger) Equipe Nürnberger Versicherung                  0.14
12 Amber Neben (USA) Buitenpoort - Flexpoint
13 Sigrid Corneo (Ita) Nobili Rubinetterie - Menikini - Cogeas         0.16
14 Sofie Goor (Bel) Vlaanderen - Capri Sonne - T Interim
15 Erinne Willock (Can) Canadian National Team                         0.20
16 Miho Oki (Jpn) Nobili Rubinetterie - Menikini - Cogeas              0.22
17 Katherine Bates (Aus) Van Bemmelen - AA Drink                       0.25
18 Laure Werner (Bel) Vlaanderen - Capri Sonne - T Interim             0.30
19 Julia Martissova (Rus) P.M.B. Fenixs
20 Suzanne De Goede (Ned) Van Bemmelen - AA Drink
21 Adrie Visser (Ned) Van Bemmelen - AA Drink
22 Claudia Haeusler (Aut) Elk Haus-Tirol Noe
23 Rachel Heal (GBr) British National Team
24 Emma Pooley (GBr) British National Team
25 Wendy Houvenaghel (GBr) Raleigh-ERV                                 0.45
26 Tina Liebig (Ger) Equipe Nürnberger Versicherung
27 Karen Steurs (Bel) Belgian National Team
28 Olivia Gollan (Aus) Equipe Nürnberger Versicherung
29 An Van Rie (Bel) Belgian National Team                              0.51
30 Isabella Wieser (Aut) ELK Haus Tirol Noe                            0.54
31 Kathy Ingels (Bel) Belgian National Team
32 Helen Wyman (GBr) British National Team
33 Joanne Kiesanowski (NZl) Nobili Rubinetterie - Menikini - Cogeas
34 Charlotte Goldsmith (GBr) Vlaanderen - Capri Sonne - T Interim
35 Linda Villumsen Serup (Den) Buitenpoort - Flexpoint                 1.12
36 Luise Keller (Ger) Buitenpoort - Flexpoint
37 Lada Kozlikova (Cze) Buitenpoort - Flexpoint
38 Nathalie Bates (Aus) Van Bemmelen - AA Drink                        1.39
39 Brenda Pennell (GBr) Raleigh-ERV                                    5.06
40 Catherine Hare (GBr) British National Team
41 Monika Schachl (Aut) ELK Haus Tirol Noe
42 Madeleine Lindberg (Swe) Equipe Nürnberger Versicherung             5.37
43 Liesbeth De Vocht (Bel) Belgian National Team                       7.35
44 Natacha Maes (Bel) Belgian National Team
45 Cindy Pieters (Bel) Vlaanderen - Capri Sonne - T Interim            8.43
46 Emma Silversides (GBr) Raleigh-ERV                                  8.59
47 Emma Davies (GBr) Vlaanderen - Capri Sonne - T Interim             10.07

World Cup standings after round 8
1 Oenone Wood (Aus) Equipe Nürnberger Versicherung                     277
2 Susanne Ljungskog (Swe) Buitenpoort - Flexpoint                      273
3 Mirjam Melchers (Ned) Buitenpoort - Flexpoint                        217
4 Judith Arndt (Ger) Equipe Nürnberger Versicherung                    184
5 Nicole Cooke (GBr) Safi - Pasta Zara Manhattan                       125
6 Suzanne De Goede (Ned) Van Bemmelen - AA Drink                       115
7 Trixi Worrack (Ger) Equipe Nürnberger Versicherung                    99
8 Andrea Graus (Aut) ELK Haus Tirol Noe                                 78
9 Rochelle Gilmore (Aus) Safi - Pasta Zara Manhattan                    75
10 Geneviève Jeanson (Can)                                              75
11 Anita Valen (Nor) Vlaanderen - Capri Sonne - T Interim               72
12 Nicole Brändli (Swi) Bigla                                           72
13 Joanne Kiesanowski (NZl) Nobili Rubinetterie - Menikini - Cogeas     59
14 Modesta Vzesniauskaite (Ltu) Nobili Rubinetterie - Menikini - Cogeas 56
15 Theresa Senff (Ger) Van Bemmelen - AA Drink                          55
16 Linda Serup (Den) Buitenpoort - Flexpoint                            52
17 Katherine Bates (Aus) Van Bemmelen - AA Drink                        50
18 Miho Oki (Jpn) USC Chirio Forno d'Asolo                              50
19 Tina Mayolo Pic (USA)                                                41
20 Sigrid Corneo (Ita) Nobili Rubinetterie - Menikini - Cogeas          37
21 Tatiana Guderzo (Ita) Top Girls Fassa Bortolo Hausbrandt Caffé       37
22 Monia Baccaille (Ita)                                                35
23 Amber Neben (USA) Buitenpoort - Flexpoint                            34
24 Susan Palmer-Komar (Can)                                             30
25 Erinne Willock (Can)                                                 30
26 Regina Schleicher (Ger) Equipe Nürnberger Versicherung               30
27 Annette Beutler (Swi)                                                30
28 Monica Holler (Swe) ELK Haus Tirol Noe                               30
29 Sara Carrigan (Aus) Van Bemmelen - AA Drink                          27
30 Jenny Macpherson (Aus)                                               27
31 Giorgia Bronzini (Ita) USC Chirio Forno d'Asolo                      27
32 Edita Pucinskaite (Ltu) Nobili Rubinetterie - Menikini - Cogeas      26
33 Melissa Holt (NZl) Team S.A.T.S                                      24
34 Magali Le Floch (Fra)                                                24
35 Luisa Tamanini (Ita) Team Bianchi - Aliverti                         23
36 Eneritz Iturriaga (Spa)                                              21
37 Dorthe Lohse (Den) Team S.A.T.S                                      20
38 Madeleine Sandig (Ger)                                               19
39 Christine Thorburn (USA)                                             18
40 Sabrina Emmasi (Swi) Bigla                                           18
41 Joane Somarriba (Spa)                                                18
42 Barbara Lancioni (Ita)                                               17
43 Tanja Schmidt-Hennes (Ger) Buitenpoort - Flexpoint                   15
44 Elisabeth Chevanne-Brunel (Fra) Pruneaux D'Agen                      15
45 Lynn Gaggioli (USA)                                                  13
46 Dorothy Cowden (USA)                                                 13
47 Katie Brown (Aus) SS Lazio Ciclismo Team Ladispoli                   13
48 Svetlana Bubnenkova (Rus) P.M.B. Fenixs                              11
49 Tatiana Shishkova (Mda) P.M.B. Fenixs                                10
50 Edwige Pitel (Fra) Univega                                           10
51 Kate Nichols (Aus)                                                   10
52 Gunn-Rita Dahle (Nor) Safi - Pasta Zara Manhattan                    10
53 Sofie Goor (Bel) Vlaanderen - Capri Sonne - T Interim                 9
54 Verena Joos (Ger)                                                     9
55 Sarah Grab (Swi) Univega                                              9
56 Trine Hansen (Den) A.S. Team F.R.W                                    8
57 Maja Adamsen (Den) S.C. Michela Fanini Record Rox                     8
58 Tammara Boyd (NZl)                                                    8
59 Anna Zugno (Ita) Safi - Pasta Zara Manhattan                          7
60 Katia Longhin (Ita) S.C. Michela Fanini Record Rox                    7
61 Veerle Ingels (Bel) Vlaanderen - Capri Sonne - T Interim              7
62 Loes Gunnewijk (Ned) Vrienden Van Het Platteland                      7
63 Sarah Düster (Ger) Therme Skin Care                                   7
64 Patricia Schwager (Swi)                                               6
65 Marianna Lorenzoni (Ita) A.S. Team F.R.W                              6
66 Fabiana Luperini (Ita) A.S. Team F.R.W                                6
67 Marina Gloria Chirio (Ita) USC Chirio Forno d'Asolo                   5
68 Olga Slyussareva (Rus)                                                5
69 Lada Kozlikova (Cze) Buitenpoort - Flexpoint                          5
70 Evy Van Damme (Bel) Vlaanderen - Capri Sonne - T Interim              5
71 Rosa Maria Bravo (Spa)                                                4
72 Alessandra d'Ettorre (Ita)                                            4
73 Nathalie Bates (Aus) Van Bemmelen - AA Drink                          4
74 Lyne Bessette (Can)                                                   3
75 Josephine Groenveld (Ned) Van Bemmelen - AA Drink                     3
76 Laure Werner (Bel) Vlaanderen - Capri Sonne - T Interim               3
77 Daniela Fusar Poli (Ita) Nobili Rubinetterie - Menikini - Cogeas      2
78 Julia Martissova (Rus) P.M.B. Fenixs                                  2
79 Helen Kelly (Aus)                                                     1
80 Ana Paola Madrinan Villegas (Spa)                                     1
81 Emma Rickards (Aus)                                                   1
82 Natalya Kachalka (Ukr) A.S. Team F.R.W                                1
83 Sofie Creux (Fra)                                                     1