USPRO Criterium Championships - 1.1
Chicago, USA, August 20-21, 2005
Main Page Results Previous Race Next Race
Race 3 - August 21: Elite women, 50km
Fantastic four for Tina Pic
Defending champ too fast for field
By Mark Zalewski, North American Editor in Downers Grove, Ill.
Tina Pic (Quark Cycling Team)
Photo ©: Mark Zalewski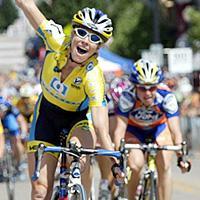 After winning three years in a row, Tina Pic (Quark) has to find new ways to win the criterium championship so as to not bore the crowd -- so she decided to start her sprint from three turns-to-go, and led the whole way home. "I was more nervous than ever!" said a relieved Pic after the race. "I went way too early -- I was hurting! Laura [Van Gilder] was stuck behind, so I just kept pedaling."
Finishing behind Pic another time this year was Nicole Freedman (Ford-Basis) who was astonished by the way Pic won this race. "The race was Tina -- she jumped with three turns to go!" said Freedman. "Only she can hold that, she's amazing."
Strangely enough, earlier in the race two of Pic Quark teammates, Sarah Uhl and Laura Van Gilder, were in a good seven-rider break that contained pro-am winner Lara Kroepsch (T-Mobile) as well as other strong riders. "Sara was working hard and I was confident in Tina for a sprint," said Van Gilder. In short, Quark held the cards either way and when the break came back, the Tina Pic show was on. "We were happy to have them in there," said Pic.
"I wish [Uhl and Van Gilder] had worked more," said Kroepsch. "But they eventually sat-up. They didn't have control at the end, but they kept the speed high enough." Pic then made her move once she saw the pack starting to swarm around her team's small lead-out. Following her was a slew of riders who had rested in the middle of the pack all morning, including Freedman, Shannon Hutchison (Aaron's Corporate Furnishings) and Magen Long (The Bicycle Store).
"I had just enough momentum from the back side of the course to bring it in," said Pic.
Photography
For a thumbnail gallery of these images, click here
Images by Mark Zalewski/Cyclingnews.com
Images by Matthew Moses/www.moses-images.com
Images by Ken Carl/www.kencarl.com
Results
1 Tina Pic (Quark Cycling Team)                                        
2 Nicole Freedman (Ford-Basis cycling)                                 
3 Jen McRae (Aaron's Corporate Furnishings)                            
4 Shannon Hutchison (Aaron's Corporate Furnishings)                    
5 Magen Long (the bicycle store)                                       
6 Kimberley Cunningham (Morgan Stanley 24 Hour Fitness Specialized)    
7 Mackenzie Dickey (Team Lipton)                                       
8 Kori Seehafer (T-Mobile)                                             
9 Brenda Lyons (Victory Brewing)                                       
10 Mindi Martin (Mercy Cycling)                                        
11 Sherri Stedje (The Bicycle store)                                   
12 Megan Elliot (Bianchi/Grand Performance)                            
13 Meredith Miller (Team Lipton)                                       
14 Molly Vetter-Smith (Mesa Cycles)                                    
15 Brooke O'Connor (Hub Racing)                                        
16 Sarah Tillotson (ABD/Trek-VW)                                       
17 Sheba Farrin (Hub Racing)                                           
18 Melissa Sanborn (Subway)                                            
19 Lara Kroepsch (T-Mobile)                                            
20 Laura Van Gilder (Quark Cycling Team)                               
21 Elizabeth Begosh (Velo Bella)                                       
22 Anne Meyer (Mercy- Specialized)                                     
23 Nichole Wangsgard (Express Racing/Subway)                           
24 Renee Eastman (Vitamin Cottage)                                     
25 Brooke Miller (Squadra Torani)                                      
26 Leigh Valletti (Travelgirl Magazine)                                
27 Mari Holden (T-Mobile)                                              
28 Shawn Heidgen (TDS/Schwalbe)                                        
29 Kimberly Baldwin (T-Mobile)                                         
30 Crystal Howard (Subway)                                             
31 Grace Fleury (Quark Cycling Team)                                   
32 Heather Albert (Ford-Basis cycling)                                 
33 Tracy Sproule (Aaron's/l5flyers)                                    
34 Katharina Weber (Team Kenda Tire)                                   
35 Robin Farina (DeFeet Women's Cycling)                               
36 Courtenay Brown (McGuire Cycling)                                   
37 Megan Hottman (High Gear)                                           
38 Kele Murdin (Ford-Basis cycling)                                    
39 Eliz Morse (Team Fugi)                                              
40 Chrissy Ruiter (Ford-Basis cycling)                                 
41 Catherine Powers (Colavita-Cooking Light)                           
42 Candice Blickem (Quark Cycling Team)                                
43 Kelly Benjamin (the bicycle store)                                  
44 Debbie Dust (Team Kenda Tire)                                       
45 Rebecca Wellons (Gearworks/Spin Arts Cycling Team)                  
46 Trudy Van Der Straaten                                              
47 Sarah Uhl (Quark Cycling Team)                                      
48 Kristen Scheffenacker (velo bella)                                  
49 Nikki Raspa (Hub Racing)                                            
50 Carrie Cash (Women's Elite)                                         
51 Martina Patella (Easton/Specialized)                                
52 Lee Anne Blanchard (Aeron Rents)                                    
53 Pam Hinton (Mercy Cycling)                                          
54 Katharine Carroll (Ford-Basis cycling)                              
55 Emily Westbrooke (Subway)                                           
56 Becky Broeder (TDS/Schwalbe)