GP Ouest France-Plouay - CDM & ProT
France, August 27-28, 2005
Main Page Results World Cup standings Next Race
August 27: Women's World Cup, 113km
Cantele puts herself among the best
Wood secures her lead in the World Cup series
By Kristy Scrymgeour
Noemi Cantele wins the Grand-Prix de Plouay
Photo ©: Régis Garnier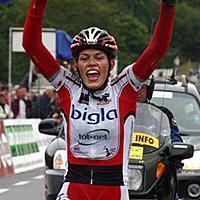 Noemi Cantele (Team Bigla) put herself on to the scoreboard of the World Cup series today, with a win in the ninth round held in Plouay, France. The Italian went with a late move by defending champion of this race Edita Pucinskaite (Nobili Rubinetterie) and outsprinted her on the line to take the win.
The course at Plouay is a tough one consisting of eight laps of a 14km course with some tough climbing and conquered in the past by strong World Cup riders such as Nicole Cooke, Anna Wilson and Petra Rossner. Today the race was aggressive as usual with World Champion Judith Arndt (Equipe Nürnberger) starting the attacks to make things hard for rival team Buitenpoort-Flexpoint, whose leader Suzanne Ljungskog sat only four points behind Oenone Wood at the start of today's race.
Arndt's attack was followed by Ljunsgkog's teammate Mirjam Melchers-Van Poppel, who sits in third in the standings. With three laps to go French National Team riders Marina Jaunatre continued the attacks and got a significant gap on the field, holding 50 second with two laps remaining in the race.
When caught, Zoulfia Zabirova (Team Bigla) attacked trying one of her late race moves. Her attack did not succeed either but the attempt helped set up her teammate Cantele to go with the counter attack of Pucinskaite. The pair crossed the finish line 18 seconds up on the bunch with one lap to go in the race. From here they worked well together to extend their gap. By the sommet de Ty Marrec the pair had thirty second and were safe to fight it out amongst each other.
Unlike last year, Pucinskaite was not able to stay with her opponent and Cantele edged away from her with 100m to go. 27 riders were left in the main bunch to sprint for third place, which was taken by Swedish rider Monica Holler (Elk Haus-Tirol Noe). The battle for the World Cup jersey was won by Wood, who 6th place. Melchers and Ljunskog took 8th and 11th respectively and Wood increased her lead to Ljungskog by 14 points with two rounds remaining. Next week the women's peloton will line up on a somewhat flatter course in Rotterdam, Holland for the penultimate round, followed by another flat course for the finale in Nürnberg. The flatter courses will favour Wood and the Nürnberger team, however Melchers is also known as a good sprinter and the Buitenpoort-Flexpoint will not be giving up the fight just yet.
Photography
For a thumbnail gallery of these images, click here
Images by Régis Garnier/www.velofotopro.fr.st
Results
1 Noemi Cantele (Ita) Team Bigla                                 2.58.36
2 Edita Pucinskaite (Ltu) Nobili Rubinetterie-Menikini Cogeas           
3 Monica Holler (Swe) Elk Haus-Tirol Noe                            0.32
4 Sophie Creux (Fra) Interregional Team                                 
5 Sigrid Corneo (Ita) Nobili Rubinetterie-Menikini Cogeas               
6 Oenone Wood (Aus) Equipe Nürnberger Versicherung                      
7 Marina Jaunatre (Fra) French National Team                            
8 Mirjam Melchers-Van Poppel (Ned) Buitenpoort-Flexpoint Team           
9 Andrea Graus (Aut) Elk Haus-Tirol Noe                                 
10 Edwige Pitel (Fra) French National Team                              
11 Susanne Ljungskog (Swe) Buitenpoort-Flexpoint Team                   
12 Elisabeth Chevanne-Brunel (Fra) Team Pruneaux D'agen                 
13 Priska Doppmann (Swi) Univega Pro Cycling Team                       
14 Michelle Hyland (NZl) New Zealand National Team                      
15 Erinne Willock (Can) Canadian National Team                          
16 Svetlana Bubnenkova (Rus) P.M.B. Fenixs                              
17 Teodora Ruano Sanchon (Spa) Spanish National Team                    
18 Sofie Goor (Bel) Belgian National Team                               
19 Elodie Touffet (Fra) Team Pruneaux D'agen                            
20 Monika Krawczyk (Pol) Polish National Team                           
21 Marta Vilajosana Andreu (Spa) Spanish National Team                  
22 Suzanne De Goede (Ned) Van Bemmelen-AA Drink                         
23 Michelle Kiesanowski (NZl) New Zealand National Team                 
24 Annette Beutler (Swi) S.C. Michela Fanini Record Rox                 
25 Sara Carrigan (Aus) Van Bemmelen-AA Drink                            
26 Tiina Nieminen (Fin) Team Pruneaux D'agen                            
27 Eva Lutz (Ger) German National Team                                  
28 Toni Bradshaw (NZl) New Zealand National Team                        
29 Johanna Buick (NZl) New Zealand National Team                        
30 Regina Schleicher (Ger) Equipe Nürnberger Versicherung           0.37
31 Trixi Worrack (Ger) Equipe Nürnberger Versicherung                   
32 Malgorzata Jasinska (Pol) Polish National Team                       
33 Julia Martissova (Rus) P.M.B. Fenixs                             0.39
34 Theresa Senff (Ger) Van Bemmelen-AA Drink                        0.40
35 Nicole Brändli (Swi) Team Bigla                                      
36 Susan Palmer-Komar (Can) Canadian National Team                  1.08
37 Zoulfia Zabirova (Kaz) Team Bigla                                    
38 Isabella Wieser (Aut) Elk Haus-Tirol Noe                         1.23
39 Joanne Kiesanowski (NZl) Nobili Rubinetterie-Menikini Cogeas         
40 Sharon Vandromme (Bel) Belgian National Team                         
41 Eneritz Iturriaga (Spa) Spanish National Team                        
42 Madeleine Sandig (Ger) German National Team                          
43 Veronika Andreasson (Swe) Team Bianchi-Aliverti                      
44 Amber Neben (USA) Buitenpoort-Flexpoint Team                     3.29
45 Trine Hansen (Den) Mixed Team                                        
46 Judith Arndt (Ger) Equipe Nürnberger Versicherung                    
47 Nathalie Bates (Aus) Van Bemmelen-AA Drink                           
48 Magali Mocquery (Fra) French National Team                           
49 Katia Longhin (Ita) S.C. Michela Fanini Record Rox                   
50 Chrissie Viljoen (RSA) South African National Team                   
51 Véronique Belleter (Bel) Belgian National Team                       
52 Miho Oki (Jpn) Nobili Rubinetterie-Menikini Cogeas                   
53 Magdaleina Zamolska (Pol) Polish National Team                       
54 Emma Rickards (Aus) Univega Pro Cycling Team                         
55 Sarah Grab (Swi) Univega Pro Cycling Team                            
56 Sabrina Emmasi (Swi) Team Bigla                                      
57 Andrea Knecht (Swi) Swiss National Team                              
58 Béatrice Thomas (Fra) Team Bretagne                                  
59 Amy Moore (Can) Canadian National Team                               
60 Karine Gautard (Fra) Team Pruneaux D'agen                            
61 Melissa Holt (NZl) Mixed Team                                        
62 Alexandra Le Henaff (Fra) Team Pruneaux D'agen                       
63 Linda Serup (Den) Buitenpoort-Flexpoint Team                         
64 Karin Thürig (Swi) Univega Pro Cycling Team                          
65 Magalie Finot-Laivier (Fra) French National Team                     
66 Maria Mercedes Cagigas Amedo (Spa) Bizkaia-Panda Software-Durango    
67 Maja Adamsen (Den) S.C. Michela Fanini Record Rox                    
68 Tamara Boyd (NZl) New Zealand National Team                          
69 Jeannie Longo (Fra) Interregional Team                               
70 Kathy Watt (Aus) Mixed Team                                          
71 Erika Vilunaite (Ltu) Team Bianchi-Aliverti                          
72 Maribel Moreno Allue (Spa) Spanish National Team                     
73 Magali Le Floch (Fra) French National Team                           

Outside time limit (hors delai)

HD Lada Kozlikova (Cze) Buitenpoort-Flexpoint Team                      
HD Malgorzaka Wysocka (Pol) S.C. Michela Fanini Record Rox              
HD Barbara Cazzaniga (Ita) Team Bianchi-Aliverti                        
HD Monika Schachl (Aut) Elk Haus-Tirol Noe                              
HD Anna Ramirez (Spa) Spanish National Team                             
HD Leticia Gil Parra (Spa) Spanish National Team                        
HD Jennifer Hohl (Swi) Swiss National Team                              
HD Monika Furrer (Swi) Swiss National Team                              
HD Patricia Schwager (Swi) Swiss National Team                          
HD Pascale Schnider (Swi) Swiss National Team                           
HD Vicky Fournial (Fra) Team Pruneaux D'agen                            
HD Marlen Johrend (Ger) German National Team                            
HD Bianca Knopfle (Ger) German National Team                            
HD Marissa Van Der Merwe (RSA) South African National Team              
HD Dianne Emery (RSA) South African National Team                       
HD Ronel Van Wyck (RSA) South African National Team                     
HD Laura Yoisten (Can) Canadian National Team                           
HD Lisa Sweeney (Can) Canadian National Team                            
HD Iosune Murillo Elkano (Spa) Bizkaia-Panda Software-Durango           
HD Nathalie Tirard-Collet (Fra) French National Team                    
HD Christel Pourias (Fra) Interregional Team                            
HD Lidia Arcangeli (Ita) Team Bigla                                     

Did not finish

DNF Milena Pirola (Ita) Nobili Rubinetterie-Menikini Cogeas             
DNF Olga Slyusareva (Rus) Nobili Rubinetterie-Menikini Cogeas           
DNF Madeleine Lindberg (Swe) Equipe Nürnberger Versicherung             
DNF Anke Wichmann (Ger) Equipe Nürnberger Versicherung                  
DNF Dale Tye (NZl) New Zealand National Team                            
DNF Alessandra Borchi (Ita) S.C. Michela Fanini Record Rox              
DNF Letizia Giardinelli (Ita) S.C. Michela Fanini Record Rox            
DNF Marllijn Binnendijk (Ned) Van Bemmelen-AA Drink                     
DNF Sandra Missbach (Ger) Van Bemmelen-AA Drink                         
DNF Lise Christensen (Den) Team Bianchi-Aliverti                        
DNF Claudia Häusler (Ger) Elk Haus-Tirol Noe                            
DNF Bettina Kuhn (Swi) Swiss National Team                              
DNF Sabine Fisher (Ger) German National Team                            
DNF Aline Parsy (Fra) P.M.B. Fenixs                                     
DNF Elena Eifler (Ger) P.M.B. Fenixs                                    
DNF Paddy Walker (NZl) Mixed Team                                       
DNF Anriette Schoeman (RSA) South African National Team                 
DNF Kirsten Robbins (Can) Canadian National Team                        
DNF Joane Somarriba Arrola (Spa) Bizkaia-Panda Software-Durango         
DNF Cristina Alcalde Huertanos (Spa) Bizkaia-Panda Software-Durango     
DNF Agurtzane Elorriaga (Spa) Bizkaia-Panda Software-Durango            
DNF Najiara Telletxea Lopez (Spa) Bizkaia-Panda Software-Durango        
DNF Kelly Van Eyken (Bel) Belgian National Team                         
DNF Corine Hierckens (Bel) Belgian National Team                        
DNF Ludivine Henrion (Bel) Belgian National Team                        
DNF Monika Grzebinoga (Pol) Polish National Team                        
DNF Corinne Sempe (Fra) Interregional Team                              
DNF Laëtitia Poussin (Fra) Interregional Team                           
DNF Céline Nivet (Fra) Interregional Team                               
DNF Nathalie Jeuland (Fra) Team Bretagne                                
DNF Anne-Claire Maillard (Fra) Team Bretagne                            
DNF Martine Vrignaud (Fra) Team Bretagne                                
DNF Delphine Guille (Fra) Team Bretagne                                 

Did not start

DNS Luisa Taminini (Ita) Team Bianchi-Aliverti                          

Elite Amateurs


1 Piotr Zielinski (Pol) V.C. Du Pays De Lorient                        3.18.05
2 Denis Kudashev (Rus) Entente Sud Gascogne                                   
3 Julien Guay (Fra) Vendee U - Pays De La Loire                               
4 Vladislav Borisov (Rus) Equipe Nationale De Russie                      0.02
5 Julien Gonnet (Fra) Cotes D'armor Cyclisme                              0.10
6 Tyler Butterfield (Ber) Vendee U - Pays De La Loire                         
7 Cyril Bouhoux (Fra) La Trinitaine - U.C. Lochrist Hennebont                 
8 Yann Guyot (Fra) Veloce Vannetais                                           
9 Frédéric Auffret (Fra) V.C. Du Pays De Lorient                              
10 Mika Nieminen (Fin) V.C. Pontivyen                                         
11 Mickaël Szkolnik (Fra) Entente Sud Gascogne                                
12 Aurélien Houssin (Fra) Cotes D'armor Cyclisme                              
13 Pierrick Leclerc (Fra) A.C. Val D'oise                                     
14 Pavel Hojdak (Bur) Formation Espoirs 29                                    
15 Viacheslav Vilkov (Rus) Equipe Nationale De Russie                         
16 Mikhail Timoshin (Rus) Equipe Nationale De Russie                          
17 Thomas Lebas (Fra) Entente Sud Gascogne                                    
18 Vincent Lebesle (Fra) U.C. Sabolienne                                      
19 Matthieu Rompion (Fra) Vendee U - Pays De La Loire                         
20 Jean-François Jegou (Fra) V.C. Du Pays De Lorient                          
21 Herman Conan (Fra) V.S. Scaerois                                           
22 David Tanner (Aus) V.C. Roubaix Lille Metropole                            
23 Julien Rabaud (Fra) Roue D'or St Amandoise                                 
24 Cédric Drouet (Fra) Blois Cac 41                                           
25 Logan Hutchings (NZl) Bike New Zealand                                     
26 Julien Barbier (Fra) St Cyr Tours Val De Loire A.C.                        
27 Arnaud Lesvenan (Fra) Cotes D'armor Cyclisme                               
28 Timothy Gudsell (NZl) Bike New Zealand                                     
29 Christopher Esch (GBr) Cotes D'armor Cyclisme                              
30 Damien Gaudin (Fra) Vendee U - Pays De La Loire                            
31 Romain Appert (Fra) Roue D'or St Amandoise                                 
32 Cyrille Le Gall (Fra) U.C. Briochine                                       
33 Alexandre Binet (Fra) Vendee U - Pays De La Loire                          
34 Gaylord Cumont (Fra) A.C. Val D'oise                                       
35 Clément Mahe (Fra) Formation Espoirs 29                                    
36 Benjamin Derrien (Fra) Super Sport 35 - A.C. Noyal Chatillon               
37 Stéphane Felix (Fra) E.S.C. Meaux                                          
38 Pete Latham CNZ Cotes D'armor Cyclisme                                     
39 Stéphane Botherel (Fra) U.C. Alreenne                                      
40 Thierry David (Fra) V.C. La Pomme Marseille                                
41 David Danion (Fra) U.C. Sabolienne                                         
42 Jaroslam Stepien (Pol) V.S. Quimperois                                     
43 Yvan Baniel (Fra) Formation Espoirs 29                                     
44 Arnaud Le Boulanger (Fra) E.C. Quevennoise                                 
45 Vincent Codbessin (Fra) Super Sport 35 - A.C. Noyal Chatillon              
46 Scott Lyttle (NZl) Bike New Zealand                                        
47 Kallé Kriit (Est) Roue D'or St Amandoise                                   
48 Alexandre Bousseau (Fra) Vendee U - Pays De La Loire                       
49 Eduard Vorganov (Rus) Equipe Nationale De Russie                       0.17
50 Cyril Guinard (Fra) Hennebont Cyclisme                                     
51 Julien Sauve (Fra) A.C. Lanester 56                                        
52 Jacques Kerneis (Fra) Brest Iroise Cyclisme 2000                           
53 Stéphane Conan (Fra) Deux Sevres Cyclisme                                  
54 Andrey Pitchelkin (Rus) Equipe Nationale De Russie                         
55 Freddy Ravaleu (Fra) A.C. Val D'oise                                   0.21
56 Salva Vilchez (Fra) La Trinitaine - U.C. Lochrist Hennebont                
57 Manuel Michot (Fra) Super Sport 35 - A.C. Noyal Chatillon              0.23
58 Iwan Le Dors (Fra) V.C. Du Pays De Lorient                             0.55
59 Lukasz Leszczynski (Fra) E.C. Landerneau                                   
60 Benoît Jouanigot (Fra) V.S. Quimperois                                     
61 Troy Klink (NZl) Bike New Zealand                                          
62 Thierry Gendron (Fra) V.C. Rennais                                         
63 Julien Simon (Fra) U.C. Briochine                                          
64 Daryl Impey (RSA) V.C. La Pomme Marseille                                  
65 Sébastien Carreau (Fra) Brette Sportif Cyclisme                            
66 Vincent Freulon (Fra) U.C. Sud 53                                          
67 Eric Pean (Fra) Cotes D'armor Cyclisme                                     
68 Thibaut Mace (Fra) U.C. Nantes Atlantique                                  
69 Emmanuel Hutin (Fra) O.C.C. Sable                                          
70 Ivan Terenin (Rus) Equipe Nationale De Russie                              
71 Julien Tomasi (Fra) Vendee U - Pays De La Loire                            
72 Vincent Derrien (Fra) U.C. Briochine                                       
73 Maxim Karpatchev (Rus) Equipe Nationale De Russie                          
74 Mikhail Mikheev (Rus) Equipe Nationale De Russie                           
75 Yvan Rybakov (Rus) Entente Sud Gascogne                                    
76 Arnaud Madec (Fra) Veloce Vannetais                                        
77 Alexandre Bizet (Fra) Athis Team 61                                        
78 Adrien Glemarec (Fra) A.C. Lanester 56                                     
79 Pascal Harnois (Fra) U.C. Briochine                                        
80 Joël Jannello (Fra) E.C. Quevennoise                                       
81 Florian Guillou (Fra) Super Sport 35 - A.C. Noyal Chatillon                
82 Vincent Bienfait (Fra) La Trinitaine - U.C. Lochrist Hennebont             
83 Sébastien Nicolas (Fra) E.C. Quevennoise                                   
84 Anthony Riviere (Fra) U.C. Nantes Atlantique                               
85 Roland Thomin (Fra) U.S. Saint Herblain                                    
86 Lionel Beret (Fra) Deux Sevres Cyclisme                                    
87 José Paulo Da Cunha (Fra) A.C. Val D'oise                                  
88 Dominique Le Roch (Fra) A.C. Lanester 56                               1.06
89 Vincent Piedvache (Fra) U.S. La Gacilly                                1.12
90 Jérôme Le Tallec (Fra) O.C. Locmine                                    2.11
91 Bartek Oswit (Pol) V.S. Quimperois                                     3.17
92 Frédéric Ragot (Fra) U.S. Saint Herblain                               3.30
93 Anthony Le Pabic (Fra) O.C. Locmine                                        
94 Gildas Duret (Fra) Deux Sevres Cyclisme                                    
95 Jean-Yves Moyou (Fra) E.C. Quevennoise                                     
96 Loïc Le Bellec (Fra) U.S. La Gacilly                                       
97 Xavier Creignou (Fra) Cotes D'armor Cyclisme                               
98 Yvonnick Bolgiani (Fra) La Trinitaine - U.C. Lochrist Hennebont        3.45
99 François-Marie Herisson (Fra) Super Sport 35 - A.C. Noyal Chatillon    4.39
100 Olivier Migne (Fra) Vendee U - Pays De La Loire                       6.20
101 Loïc Larquie (Fra) Deux Sevres Cyclisme                               8.22
102 Daniel Smith (GBr) V.S. Quimperois                                        
103 Luke Mccarthy (NZl) Bike New Zealand                                      
104 Ludovic Provost (Fra) V.C. Chateaulinois                                  
105 Vincent Joffre (Fra) Vendee U - Pays De La Loire                      9.15
106 Nicolas Etienne (Fra) Veloce Vannetais                                    
107 Christian Lebreton (Fra) V.C. Rennais                                10.13
108 Mickael Burel (Fra) La Trinitaine - U.C. Lochrist Hennebont               
109 Aurélien Moyon (Fra) U.S. Pontchateau                                     
110 Julien Mesnil (Fra) A.C. Val D'oise                                       
111 Guianvarc'h Erwan (Fra) E.C. Landerneau                                   
112 Sébastien Launay (Fra) Veloce Vannetais                                   
113 Guillaume Baubry (Fra) U.C. Nantes Atlantique                        11.02
114 Damien Leroyer (Fra) U.C. Sabolienne                                      
115 Vincent Prioul (Fra) Super Sport 35 - A.C. Noyal Chatillon                
116 Erwan Brenterch (Fra) Hennebont Cyclisme                                  
117 Stéphane Perez (Fra) S.C. Bretonne                                        
118 Yohann Couret (Fra) U.C. Sabolienne                                       
119 Yoann David (Fra) V.C. Du Pays De Lorient                            13.26
120 Anthony Martin (Fra) Vendee U - Pays De La Loire                          
DNF Florian Joalland (Fra) La Trinitaine - U.C. Lochrist Hennebont            
DNF Sébastien Priziac (Fra) La Trinitaine - U.C. Lochrist Hennebont           
DNF Pascal Tatibouet (Fra) La Trinitaine - U.C. Lochrist Hennebont            
DNF Maxime Trehin (Fra) La Trinitaine - U.C. Lochrist Hennebont               
DNF Frédéric Guymard (Fra) Hennebont Cyclisme                                 
DNF Nicolas Jacq (Fra) Hennebont Cyclisme                                     
DNF Frédéric Lubert (Fra) Hennebont Cyclisme                                  
DNF Yoann Moureau (Fra) Hennebont Cyclisme                                    
DNF Samuel Boudard (Fra) V.C. Du Pays De Lorient                              
DNF Roger Cren (Fra) V.C. Du Pays De Lorient                                  
DNF François Guimard (Fra) V.C. Du Pays De Lorient                            
DNF Stéphane Bellicaud (Fra) Deux Sevres Cyclisme                             
DNF Romain Bourrinet (Fra) Deux Sevres Cyclisme                               
DNF David Everett (Fra) V.C. Pontivyen                                        
DNF Karl Freeman (Fra) V.C. Pontivyen                                         
DNF Ludovic Le Beller (Fra) V.C. Pontivyen                                    
DNF Alexandre Le Bras (Fra) V.C. Pontivyen                                    
DNF Richard Whitehorn (Fra) V.C. Pontivyen                                    
DNF Fabrice Guianvarc'h (Fra) E.C. Landerneau                                 
DNF Julien Kerouanton (Fra) E.C. Landerneau                                   
DNF Marcin Kwasniewski (Fra) E.C. Landerneau                                  
DNF Matthieu Le Lay (Fra) E.C. Landerneau                                     
DNF Philippe Vaillant (Fra) E.C. Landerneau                                   
DNF David Athea (Fra) Entente Sud Gascogne                                    
DNF Cédric Ducau (Fra) Entente Sud Gascogne                                   
DNF Julien Lacourt (Fra) Entente Sud Gascogne                                 
DNF Yannick Flochlay (Fra) A.C. Lanester 56                                   
DNF Damien Folgar (Fra) A.C. Lanester 56                                      
DNF Jonathan Parise (Fra) A.C. Lanester 56                                    
DNF Jean-Christophe Sagot (Fra) A.C. Lanester 56                              
DNF Jean-Charles Breard (Fra) Super Sport 35 - A.C. Noyal Chatillon           
DNF Frédéric Dayon (Fra) O.C. Locmine                                         
DNF Julien Hervio (Fra) O.C. Locmine                                          
DNF Fabrice Peltier (Fra) O.C. Locmine                                        
DNF Sébastien Caudal (Fra) E.C. Quevennoise                                   
DNF Erwan Jaouen (Fra) E.C. Quevennoise                                       
DNF Maxime Hardy (Fra) Cotes D'armor Cyclisme                                 
DNF Médéric Clain (Fra) A.C. Val D'oise                                       
DNF Vincent Templier (Fra) A.C. Val D'oise                                    
DNF Sylvain Henoch (Fra) A.C. Val D'oise                                      
DNF Mickaël Michot (Fra) U.C. Briochine                                       
DNF Fabien Pasquier (Fra) Roue D'or St Amandoise                              
DNF Nicolas Venuat (Fra) Roue D'or St Amandoise                               
DNF Nigel Dunstone (Fra) V.S. Quimperois                                      
DNF Sébastien Le Naour (Fra) V.S. Quimperois                                  
DNF Stéphane Pavoine (Fra) Veloce Vannetais                                   
DNF Philip Cortes (Fra) U.C. Sabolienne                                       
DNF Ferjeux Beauny (Fra) Team Cote Des Legendes                               
DNF Abdoul Wahab Sawadogo (Fra) Team Cote Des Legendes                        
DNF Franck Simon (Fra) Team Cote Des Legendes                                 
DNF Gilles Corbel (Fra) V.S. Scaerois                                         
DNF James Barnes (GBr) V.S. Scaerois                                          
DNF Pierre Nicolleau (Fra) V.S. Scaerois                                      
DNF Romain Noblet (Fra) V.S. Scaerois                                         
DNF Bartosz Kolendo (Pol) V.C. La Pomme Marseille                             
DNF Ruslan Sambris (Fra) V.C. La Pomme Marseille                              
DNF Christophe Diguet (Fra) U.C. Nantes Atlantique                            
DNF Kevin Piriou (Fra) Formation Espoirs 29                                   
DNF Florian Le Corre (Fra) V.C. Pays De Loudeac                               
DNF Erwan Ollivro (Fra) V.C. Pays De Loudeac                                  
DNF Fabien Bassiere (Fra) U.S. Saint Herblain                                 
DNF Jean-Charles Lemasson (Fra) U.S. La Gacilly                               
DNF Guillaume Blot (Fra) V.C. Roubaix Lille Metropole                         
DNF David Guimard (Fra) Gs Jean Floc'h Bretagne Moreac 56                     
DNF Thomas Ravenel (Fra) St Cyr Tours Val De Loire A.C.                       
DNF Cédric Fontbonnat (Fra) Blois Cac 41                                      
DNF Matthieu Raoult (Fra) C.C. Du Blavet                                      
DNF Gaël Malacarne (Fra) Roue D'or Begarroise                                 

World Cup Standings after round 9

1 Oenone Wood (Aus) Equipe Nürnberger Versicherung                                          301
2 Susanne Ljungskog (Swe) Buitenpoort Flexpoint                                             283
3 Mirjam Melchers-Van Poppel (Ned) Buitenpoort Flexpoint                                    235
4 Judith Arndt (Ger) Equipe Nürnberger Versicherung                                         184
5 Nicole Cooke (Gbr) Safi Pasta Zara Manhattan                                              125
6 Suzanne De Goede (Ned) Van Bemmelen AA Drink                                              115
7 Trixi Worrack (Ger) Equipe Nürnberger Versicherung                                         99
8 Andréa Graus (Aut) ELK Haus Tirol Noe                                                      93
9 Edita Pucinskaite (Ltu) Nobili Rubinetterie Menikini Cogeas                                76
10 Noemi Cantele (Ita) Team Bigla                                                            75
11 Geneviève Jeanson (Can)                                                                   75
12 Rochelle Gilmore (Aus) Safi Pasta Zara Manhattan                                          75
13 Anita Valen (Nor) Vlaanderen Capri Sonne T Interim                                        72
14 Nicole Brändli (Sui) Team Bigla                                                           72
15 Monica Holler (Swe) ELK Haus Tirol Noe                                                    65
16 Sigrid Corneo (Ita) Nobili Rubinetterie Menikini Cogeas                                   64
17 Joanne Kiesanowski (Nzl) Nobili Rubinetterie Menikini Cogeas                              59
18 Modesta Vzesniauskaite (Ltu) Nobili Rubinetterie Menikini Cogeas                          56
19 Theresa Senff (Ger) Van Bemmelen AA Drink                                                 55
20 Miho Oki (Jpn) Nobili Rubinetterie Menikini Cogeas                                        55
21 Linda Serup (Den) Buitenpoort Flexpoint                                                   52
22 Katherine Bates (Aus) Van Bemmelen AA Drink                                               50
23 Tina Mayolo Pic (Usa) US National Team                                                    41
24 Tatiana Guderzo (Ita) Top Girls Fassa Bortolo Hausbrandt Caffé                            37
25 Erinne Willock (Can) Canadian National Team                                               36
26 Monia Baccaille (Ita)                                                                     35
27 Amber Neben (Usa) Buitenpoort Flexpoint                                                   34
28 Sofie Creux (Fra)                                                                         31
29 Annette Beutler (Sui) S.C. Michela Fanini Record Rox                                      30
30 Regina Schleicher (Ger) Equipe Nürnberger Versicherung                                    30
31 Susan Palmer-Komar (Can)                                                                  30
32 Giorgia Bronzini (Ita)                                                                    27
33 Jenny Macpherson (Aus)                                                                    27
34 Sara Carrigan (Aus) Van Bemmelen AA Drink                                                 27
35 Magali Le Floch (Fra)                                                                     24
36 Melissa Holt (Nzl) Team S.A.T.S                                                           24
37 Elisabeth Chevanne-Brunel (Fra) Pruneaux D'Agen                                           24
38 Luisa Tamanini (Ita) Team Bianchi Aliverti                                                23
39 Marina Jaunatre (Fra)                                                                     21
40 Eneritz Iturriaga (Esp)                                                                   21
41 Edwige Pitel (Fra)                                                                        21
42 Dorte Lohse Rasmussen (Den) Team S.A.T.S                                                  20
43 Madeleine Sandig (Ger)                                                                    19
44 Christine Thorburn (Usa)                                                                  18
45 Joane Somarriba (Esp) Bizkaia Panda Sofware Durango                                       18
46 Sabrina Emmasi (Sui) Team Bigla                                                           18
47 Barbara Lancioni (Ita) LCT                                                                17
48 Svetlana Bubenkova, (Rus) P.M.B. Fenixs                                                   16
49 Tanja Schmidt-Hennes (Ger) Buitenpoort Flexpoint                                          15
50 Katie Brown (Aus)                                                                         13
51 Lynn Gaggioli (Usa) S.C. Michela Fanini Record Rox                                        13
52 Dorothy Cowden (Usa)                                                                      13
53 Sofie Goor (Bel) Vlaanderen Capri Sonne T Interim                                         12
54 Gunn-Rita Dahle (Nor) Safi Pasta Zara Manhattan                                           10
55 Tatiana Shishkova (Mda)                                                                   10
56 Kate Nichols (Aus)                                                                        10
57 Sarah Grab (Sui) Univega Pro Cycling Team                                                  9
58 Verena Joos (Ger)                                                                          9
59 Priska Doppmann (Sui) Univega Pro Cycling Team                                             8
60 Maja Adamsen (Den) S.C. Michela Fanini Record Rox                                          8
61 Trine Hansen (Den) Team S.A.T.S                                                            8
62 Tammara Boyd (Nzl)                                                                         8
63 Michelle Hyland (Nzl)                                                                      7
64 Sarah Düster (Ger) Therme Skin Care                                                        7
65 Loes Gunnewijk (Ned) Vrienden Van Het Platteland                                           7
66 Veerle Ingels (Bel) Vlaanderen Capri Sonne T Interim                                       7
67 Katia Longhin (Ita) S.C. Michela Fanini Record Rox                                         7
68 Anna Zugno (Ita) Safi Pasta Zara Manhattan                                                 7
69 Fabiana Luperini (Ita) A.S. Team F.R.W                                                     6
70 Marianna Lorenzoni (Ita)                                                                   6
71 Patricia Schwager (Sui)                                                                    6
72 Evy Van Damme (Bel) Vlaanderen Capri Sonne T Interim                                       5
73 Lada Kozlikova (Cze) Buitenpoort Flexpoint                                                 5
74 Olga Slyussareva (Rus) Nobili Rubinetterie Menikini Cogeas                                 5
75 Teodora Ruano Sanchon (Esp)                                                                4
76 Natalie Bates (Aus) Van Bemmelen AA Drink                                                  4
77 Alessandra D'ettorre (Ita)                                                                 4
78 Rosa Maria Bravo (Esp)                                                                     4
79 Josephine Groenveld (Ned) Van Bemmelen AA Drink                                            3
80 Lyne Bessette (Can)                                                                        3
81 Laure Werner, (Bel) Vlaanderen Capri Sonne T Interim                                       3
82 Elodie Touffet (Fra) Pruneaux D'Agen                                                       2
83 Daniella Fusar Poli (Ita) Nobili Rubinetterie Menikini Cogeas                              2
84 Julia Martissova, (Rus) P.M.B. Fenixs                                                      2
85 Monika Krawczyk (Pol)                                                                      1
86 Natalyna Kachalka (Ukr) A.S. Team F.R.W                                                    1
87 Emma Rickards (Aus) UPC                                                                    1
88 Ana Paola Madrinan Villegas (Col) -                                                        1
89 Helen Kelly (Aus) -                                                                        1