Recently on Cyclingnews.com
2nd Women's Ronde van Vlaanderen - PT
Belgium, April 3, 2005
The parcours
In its second edition in 2005, the women's Ronde van Vlaanderen has been beefed up to at least the level of the other women's World Cups. The distance has been increased from 94 km to 112 km, and the women will have to tackle 12 of the Ronde's climbs. Starting at 11:30 in Oudenaarde, the women's field will head out to Eine and Zottegem, returning via the Molenberg and Wolvenberg, as do the men. The Kwaremont, Paterberg, Koppenberg, Steenbeekdries and Taaienberg have all been avoided in the women's race, which will again follow the men's course from the Eikenberg (climb 3, km 51) onwards.
The climbs never let up, and the peloton will tackle the Boigneberg (km 55), Foreest (km 62), Steenberg (km 65), Haaghoek cobbles (km 66), Leberg (km 70), Berendries (km 75), Valkenberg (km 80), Tenbosse (km 86), Muur (km 96) and Bosberg (km 100) in brutal succession. And as in the men's race, the flat cobbled sections at the Paddestraat (km 19, 2400m), Mater/Kerkgate (km 36, 3000m), Kattenberg (km 42, 1200m, a descent), and Haaghoek (km 66, 2000m) will provide further challenges.
The second women's Ronde van Vlaanderen now has all the ingredients to count itself as one of the toughest one day women's races on the calendar.
Race map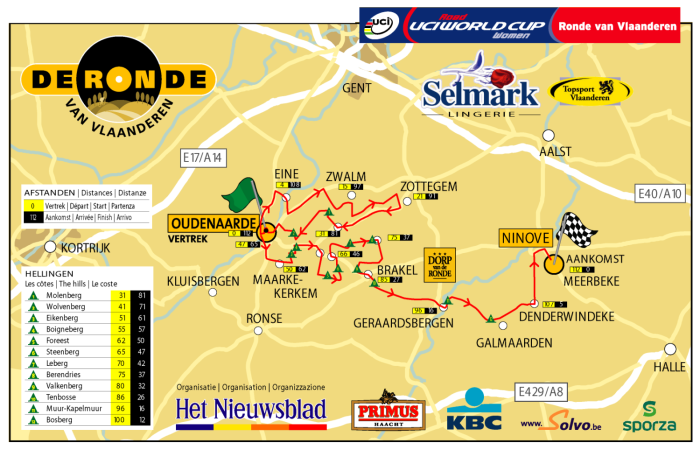 Images © www.rvv.be
Profile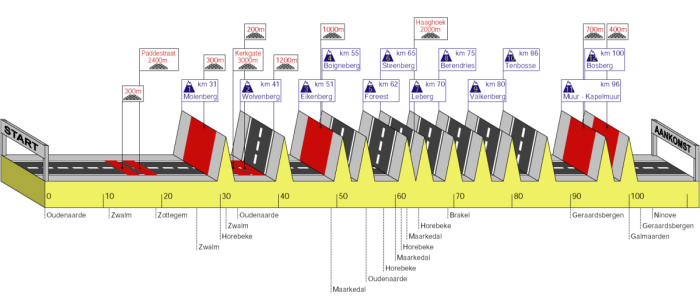 Images © www.rvv.be
Time schedule

                               km gone   km to go  34 km/h 36 km/h 38 km/h
Oost-Vlaanderen
Oudenaarde                      0         112       11:25   11:25   11:25
Bevere                          0         112       11:30   11:30   11:30
Eine                            2         110       11:34   11:33   11:33
Nederename                      6         106       11:41   11:40   11:39
Welden                          9         103       11:46   11:45   11:44
Zwalm
Nederzwalm                      11        101       11:49   11:48   11:47
Munkzwalm                       15        97        11:56   11:55   11:54
Roborst                         17        95        12:00   11:58   11:57
Zottegem
Velzeke-Ruddershove             19        93        12:04   12:02   12:00
Strijpen                        24        88        12:12   12:10   12:08
Zwalm
Roborst                         26        86        12:16   12:13   12:11
Sint-Blasius-Boekel             28        84        12:19   12:17   12:14
Horebeke
Sint-Maria-Horebeke             30        82        12:23   12:20   12:17
Zwalm
Sint-Denijs-Boekel              31        81        12:25   12:22   12:19
Climb 1 Molenberg               31        81        12:25   12:22   12:19
Oudenaarde
Mater                           33        79        12:28   12:25   12:22
Volkegem                        39        73        12:39   12:35   12:32
Climb 2 Wolvenberg              41        71        12:42   12:38   12:35
Ename                           42        70        12:44   12:40   12:36
Edelare                         44        68        12:48   12:43   12:39
Oudenaarde                      44        68        12:48   12:43   12:39
Bevere                          47        65        12:53   12:48   12:44
Leupegem                        48        64        12:55   12:50   12:46
Maarkedal
Etikhove                        49        63        12:56   12:52   12:47
Maarke-Kerkem                   50        62        12:58   12:53   12:49
Climb 3 Eikenberg               51        61        13:00   12:55   12:51
Climb 4 Boigneberg              55        57        13:07   13:02   12:57
Oudenaarde
Mater                           55        57        13:07   13:02   12:57
Horebeke
Sint-Maria-Horebeke             58        54        13:12   13:07   13:02
Maarkedal
Schorisse                       60        52        13:16   13:10   13:05
Horebeke
Sint-Maria-Horebeke             61        51        13:18   13:12   13:06
Climb 5 Foreest                 62        50        13:19   13:13   13:08
Maarkedal
Schorisse                       62        50        13:19   13:13   13:08
Horebeke
Sint-Kornelis-Horebeke          64        48        13:23   13:17   13:11
Climb 6 Steenberg               65        47        13:25   13:18   13:13
Sint-Maria-Horebeke             66        46        13:26   13:20   13:14
Sint-Kornelis-Horebeke          66        46        13:26   13:20   13:14
Brakel
Zegelsem                        69        43        13:32   13:25   13:19
Climb 7 Leberg                  70        42        13:34   13:27   13:21
Elst                            71        41        13:35   13:28   13:22
Michelbeke                      72        40        13:37   13:30   13:24
Sint-Maria-Oudenhove            74        38        13:41   13:33   13:27
Climb 8 Berendries              75        37        13:42   13:35   13:28
Nederbrakel                     76        36        13:44   13:37   13:30
Climb 9 Valkenberg              80        32        13:51   13:43   13:36
Brakel                          83        29        13:56   13:48   13:41
Climb 10 Tenbosse               86        26        14:02   13:53   13:46
Parike                          87        25        14:04   13:55   13:47
Geraardsbergen
Zarlardinge                     90        22        14:09   14:00   13:52
Goeferdinge                     92        20        14:12   14:03   13:55
Geraardsbergen                  94        18        14:16   14:07   13:58
Climb 11 Muur - Kapelmuur       96        16        14:19   14:10   14:02
Moerbeke                        98        14        14:23   14:13   14:05
Climb 12 Bosberg                100       12        14:26   14:17   14:08
Vlaams-Brabant
Galmaarden                      100       12        14:26   14:17   14:08
Oost-Vlaanderen
Geraardsbergen
Waarbeke                        102       10        14:30   14:20   14:11
Nieuwenhove                     103       9         14:32   14:22   14:13
Ninove
Denderwindeke                   104       8         14:34   14:23   14:14
Meerbeke                        108       4         14:41   14:30   14:21
Ninove                          110       2         14:44   14:33   14:24
Meerbeke                        111       1         14:46   14:35   14:25