102nd Paris-Roubaix - CDM
France, April 11, 2004
Tales from the pavé on the road to Roubaix
In its 108-year history, Paris-Roubaix has been the scene of many classic battles between great riders. John Stevenson takes a look at the Queen of the Classic's incident-filled history.
George Hincapie (USPS) in classic Roubaix style
Photo ©: Sirotti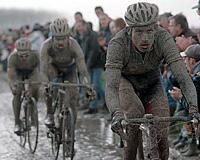 Paris-Roubaix was founded by two Roubaix mill owners, Theo Vienne and Maurice Perez, to be a road race that would finish on Roubaix's velodrome, the scene of immensely popular Sunday races that provided entertainment for the area's textile workers on their only day off. Vienne and Perez suggested a race from Paris to Roubaix to Paul Rousseau, director of sports newspaper Le Vélo and Rousseau was immediately sold on the notion, sending his cycling editor Victor Breyer to recce the route - by bike!
The first edition of Paris-Roubaix was won by a German, Josef Fischer. French and local pride was assuaged the following year with Roubaix bike shop owner Maurice Garin's victory. Garin recovered a 25 minute deficit over early leader Mathieu Cordang and the two entered the Roubaix velodrome together, with Garin leading. Cordang slipped and fell on the cement track and Garin took advantage, staying ahead for the final two kilometres to win by just a couple of metres over the hard-chasing Cordang. "I have to admit that Cordang was the strongest," said Garin.
Peasants watch the race go by
Photo ©: AFP

Originally intended as warm-up for the Bordeaux-Paris marathon, Paris-Roubaix was a paced event for its first few years. In 1896 and 1897 the riders followed other bikes (tandems and triplets), from 1898 to 1900 they followed motorbikes (which attracted motor-pacing specialists from track racing) until 1909, when they returned to using pace bikes.
Fausto Coppi in 1950
Photo ©: AFP

The cycling career of 1899 winner, 21-year-old Albert Champion was short-lived. Champion rode motor-pace events in the USA and then in France where he was 1904 motor-paced champion. He then returned to the USA where he got involved in the nascent car industry. You may recognise his name from the spark plug company he founded.
In 1901, when Paris-Roubaix switched its media allegiance from le Vélo to the new paper l'Auto-Vélo (later just l'Auto), le Vélo hit back by attempting to organise its own race from Paris to Roubaix, finishing in Barbieux park. The idea was abandoned when the French government stepped in and banned any other event calling itself Paris-Roubaix and finishing anywhere near the velodrome.
There were two versions of Paris-Roubaix in 1904 though. On May 15 of that year, organisers held a second 'Paris-Roubaix' entirely on the Roubaix velodrome. The 265km race (795 laps of the 333m track!) was livened up with intermediate sprints at the distances of the control points in the race proper.
Eddy Merckx wins by over five minutes
Photo ©: AFP

Charles Crupelandt, the winner in 1914 and French champion, was in Berlin, Germany later that year when the First World War broke out. To get back to France through Germany's nominally closed borders, Crupelandt hid his miltary papers and pretended to be Dutch, spending a large part of the train journey hiding in the toilet!
The phrase "the Hell of the North" was coined by a Parisian journalist after the First World War. Northern France had been devastated by the trench warfare that killed nine million, among them many stars of the pre-war cycling scene. Most of the roads were unusable, so organisers changed the route for the 1919 edition which nevertheless had to make its way through bomb-cratered country and past the remains of yet-unfilled, blood-stained trenches. Truly the Hell of the North.
Paris-Roubaix is the race every Belgian rider wants to win - and they usually do.
Victory has gone to Belgian riders 50 times since the race began.
Belgian domination of Paris-Roubaix began in 1922 with the victory of Albert Dejonghe. Dejonghe turned up at the start at Chatou with a crack team of his compatriots, and only the French star Henri Pélissier was able to try and stand between them and victory in Roubaix. Pélissier attacked from the start, destroying most of the field and reducing the race to a lead group of just eleven by the time it reached Amiens. But Pélissier had miscalculated the effect of his efforts and hit the wall at the top of the Doullens hill, exhausting his energies and eventually finishing 15 minutes down. Dejonghe was the strongest of the survivors and rode away from the field, eventually getting so far ahead that there were no spectators on the roadside and he had to ask a passer-by if he was still on course! Belgian riders took four of the first six places.
Bernard Hinault
Photo ©: AFP

Swiss champion Heiri Suter executed a rare double when he won Paris-Roubaix in 1923. A week earlier he had been the first foreigner to win the Tour of Flanders, much to the consternation of the Belgians. The youngest of six brothers, all cyclists, Suter was not well known outside Switzerland and he came to Paris-Roubaix determined to prove his Flanders win has not been a fluke. The great French pairing of Henri and Francis Pélessier attacked on the hill at Doullens, creating an eight-man breakaway across the plateau of Arras. But they had left Suter behind and he doggedly towed another 14 riders up to the leaders. In the finale on the Avenue de Villas (Roubaix velodrome having been destroyed by the Germans during WWI) Suter was far and away the strongest in the sprint.
Seven riders have done the Flanders/Paris-Roubaix double since Suter and all have been Belgian: Romain Gijssels, 1932; Gaston Rebry, 1934; Raymond Impanis, 1954; Alfred De Bruyne, 1957; Rik Van Looy, 1962; Roger De Vlaeminck, 1977; Peter Van Petegem, 2003.
"I really want to see you win Paris-Roubaix and die two hours later. If it did happen I would go in peace saying 'I have made a champion of my son. Now he no longer needs me.'" Emile Masson Sr. had never finished better than third in Paris-Roubaix, in 1922. In the 1939 edition, the last before Europe once again descended into the chaos of war, he got his wish when his son, Emile junior won the race. Riding for the Alcyon team, Masson made the selection on the climb to the Arras plateau and attacked alone in the closing stages of the race. Separated from his team car, he punctured, allowing 16 riders to pass him. Fixing the tyre himself, he chased and passed first a group of 14, then the two leaders, Lapebie and Majerus. A four-man group from the Mercier team gave chase, but Masson was the stronger crossing the line a minute and a half ahead.
Francesco Moser
Photo ©: AFP

The first Italian to win Paris-Roubaix was Jules Rossi in 1937, but perhaps the first truly great Italian victory was that of Fausto Coppi in 1950. Launching an audacious attack in the feed zone at Arras, Coppi rode away from his competitors and by the time they had grabbed their musettes he had an unassailable gap. It only remained to catch the early breakaway of Maurice Diot and Gino Sciardis. Coppi quickly dropped Sciardis but took Diot with him until Diot was instructed by his Mercier team manager not to work for the Italian Bianchi rider. At that point, "I took off," said Coppi, covering the final 40km solo to win by 2:41.
Road improvements through the 1960s threatened the character of Paris-Roubaix as previously cobbled roads were sealed. Dispatched in 1968 by race director Jacques Goddet to find more sections of cobbles, legendary hard-man Jean Stablinski suggested the Arenberg forest. "I am talking about pavé, not quagmires," said Goddet. But the Arenberg found its way into the race and has been a decisive sector ever since. "Paris-Roubaix is not won in Arenberg," said Stablinski on the occasion of the race's 100th edition in 2002, "but from there the group with the winners is selected."
The largest winning margin in Paris-Roubaix history is the 5:21 by which Eddy Merckx beat Roger De Vlaeminck in 1970. The narrowest is the centimetre that Eddy Planckaert got ahead of Steve Bauer by in 1990.
Only one rider has won Paris-Roubaix four times, Roger De Vlaeminck, of whom Eddy Merckx said in 1977 after De Vlaeminck took his fourth win, "I have never seen that before. Roger slipped over the cobbles as if he knew exactly where each cobblestone was." With his victories in 1972, 1974, 1975 and 1977, De Vlaeminck exploited the riding skills honed in Belgian winter cyclo-cross races and motivated by a burning desire to be the equal of his countryman Eddy Merckx in the classics, was practically unbeatable when luck turned his way - as it so often did.
Speaking of Merckx, the Cannibal can count three victories in Roubaix to his name, in 1968, 1970 and 1973. All three times Merckx won in typical style - by attacking and dominating by his incomparable combination of talent and sheer force of will. "I had two punctures on the cobbles," he said after his 1968 victory, "but got back without too much trouble. It was then that I swore I would win this Paris-Roubaix."
Marc Madiot
Photo ©: AFP

Paris-Roubaix's greatest Italian protagonist is undoubtedly Francesco Moser, one of only two riders to win three consecutive editions, the other being Octave Lapize, who won the 1909-1911 races. Moser's first victory came in 1978 while he wore the rainbow jersey of world champion. Paris-Roubaix seems to give an exemption from 'the curse of the rainbow'. Bernard Hinault and Eddy Merckx both won Roubaix while world champion. When a race simply tests who is the strongest and most determined on the day, it hardly matters that the opposition can pick out a strong man's rainbow jersey; they still have to beat him. Nobody was as strong as Moser in 1978, when he rode away from Roger De Vlaeminck, Jan Raas and Freddy Maertens with 18 kilometres to go. "Nothing is simpler than winning Paris-Roubaix. You have got to be strong and be first on to the cobbles," said Moser.
"You will never make me take back what I have already said about Paris-Roubaix. It's a big nonsense." The words of a bitter loser, defeated by the cobbles of Arenberg? No, Bernard Hinault after winning in 1981. Hinault never disguised his dislike for Paris-Roubaix, several times calling it a "cyclo-cross, not a race" - but even he wanted to add it to his palmares at least once.
The classics were Marc Madiot's target in 1985, and he couldn't have been happier than when he realized he had a chance of winning the greatest of them all. Bernard Hinault's 1981 victory had broken a long French drought at Roubaix that had stretched back to Louison Bobet's 1956 win, and Madiot consolidated the return of the host country to the top step of the podium. Leading the race with 30km to go, Madiot realized he had a chance and powered away from the field, a picture of intense concentration. Madiot won again in 1991, silencing critics that had begun to call him a has-been.
Gilbert Duclos-Lasalle
Photo ©: AFP

French pride was again restored for the next two years as Gilbert Duclos-Lasalle took back-to-back victories. It took 15 years for the popular rider to win at Roubaix, though he was second in both 1980 and 1983. In the meantime he built a reputation as one of the hard men of the race, and it seemed inevitable that he would win it one day.
The last decade or so has seen the domination of the 'Lion of Flanders', Johan Museeuw. Museeuw has won the race three times, in 1996, 2000 and 2002, as well as running second in the epic 2001 edition, instrumental in the victory of team-mate Servais Knaven. Museeuw was a large part of Mapei's control of this event in recent years, until the Italian company withdrew from the sport, leaving co-sponsor Quick-Step in place - under Patrick Lefevere - to continue to dominate in style.
The big question for 2004 is, can Museeuw retire on a high and equal Roger De Vlaeminck's four Roubaix wins?
Past Paris-Roubaix coverage on Cyclingnews.com
2003 2002 2001 2000 1999 1998 1997 1996 1995
Note: Cyclingnews is indebted to Pascal Sergent's book A Century of Paris-Roubaix, which was the source of most of the anecdotes here. We strongly recommend you nip over to Amazon.co.uk and get yourself a copy of this lavishly illustrated definitive history of the queen of the classics.