An interview with Roger Hammond, April 10, 2004
Dreaming of Roubaix, part 2
In the second part of our interview with Roger Hammond, the British champion tips the riders to watch in Paris-Roubaix, hopes for the right weather and talks about his plans for the rest of 2004.
Soloing to victory in the 2003 UK national championships
Photo: © Lucy Power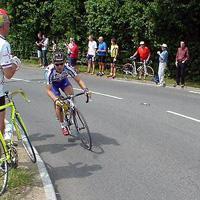 CN: If you look at your results this year, you are finishing up there alongside a load of very big names. You have become one of the guys to watch during the spring. Next up is Paris-Roubaix - what are your thoughts going into that race?
RH: Well, for me it is the ultimate spring classic. Everything has been geared towards Paris-Roubaix. During all the races I have been doing, in the back of my mind it has all been about getting ready for Paris-Roubaix. It is my favourite race.
You know, it is a race I remember talking to my parents about when I was six years old. I never, ever dreamt about riding the Tour de France but I did dream of riding Paris-Roubaix. For me it is my special race, I am hoping it is a race which suits my style. I think there are a lot more bike-riding skills involved in Paris-Roubaix. I hope I have kept in good condition as regards that bike handling, since the winter cyclo-cross. I would really like to do well in Paris-Roubaix, I just need a little bit of luck, that's all.
It is difficult to say if I am going to be good or not [on Sunday]. My condition is good but you can be in super condition and not even finish a race. It is part of the beauty of Paris-Roubaix, I think.
CN: Looking at your own attributes as a rider, what helps you in an event such as the Hell of the North?
RH: Well, I am quite a small rider, quite low, so my center of gravity is pretty low. It is always quite useful in corners and on gravel. Last year it was so dry but with the gravel, it was very slippery. Everyone says that in the wet it is bad but I found that in the dry it was pretty bad as well. There were a lot of crashes.
For me to go around a corner with both wheels sliding is quite natural. I spend half the winter doing it! I suppose it is a bit more disconcerting when it is rock-hard cobbles below you, but actually in principle it is the same sort of thing. I don't actually panic when I am sliding. You see a lot of riders panicking but when you panic, you crash. That is one of the advantages I have. The other advantage that I have is when it is smoother on the mud then I have got no problem just swinging off the cobbles and riding down the mud on the side of the road. I noticed last year that a lot of the time I was the only guy riding down the mud. I certainly wasn't going slower than the people on the cobbles.
They are the sort of things I can do because of my cross background. If it means bunny-hopping up a curb to get off the cobbles onto a smoother section, then I can do it. But a lot of riders find that too big a risk to take. I almost don't see it as a risk, I am quite happy to do it.
I think all those little things help. I will save one or two seconds here and there, but if you save one or two seconds on each corner in Paris-Roubaix, you have saved quite a lot of energy by the finish. I am hoping that is going to be the difference between these races I have been doing until now and getting a good result in Paris-Roubaix.
CN: What would you prefer, weather-wise? Wet or dry?
Going for the sprint in Dwars door Vlaanderen
Photo: © www.roger-hammond.com

RH: I am not sure. Because I have only ever ridden the race once, I only have experience of dry weather. It went pretty well for me, really. I was seventeenth yet I had never even seen the cobbles before last year. It was the first time I'd ever done the race. Normally on Thursday we ride the GP Pino Cerami so I didn't have time to go and see the cobbles last year. We also got our invite at the very last moment, too, so I felt pretty unprepared for it.
The race went well for me in the dry. So part of me is saying 'just stick with what you know, it is okay in the dry so pray for dry [weather]'. But then all the reports you hear from the other riders is that when it is wet, there is more skill involved and the race is slower. That favours the slightly weaker riders. You know, I am realistic enough to say that when Museeuw is riding in a straight line on cobbles and I am riding in a straight line, he is extremely strong. Am I going to be able to follow him in a straight line? I don't know. So if the speed is lower and there is more skill involved, then I would hope that it is more to my advantage.
That said, [the wet] is more of an unknown, all of a sudden there are more questions introduced to something which is already quite a dodgy race. You know what bike riders like - the less unknowns there are, the more self-confidence we have. I know what it is like in the dry so in a way, I am hoping for that.
CN: Who do you think are the people who will be up there on Sunday?
RH: I think Van Petegem has a point to prove. His Tour of Flanders was a bit less than I think he was hoping for so I think he will be coming out to prove a point. Don't write him off. Actually, it is probably his last chance of scoring a classic win at the beginning of the year, so I think he is going to be pretty motivated.
And then there is Museeuw, for sure. [Quick.Step] have such a strong team too. I saw in a TV interview that Vandenbroucke is pretty motivated for it, but I just can't see him challenging, really. There are one or two French guys who always see to come out for it. Like Frédéric Guesdon, for example, he always seems to do well. I noticed last week that he was going pretty well in the Tour of Flanders, even though it is not really his type of race. He has won Roubaix before so he is maybe a guy to look out for.
CN: How does Hincapie look?
RH: Yeah, he also looks very good. He did look very, very strong. In Gent-Wevelgem, with his tights on and his overshoes and his thermo vest (laughs), he was still fourth, wasn't he? So I think he is not going to be far off as well. But to be honest with you, I don't see how anyone can challenge Quick.Step, really. En masse, they were just so strong on Wednesday. All those guys on Wednesday are guys who can also go well in Paris-Roubaix. So if they have another day like that, then there are going to be four or five guys from Quick.Step in the front. That would make them very hard to beat.
CN: After Roubaix, what are your plans for the rest of the season?
RH: I am stopping for a break after Amstel Gold. Well, I am hoping to! Maybe you better not print that, just in case my team manager changes his mind! I want to take a break as I have done a lot of races, and it is not like I have turned up to many of them just to ride around. A lot of them have been mentally very stressful, and physically as well.
For me, two days isn't enough recovery, so each race I have been going to I have just been getting that little bit more knackered. You race Sunday and then again Wednesday, which isn't enough. From Wednesday I get three days to recover before racing at the weekend. I am just about recovering but then, I am digging in again. I just want to try to recover before I put myself in too deep.
After some time off, I am just going to concentrate everything on the national championships and the Olympics, really. For me, there is a stage racing period in May. Basically, I will just come back and try to use those events to build up my condition for the championships, which is the automatic selection for the Olympics. If you win our national championships then you have an automatic spot for the Olympics. I would like to go to the Olympics and do a ride.
CN: Is the course to your liking there?
RH: I haven't actually been there but I have been trying to do as much research about it as is possible. Van Petegem has been there and I have had a talk with him about it. He rode on the same team as us for a little while so we still get on quite well. He reckons that I should be able to get over the climb, it is not too long.
The thing that he is worried about, and me also, is the heat. British Cycling are going to give me some tips on it. They have been doing some research into hot weather racing and hot weather training. So I am going to go up to the federation and pick their brains on how to prepare myself best for hot weather. I want to see if it is a viable possibility for me. Because, you know, I am spending the whole first half of the year trying to survive in minus five in Belgium!
CN: You had a great ride last year in the British nationals, finishing five minutes clear. It was an extremely dominant win. Apart from the Olympic qualification, is it important for you to keep the British champion's jersey? Have you noticed a different reaction from people when you have it?
RH: Well, the thing is that on its own it doesn't do very much, to be honest with you. Last year when I won the championships, my worth in criteriums and things like that was no different. But I have actually noticed this spring that there is a difference. I finished sixth in Gent-Wevelgem. I am not sure how many people would have really noticed that if I had not been wearing the British champion's jersey. It is a bright white jersey which stands out on the television. If I come near the front of the peloton it is different; previously people didn't even notice me and the commentators didn't say a word about me but this year, all of a sudden, they see somebody at the front of the bunch in a national champion's jersey and it is something for them to talk about. So it has actually made a difference. The coverage I get on the TV in Belgium now is really tremendous. I mean, they talk about me every race, so I certainly can't complain!
That said, I think it is a combination of two things, the jersey and also decent form. This year, they have probably seen me on the television a lot more (laughs) whereas last year they probably didn't see much of me. When you factor in the jersey as well, it is another added interest to give them something to talk about.
Other Cyclingnews interviews Full Paris-Roubaix coverage Roger Hammond's website