An interview with Michele Bartoli, April 9, 2004
New tricks for an experienced pro
CSC's super-experienced Classics hardman has been a factor in most World Cup races in the last few years, clocking up wins at Flanders, Het Volk and Lombardia among others. But he's never once ridden Paris-Roubaix. He told Chris Henry why he's having a crack at the cobblestones this year and how he thinks Paris-Roubaix is "easy".
In CSC colours at Paris-nice
Photo: © Luc Claessen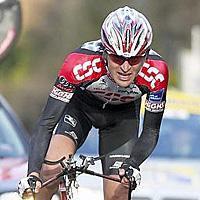 Michele Bartoli (Team CSC) is no stranger to cobblestones. The veteran classics rider has won his share of races in northern Europe, including the Tour of Flanders and Het Volk, each of which offers its fair share of pounding on the pavé. Bartoli is one of the most successful classics riders currently in the peloton, with seven World Cup victories to his name, as well as the overall series title in 1997. One race Bartoli hasn't ridden, however, is Paris-Roubaix.
The former Italian champion had a tough time at last weekend's Tour of Flanders, unable to find his best form to challenge for a second win in the Ronde. Counted among the outside favourites for the race, he struggled home in 57th place, more than five minutes behind race winner Steffen Wesemann.
Leading the chase at LBL
Photo: © Sirotti

"As things progressed my breathing wasn't optimal and I had to face up to the fact that I was unable to really make a difference," Bartoli said of his Flanders performance. Thankfully for Team CSC, Frank Høj was ready to step in and came through with a top ten finish in Meerbeke. It's this level of teamwork that team director Bjarne Riis will count on once more in Paris-Roubaix.
Bartoli's season started well with solid rides in the Tour Mediterraneen and Paris-Nice (before he abandoned following a crash), but a tumble in the finale of Milan-San Remo dashed his hopes of opening the season with another World Cup win. Now he's hoping to turn things back around and add another major classic to his lengthy palmarès.
"I feel really good. I'm very keen on doing a good race," Bartoli told Cyclingnews Wednesday. "I feel like the time has come and I really want to get a big result... I'm very motivated."
With team-mate Jörg Jaksche in Paris-Nice
Photo ©: AFP

Asked whether he felt any trepidation before tackling the infamous Paris-Roubaix parcours, Bartoli's answer was nothing if not direct. "No," he said. "I'm not afraid at all."
"In some ways it's an easy race," he added.
Now, 'easy' is not a word usually associated with Paris-Roubaix, but Bartoli, who turns 34 this May, has an explanation. "The selection is made naturally, as riders gradually disappear from the front. In that way it's not the most difficult race, even though this is the second time I'm doing it."
Winning Lombardia in 2003
Photo: © Sirotti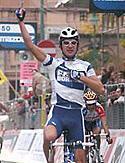 "From watching Paris-Roubaix, I know we need a strong team," he said. "I think we've got one. The team did well [at Gent-Wevelgem], with three riders in the first group."
With just a few days before his date with destiny at Paris-Roubaix, Bartoli declared himself relaxed and ready, ready to surprise his critics once more. He may not be winning with quite the frequency of years past, but back to back wins in the last two editions of the Giro di Lombardia and victory in the Amstel Gold Race in 2002 have shown that "the warrior" is still a contender in the toughest one day races.