91st Tour de France - July 3-25, 2004
Tour tech - July 5, 2004
Edited by Anthony Tan
Got tech? Send press releases, news, and tech questions to the Cyclingnews tech-heads.
Bikes of the 2004 Tour de France: Part I
By Tim Maloney & Anthony Tan
There's never a shortage of new schwag rearing its pretty little head at Le Tour. In our first squiz at the bikes of the 2004 Tour de France, we take a look at Petacchi's new Pinarello Dogma, Mancebo's Opera Leonardo, Tyler's BMC Time Machine and Alessio-Bianchi's TT and road machines.
Alessandro Petacchi's Fassa Bortolo Pinarello Dogma
Alessandro Petacchi's 2005 Pinarello Dogma.
Photo ©: Cyclingnews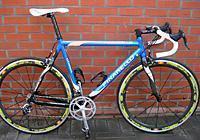 After winning nine stages in the Giro d'Italia a new Pinarello Dogma, super-sprinter Ale Jet Petacchi received another new bike a week ago from Fausto Pinarello. Petacchi's Dogma is made in AK61 magnesium tubing and sports a unique new bottom bracket that will be standard equipment on: Pinarello's 2005 Dogma; a new version of the Pinarello Paris with hydroformed aluminium tubes; and two versions of the Opera - a new carbon fibre Leonardo and the Giorgione with hydroformed aluminium tubes.
The M.O.ST bottom bracket
Photo ©: Cyclingnews

After spotting the trick new BB, we called Fausto Pinarello in Italy, where he was getting ready for the Gran Fondo Dolomiti on Saturday: "This bottom bracket is called M.O.ST; it's made for us by a group of engineers that develop special high-end, high-tech after-market products for motorcycle and other manufacturers," says Fausto.
"The M.O.ST bottom bracket is 55mm in diameter and equipped with roller bearings; we've seen this type of larger bottom bracket used before in BMX to provide more rigidity. M.O.ST is different from, for example, Cannondale's CODA system, which is not compatible with other bottom bracket systems. M.O.ST has been developed to compatible with Campagnolo, Shimano and ISIS systems. For ISIS, the M.O.ST bottom bracket will have a larger diameter spindle and larger bearing races."
Francesco Mancebo's Illes Balears-Banesto Opera Leonardo
Francisco Mancebo's new Opera Leonardo
Photo ©: Cyclingnews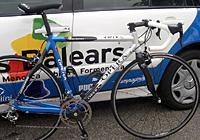 After stopping by the Fassa Bortolo team hotel, we made it to the Illes Balears-Banesto hotel, where we checked out freshly-minted Spanish pro road champion Francisco Mancebo's new Opera Leonardo. We had a few more questions, so we phoned Fausto Pinarello once again, as Opera bicycles are a creation of the Treviso-based firm.
"The bike you saw is a new version of the Leonardo for 2005," he reveals. "The size is 53x54.5 and it has a new carbon fibre Opus fork and rear chainstays, which have a similar 'double-S' construction to the Pinarello Onda fork. Plus we've changed the shape of the rear chainstays on this bike. Mancebo's bike has a standard bottom bracket, but when it goes into production for 2005, it will also have the M.O.ST bottom bracket."
Tyler Hamilton's Team Phonak BMC Time Machine 1
Ty's BMC Time Machine 1
Photo ©: Cyclingnews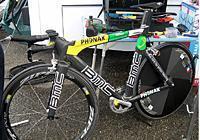 Delivered just a week before the Tour de France to Team Phonak, Tyler Hamilton was sitting on a special new rig for Saturday's TdF prologue in Liège. Made in Switzerland by a carbon fibre supplier to an F1 team, BMC's wild new Time Machine 1 TT bike sports a special integrated fork design in carbon fibre mated to a monocoque frame, eliminating the need for a stem. Other features are the aero-shaped seatpost mast and multi-shaped carbon fibre tubes.
Even the smallest details, such as the fork drop-outs and derailleur cage, are made of carbon-fiber. The revolutionary fork-stem design provides maximum rigidity with the minimum possible weight, and the patented design makes it possible to custom-build all bikes to suit the measurements of each individual. The seat post not really a seat post per se, but a component of the frame, and is cut to fit.
Other innovative details include fork drop-outs that open toward the rear, enabling the rear wheel to be positioned as close as possible to the frame, as well as quick release nuts that are integrated into the fork, another aerodynamic feature. With a total of just over 1,450 grams for the frame, fork and stem, Tyler's time machine was certainly one of the lightest hovering around Liège.
Alessio-Bianchi's TT and road machines
Alessio-Bianchi's EV3 and EV4
Photo ©: Lynn Vanbelle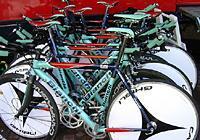 This enviable stable of time trial and road machines as used by Cyclingnews diarist Scott Sunderland and the rest of the team from Alessio-Bianchi are very purdy indeed. Both crono and road machines are either Bianchi's EV3 or newer EV4 oversized aluminium models, all decked out with Campagnolo Record livery and a variety of wheels, ranging from the full-disc Ghibli (rear) and deep-rim carbon Bora (front) for time trials to the Campy G3 carbon (mostly rear) for zipping along the roads of Belgium and France.
Photography
Images by Tim Maloney/Cyclingnews
Images by Lynn Vanbelle