91st Tour de France - July 3-25, 2004
Tour tech - July 4, 2004
Edited by Anthony Tan
Got tech? Send press releases, news, and tech questions to the Cyclingnews tech-heads.
Tour time for Tarmac!
By Tim Maloney, European Editor in Ličge, Belgium
Mario Cipollini's 58cm 2005 Specialized Tarmac S-Works
Photo ©: Cyclingnews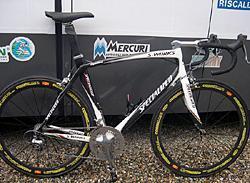 Specialized has unveiled some special new bikes at the 2004 Tour de France for their Domina Vacanze team. With sprint legend Mario Cipollini starting Le Grande Boucle for the first time in five years and emerging young Italian rider Michele Scarponi tipped as Domina's GC hope, Mike Sinyard and co. decided this was the perfect moment to debut 2005 product.
The 2005 Tarmac S-Works

Mori's 56cm frame weighs just 1.1 kilograms

The Transition S-Works

Specialized's carbon fibre engineer Luke Callahan took Cyclingnews through the new red and black rigs and explained that "we've got an all new, all carbon fibre version of the Tarmac S-Works for Domina Vacanze and this bike will be available as part of our 2005 line."
The Tarmac S-Works maintains the shape of the original Tarmac S-Works aluminium and carbon model, the difference being the 2005 version utilises a monocoque front triangle with bonded seat and chain stays. "We've shaped the tubes for both rigidity and vibration damping in this new frame", explained Callahan, who told us that a 56cm frame weighs 1.1 kilograms with the fork tipping the scales at 360 grams, including the new Zertz elastomer inserts.
"We could have made this bike lighter but then we would have compromised the rigidity," said Callahan, adding that "there are seven versions of this frame; we've made a separate mould for each size and have used different tubing diameters to better tune the ride."
Mr. Mega Mario also has a new carbon fibre Tarmac S-Works, but as always for il Re Leone, his rig is nothing like stock. "Mario's bike was made in a regular 58cm mould, but we added a special carbon fibre lay-up for Cipollini and the stiffness is off the charts," said Callahan. "Cipollini's bike weighs about 300 grams more than a regular Tarmac, but it's still lighter and stiffer than his aluminum bike." Because each frame's geometry is pre-determined by the mould, Specialized made up a custom 145mm stem for the perfect fit.
But that's not all - Specialized also has a new TT bike, the Transition S-Works, which Domina Vacanze will also be riding at the Tour. "This bike is going to part of our 2005 range and was intended as a triathlon bike, but the Domina guys like it a lot, so they are racing on it for the rest of the season." The Transition S-Works frame is made in E5 aluminum tubing with dramatic aero profiles shaped for speed.
Photography
Images by Tim Maloney/Cyclingnews