91st Tour de France - July 3-25, 2004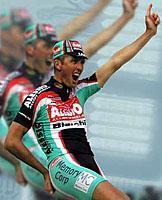 Scott Sunderland
Photo: © Memory Corp
Scott Sunderland's Tour Diary
Cyclingnews' longest contributing diarist Scott Sunderland is taking part in his second Tour de France in 2004 as part of the versatile Alessio-Bianchi team. Scott's role will be mainly to help Pietro Caucchioli, but he also hopes to have a few opportunities for stage wins. Once again, he'll be providing his highly experienced viewpoint on the Tour, its riders and anything else.
That surreal feeling
Stage 20 - Sunday July 25: Montreau - Paris-Champs-Elysees, 163 km
Post-Tour withdrawal symptoms
Quality time with Tristan
Photo ©: Sabine Sunderland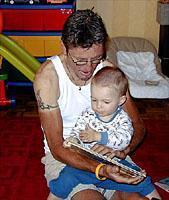 Woow, it's over, it's actually over and done with! Can't quite grasp it still; but sitting here this morning with home-made scones and jam and a cuppa (coffee - Ed.), and the kids dancing away to the music of The Wiggles in front of TV, it's starting to sink in and it feels kinda unreal not to have to race today.
Two days ago, at this time of the morning, I was getting ready to ride to Paris on my bike and now I've got a day off, at home...very unreal indeed.
The kids love it of course, daddy being home again. Tristan (23 months) woke up at 8 o'clock this morning and had his daily morning ritual: getting into "the big bed" for another snooze. Suddenly I hear :"daddyyyy", I open one eye and there's this grinning face in front of me; Tristan seems pleasantly surprised to find me lying next to him. He's trying to get my other eye open by poking his tiny finger underneath my eye-lid. One of those great moments!
State of confusion
Tristan had panicked a bit yesterday evening. My parents-in-law had been looking after the little rascal for the whole duration of the Tour and they stayed on yesterday afternoon, to give Sabine and myself the chance to catch up on some rest. So far no problem.
But later on, Tristan definitely didn't like the sight of me packing another bag. He started protesting and was crying as I closed the door behind me. Heartbreaking. But, I had to go. I was invited to ride the post Tour criterium in Aalst, and since it was a good opportunity to roll the legs after a late Sunday night and the two hour drive from Paris, I had to oblige. For a moment we had considered taking the kids with us to Aalst, but really, a packed city, with beer-drinking, loud music and partying isn't the right place to take a tired 8 year old and a very energetic toddler of almost two.
It was hard though, going out that door again, after only spending few hours at home of which two had been in bed recovering from the Mexican food and Margaritas I had after the stage finish in Paris on Sunday. We called to check with Sabine's mum after we were on the road for only five minutes. Tristan had calmed down and was playing nicely with big brother SaŽn, so everything was cool.
Post-Tour criterium in Aalst
Leading in Aalst
Photo ©: Elmar Krings

It's been a while since I've ridden Post-Tour criteriums, as my program in August has always focused on the World Cup races. This year I had many positive reactions from Belgium during the Tour so riding a criterium 15 km from my house was an easy way to meet some fans and sign a few more autographs.
It turned out to be great fun. Firstly, because a group of Belgian friends and fans showed up and it was great to be greeted with such warmth and appreciation for the viewing pleasure I had given them during the Tour.
Belgian Sporza TV and the Local Kanaal 3 really had made an effort to come and find me in the village de dťpart, on the start line or after the finish. Another Belgian station, VTM had followed me for a day and everybody reveled in the footage the VTM crew had put together, especially since I had done the whole thing speaking their mother-tongue Dutch. I got a few smart comments on my Flemish slang. It seems to be quite amusing sometimes.
Anyway, I had a good opportunity to roll the legs and tried my best to help animate the two and a half hour post-Tour crit. I finished fifth and was quite happy with that, considering the way I felt at the start and all.
We got back home at 11.30 pm and I was counting sheep by midnight, totally zonked.
Tour de France experience
Leading the break
Photo ©: Jon Devich

The Tour de France, well, what can I add to what I wrote previously? What can I write that hasn't been written, about Lance, his adversaries, and so on.
Maybe I can tell you that is was rewarding, fulfilling and maybe, to some, completely against all odds that I rode it, finished it... That I had great fun, enjoyed (almost) every minute of it. That I am pleased with what I did for my Team mate Caucchioli, but that I am a bit disappointed it looks like we won't be in the same team again next year (see: Alessio-Bianchi satisfied, interest in Caucchioli and Sunderland Seeks)
What I will remember and treasure most was actually the feeling I had, riding on the Champs-Elysťes with my son SaŽn sitting on the top tube and holding his Australian flag he had carted around for three weeks. Maybe that's what "age" brings: a different kind of pride, the satisfying feeling to see the honest and unconditional admiration in your child's eyes.
With SaŽn
Photo ©: CN

To feel his excitement about his dad being greeted by so many people. "thousands and thousands of people were waving to us pop!" SaŽn told his grandfather while using gestures and facial experiences to make things more vivid.
Of course I suffered heaps, felt the lactic acid burning in my muscles; felt pain stabbing my tired body in the harder, long and hot stages. Almost daily, as preventive measure, I had my back treated and skillfully manipulated by David, "the Osteo", my sore legs massaged deeply by the masseur while almost punching him when he got me jumping off the table, with more pain, when he dug into the aching muscles.
To sum it up: it was bloody awesome!
Lance Armstrong has made the Tour de France so immensely popular that there is no adjective which can precisely describe this event. Having followed her partner's escapades in France closely, Miss Sheryl Crow told the press she's going to write a song about cycling...
I might just leave it to her to find the right words.