Recently on Cyclingnews.com
91st Tour de France - July 3-25, 2004
Davis Phinney
Photo: © Davis Phinney
Davis Phinney's Tour Diary: A Sprinter's Tale
With over 300 national and international victories in a career that spanned two decades, Davis Phinney is still the winningest cyclist in U.S. history. In 1986, he was the first American ever to win a road stage in the Tour de France; five years later, he won the coveted USPRO road title in Philadelphia.
In 2000, when Davis was just 40 years old, he was diagnosed with early-onset Parkinson's disease. But that hasn't kept him down. Since retiring from professional cycling, Davis has been a cycling sports commentator, public speaker and journalist. He brings his passion for those two-wheeled machines to Cyclingnews for the 2004 Tour de France.
2004 Tour retrospective: Thanks for the memories
Connie and Davis
Photo ©: Davis Phinney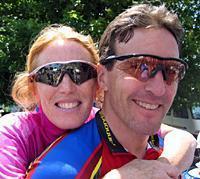 I hadn't been to the Tour since 1990. Many aspects have changed, some have not. The Tour has always been the Super Bowl of cycling -- but compared to my time, It's more so, way more so. Bigger and grander in every way from what I remember, today's Tour is an impressive spectacle indeed.
But ultimately, it's still a bike race. While the riders no longer stay in the occasional school gym (as we did), They still ride up the same roads (which have seen varying degrees of improvement) as all the legends have throughout the last century. The pros manage their efforts as necessary - spending energy as required, saving whenever possible. They confront the inclement weather, the tension, the crashes and injuries, along with the ever-increasing fatigue. And all at a race pace, particular to the Tour, that seemingly never slacks. Underscoring it all is the enormous pressure to get results for the team, for the sponsor.
Father and son catching some ZZZZ's
Photo ©: Davis Phinney

Taylor, Steve Bauer and yours truly
Photo ©: Davis Phinney

Taylor's favorite Tour time
Photo ©: Davis Phinney

Taylor ready to push the last rider...
Photo ©: Davis Phinney
Kelsey hangs with the lion
Photo ©: Davis Phinney

Good on ya mate
Photo ©: Davis Phinney

There are those who think Lance is too dominant, neither giving, nor forgiving, to his competition. This I find laughable. The primary responsibility of a pro is to win. This is the absolute way to represent the sponsor and honor the team's efforts. The USPS team's riders flog themselves day in and day out, impressively filling in the Tour canvas with the sweat of their efforts. And their reward is that Lance, day in and day out, adds the masterstroke. In life, Lance has proven generous beyond belief; with his energy, his time, his fundraising, his example. But in racing, there is little room for gifting. Lance does his job to perfection; he's a maestro , a master of his trade, and the Tour is his opera, his life's work. I'd argue that Lance, like Fausto Coppi and Eddy Merckx, has made the Tour more special, not vice-versa. He's brought in a whole new audience and taken the race and everyone associated with it to another level.
As for me and my family, we interacted this year with the Tour in various ways, working with two tour groups and having press access courtesy of cyclingnews. We got to see first-hand, for ten days, what it's like to chase the Tour versus being in the Tour. It's truly a 'moveable beast' as Connie would say. The Tour's got a remarkable motor, one that's tough to keep up with - which can wear your mood thin and run you ragged. It's not a relaxing vacation by any means. But man, is it exciting.
The Tour caravan is highly entertaining but catching a glimpse of the riders can be fleeting. There were moments where we saw the guys fly by out on the road (Stage 14 Carcassonne - Nimes) and up in the hills (Stage 11 Puy de Mary and 13 col du somewhere). But we also witnessed great mountain top finishes in La Mongie (Stage 12) and Villard de Lans (Stage 15) along with the smaller hill-top finish in Figeac (Stage 11).
Waiting at the finish (or anywhere en route) requires patience; you have to arrive early and entertain yourself, especially when traversing the more popular routes - or traveling with a group. For me it was common to find old teammates (notably Steve Bauer, Dag-Otto Lauritzen and Frankie Andreu). I got to hang with the OLN crew - chatting on-air with Bob Roll and Al Trautwig. I hadn't seen Paul Sherwin and Phil Liggett for a long while, too long. We ran into Jim Ochowicz (master architect and DS of the 7-Eleven and Motorola teams) and Michael Aisner (former race director for the Coors Classic) was on the finish line in La Mongie doing a documentary of the Tour. In the press room I ran into journalists I had not seen for years. It was a coming home type of experience and I found it profoundly gratifying to feel so welcome.
On the second rest day, we had some USPS time. I chatted with Laurenzo Lapage and we both apologized for my misinterpretation of the infamous 'turkey' event (see previous diary entry) and he explained the situation; a father of one of the USPS cadre has a preponderance of skin under his chin and is good-naturedly chided by the team with turkey calls.
My mistake, sorry Laurenzo…
Also, at the finish in Villard de Lans I was able to reconnect with Robin Williams and to thank him for donating a bike to the upcoming Davis Phinney Foundation fundraising event in Cincinnati (www.davisphinneyfoundation.com). "There's more where that came from," he replied, "that's what it's all about". Exactly. This is what I've learned from Lance too, that we can all do more.
It felt a bit odd to be 'inside the fence' behind the podium at Villard, (thanks to Jim Ochowicz) and under the glare of thousands of cameras. Shaky as always, I was acutely aware of the scrutiny. But Sheryl Crow was so gracious, so calm - yet happy to be there, that I relaxed and got my tremoring to subside. My daughter Kelsey posed with everyone, including Lance's stuffed Lion and sprinter supreme, Robbie McEwen. She's her daddy's girl, and is partial to the green jersey.
We skipped the Alpe d'Huez (Stage 18). It was like asking yourself if you should go to Woodstock and knowing that at age 45, it wasn't your scene. Taylor rode it the day before with Alex Stieda's tour group to witness the unfolding madness. It was already full to brimming with all manner of fans. On his ascent, the group had to stop several times for the traffic (people, cars, bikes). We saw Steve Bauer powering up with his group. Maybe he passed Taylor or maybe Taylor passed him but ironically, the year T was born ('90) was the year that Steve wore the yellow for 10 days. In fact, he was born just 3 days before the Tour got underway, while I flew in from Boulder the evening before the prologue. And there he was 14 years later riding the Alpe with Steve and Alex. Too cool.
I write this, my final TdF entry, having left France early to drive back home to Italy in preparation for a trip to the States. Thus we will miss the finale in Paris. But the 2004 Tour de France was for me a fantastic experience, one not soon forgotten. And I'm looking forward to coming back next year to chase this moveable beast around again. Back in Limoges, I was reminded emphatically that the Tour is and always will be in my blood and that fact only became clearer as my time with the race progressed.
To all the riders I offer my 'chapeau' - here's to you guys, thanks for another memorable event!
Photography
Images by Davis Phinney