91st Tour de France - July 3-25, 2004
An interview with Lance Armstrong, Sisteron, France, June 11, 2004
Armstrong sweats the details
Three weeks to go before the Tour de France
Lance Armstrong is a worried man, but not because the Tour is around the corner and Iban Mayo just took almost two minutes out of him in the Dauphine's Mont Ventoux time trial. As he tells Cyclingnews European Editor Tim Maloney, he's always worried about the Tour, even in January.
In good spirits for stage 5
Photo ©: AFP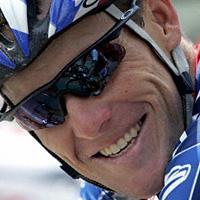 With only three weeks to go before he attempts to win a sixth Tour de France, Lance Armstrong sat down with Cyclingnews to discuss his quest to complete a unique winning streak. We were brought into the exclusive confines of the USPS-Berry Floor team bus by team media manager Jogi Muller and suddenly Lance bounded in the door. Despite being tired from almost a week of hot, hard racing in the Dauphine Libere, Armstrong was full of energy. After he offered us some liquid refreshment, we got down to business with the man they call The Boss in the Tour de France peloton.
Cyclingnews: How do you like being a Jeopardy answer?
Lance Armstrong: [Laughs]
CN: The other day on Jeopardy, the answer Alex Tribek read was "Strong enough to be Sheryl Crow's man" and the question the contestant said was...
LA: (groans) Awww... I hope that was only a hundred dollar question! I've heard over the years that there have been some cycling related questions (about me) related to the Tour, so that's not the first time that's happened. Wow! I guess I'm honored.
CN: So if the next Jeopardy answer is "winner of six straight Tours de France", it's clear you want the question to be "Who is Lance Armstrong?" In Thursday's le Mont Ventoux time trial, you lost more time than you expected, even though you went through the first split at St. Esteve fastest to that point. What happened after that?
LA: Well... I was probably a little faster than most people because I rode with some clip-ons [aero handlebars] for that first rolling section. Maybe, perhaps I went out a little bit fast, but I felt like I was in control. The point was that I expected to go a little bit faster, I expected to feel a little bit better but I obviously didn't go fast enough.
[Editors Note: Armstrong's 2004 time of 57:49 was still his fastest ever, three seconds faster than his time in the 1999 Dauphine' Libere' Ventoux TT.]
Focused at the start of the Dauphine prologue
Photo ©: velofotopro

I'm always worried [about the Tour]) in June. Christ, I'm worried in January... that's my nature, to be worried. This is my job, to race and to win the Tour and the day that I don't show up worried about the competition, about myself, about my team, about the equipment, about the budget, about the sponsors, that's the day I have to go home. So I'm still the same person; I'm still stressed about it and nervous I that may not be ready.
But now, looking back [on Thursday's Mont Ventoux TT] and analyzing everything, analyzing the performances of [Iban] Mayo and Tyler [Hamilton] and everybody that raced as well as my own performances, I think I'm on schedule [for the Tour].
CN: You referred to the last week of the Tour de France as being like "Hell Week": l'Alpe d'Huez time trial, the difficult stage to le Grande Bornand and the final TT in Besancon. Which one will have the most impact on the outcome of the Tour?
LA: It's too early to say now, because whatever happens in the Pyrenees will condition what happens in the Alps. First we finish in Villard de Lans and then l'Alpe d'Huez TT and the day after. l'Alpe dHuez is very hard. Long stage, long in terms of hours as well because it's a lot of climbing. [Then] perhaps what happens... the time people gain in l'Alpe d'Huez... the riders that would typically gain time in l'Alpe d'Huez would lose time in Besancon. A guy like Mayo gains a minute [on l'Alpe d'Huez], he's going to lose that and some in Besancon. Sixty kilometres is the longest [TT] that I've ever personally done, I think. And it's a challenging course... it's going to be a struggle.
[In the 2000 Tour the Fribourg-Mulhouse TT was 58.5km; in 2004 the Besancon TT is 60km. - Ed]
CN: You tested the parcours earlier this season?
Toiling up Mont Ventoux
Photo ©: Philippe

LA: Just before Criterium International in late March... nice course. Not a fast course, rolling.
I would even say with climbing. Four or five kilometer stretches that just always go up.
[TDF competition director J.-F. Pescheux says "on this stage, there are only 5km of flat roads. It's a stage for the strong men, and harder than last year's TT stage in Gaillac where Ullrich beat Armstrong."]
CN: In last year's Tour de France, you and the French public seemed to bond more than in past years, and Mr. & Mrs. Toute Le Monde thought you were more sympa. The other night at your press conference, a French reporter from L'Equipe Magazine asked you about your ongoing problems with the French and you seemed indignant about it.
LA: It's typical of a journalist that already has his story written before he asks questions, before he goes on the road and listens to the fans, before he does his work. He's got an impression in his mind, this is the robotic American that, you know, we have heard that over the years gets yelled at by the public. Even in the worst moments, you're talking about one percent of the population on the side of the road. Not many, and it's gotten a lot better and I've worked on establishing this bond with them, speaking French and doing whatever I can, so it's gotten better. And the best judge of that would be if this jerk would go off and do some research and ask some riders in the peloton who's name gets yelled when you go through some small village, or on a climb, who're they saying, what are they saying - they'll tell him.
CN: And you hear that?
LA: Oh, absolutely. And the people have been, really, ironically it started last year. I mean, when I expected with all the war stuff, all the political stuff, "them versus us" and it was better than ever and it's gotten even better since then.
But this (journalist) has already written his story.
It's not going to be a good story; he's been working on it for a while. He called Chris (Carmichael) and Chris asked me and I said "I don't know, just talk to him... L'Equipe Magazine is a pretty big magazine. He was asking crazy questions; you can tell the angle these guys are going, and you have to choose, do you cooperate or not? They're gonna write the story and sometimes you've gotta take it... "
CN: Turning to your quest for a sixth straight Tour de France, you've never underestimated the competition. You said recently that you see Jan Ullrich on a different level than the others, for example Iban Mayo, Tyler Hamilton. But can you feel the others getting closer to you?
On the way to the final stage start line
Photo ©: Russell Standring

LA: Certainly last year, they were closer. Everybody was close last year. It's too early to comment because we haven't ridden the race this year. I refuse to give a judgment until the road judges it for us. And even then, it's not my judgment... like today, I walk in with the results of the day [refers to stage communiqué of Dauphiné Libéré ]. Lets took at the results after the l'Alpe d'Huez time trial and the facts may be that they are getting closer, but I don't think you'll see the same results then that you saw on le Mont Ventoux. I fact, I know you won't.
CN: Another recent comment you made was that probably the best way to beat Ullrich was to have an aggressive race in the mountains and hope you can follow the climbers. Another related comment you made last December at your press conference in Brussels was that your former USPS teammate Roberto Heras wouldn't have much of an impact on the outcome of the Tour and that his riding style would be good for you.
LA: Well Heras will want an aggressive race. It's great that we've got a couple of explosive Spanish climbers [in the Tour] and it's great that we go to the Pyrenees first. And as we know, those mountains, although they're in France, are covered with Spanish supporters. And I think the Spanish [riders] tend to do better in the first part of the Tour than in the second half. Whereas Jan is the opposite. So just sort of thinking out loud, it could work in our favor to have a fresh Mayo, a hometown crowd on tough climbs like La Mongie and Plateau de Beille, Plateau de Beille's really hard. Which could be a good thing... basically just opening up the race.
CN: You also spoke of "stress points", one of which was not having a new sponsor confirmed before the Tour de France. Are there other stress points for you?
LA: There are a few things stressing me out but I don't want to discuss them, but overall, it's just the month before the Tour. 'Is this right, is that right, how do you feel?' I can go today to thinking about [in a Dauphiné Libéré stage], some corner out of a small village, saying 'God I was suffering out of that corner' because you're at the back and the ones at the front are sprinting and you're in the back braking, coming into the corner, it puts you on the rivet and [I think] 'God I was suffering.' That stresses me out, little things; just anxiety about the race and ready to get on with [the Tour].
CN: I imagine you'll be a lot happier when you get to Liège for the start of the Tour de France.
LA: Yeah, Liège... The start of the Tour is always... once you do the prologue, it's a great feeling, 'cuz especially the first few days before the Tour are just a grind. Health checks, medical checks, press conferences, which can be anywhere from civil to hostile, depending upon who has the huevos to show up. And then you finally start and you're like... I mean, you roll down that start ramp and you're like 'oh thank God we've started!'.
CN: I noticed that you and the USPS-Berry Floor riders have been wearing a yellow wristband at the Dauphiné Libéré. What does that signify?
Explaining sprinting tactics to Iban Mayo
Photo ©: AFP

LA: Yeah, Livestrong. The team riders have been wearing these since the Tour of Languedoc. Our web guy at the Lance Armstrong Foundation, Randall Macon started probably eighteen months ago creating the content for the Livestrong program and it was a long time before we launched it and it's not even fully launched yet. Livestrong is a division of the Lance Armstrong Foundation, with a separate website (www.Livestrong.Org) that's a resource center for cancer survivors, family members of cancer survivors, anybody with questions. We want this place to be the place that people go, like they're diagnosed, they go to the doctor, they get the bad news, they come home and they go to Livestrong.Org, just to try to find answers to their questions, to try and find support from fellow cancer survivors, people who've been through what they've been through or what they're going to go through. It will be our flagship program over time.
So what happened was Nike came along, heard about it and loved the idea and came to us with the offer of making five million of these yellow wristbands [with Livestrong on them] and selling them for a dollar and giving the proceeds, which is five million dollars, to the LAF.
But to kick it off, [Nike] donated a million, so you're talking about six. Last I heard, they'd blown through the five million, I think and are considering making more. And the great thing about a company like Nike, outside of the fact that they actually did it, is that they've got famous athletes all over the world, that they say 'hey another one of your fellow Nike guys has this going on, and will you wear this'... I mean, to pick up L'Equipe (cover page) the other day and to see Thierry Henry, the French soccer hero, who quite frankly I've never watched in my life, running on the practice field before Euro2004 with a yellow wristband on, man, it's amazing!
Agassi wears one in the first round of the French Open, Serena [Williams] is wearing one, Carlos Moya was wearing one at the French Open, baseball players in the Major Leagues are wearing them, Derek Jeter was wearing one, the athletes have really been behind it. Then there was a big thing at Cannes the other day. Sheryl [Crow] has been great about it. Sheryl really kicked it off on the Today Show talking about it and handing them out when she played an outdoor concert there. The response has been beyond our wildest dreams.
CN: And the proceeds are all going to fund Livestrong.Org?
LA: Yeah... cruise around the site. It's great.
CN: Lance, speaking of music, what's on your iPod these days?
LA: I knew you were gonna' ask me that... the new Grant Lee Phillips... umm...
CN: Are you going a little more country now?
LA: Nahh! Some old Jim Croce, I just love old Jim Croce, the more folksy stuff. I've been listening to older music lately; Crosby, Stills, Nash and Young; still listen to Coldplay now and again. Vertical Horizon is on my iPod, I don't know why. Josh Rouse, he's really good. That's it, it's all I can remember now.
With that, a hungry Lance Armstrong headed off the Postal bus for dinner with his teammates. In the three weeks before the Tour de France starts in Liège, Belgium, Armstrong will test his new Trek climbing bike on l'Alpe d'Huez, work on some specific time trial training and bike set-up and on Wednesday, 30 June, head north from Gerona, Spain to Belgium for his shot at a unique sixth consecutive Tour de France victory.