91st Tour de France - July 3-25, 2004
An interview with Mark Scanlon, July 9, 2004
Settling in quite nicely
Five stages into his first Tour de France, Mark Scanlon is sitting sixth overall in the best young rider classification, and can be more than satisfied with his showing thus far in the world's biggest bike race. Irishcycling.com's Shane Stokes reports.
A contemplative Mark Scanlon before the start of Stage 2 in Charleroi
Photo ©: Shane Stokes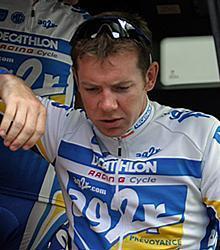 Former world junior champion Mark Scanlon has had a fine start to his first Tour de France. Going on the attack on two consecutive stages and helping his team-mates Jaan Kirsipuu and Jean Patrick Nazon to stage victories in the opening week, Scanlon has played the perfect team role so far.
The 23 year-old is clearly thriving in his surroundings, a welcome showing after a long absence of Irish riders in the Tour de France. It has been a full eleven years since Stephen Roche bid farewell on the Champs Elysees, but with home interest now soaring once more, things are looking a bit rosier for Irish cycling.
"The race has been fine so far," said Scanlon before the fourth stage team time trial. "I've felt pretty good - I did a solid enough ride in the Prologue and then was able to help Jaan in the final few kilometres of Stage 1. I went up and down the bunch to bring both himself and JP [Jean Patrick Nazon] to the front, and then did a big pull inside the final two kilometres. I was surprised at being able to do that; I thought it would be harder up the front at that stage."
Scanlon showed his good condition early on in Stage 2, going clear as part of a six-man breakaway group just 10 kilometres into the stage and staying out front for a total of 162 kilometres. He took second and third in two of the day's bonus sprints, and while the group were reeled in 25 kilometres from the finish, the ride boosted his confidence somewhat.
"We attacked at the top of the fourth category climb about 10 kilometres after the start," he said, speaking at the finish in Namur. "A few guys went for the king of the mountains prime and then afterwards four riders went clear. Myself and Sebastian Lang jumped across to them and the lead just grew from there."
"It's hard to know what to expect; I haven't done anything like this before"
- Mark Scanlon on his expectations in his first Tour de France
"The plan was to take the pressure of my Ag2r team. We thought that the Fassa Bortolo team might leave us out there to mop up the time bonuses, with Thor Hushovd so close to yellow, but his Credit Agricole team rode to set things up for a bunch finish and to put him into the jersey. We were caught around the 25 kilometre to go point, but it was a good effort."
A little nervous, a little excited
Photo ©: Shane Stokes

Scanlon did much of the work in the group, showing just why he is considered one of the big talents for the future. This may be his first Tour, but mixing it with the big guns underlines both his ambition and his good form.
"These are the stages where I can take advantage of my strengths," he explained. "Days with rolling, flat roads suit me pretty well so it was important to have a go. I'll keep trying if I get the chance, although with Jaan Kirsipuu and Jean Patrick Nazon sprinting well, we will also be working for them."
Stage 3 saw Scanlon revert to team duties, helping Nazon take Ag2r's second stage win in three days. In doing so, the small French team socked it to the more established gallopers in the peloton, showing that they truly deserved their place in the Tour.
That day's leg had been a fast, tough stage over the cobbles of northern France, a day when Iban Mayo's difficulties had prompted US Postal, T-Mobile and Phonak to really hoof it on the run-in to Wasquehal. The Irishman made that group, then briefly went clear in a five-man move inside the final six kilometres before dropping back to help the team sprinters. With two kilometres to go, Scanlon was sitting third in line at the front of the peloton, looking back repeatedly over his shoulder to see where the two Ag2r gallopers were. Realising they were some way back, he dropped down the bunch with the aim of guiding them into a good pre-sprint position.
It's clear that Scanlon is in good shape. So what is he expecting from his first Tour?
"It's hard to know what to expect, I haven't done anything like this before," he says. "Obviously finishing the race is a big goal for me. The mountains are very late and the final few stages are going to be really tough, but I will give everything I can to get to Paris."
The Mark Scanlon fan club
Photo ©: Shane Stokes

When he won the world junior championships in Valkenburg in 1998, Scanlon was compared by many in Irish cycling to Sean Kelly, at least in terms of their amateur performances. Kelly gave the new Irish hope the thumbs up earlier this week when he said the Ag2r rider was capable of taking a stage victory in the race, all going well. For his part, Scanlon plays down such talk, but that assessment by his childhood hero will nevertheless have meant a lot.
"It's nice that Sean said that", he says, "although I wouldn't get my hopes up too much! I know how hard it would be to get a stage, the way I would have to ride. I'd like to get away in a break or two and I do have a decent gallop, but personally I think it is too soon to be thinking of a stage win. I'm just going to take each day as it comes."
"Finishing the Tour is a big goal for me but it will be very tough. If I can get through it, though, if I can get a three-week stage race in the legs, it will make a big difference. By the time the Olympic Games come around, I should definitely be in top form, particularly if I have lost another two kilos during the Tour."
As Scanlon says, riding a Grand Tour is something which will help develop his career. So far he's done pretty well, taking two Irish championships, a stage of the 2003 Tour of Denmark and two 1.3 races in Estonia in May. He's knocking on the door of the world's top 100 riders and is one of the best young hopes for the future. The hope is that riding - and finishing - the Tour will move him on to the next level.
Of course it's not just about that longer-term aim - a stage win between now and Paris would be very welcome too!