91st Tour de France - July 3-25, 2004
Under pressure on the road to Liège
Euskaltel-Euskadi sets sail for the Tour with high aims and expectations
Cyclingnews correspondent Martin Hardie caught up with Euskaltel-Euskadi earlier this week as they packed their bags and bikes and set off in their orange caravan for Saturday's Tour start in Liège. While EE's riders have remained their usual humble selves, simply stating that their objective was to improve on last year's performance, there was a definite sense of understated expectation within the orange camp.
Iban Mayo and Haimar Zubeldia get on the team bus
Photo ©: Oskar Matxin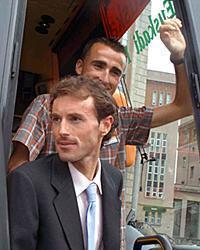 Iban Mayo's form in the first half of 2004, and especially his crushing defeat of Lance Armstrong on Mont Ventoux on the way to overall victory in the Dauphiné Libéré, has shot him from being 'should do well' in this year's Tour de France to 'podium favourite and serious threat'. At home in the Basque country, Mayo has been subjected to immense media attention as his team moves up a notch from quirky mountain specialists to potential giant killers.
But there's a lot of ground to cover between Liège and Paris. Mayo and his orange-clad Euskaltel-Euskadi team will serve clear and present danger to Lance Armstrong, Jan Ullrich and the other favourites in the mountains, but first they have to get there without losing too much time in the team time trial or getting into trouble in the Tour's first hectic few days in Belgium.
Although team director Julian Gorospe has recognised the team time trial as their handicap, Haimar Zubeldia said that the riders "are not worried about the TTT in any respect. Last year we had a great Tour, but now, this year it is the time for us to speak."
"At the moment, personally I am feeling really good," said Zubeldia. "I had my last test at the [Spanish] championships and I went well and I am happy with my form. Now all I need is a little luck during the first week. The team is going great, you have seen how well the team has been going in our recent races. So we are looking forward to doing our best."
Haimar's ambition is to do better than last year. "Without a doubt I want to improve on my fifth place of last year. But really before we get there we don't know how we will go. The objective is to give it everything and if at times we find ourselves in a good position we will see what happens from there," he added.
David Etxebarria, who turns 31 during this year's Tour and quipped "yeah I am the old guy!" explained the difference in approach to previous years. "In the past our objective was to win some stages and make a spectacle in the mountains. We went calmly about that task and last year we had, by chance, a great tour. Now having made fifth and sixth it is clear that our next objective has to be the podium, and for us, the team, this is what we are thinking about and what we are focused upon.
"This year is different. We have two clear leaders and the team knows what they have to do: all of the riders know their jobs and we are focused on ensuring that we lose the minimum time possible. We just need to keep close to the front especially during the first complicated week."
Etxebarria's job is in part to supplement the work of team director Gorospe - he will be the director on the bike, as it were. "On the road we have to take hold of the responsibility, without any fear and without looking to anyone else. We have to know where we are in the race, move and react when we need to. If you lose 30 seconds in the Tour it is a lot. The objective always will be to make sure that our two leaders don't lose any time."
The orange crush
Photo ©: Oskar Matxin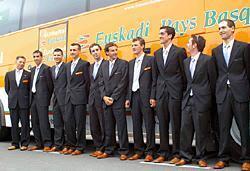 Unai Etxebarria explained his role in the Tour to us a few days earlier on a morning ride. "My role in the Tour is to help Iban throughout the first 12 stages," he said, "to keep him out of trouble when there is a lot of tension and to make sure that I and the others do a good team time trial. It is different from before because now we have a solid leader like Iban to work for." Unai cherishes a dream of winning a stage and he has shown twice this year how dangerous he can be in the final stages of a complicated route. "We have much more tension and pressure than before but I think the team is going to go really well. My only fear is that in the first week we encounter some danger and Iban loses some time." Asked who were the contenders, the likeable Durango rider said, "the usual suspects" but finished off our chat by speaking honestly and sincerely: "in my heart I hope and believe that Iban can go on to win the Tour."
Whether Unai's hopes will be realised this year is the question many are asking. Although their stated ambition may be just to improve on last year, the orange crew haven't shied away from buying into the pre-Tour war of words. Regarding recent reports that Ullrich has said that Armstrong has been bluffing of late, Zubeldia told us, "I don't know if Armstrong has been bluffing or not - but in other years he has engaged in a little theatrics - but whether he has been or not, the fact is that he is one of the favourites and he is always good in the Tour."
Iban Mayo couldn't or wouldn't say if Armstrong had been bluffing but he would be drawn upon whether he thought Armstrong would be stronger than at the Dauphiné: "Yes, I believe he will be, if he isn't stronger than he was at the Dauphiné then he cannot win this Tour. But I think he will be much stronger than when he was then."
A call for good luck
Photo ©: Oskar Matxin

Julian Gorospe was probably the most direct and pointed when talking about Armstrong. "I wouldn't like to see the American win another time because I suppose that would put him above the other greats that have won five Tours," he said. "His form of racing has been different as he has prepared specifically for the Tour in a way different to the other greats." Gorospe believes that, "the moment of [Armstrong's downfall] could arrive at any time and it could be this year. In the same way that when Riis beat Indurain, he who overcomes Armstrong will take all the fame. And if it is us to beat him then that would be marvelous. I hope it happens."
"Now there are many teams with the capacity to fight against Armstrong: Phonak, CSC, Liberty. Here at home there is a lot of hope heaped upon us, but when we arrive in Liège we will just be one more team. For us the team time trial is a handicap, but the new rule benefits us, as does the fact that there is not a flat time trial in the first week. But we can't be obsessed with just one stage as all the stages have their complicating factors."
Gorospe finished by adding, "I don't have anything against [Lance Armstrong], he is a great rider and a great person, but that an American wins their sixth Tour... cycling does not live there with the passion of Europe. It is for this reason that I would not like to see him break the record of five Tours."
Julian Gorospe more than happy to talk
Photo ©: Oskar Matxin

Although touted widely as a favourite for the podium, Iban Mayo wouldn't say whether he thought such a result was within his reach. "No, no. I want to improve, but without putting any limits on myself. I don't rule out anything at the start. To improve on last year could be to win two stages and finish eighth overall or it could be to finish fifth and win one stage. I am going to try and win the Tour. But I have my feet on the ground and I know that I have a complicated road ahead, but from the start I aspire to do the utmost, well if I start thinking about finishing third at best I would have to approach things differently and I don't want that. If I am in third position I am not going to try and conserve this place but still try to win the Tour. Could I lose this position by attacking? Well I could lose it by trying, aspiring to get to the top, but not by trying to be conservative.
As he has been saying for the last couple of weeks, Mayo maintained that "Ullrich and Armstrong are the favourites. They are above everyone else, one has won five Tours, and one has won one and never finished lower than second. I am not a favourite - a stage victory for me is important. Can I improve on my sixth place of last year? Well we will see, the team is good, it has got one year more under its belt, everyone is better and we are looking forward to the race."
In response to whether the podium was his main objective, Zubeldia said, "well it is the objective of many, isn't it? We will just go day by day and see how we go. If one of us is going better than another, we will work for whoever has the opportunity to make it on to the podium. We have riders here who can make it on to the podium."
Iban Mayo is the star of the day
Photo ©: Oskar Matxin

Zubeldia added that he was "not feeling uncomfortable about my position at all - Iban has had an extraordinary season; its normal that the focus is on him. On the other side for me that means less pressure."
Gorospe is clear on what he sees as the objective. "I wouldn't exchange the podium for two stage victories. To make the podium this year will mean security and hope for the future and the ability to advance more in the coming years. We have two young riders, Iban and Haimar, and thus in the future we could think about winning. But to make the podium this year would be a very great triumph for us. Thus this year we go to the Tour with different objectives and with more pressure."
Photography
Images by Oskar Matxin