91st Tour de France - July 3-25, 2004
Where Eagles Dare
A sideways look back to Alpe d'Huez: Part II
Click here to go back to Part I
"There's only one way to do this - get up early and stake one's claim on the little patch of hillside that we want for the day."
Day 2, July 20: Unlike the big music festival sites, tent-village on top of the Alpe is up en masse in good time; breakfast is taken in a number of ways - Mister Mad has his bottle of wine on the go with his croissant on which he is liberally spreading a dark coloured confiture, melon seems to be the French couple next door's choice and I can smell bacon being cooked inside the British couple's tent on my left. There's little I miss about the UK nowadays but a good bacon sandwich is one. Miss P and I go in search of a serviceable lavatory and pain au chocolat.
Later on in the morning, we bump into David the bone-cruncher at the top of the dry-slope luge run; given the vast volume of people here already it's a little like spotting the proverbial in a haystack. Pleasantries are exchanged as Miss P awaits her turn for her downhill run and he confirms that they all made it up the mountain late last night. He's amiable as ever but looks dog-tired.
Sabine, on the other hand, when we chance across her and Saen a little later, looks whacked and badly in need of sleep. As ever her gregarious and caring self, she's in more of a worry mode than usual - hardly surprising with all of the driving she's done. Yet, this remarkable one-woman support system that she is to Scott overrides all… the devotion to the cause the only thing that matters and any lack of sleep will be rectified in due course. We have time for coffee before she heads off to catch up on some rest and Polly and I head off to the big screen to watch the afternoon's stage.
Eyes transfixed on the big screen
When we get there and settle in, we can see a break looks like its just gone, the USPS boys seem to be controlling the front of the peloton which appears to have split a bit and… bloody hell, there's an Alessio guy bridging the gap. It can't be… but the style looks very familiar. It is. It's Scott. Game on!
Junction is made and the break starts to move ahead, each coureur taking turn and turn about at the head of this small(ish) group. US Postal seem to be content to let them ride away so, will this group get through to the finish today - after all, none are much of a threat to the classement especially with the time-trial on the morrow. Sure, Virenque is up there but he's after more mountain points in his quest for a record-breaking seventh Polka Dot jersey. On the next climb everyone looks fairly comfortable and riding at a decent tempo until about halfway up and Virenque charges ahead. In moments the break is shattered, Scott's among those dropped and we now have a leading group of three with - what looks like a furious O'Grady and one or two others - chasing hard. Ah well, that's how it goes sometimes. Time for a late lunch as this looks like it just might be the hors d'oeuvres to a long afternoon.
Indeed it is as, when we return, we luck out on it being the exact moment when Der Kaiser (Ullrich) gives it maximum gas and rides away from the depleted peloton. The applause from the swelling crowd in front of the giant screen is heart-felt as the German's brow furrows in concentration and he starts to pick off riders coming back into the fold from that original break. As he accelerates past a couple there's a roar from the crowd, no one can hold his wheel - his heavily muscled thighs hammer on like two majestic tanned metronomes as they smash out an extreme cadence with the road climbing relentlessly upwards.
He's visibly gaining on the little Virenque group, no one can hold him and, although Armstrong is canny and strong enough to not let him get too far, his own troops look cooked as they drive the front of the leading group - not only a great spectacle but this could be very interesting; its like chess on wheels and, if Ullrich gains a couple of minutes or a bit more by close of play, then tomorrow's fight on the hillside above Bourg d'Oisans will be the more intriguing.
History shows it never turned out that way as - with Jens Voigt told to wait while ahead by his team-management and rejoin the Armstrong group and (presumably) look after his team mate's Basso and Sastre - he seems to cooperate a little too closely with the USPS guys and more or less single handily bridges the gap to Ullrich himself, towing Armstrong et al in his wake. As this unfolds, the boos from the screen audience abound and a caption goes up on screen from French TV which has a cartoon of Lance wearing a new team-jersey, that of CSC (Voigt's team). On being recaptured, Ullrich remains impassive - he's as experienced as any within the peloton to know that 'combines' will occur… and maybe Voigt did do his job for Basso and Sastre but, he also did all of the work for USPS as Armstrong's boys barely contributed to that chase. Ah well, what goes around comes around.
Late pm and its time to figure out our spot for tomorrow… we find it about two hundred metres up from the last hairpin before the actual village of Alpe D'Huez, under a tree - in fact, the last tree before the village - and with an almost perfect view down the mountain which means we can see about six or so kilometres of the twisting, turning ascent.
There are already thousands camped out on this bit of hillside with a Belgian disco-inferno high up on a rocky promontory above in full flow. There's a line of beer-swilling fans redefining the dance routine to Staying Alive and other Bee Gees classics. By the time they begin their assault on Village People and numb us with a rendition of YMCA, we are wending our way back uphill to tent-village and an early night. Tomorrow's going to be one long day.
The day has arrived...
Photo ©: Sirotti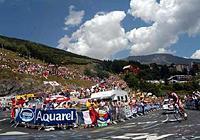 Day 3, July 21: There's only one way to do this - get up early and stake one's claim on the little patch of hillside that we want for the day. It's the pre-dawn but already tent-village is stirring. As Miss P dreams soundly on, rolled up in her sleeping bag, I slip out of the tent and shoulder some of the things we reckon we'll need for a day out on the hillside.
I'm not the only one with the same thought and join hundreds of others walking towards the race-route. All of the bars in the village are shut although a few late-night revellers are heading back up, some worse for wear, some finding the uphill trajectory too difficult to manage and settling on what remains of the night on benches.
Half an hour later, I'm also heading back to the tent having nabbed our spot - another thirty minutes and we'd never have got it as all around chairs and towels had already been placed in readiness for their owners return visit a little nearer race-time. A little like the acquisition of poolside loungers at those massive hotels in Majorca. The Belgian disco kings and queens are fast asleep as is a young girl wrapped in a duvet with her head on her boyfriend's knees as he idly studies form in the morning edition of L'Equipe. The sky is cloudless although the sun has yet to hit this part of the hill. Its going to be hot today.
In position
By eleven am we're in place - we've stopped at a café on the way down and downed coffee and pain au chocolat, we have the cool bag packed to the limit with water, coke, and all we can think of for lunch. A bunch of Dutch have been rounded on by the bar's Madame for daring to eat pre-bought sandwiches in her domain while the Americans beside us display a curious arrogance at their being on the Alpe - difficult to define yet almost as if they don't quite know how to grasp the fact that it matters not that Armstrong is top-dog; the Tour's bigger than any one rider or team - and, the real truth is every single rider who makes the finishing line in Paris is a winner themselves. Heroes one and all - the unsung who don't make the front page of the newspapers round the world during and after the event itself…. and those that do.
As we position ourselves in readiness for the Caravan to pass by, there is a steady stream of thousands descending past us all clutching their needs for the day ahead. The Swiss marching band have a trolley full of beer in the middle of their little convoy and a number of drums which are being beaten with great gusto.
After a couple of hours the hillside around is full to crammed, there isn't a space by a barrier that we can see yet more and more people continue to pour down the mountain from tent-village as equally the same numbers continue either walking or riding up. Some Dutch mountain bikers believe they can barge in to where the French family are next to us but get short shrift from Madame; an Italian tri-athlete wonders why the Spaniard next to us won't let him in until we all shuffle up a little and the Italian gets his spot. The mountain bikers get over too but decided against an afternoon of wrath from Madame and ride down through the long grass as well all turn around to watch - one summersaults over his handlebars and gets a round of applause.
On the hill high above two small dots are evidently up to something… the letter B has been painted in white on what looks like to be grass. Squinting into the sun, we see the letter A and the first S of Basso's name follow. It looks like they're using a bucket of paint and a broom; the letters are about twenty feet high.
La Loopy Caravane
Last minute decorations
Photo ©: Sirotti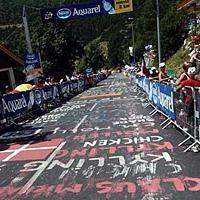 As that gets completed, the pre-race caravan of absurdly decorated vehicles starts wending its way up the mountain; the press cars and tv and media and invited guest having passed by long ago in a collective screech of air-horns. Last year, when out on the road-side near Matha in the Charente, Miss P's haul of swag was minimal - a yellow Tour musette and I got hit on the head by a thrown Mars Bar.
This year we have a Gendarme under the shade of our tree and he starts collecting anything that doesn't go behind the barriers and handing it to Polly. All part of the game but it'll mean that all that we have to carry uphill later will be that bit heavier.
And then, just as soon as it started, the Caravan has gone… Spiderman and his entourage is parked up high above us; the Aquarel vehicles and fleet of Skoda cars are long away as is the man on the other side of the road who missed his footing on the rocks above while chasing a thrown Champion hat and fell and cut his leg wide open. The ambulance stopped right opposite us which meant that the Caravan passed by even slower with the added result of even more swag added to Miss P's considerable collection. How many Cofidis key rings do we really need?
The Belgian disco kings and queens are in raucous voice but this afternoon are being matched by a bizarre assortment of Dutch who blare out one song which appears to have something to do with touching one's nose. A bit like the Birdy Song in Dutch I suppose. In any event, it must be a National treasure as, after each rendition, they get a big round of applause. The Belgians repertoire remains as is and they still haven't got YMCA off pat.
And then, as if by some quirk of magic an unusual ripple of a Mexican wave rushes up the hillside - from where it started no one knows although conceivably at the very bottom of the hill - would that mean it's the longest Mexican wave on record? The guy clad only in green underpants opposite sits idly scratching as the drummers who've positioned themselves below us on the road start drumming louder - the first rider is in sight… a small dot on the road below us flanked by two Gendarmes with flashing lights on their motorbikes just ahead and a team car festooned with spare bikes and wheels just behind.
He comes past us, glances in our direction and his eyes tell all - two and bit more kilometres of suffering and it'll all be over. He looks to have little left in the tank and the coating of sweat over his face tells us that this isn't perhaps the most fun day in the office for him.
Heeere's Scotty
About an hour later and we're waiting on Scott coming through - we can see him four hair-pins below us with an Alessio car shadowing him. In and out of view and then we see him again along the road right below us he pedals smoothly until disappearing out of sight for a few moments climbing up into the final hair-pin, Virage 1 as Miss P and I clamber up onto the barrier.
Scott accelerates out of the corner, moves economically over to our side of the road - there's a bit of a breeze this high up the mountain so crowd shelter is crucial - and, as he comes closer to the two motor-cycle borne gendarmes, its easy to see that there's concentration written all over his face.
He passes by maybe two or three feet from where Miss P and I are yelling encouragement from our barrier-top perch, he has one gear in reserve, his legs metronomically pump out their rhythm; he's set impassive on his bike with virtually no upper body movement; eyes behind those custom-made dark-glasses fixed ahead on some ever-moving spot on the hillside ahead with a droplet of sweat forming right on the tip of his nose. He looks comfortable and from what I can work out from the start list has already caught his minute-man. In a trice he's gone and in amongst the screaming hoards higher up the climb.
A while later the helicopters start to chatter high above, the favourites are due. But, in the meantime, something distinctly odd has occurred - as each USPS rider passes they're not applauded and encouraged as everyone else has been and enough boos to be audible can distinctly be heard in amongst the great mass of humanity on the hillside.
The wrath of the tifosi
For some reason McEwen doesn't appear to have charmed his public either and gets the same treatment. Voight gets the same short shrift as well - earned from the tifosi no doubt (deserved or otherwise) from his chase down of Ullrich from the previous day while the tide of emotion that carries young Thomas Voeckler upwards is heart-warming to hear. Housewife's evergreen favourite is similarly roared on and then we're down to the last few…
Mancebo comes by pouring sweat and not looking too good as Ullrich powers up past us - his face contorted in effort and pain, pounding out a high gear and his pink T-Mobile jersey wringing wet. A little further down the mountain and the helicopters are now lower… we can see the last two little convoys and they're nowhere near two minutes apart. Armstrong must really be on one as it's evident that he's made up a lot of ground on Basso.
The battle is raging on the slopes below us, the decibel level has increased inordinately and on the road immediately below us, we see Basso to one side of the road and Armstrong the other; the yellow jersey is stamping his authority on this race in unprecedented fashion and its happening right by us. In a trice they're through the final hairpin and Armstrong powers past. Basso rolls by a few metres behind but his eyes tell us everything - he's a beaten man.
Our own Everest
Later dudes, I'm outta here!
Photo ©: Sirotti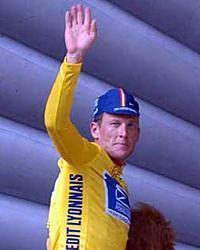 Within minutes the barriers are pushed back, our belongings are packed away and, in the style of two Himalayan porters, we begin the long trudge back up our own Everest. As we barbecue the last of the chicken, a man hangs a portable shower over the car park sign opposite, strips to his underwear and sits on a chair to shower; a queue is already forming of camper-vans with yawning occupants reading themselves for their long journey home.
High above us, a continual stream of helicopters rises into the evening sky to take who knows who down to Bourg d'Oisans. We gaze idly up to see a yellow-painted one and wonder if that contains the Texan who'd administered his own chainsaw-massacre by cutting his rivals to ribbons on the slopes of the Alpe today and his main-squeeze Sheryl Crow? As we crawl into our respective sleeping bags, we make something of a plan - we'll leave when we wake up - at whatever hour that is.
There is a rustling sound outside the tent; the fireworks that began a bit earlier seem to have stopped but there is still a bit of chatter all around. Wonder what time it is? Peer sleepily outside. Madame the French lady is folding up their tent - they're obviously leaving… damn, it's still pitch dark. She tells me it's three in the morning. Bloody hell - ok, we said we'd go when we woke up and so Polly wearily hops to the car in her sleeping bag and conks out pretty much immediately on the front seat.
The rest of our stuff is unceremoniously plonked across the back seat and into the boot and we're off - three twenty-six am precisely. Three hundred and ninety-one miles later and after eight hours driving, we climb the little hill into my village; there is one hairpin bend and its nothing like as steep as where we have just been.
We're home; Scott's already out on his bike selflessly helping Caucchioli get through another day and Sabine's faced with the long haul back to Belgium with Saen while David will be hoping his TGV connection from Grenoble will take him on time to his 'plane bound for Australia. Toad and (his wife) Squirrel see us unpacking the car and we wander over the lane looking like a pair of refugees to chat to them about what they watched on their TV the previous afternoon.
I speak to my mother back in Britain later in the day who tells me that the paper she gets has reported that over a million people were on the Alpe on Wednesday. 'How was it?' she asks. 'I dunno really… it's a little difficult to describe… but, well… it was a bit like this…'