Tour of Britain - 2.3
Great Britain, September 1-5, 2004
An interview with Tony Doyle, Tour of Britain Events Director, September 8, 2004
In good shape
Tour of Britain Events Director Tony Doyle
Photo ©: Shane Stokes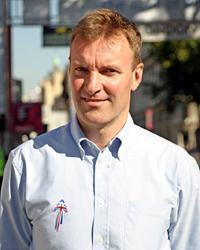 Tony Doyle had a highly successful career as a road and track rider, winning two world pursuit championships, four European pursuit titles and a total of 23 six day races. Since retiring, he has worked in a number of areas, including Nike's European cycling operations. Now he has increased his involvement in the sport in being one of the driving forces behind the new-look Tour of Britain.
On an early morning trip from Newport in South Wales to London leaving at 6.30 in the morning, it was a rude awakening for a bleary-eyed Cyclingnews correspondent Shane Stokes, but par for the course for Doyle, who has had, over the past few months, umpteen early starts in the organisation of the race.
He spoke about his career, how the current Tour of Britain came about, the huge public reaction to the event and how he hopes to perfect the race and to build on its success in the future.
Cyclingnews: How did this current incarnation of the race come about?
Tony Doyle: Going back to the Olympics in Sydney, Hugh Roberts (Tour of Britain commercial director) was out there. He saw the cycling events take place on the road and the track. He found it very exciting and was amazed at the scale and size of the sport.
At that time in 2000 things were very quiet with regard to professionally-organised races in the UK, we didn't have any major events at all. We briefly discussed the possibility of maybe doing something in the future. Since 2000, various attempts have been made at promoting major races by other organisers and nothing happened. So we looked at what events there were and what opportunities there were. We saw that the general interest in cycling was continuing to grow and the popularity and the profile of the sport was higher than had been for some considerable time. The success that had been going on in the Tour de France, its popularity and the increased coverage that had been getting in the UK was a factor, and so too the success of the Great Britain team had been having at the world championships and at the Olympics.
The timing was right, we felt there was an obvious desire with the British public and the media and we felt that there was a hunger for a major event to come back here. We saw that a Tour of Britain was an ideal event and what British cycling needed.
"We felt that there was a hunger for a major event to come back here"
- Tony Doyle on the reasons behind the emergence of the Tour of Britain
CN: What differences were there with the old structure such as the Prutour, compared to the current Tour of Britain?
The name says it all
Photo ©: Shane Stokes

TD: One of big differences with the Prutour and the Kellogg's is that they have had a title sponsor. We felt that there was enough interest for the Tour of Britain to be a national, iconic sporting event and a permanent fixture on the sporting calendar. All the major events that are held are known by the event and are not called after the sponsor. For example, Wimbledon, the British Golf Open, the FA Cup, the Tour de France, the Olympics. There are major sponsors involved but the event title itself says it all.
So we went to the government, the various government agencies and the regional development agencies and got them excited. The government is obviously doing its best to bring major international events to the UK. The government is now more concerned about the state of the nation, with regards the health of the people.
People now are generally thinking about... maybe not actually doing the sport yet, taking part, but they are thinking about it at least. Thinking about their health and general wellbeing more than ever. So there is a drive to get people on the bike or even, when they are about to have that third pint, to think about whether it is doing them any good or not.
CN: This year's race features perhaps the best ever line-up for the Tour of Britain. How did that come about?
TD: Well, firstly we are a huge market here with a population of nearly 60 million, and a lot of teams have major international sponsors. Secondly, I spent a lot of time with the riders at other events and other work that I do, so I have got to know the riders and the team managers very well. I am dealing with them and have access on a regular basis. There is a lot of empathy there.
CN: Are you happy with how the race has been so far?
Quality field = lots of spectators
Photo ©: John Pierce

TD: Yeah, superbly happy. The race has gone very well and I am delighted by the quality of the field and also the way the racing has taken place. How the race has unfolded. As you know, every national Tour is important. Being a national tour always gives an event a certain amount credibility. So to win a stage or to win overall counts for a lot on a rider's CV. So riders haven't just come here to ride as if it is any other event, they have come here to race and determined to do well. We have had some great racing so far.
CN: What challenges has the Tour of Britain faced, both before and during the event?
TD: Prior to the race, there were challenges with planning and devising an acceptable route for a number of reasons. We are densely populated here, more than any other major country in Europe, so with the volume of traffic we have on the roads and with the build-up there is in various cities, plus the traffic calming measures that have been introduced in major towns and cites, there are a lot of things which had to be taken into consideration.
Once the race started, the safe passage of the riders was a focus. That hasn't been easy but what is pleasing to see is that as the race has unfolded, how much smoother things have run.
CN: For next year and beyond, how can this task be made easier? Is it a question of keeping the race away from built up areas or is it a case of getting more marshals on the race?
TD: I think it is a question of both; maybe looking a little more carefully when taking the route through built-up areas and then working closer with the police force and the community police force. Also we will be working very closely with British cycling and the local authorities to perhaps get more support from them. Even though we advertised things well this year, we can build on that and give more advanced warnings about the race. We may also look at having a much stronger static marshal group too, to give the police more support.
"Cycling is going through a very good phase - it is environmentally friendly, it is trendy, it is fashionable"
CN: There has been a very strong turnout in terms of spectators. How was that achieved? Was it a question of good pre-publicity, or was it down to the good showing of British riders at the Olympics?
Strong turnout
Photo ©: Shane Stokes

TD: It was a combination of things. The regional development agencies that we were working with were very keen to promote the benefits of and what they had to offer with the Tour of Britain coming to them. They were keen to let people within their region know that they were doing something to attract a major international sporting event which they would be bringing to their public. So they worked hard at spreading the message.
Also, the fact is that the profile of the sport is so high now anyway. Cycling is going through a very good phase - it is environmentally friendly, it is trendy, it is fashionable and we are getting more coverage in the national press, on TV and in the media generally.
Also, it is aligned to the success that the Great Britain team have been getting over a number of years on an international level. The timing of the event was, from our point of view, superb, as it came on the back of the Athens Olympics. We were fortunate, but there was a lot of planning involved to get to the stage that we were at.
CN: Where does the race go from here?
TD: We are looking for the race to grow and also to get an extension so that it goes from five to maybe seven or eight days. Even make it longer than that in the years to come. We are very keen to become part of the ProTour, and we know that the UCI are also very keen for the event in Britain to become a major event on the international calendar.
CN: Does that mean you will be able to attract increased funding for the years ahead?
Enjoying the sights
Photo ©: AFP

TD: Yes, we are looking to attract increased funding from various sources. Because the race has gone so well in its first year of this incarnation, this is also going to attract more commercial interest. It is very pleasing from my point of view to see that the riders have enjoyed themselves here and to get the feedback I have been getting from the teams, that they would be very willing to come back and to race in Great Britain in the future.
CN: You had a fine career yourself - can you tell me about it, and also how you went on to become involved in the organisation of an event such as the Tour of Britain?
TD: I was fortunate to have a very successful career myself. I was two times world pursuit champion, four times European champion and winner of 23 six-day races. I have been retired now for nearly nine years and in that time have been involved in a number of things, including marketing and sponsorship at various levels. I have always been keen to promote and help cycling within the UK. I have been looking to get involved in major events to help promote the sport, generally.
CN: Is this your first major cycling venture?
TD: To the scale we are at at the moment, yes. I have been involved in other events and worked at different levels. But to get so immersed in a major event, this will be the most I have been extended to.
CN: Has it been rewarding?
TD: Very much so. The golden thing is to see how well we have been received and how well the event has been received by the general public and the cycling fans. Their passion and their support and their love and affection for the event has given us a great deal of confidence to move forward. So there is a real genuine warmth from the general public to support the event and help it grow.
"We are very keen to become part of the ProTour"
CN: You had that excellent career, with successes on track and road. Have you done much since your retirement?
TD: Yes, I have stayed on the bike and kept myself in pretty good shape. I enjoy riding for fitness and for health reasons and pleasure now. I ride the bike regularly. I have been an annual participant in l'Etape du Tour since I retired. So I am not riding competitively, but riding regularly. I am still fit enough to be able to train with the pro teams at their training camps, and still enjoy it as well.
I rode the Etape this year. Unfortunately I had a serious crash and broke my scapula, my clavicle and four ribs. I am still in quite a bit of pain, still suffering. But the love and warmth of the team I am working with on the Tour of Britain has kept me going! I have been working with Hugh Roberts of Sweetspot, with Mick Bennett and Peter Moore. They have really immersed themselves in the event, hopefully they have enjoyed it as well and they have got a great deal out of it.
Mick (Bennett) has been very useful. He has a wealth of experience as he has worked with a large number of events - the Kellogg's Tour, the Prutour, the Tour de France in England and in Ireland. Between us all we are a very good team and hopefully we will help the event grow from here.
CN: When you retired, was it difficult to cope with that change, to turn off from the competitive end of things?
TD: No, not really. Even when I was a competitor I was always working with the press and the TV for my sponsors. When I retired it wasn't by choice. Injury brought forward my retirement by a few years, but I was very fortunate in that I had a highly successful career, I had a great time and I enjoyed it. I immersed myself in other things and got involved in marketing and sponsorship and events around cycling. Since I retired, I have always been very much involved in the world of professional cycling. I worked for Nike's European cycling operations so I am involved in the highest level with them and very much with cycling on a daily basis.
CN: Turning very briefly to Hugh Roberts, Commercial Director of the race, can you give me your reaction to how things have gone?
Hugh Roberts: I have been more than happy with the race. I didn't know what to expect but I am just completely mind-blown by the amount of interest that has been shown. It has completely exceeded any expectations I had.
I am extremely pleased with how it has worked out and thrilled for Tony Doyle, Mick Bennett and the rest of the team. Let's hope this success can be built up and the race will continue to grow from here.