Tour of Britain - 2.3
Great Britain, September 1-5, 2004
An interview with Brett Lancaster and Graeme Brown, August 31, 2004
Fresh from success
Fresh from success, Olympic gold medallists Brett Lancaster and Graeme Brown have arrived on England's shores to beat the Brits once again at this year's revived Tour of Britain. Rebecca Sullivan reports.
Disbelief for Brett Lancaster after winning the team pursuit final
Photo ©: epicimages.us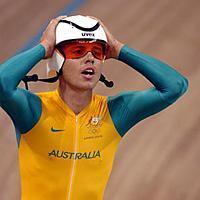 Graeme Brown (R) backed up his team pursuit gold in the Madison with Stuart O'Grady
Photo ©: epicimages.us
Just days after comprehensively beating the Great Britain quartet in the men's 4000m team pursuit in Athens, Aussies Brett Lancaster and Graeme Brown of team Ceramiche Panaria-Margres, along with team-mates Alejandro Borrajo, Paolo Lanfranchi and Filippo Perfetto, have hit English soil, geared up to claim stage wins and overall honours at the Tour of Britain.
"We didn't go to Athens for a silver or bronze medal; we were going over for one reason only and that was to win gold - and we are here in Britain for the same reason and that is to finish the European season with a bang, winning the Tour of Britain," says Lancaster. "Let's just hope I didn't leave my form in Athens in a discothèque somewhere... well I had to celebrate the win, didn't I," he laughs.
After five years in hibernation (last edition of the Prutour was held in 1999), the Tour of Britain is back, beginning in Manchester tomorrow and finishing in London on Sunday. The race is tipped to be bigger than ever before, with some big-name teams such as T-Mobile, US Postal and CSC competing for the coveted yellow jersey. The boys from Down Under will also get the chance to compete once again against fellow gold medallist and British rival Bradley Wiggins.
Adds Brown, "I still haven't really had a chance to celebrate our win in Athens, so I am looking forward to having a good ride. Obviously we want the yellow - it would be a great way to finish off the season and really give me something to celebrate."
It will be celebrations all round if the boys pull off a win for their team, giving Panaria another win for the 2004 season after several stage wins at this year's Tour of Langkawi, which included two stages for Brown and a win for Lancaster.
"It's good to be able to sit down at night and be in control for a change. It's nice to be able to have a beer after a race and not get frowned upon. It's just a lot more laid-back here in an English speaking country, which makes a nice change. I'm actually really excited to be here," says Lancaster.
"Brownie" agrees: "I'm not sure how my road form will shape up, but either way, I am hoping to celebrate with my mates here in England and enjoy being somewhere that feels more like home."
And home is where the pair are headed mid-September to race the Herald Sun Tour, and then after a well-earned Christmas break, the challenging Tour of Langkawi in Malaysia early next year.