Australian Road Cycling Championships - NE
Sunshine Coast, Australia, September 3-12, 2004
Main Page Results Previous Day Next Day
Day 7 - September 9: Time trials: Women U19 & Elite, Men U19, U23 & Elite, 15-40km
The truth was out there...
By Anthony Tan on the Sunshine Coast
Kathy Watt (Blackburn CC)
Photo ©: David Magahy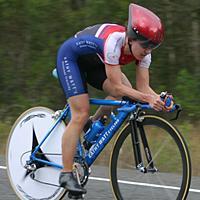 With the masters and juniors races complete, it was time for this year's National Road Cycling Championships to turn their attention towards the under 19, under 23 and elite men and women's races, beginning with today's individual time trial.
Despite the threat of rain before the start, a constant drizzle was all that eventuated. In fact, the combination of overcast, mildly breezy conditions and the slightly undulating parcours along Queensland's Sunshine Motorway created a perfect day for fast times against the clock. The standout events were the under 23, and the elite men and women, where the race favourites did not disappoint, and showed why they're the best at what they do in a discipline known as 'the race of truth'.
Reports: Under 19 Women Under 19 Men Under 23 Men Elite Women Elite Men
The course
Held on a 15 kilometre, mildly undulating out-and-back loop on the Sunshine Motorway leading to the now tremendously yuppified holiday destination of Noosa Heads, the TT course is one that suits powerful riders who can turn the 'big dog' (a.k.a. large chainring) at a high speed without letting Mr. Lactic get the better of them.
Riders encounter the only real obstacle of the day immediately after they leave the start house, a 200 metre-long, bitumen-lined uphill drag before the road levels out for a series of false flats over the next seven kilometres. While the parcours is ostensibly flat, the bitumen road surface won't allow for any freewheeling; smooth, hot-mix roads only start after roughly 5.5 kilometres, continuing all the way to the turnaround at the 7.5 kilometre mark. For the under 19 men and elite men, who each complete a distance of 25km and 40km, a U-turn point also occurs at the 5km mark on their second and third laps respectively.
Contributing to the need for speed is the forested surrounds: a dense succession of eucalyptus and gum trees line the course, so the natural wind-barrier will provide some respite for those worried about being blown about on their disc wheels.
Race Reports
Under 19 Women, 15 km
Genna Crean (Noarlunga South Coast CC)
Photo ©: David Magahy

First off for the day was Genna Crean from Noarlunga South Coast Cycling Club, who (naturally) set the best time of 24 minutes, 59.06 seconds. Less expected, however, was that Crean's TT stood the test of time to earn her the women's under 19 national title, with Victoria Freeland (Stawell-Great Western CC) finishing a close second a shade over two seconds back and Joanna Von Berky (Broncos) third with a time of 25:05.06.
Under 19 Men, 25 km
Joshua Wall (Illawarra CC)
Photo ©: David Magahy

The situation was reversed in the following event, as Illawarra Cycling Club's Joshua Wall was last to start but first to finish in the men's under 19 time trial, setting an excellent time of 37 minutes, 3.87 seconds over 25 kilometres, exactly eight seconds faster than Ffast CC's Kai Rothlisberger and Mitchell Pearson (Eurobodalla CTC).
A spent but delighted Wall said afterwards he was certainly targeting the TT, and was quietly confident that his ride was enough to earn him the gold medal.
"Time trials are more my forte than anything else, so I've been training pretty hard for it, doing specific time trial work, just to make sure on the day I'd be ready for it," he said to Cyclingnews. "Out on the course, I felt I was going fairly fast; I wasn't sure if anyone could match it, but I was just lucky enough on the day that no-one did match it!
"The first hill takes it out of you, so you got to make sure you've warmed-up well, but apart from that, it was just false-flats and slightly undulating... stinged the legs a little bit, but that's about it. I would of liked a few more hills, but I've been doing a lot of strength work lately, so the false flats really suited me down to a T," Wall added with a grin.
The Illawarra CC rider is also a scholarship holder with the New South Wales Institute of Sport, and unsurprisingly, head coach Gary Sutton, otherwise known as 'King of the Kids', was there to congratulate his young steed on a fine performance.
Under 23 Men, 30 km
William Walker (Brunswick CC)
Photo ©: David Magahy

By the time the under 23 men's time trial got underway, the clouds began to part and glimpses of sunshine filtered through small patches of blue. Pre-race favourite William Walker did not disappoint, the petite but tenacious Victorian posting a result almost a minute faster than the next best rider, Canberra Cycling Club's James Medlay. Fresh off a hard-fought win at the Tour of Sunraysia, Walker clocked a time of 43 minutes, 28.62 seconds over the 30 kilometre parcours, with Medlay second in 44'27.43 and Medlay's club-mate Marc Williams securing a second podium position for Canberra CC with a time of 44'53.10.
"I was feeling soggy, crappy in the morning, but everything changes when you have a good warm-up," said Walker to Cyclingnews.
"I think it due to a hard Tour of Sunraysia, but I think I overcompensated on my recovery days... felt a bit too soggy, a bit too fresh, if you know what I mean. But when I had a good hour and a half, two hours warm-up, I felt pretty good after that."
Asked if the event was one he was targeting, Walker responded matter-of-factly, "Not really."
"I haven't done much time trialing lately and it's a pretty long distance, so I just rode the time trial course and didn't really care about it too much. I just rode on how I felt," he said simply.
Note to viewers: don't try this at home. This young lad has recorded Vo2max readings in the low 90s and is one of Australia's brightest stage race hopes. Will's version of feeling 'soggy' and 'crappy' equals pedalling circles for the rest of us...
Elite Women, 30 km
Jennifer Finlay (Hamilton Pine Rivers Wheelers)
Photo ©: David Magahy

At 11:30am, it was time for the first of the elite women to begin two their two-lap torture test along the Sunshine Motorway. A class field had assembled to fight for the honour of national road time trial champion, with former champ and '92 Olympic road race champion Kathy Watt back in (supposedly) sunny Queensland in the quest for yet another national title.
Watt's trip from Victoria was certainly no waste, her time of 46 minutes, 17.21 seconds bettering that of her nearest rival, Jennifer Finlay (Hamilton Pine River Wheelers), by one and a half minutes. The win provided some consolation for missing out on an Olympic berth (in the final selection race at the Tour de l'Aude, she was disqualified from the stage for not checking her bike with officials, ensuring either Oenone Wood or Carrigan would ride in Athens), though it appears Watt wants one more title in two days' time before she's truly satisfied with herself.
"I came back to try and make the Olympics, but I missed out at the Tour de L'Aude by 13 seconds," said Watt, still sounding a little disappointed. "After [that], I had a bit of break and started racing again; it's [the race] is part of the national series, which I'm leading at the moment, so I was looking forward to it."
With no real hills but numerous false flats, the course suited the Barcelona Olympian perfectly, however, Watt was quick to point out that irrespective of the profile, it's all about going as hard as you can.
"You have to race hard on any circuit, but it was pretty tough because the road was pretty slow and rough - and it was pretty windy - which made it a tougher course than last year. Last year we raced on the hotmix, so it was really fast, smooth and easy in sections," she said.
So was her winning margin over the next best rider significant? "It means I've improved a lot on last year - so that's good," said a nonchalant Watt. "When I raced [the time trial] last year, I'd only been back racing for a few months, so I've had a year to improve."
Possibly in an effort to disguise herself from her competitors in Saturday's road race, Watt's trademark bleach-blonde, spiky hairdo has been replaced with a more womanly chestnut-brown, but it's doubtful the new look will fool any of her competitors after today's championship-winning performance.
A week after the road race, Watt intends to defend the title she won for the first time last year at the Grafton to Glen Innes classic, but with the parcours now including the 20-plus kilometre climb up Gibraltar Range, she admits just getting herself up the climb will be a challenge in itself.
Chuckled Watt, "We went up it in a car last year... "
Elite Men, 40 km
Peters Milostic and Herzig,
Photo ©: David Magahy

So far, the favourites had lived up to expectations, and Penrith Panthers' Peter Milostic made it one more and three out of three wins with a textbook TT performance to claim victory in the final event of the day.
Lauded for his abilities against the watch, the New South Welshman from Sydney's western suburbs clocked a time of 55 minutes 56.94 seconds, who like Watt, set a sizzling time one and a half minutes clear of the next best competitors, Peter Herzig (Uni Cycle Club), who posted an impressive 57'21.94, and Tony Mann (Caravello Joinery CC) a few seconds further back with a time of 57'26.52.
"It's pretty difficult because it's smack-bang in the middle of the road season," said Milostic to Cyclingnews about his preparation going into the event. "I've been doing all the Tatt's Cup races the past five weeks, and I crashed in the Tour of Sunraysia last Thursday, so it's been really difficult preparing for it because you're really just non-stop racing and recovering."
As it turned out, 'non-stop racing and recovering' was just what he needed to win. The previous week, Milostic used the Victorian time trial championship as his litmus test, where he beat today's under 23 champion Will Walker by 52 seconds. "It gave me a confidence boost because it was less than a week apart, so I was pretty confident going into it," he affirmed.
"For me in the time trial, I know whether I've got good form; I seem to have mastered it to a point to where I'm quite confident that I'm able to win. There's no point worrying about anybody else, because you can't do anything about it. I like time trials because of the fact that there's no teams whatsoever and the strongest man will win on the day"
So then, what's the secret to winning three on the trot?
"It's pretty much start out and ride to my threshold, and finish it off the last five k's," answered Milostic in a blasé kind of way, although if you know him, his preparation and focus is anything but that.
Photography
Images by David Magahy/www.goldcoastphotography.com
Results

Women Under 19, 15 km
 
1 Genna Crean (Noarlunga South Coast C.C.)                 24:59.06
2 Victoria Freeland (Stawell-Great Western C C)             0:02.53
3 Joanna Von Berky (Broncos)                                0:05.68
4 Skye-Lee Armstrong (Parramatta CC)                        1:30.25
5 Belinda Thompson (Canberra Cycling Club)                  1:55.10
 
Men Under 19, 25 km
 
1 Joshua Wall (Illawarra CC)                               37:03.87
2 Kai Rothlisberger (Ffast Cycle Club)                      0:08.00
3 Mitchell Pearson (Eurobodalla CTC)                        0:38.35
4 Brendan Brooks (Port Macquarie)                           0:58.48
5 Scott Peoples (Shepparton Cycling Club Inc)               1:04.01
6 Anthony Bennett (Lidcombe Auburn CC)                      1:07.06
7 Mark O'Brien (Horsham Cycling Club Inc)                   1:12.30
8 Joel Czislowski (Ffast Cycle Club)                        1:26.47
9 Tim Walker (West Tarmar CC)                               1:54.19
10 Adam O'Connor (Midland CC)                               2:01.97
11 Luke Cridland (Southern Cross CC)                        2:07.90
12 Mitch Chapman (Bathurst CC)                              2:16.62
13 Michael Mellish (Central Coast CC)                       2:50.69
14 Fabio Calabria (Canberra Cycling Club)                   3:07.55
15 Nathan Silleto (Canberra Cycling Club)                   3:15.67
16 Max Theodore (Sunshine Coast Cycle Club)                 3:39.24
17 Jayden Veljacich (Midland CC)                            3:49.78
18 Russell Gill (Norwood C.C.)                              4:26.39
19 Grant Patrick (Southern Cross CC)                        5:11.14
20 Michael Sargeant (Ffast Cycle Club)                      5:47.62
21 Brett Gillespie (Melville Fremantle CC)                  9:08.86
DNS Jarrod Harman (Mersey Valley Devonport CC)
DNS Kyle Bateson (Broncos)
DNS Johnny Walker (Brunswick Cycling Club Inc)
 
Men Under 23, 30 km
 
1 William Walker (Brunswick Cycling Club Inc)              43:28.62
2 James Medlay (Canberra Cycling Club)                      0:58.81
3 Marc Williams (Canberra Cycling Club)                     1:06.48
4 Mathew Rex (Norwood C.C.)                                 1:43.55
5 Joshua Wilson (Launceston City CC)                        1:55.35
6 Kharne Hammersley (West Tamar CC)                         2:01.64
7 Tim Hillard (Gunnedah CTC)                                2:14.48
8 Sean Finning (Castlemaine Cycling Club Inc)               2:38.95
9 Jason Hegert (Ballarat/Sebastopol CC)                     2:53.39
10 Peter Ladd (Bendigo & District CC)                       3:07.57
11 Keith Evans (Midland CC)                                 3:24.63
12 Casey Munro (Brunswick Cycling Club Inc)                 3:26.51
13 Stephen Rossendell (Hobart Wheelers)                     3:29.15
14 Ryan Moody (Geelong West Cycling Club Inc)               3:35.91
15 Michael Teggelove (Echuca/Moama Cycling Club)            5:04.60
16 Daniel Burtt (Geelong West Cycling Club Inc)             5:05.43
17 James Bondio (Gap Tornadoes)                             6:14.22
18 Nigel Cooper (Gap Tornadoes)                             7:21.96
19 Thomas Atkinson (Wagga Wagga CC)                         8:07.13
DNS TommyNankervis (Adelaide CC)
 
Elite Women, 30 km
 
1 Kathryn Watt (Blackburn Cycling Club Inc)                46:17.21
2 Jennifer Finlay (Hamilton Pine River Wheelers)            1:29.34
3 Liz Young (Lifecycle Cycling Club)                        1:52.15
4 Alexis Rhodes (Norwood C.C.)                              2:08.83
5 Caitlin Fraser (Bendigo & District CC)                    2:32.57
6 Sally Cowman (Victor Cycle Club)                          2:41.99
7 Claire Baxter (Hawthorn Citizens Youth Club)              3:02.47
8 Anna Jones-Perrin (Hamilton Pine River Wheelers)          3:10.86
9 Laura Bortolozzi (St George CC)                           4:40.52
10 Christine Riakos (St George CC)                          4:45.05
11 Kate Charge (Lidcombe Auburn CC)                         5:18.16
12 Candice Sullivan (CATS)                                  6:17.15
13 Kerry Auguston (Illawarra CC)                            6:19.70
14 Amy Kirk (Midland CC)                                    6:33.30
15 Jessie Mclean (Canberra Cycling Club)                    6:48.98
16 Kate Nichols (St George CC)                              6:49.94
17 Kerryn Charman (Geelong West Cycling Club Inc)           7:10.05
18 Zoe Southwell (Parramatta CC)                            7:35.09
19 Jemma O'Brien (St George CC)                             8:10.71
20 Melinda Symon (Hamilton Pine River Wheelers)             8:22.19
21 Briana James (St Kilda Cycling Club Inc)                 8:31.23
22 Brooke Condon (Blackburn Cycling Club Inc)              11:24.01
23 Lisa Payne (Cairns Cycle Club)                          11:46.04
24 Anna Habeck (Illawarra CC)                              13:26.55
DNS Nikki Egyed (Lifecycle Cycling Club)
DNS Emma Mews (Melville Fremantle CC)
DNS Cheryl Walker (Carnegie Caulfield)
 
Elite Men, 40 km
 
1 Peter Milostic (Penrith Panthers CC)                     55:56.94
2 Peter Herzig (Uni Cycle Club)                             1:25.00
3 Tony Mann (Caravello Joinery CC)                          1:29.58
4 Robert Lyte (Hinchinbrook Cycling Club)                   1:49.85
5 Glenn Stojanow (Clarence St CCC)                          2:09.67
6 AndrewNaylor (St Kilda Cycling Club Inc)                  2:18.95
7 Daniel Bricknell (Sutherland Shire Cycling Club)          3:21.86
8 Nathan Waddell (Ffast Cycle Club)                         3:52.85
9 Nigel Dunstone (Caravello Joinery CC)                     4:17.34
10 Mark Hooper (Geelong West Cycling Club Inc)              5:37.54
11 Leighton Jefferson (Caravello Joinery CC)                5:39.60
12 Allan Sieper (Canberra Cycling Club)                     5:53.82
13 Ross Cattle (Sunshine Coast Cycling Club)                6:05.57
14 Sean Brunt (Penrith Panthers CC)                         6:13.37
15 Gilbert Gutskowli (Broncos)                              6:19.75
16 Kevin Margetson (St George CC)                           8:11.06
17 Ian Agnew (Lifecycle Cycling Club)                       8:43.38
18 Alistair Hartley (Kangaroo Point C C)                    9:09.43
19 Greg Rossiter (Southern Cross Cycling Club)              9:18.94
20 Nicholas Lawson (St George CC)                           9:35.97
21 Ashleigh Holzhiemer (Ipswich Amateur C C)               14:32.87
DNF BrookeNelson (Hamilton Cycling Club Inc)
DNF Brad Glennan (St George CC)
DNS Gaethan Cutri (Melbourne Univercity Cycling Club)
DNS Kelvin Martin (Canberra Cycling Club)