The current time in Athens is 11:40 on April 1, 2023 - For current weather, click here
28th Olympic Games - JO
Athens, Greece, August 14-28, 2004
August 20: Women's 500m Time Trial
World Record gets gold for Meares
Anna Meares
Photo ©: epicimages.us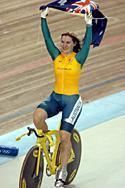 Australian World Champion Anna Meares has broken the World Record for the 500m Time Trial to win the gold medal in Athens. The 21 year old Queenslander broke the two year old record of Yonghua Jiang (China) by 0.048 seconds, riding 33.952 to become the first woman to break 34 seconds for the 500m standing start.
Meares had the advantage of starting last of the 12 women, and knew that she had to beat an Olympic record to win after Yonghua Jiang (China) set a blistering time of 34.112 as the second last rider. But Meares was up to the challenge, starting powerfully and smoothly and riding 0.02 seconds faster than Jiang on the first lap. Unlike the other two eventual medalists Jiang and Natallia Tsylinskaya, Meares opted to use tri-bar extensions, and her second lap was a stunning 14.788 seconds which was enough to give her the gold by 0.16 seconds.
Afterwards, the young rider was shocked by her performance. "I'm a bit speechless. I didn't go into the race focusing on a medal, just having a good ride and looking for a personal best, and I guess I did that! I wasn't looking at a world record here, but the conditions were hot and dry, and that's when the track is always fastest."
Yonghua Jiang (China)
Photo ©: AFP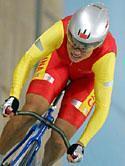 Meares was also asked about the controversy facing the Australian track program, and the criticism that has surfaced in the media at home. "I've got nothing to say, other than the performance we leave on the track."
Jiang had to be content with the silver medal after a fine ride of 34.112, while Natallia Tsylinskaya (Belarus) took the bronze in 34.167 seconds. But Jiang claimed not to be disappointed with finishing second and losing her world record. "I'm happy to take part in my first Olympics," she said.
She was also queried about her absence from the sport after the World's, and the rapid rise of the Chinese in track cycling. "My comeback is because of my love of cycling, it is because I love this sport. After the (unspecified) difficult times I have faced, it has been worth it with the medal I have won today. Our success is because of behind the scenes."
Photography
Images by AFP Photo
Images by www.epicimages.us
Results
1 Anna Meares (Australia)                     33.952 (53.016 km/h)*
2 Yonghua Jiang (China)                       34.112
3 Natallia Tsylinskaya (Belarus)              34.167
4 Simona Krupeckaite (Lithuania)              34.317
5 Yvonne Hijgenaar (Netherlands)              34.532
6 Victoria Pendleton (Great Britain)          34.626
7 Lori-Ann Muenzer (Canada)                   34.628
8 Nancy Contreras Reyes (Mexico)              34.783
9 Svetlana Grankovskaya (Russia)              34.797
10 Sayuri Osuga (Japan)                       35.045
11 Katrin Meinke (Germany)                    35.088
12 Tamilla Abassova (Russia)                  35.147

*World Record