The current time in Athens is 15:26 on March 28, 2023 - For current weather, click here
28th Olympic Games - JO
Athens, Greece, August 14-28, 2004
August 20: Men's 1km Time Trial
First Olympic gold for Hoy
Chris Hoy (GBr)
Photo ©: AFP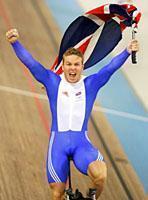 Continuing the trend of record breaking on the first day of track competition, British rider Chris Hoy has lived up to his favourite's status by winning the gold medal in the men's 1 km time trial. Starting last of the 17 participants, Hoy posted an Olympic record time of 1.00.711 to beat Frenchman Arnaud Tournant by 0.185 seconds, with German Stefan Nimke taking third in a time of 1.01.186.
Hoy was the only rider to go under 18 seconds for the first 250m, and his lap splits of 17.984, 31.414 and 45.505 seconds were all under Tournant's times. The 28 year old from Edinburgh, Scotland, thus added an Olympic title to his two World kilo titles, as well as an Olympic silver and a World title in the Team Sprint.
"I just didn't believe it," Hoy told BBC TV after his win. "I'm still kind of amazed about it all. It's what I've worked so hard for all these years." Hoy credited the crowd, which lifted him during the race. "At every split the crowd was behind me, pushing me all the way to the finish."
The Scot rode just after Tournant, whose 1.00.896 had broken the Olympic record previously broken by Shane Kelly (Australia) and then Stefan Nimke (Germany). But the fast times didn't faze Hoy. "I didn't see Tournant's time but I was aware of Nimke and Kelly's times. But I could hear by the cheers it [Tournant's time] was a fast time. I was focused on my own ride." "I knew I was in the best form of my life. The training has gone really well; the track is really warm and really fast. But I didn't expect in 100 years to go this fast."
Frenchman Arnaud Tournant
Photo ©: AFP

Hoy discounted that there were any adverse affects from a recent crash in training. "Well immediately when you hit the deck you check everything straight away to make sure you haven't broken anything. To be honest it made no difference to my ride tonight."
The solidly built Scot will probably back up in tomorrow's Team Sprint, although with Jason Queally and Jamie Staff waiting in the wings, as well as Craig Maclean (who finished 7th tonight), Great Britain has several options for another crack at a gold medal.
Silver medalist Arnaud Tournant said that he was satisfied with the silver medal. "As far as I am concerned, I am happy with my race. When you see the Olympic record broken four times, then you can tell the quality of the riders. I am very happy with my silver, it is the reward for all my hard work over the past four years."
Both Hoy and Tournant commented on the conditions, and the wind that, during training raised concerns. "I think that over the past few days there was a lot of wind, but that today was good," said Tournant. "We all knew that Greece was hot, so I think everyone prepared properly, and the heat was not a problem."
Hoy added, "The wind was a concern for a while, but in the end it was very calm and warm, and the conditions became exceptionally fast."
Photography
Images by AFP Photo
Images by www.epicimages.us
Results
1 Chris Hoy (Great Britain)             1.00.711 (59.29 km/h)*
2 Arnaud Tournant (France)              1.00.896
3 Stefan Nimke (Germany)                1.01.186
4 Shane Kelly (Australia)               1.01.224
5 Theo Bos (Netherlands)                1.01.986
6 Francois Pervis (France)              1.02.328
7 Craig Maclean (Great Britain)         1.02.369
8 Carsten Bergemann (Germany)           1.02.551
9 Ahmed Lopez Naranjo (Cuba)            1.02.739
10 Alois Kankovsky (Czech Republic)     1.03.038
11 Teun Mulder (Netherlands)            1.03.165
12 Ruben Donet (Spain)                  1.03.505
13 Wilson Meneses Gutierrez (Colombia)  1.03.614
14 Grzegorz Krejner (Poland)            1.03.923
15 Dimitrios Georgalis (Greece)         1.04.204
16 Chih Hsun Lin (Taiwan)               1.06.240
17 Radoslav Konstantinov (Bulgaria)     1.06.265

*Olympic Record