Malaysia Airlines Herald Sun Tour of Provincial Victoria - 2.3
Australia, October 14-24, 2004
Main Page Results Previous Stage Next Stage
Stage 8 - October 20: Bendigo Kermesse, 69 km
Meet the new king
By Rod Morris
Mathew Rex (CGU Insurance)
Photo ©: Shane Goss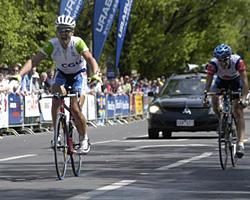 South Australian young gun Mathew Rex took centre stage in the Malaysia Airlines Herald Sun Tour of Provincial Victoria in Bendigo today (Wednesday, October 20). Rex (19) won the eighth stage of the tour, a 69 km kermesse around picturesque Lake Weeroona after finding some extra sprinting legs against two other rising Australian stars in Mark Roland, a 26 year-old from Queensland and Victoria's Richard England (23).
The trio, representing sponsored teams CGU Insurance, Victorian State Home Loans and Mitchell Supplies, broke clear of a chasing pack with about 9 of 30 laps still to race and were never headed. With all of the main protagonists in General Classification honours back in the pack, there was little interest in chasing down the triumvirate.
There was however plenty of interest in the peloton with Bicycle Superstore teammates Karl Menzies and David McKenzie defending their 1 and 2 GC positions respectively. With eight of 13 stages of the HST now completed, the Bicycle Superstore team management are nearing decision time - do they defend the Tasmanian, Menzies or do they lift Victorian favourite McKenzie into yellow?
The most likely scenario will be to look after both riders and let nature take its course - may the best man win.
McKenzie took 5 seconds off Menzies in the Bendigo kermesse, finishing fourth against seventh in the bunch that was chasing Rex, Roland and England and has now narrowed the deficit to just 4 seconds with some tough stages still remaining before the tour finishes in Traralgon this Sunday.
Aussie Tour de France star Brad McGee
Photo ©: Shane Goss

South Australian gold medal Olympian Luke Roberts (La Trobe City) jumped from fourth to third and took the barest possible margin - 1 second - off Menzies, but still trails by 49 seconds. The previous day's winner Jonas Ljungblad (Europcar - Pelaco) was the rider leapfrogged by Roberts, losing 5 seconds to fall 51 seconds behind the leader.
There are now just seven riders within 2 1/2 minutes of Menzies and most tour pundits believe they are the only ones that can actually win the race. Stage 9 will not be easy, a 152 km journey from Nagambie to Mansfield, while Friday's dual stages look relatively easy before the riders head into Saturday's Warragul to Mt Baw Baw stage, a race that could well decide the eventual outcome.
The Bendigo Kermesse offered a little bit of everything for tour watchers - good racing, good weather and an exciting finish. Rex, Roland and England were part of an eight man break that hit out from the peloton at about the half way mark. Because they were not threats on GC, the main bunch appeared disinterested in chasing them down and the gap soon grew to over a minute on the 2.3 km circuit.
Riders had to negotiate a tricky corner
Photo ©: Shane Goss

At two laps to go, Rex, Roland and England - who were working well as a group - held a 1.13 minute advantage, which at the checkered flag had been narrowed to 49 seconds. In the final sprint, England was the first rider to hit out, but later said his over-gearing cost him victory.
"We had a good bunch early, but it was pretty obvious that it was the blokes who weren't the professionals were the ones that were working the hardest," England said. "I'm a track specialist, so finishing third in a crit stage of the Herald Sun Tour is a real bonus."
Roland, the eldest rider in the break, admitted he was also over-geared in the final sprint, but quickly claimed finishing second was far better than being back in the bunch.
South Australian Mathew Rex described his victory quite easily. "This feels unreal. I gave it everything I had and just wanted to see what might happen," he said. "I didn't think I had anything left in the tank at the finish, but somehow found something. Like Mark and Richard, I also had a big gear on, but I remembered an old coaching line that went 'tired legs sprint better on big gears.'"
Karl Menzies (BicycleSuperstore)
Photo ©: Shane Goss

Rex is from Unley in South Australia and rides for the Norwood Cycling Club, which at the moment would be toasting its new found hero. Prior to winning a stage of the HST, Rex's biggest win was in the opening round of this year's Australian based Tattersall's Cup, the Tour of Werribee in Victoria.
"This week has been a great learning curve for me, particularly how to ride successfully in a big bunch and today's stage was a lot more fun that riding over the hills that we had on Monday and Tuesday," Rex said. "Its been a tough tour and I'm sure its going to get tougher over the next few days, but its a tour I'm absolutely enjoying."
While Rex enjoys the spoils of his biggest career win - albeit only a stage - Tasmania's Karl Menzies is still eyeing off a bigger catch, overall honours in this tour. Menzies received a late call up to ride in the HST and apart from Sunday and Monday (stages 4 & 5) has worn the famed yellow leader's jersey. He is now serious about wearing it into Traralgon on the final day.
Riders on the attack
Photo ©: Shane Goss

"There wasn't a lot of change today, although "Macca" (David McKenzie) got 5 seconds off me," he said. "I was primed for the final sprint, but another rider who was well done on GC almost forced me into the barricades and it stopped my run to the line."
"I almost ended up over the fence with the press guys watching the sprint home," he said. "I'm a bit dirty on the finish, but I suppose there hasn't been a lot of damage done."
Menzies will carry the yellow top in stage 9, Nagambie to Mansfield, starting at 10.30 a.m.
Photography
Images by Shane Goss/www.licoricegallery.com
Results
1 Matthew Rex (Aus) CGU Insurance                        1.30.31
2 Mark Roland (Aus) Victorian State Home Loans                  
3 Richard England (Aus) Mitchell Building Supplies              
4 David McKenzie (Aus) Bicycle Superstore                   0.50
5 Damian Forster (Aus) Uno Clothing                             
6 Luke Roberts (Aus) Latrobe City                               
7 Karl Menzies (Aus) Bicycle Superstore                         
8 Dean Downing (GBr) Bendigo                                    
9 Jonas Ljungbald (Swe) Europcar - Pelaco                       
10 Artur Krzeszowiec (Pol) Europcar - Pelaco                    
11 Jonathan Cantwell (Aus) Half Mile Creek                      
12 Timo Scholz (Ger) Malaysia Airlines                          
13 Thomas Gronqvist (Swe) Europcar - Pelaco                     
14 Ben Brooks (Aus) McGee - NSW Institute Of Sport              
15 Glen Mitchell (NZl) Active For Life                          
16 David Tanner (Aus) McGee - NSW Institute Of Sport            
17 Joel Pearson (Aus) Provincial Victoria                       
18 Paul Healion (Irl) Sungold Milk - Warrnambool                
19 Andrew Graham (Aus) Uno Clothing                             
20 Rhys Pollock (Aus) Uno Clothing                              
21 Steven De Decker (Bel) Half Mile Creek                   0.53
22 George Vallins (Aus) Uno Clothing                            
23 Matthew Lloyd (Aus) Mitchell Building Supplies               
24 Matthew Goold (Aus) Active For Life                          
25 Chrisophe Le Mevel (Fra) Provincial Victoria                 
26 Jamie Burrow (GBr) Europcar - Pelaco                         
27 Dominique Perras (Can) Active For Life                       
28 Mateusz Mroz (Pol) Europcar - Pelaco                         
29 Tony Mann (Aus) Argon 18 Bikes - Caravello                   
30 Kristian House (GBr) Bendigo                                 
31 Chris Sutton (Aus) McGee - NSW Institute Of Sport            
32 Anthony Challinor (Aus) Argon 18 Bikes - Caravello           
33 James Meadley (Aus) Mitchell Building Supplies               
34 Scott Guyton (NZl) Bicycle Superstore                        
35 Rob Sharman (GBr) Sungold Milk - Warrnambool                 
36 Simon Gerrans (Aus) Jayco                                    
37 Jorge Libonatti (Uru) Active For Life                        
38 Domenic Gatto (Aus) Victorian State Home Loans               
39 Kieran Page (GBr) Bendigo                                    
40 Tomas Buchacek (Cze) Latrobe City                            
41 Nick Kiraly (Aus) Victorian State Home Loans                 
42 Ashley Baines (Aus) CGU Insurance                            
43 Corey Sweet (Aus) Latrobe City                               
44 Daniel Newnham (Aus) Mitchell Building Supplies              
45 Eric Wohlberg (Can) Active For Life                          
46 Richard Moffatt (Aus) McGee - NSW Institute Of Sport         
47 Craig McCartney (Aus) Provincial Victoria                    
48 Phillip Thuaux (Aus) Jayco                                   
49 Philip Finnegan (Irl) Sungold Milk - Warrnambool             
50 Hans De Clercq (Bel) Bicycle Superstore                      
51 Nigel Dunstone (Aus) Argon 18 Bikes - Caravello              
52 Scott Lyttle (NZl) Mitchell Building Supplies                
53 Peter Milostic (Aus) Argon 18 Bikes - Caravello              
54 Trent Wilson (Aus) Subaru                                    
55 Jeremy Hunt (GBr) Latrobe City                               
56 David Harrigan (Aus) Latrobe City                            
57 William Walker (Aus) Jayco                                   
58 Hilton Clarke (Aus) Half Mile Creek                          
59 Bart Heirewegh (Bel) Half Mile Creek                         
60 Robert McLachlan (Aus) Argon 18 Bikes - Caravello            
61 Thomas Liese (Ger) Malaysia Airlines                         
62 Steve Cunningham (Aus) CGU Insurance                         
63 Chris Bradford (Aus) CGU Insurance                           
64 Ben Johnson (Aus) Malaysia Airlines                          
65 Jonathon Clarke (Aus) Jayco                                  
66 Nathan Jones (Aus) CGU Insurance                             
67 Trent Stevenson (Aus) Provincial Victoria                    
68 Russell Van Hout (Aus) Subaru                                
69 Dermot Nally (Irl) Sungold Milk - Warrnambool                
70 Ruber Marin (Col) Subaru                                     
71 Benoit Poilvet (Fra) Provincial Victoria                     
72 Christian Lademann (Ger) Half Mile Creek                 1.06
73 Daniel McConnell (Aus) Victorian State Home Loans        4.08
 
Sprints
 
End of Lap 2
 
1 Scott Guyton (NZl) Bicycle Superstore                        3 pts
2 Matthew Goold (Aus) Active For Life                          2
3 Robert McLachlan (Aus) Argon 18 Bikes - Caravello            1
 
End of Lap 4
 
1 Tony Mann (Aus) Argon 18 Bikes - Caravello                   3 pts
2 Chrisophe Le Mevel (Fra) Provincial Victoria                 2
3 George Vallins (Aus) Uno Clothing                            1
 
End of Lap 6
 
1 Tony Mann (Aus) Argon 18 Bikes - Caravello                   3 pts
2 Anthony Challinor (Aus) Argon 18 Bikes - Caravello           2
3 Steve Cunningham (Aus) CGU Insurance                         1
 
End of Lap 8
 
1 Jeremy Hunt (GBr) Latrobe City                               3 pts
2 Eric Wohlberg (Can) Active For Life                          2
3 Scott Guyton (NZl) Bicycle Superstore                        1
 
End of Lap 10
 
1 Chrisophe Le Mevel (Fra) Provincial Victoria                 3 pts
2 Kieran Page (GBr) Bendigo                                    2
3 Jeremy Hunt (GBr) Latrobe City                               1
 
End of Lap 12
 
1 Kieran Page (GBr) Bendigo                                    3 pts
2 Eric Wohlberg (Can) Active For Life                          2
3 Glen Mitchell (NZl) Active For Life                          1
 
End of Lap 14
 
1 David Harrigan (Aus) Latrobe City                            3 pts
2 Matthew Goold (Aus) Active For Life                          2
3 Richard Moffatt (Aus) McGee - NSW Institute Of Sport         1
 
End of Lap 16
 
1 Scott Guyton (NZl) Bicycle Superstore                        3 pts
2 Matthew Goold (Aus) Active For Life                          2
3 Tony Mann (Aus) Argon 18 Bikes - Caravello                   1
 
End of Lap 18
 
1 Scott Guyton (NZl) Bicycle Superstore                        3 pts
2 Bart Heirewegh (Bel) Half Mile Creek                         2
3 Karl Menzies (Aus) Bicycle Superstore                        1
 
End of Lap 20
 
1 Mark Roland (Aus) Victorian State Home Loans                 3 pts
2 Eric Wohlberg (Can) Active For Life                          2
3 Matthew Rex (Aus) CGU Insurance                              1
 
End of Lap 22
 
1 Mark Roland (Aus) Victorian State Home Loans                 3 pts
2 Matthew Rex (Aus) CGU Insurance                              2
3 Richard England (Aus) Mitchell Building Supplies             1
 
End of Lap 24
 
1 Matthew Rex (Aus) CGU Insurance                              3 pts
2 Richard England (Aus) Mitchell Building Supplies             2
3 Mark Roland (Aus) Victorian State Home Loans                 1
 
End of Lap 26
 
1 Mark Roland (Aus) Victorian State Home Loans                 3 pts
2 Matthew Rex (Aus) CGU Insurance                              2
3 Steven De Decker (Bel) Half Mile Creek                       1
 
General Classification
 
1 Karl Menzies (Aus) Bicycle Superstore                 17.30.45
2 David McKenzie (Aus) Bicycle Superstore                   0.04
3 Luke Roberts (Aus) Latrobe City                           0.49
4 Jonas Ljungbald (Swe) Europcar - Pelaco                   0.51
5 Ben Brooks (Aus) McGee - NSW Institute Of Sport           1.35
6 Dominique Perras (Can) Active For Life                    1.57
7 Glen Mitchell (NZl) Active For Life                       2.15
8 Scott Guyton (NZl) Bicycle Superstore                     2.31
9 Kieran Page (GBr) Bendigo                                 2.41
10 Kristian House (GBr) Bendigo                             2.44
11 Timo Scholz (Ger) Malaysia Airlines                      2.49
12 Rob Sharman (GBr) Sungold Milk - Warrnambool             2.58
13 Matthew Goold (Aus) Active For Life                      3.01
14 David Tanner (Aus) McGee - NSW Institute Of Sport            
15 Benoit Poilvet (Fra) Provincial Victoria                 3.09
16 Domenic Gatto (Aus) Victorian State Home Loans           3.10
17 Rhys Pollock (Aus) Uno Clothing                          4.34
18 Richard England (Aus) Mitchell Building Supplies         4.38
19 Simon Gerrans (Aus) Jayco                                4.51
20 Mark Roland (Aus) Victorian State Home Loans             5.40
21 Eric Wohlberg (Can) Active For Life                      5.49
22 Jonathan Cantwell (Aus) Half Mile Creek                  5.58
23 Corey Sweet (Aus) Latrobe City                           6.02
24 Mateusz Mroz (Pol) Europcar - Pelaco                     6.21
25 Tomas Buchacek (Cze) Latrobe City                        6.25
26 Jamie Burrow (GBr) Europcar - Pelaco                     6.27
27 Phillip Thuaux (Aus) Jayco                               6.30
28 Matthew Lloyd (Aus) Mitchell Building Supplies           6.31
29 Craig McCartney (Aus) Provincial Victoria                6.32
30 Peter Milostic (Aus) Argon 18 Bikes - Caravello          6.51
31 Andrew Graham (Aus) Uno Clothing                         6.56
32 Hilton Clarke (Aus) Half Mile Creek                      7.06
33 William Walker (Aus) Jayco                               7.07
34 Ben Johnson (Aus) Malaysia Airlines                      7.13
35 Chris Bradford (Aus) CGU Insurance                       7.41
36 Jorge Libonatti (Uru) Active For Life                    8.49
37 Robert McLachlan (Aus) Argon 18 Bikes - Caravello        9.18
38 Ashley Baines (Aus) CGU Insurance                       12.25
39 Ruber Marin (Col) Subaru                                12.53
40 Nick Kiraly (Aus) Victorian State Home Loans            14.56
41 Chris Sutton (Aus) McGee - NSW Institute Of Sport       25.42
42 Nigel Dunstone (Aus) Argon 18 Bikes - Caravello         27.03
43 Dean Downing (GBr) Bendigo                              32.30
44 Dermot Nally (Irl) Sungold Milk - Warrnambool           33.51
45 Jeremy Hunt (GBr) Latrobe City                          34.29
46 Hans De Clercq (Bel) Bicycle Superstore                 34.43
47 Chrisophe Le Mevel (Fra) Provincial Victoria            34.51
48 Jonathon Clarke (Aus) Jayco                             35.18
49 Thomas Liese (Ger) Malaysia Airlines                    36.39
50 Christian Lademann (Ger) Half Mile Creek                39.11
51 Bart Heirewegh (Bel) Half Mile Creek                    46.00
52 Thomas Gronqvist (Swe) Europcar - Pelaco                47.50
53 Steven De Decker (Bel) Half Mile Creek                  48.14
54 David Harrigan (Aus) Latrobe City                       49.02
55 Damian Forster (Aus) Uno Clothing                       49.32
56 Nathan Jones (Aus) CGU Insurance                        50.47
57 Joel Pearson (Aus) Provincial Victoria                  51.57
58 Trent Wilson (Aus) Subaru                               52.21
59 Anthony Challinor (Aus) Argon 18 Bikes - Caravello      52.50
60 Richard Moffatt (Aus) McGee - NSW Institute Of Sport    53.15
61 James Meadley (Aus) Mitchell Building Supplies          53.51
62 George Vallins (Aus) Uno Clothing                       55.23
63 Scott Lyttle (NZl) Mitchell Building Supplies           58.06
64 Steve Cunningham (Aus) CGU Insurance                    59.54
65 Matthew Rex (Aus) CGU Insurance                       1.02.18
66 Russell Van Hout (Aus) Subaru                         1.03.50
67 Daniel Newnham (Aus) Mitchell Building Supplies       1.05.14
68 Paul Healion (Irl) Sungold Milk - Warrnambool         1.05.42
69 Philip Finnegan (Irl) Sungold Milk - Warrnambool      1.05.50
70 Artur Krzeszowiec (Pol) Europcar - Pelaco             1.10.33
71 Tony Mann (Aus) Argon 18 Bikes - Caravello            1.16.44
72 Daniel McConnell (Aus) Victorian State Home Loans     1.22.06
73 Trent Stevenson (Aus) Provincial Victoria             1.26.16
 
Aggressive Rider Awards
 
1 Ben Brooks (Aus) McGee - NSW Institute Of Sport           $500
2 Phillip Thuaux (Aus) Jayco                                $400
3 Robert McLachlan (Aus) Argon 18 Bikes - Caravello         $400
4 Corey Sweet (Aus) Latrobe City                            $200
5 Eric Wohlberg (Can) Active For Life                       $200
6 David McKenzie (Aus) Bicycle Superstore                   $200
7 Tony Mann (Aus) Argon 18 Bikes - Caravello                $200
8 Karl Menzies (Aus) Bicycle Superstore                     $100
9 Dean Downing (GBr) Bendigo                                $100
 
Teams Classification
 
1 Bicycle Superstore                                    52.38.59
2 Active For Life                                           1.53
3 Victorian State Home Loans                                8.26
4 Latrobe City                                              8.50
5 Europcar - Pelaco                                         8.53
6 Jayco                                                    13.55
7 Mcgee - Nsw Institute Of Sport                           16.31
8 Argon 18 Bikes - Caravello                               31.51
9 Bendigo                                                  33.21
10 Provincial Victoria                                     36.05
11 Malaysia Airlines                                       39.45
12 Half Mile Creek                                         44.13
13 Cgu Insurance                                           47.18
14 Uno Clothing                                            52.42
15 Mitchell Building Supplies                              58.04
16 Sungold Milk - Warrnambool                            1.03.19
17 Subaru                                                1.33.07
 
Sprint Classification
 
1 David McKenzie (Aus) Bicycle Superstore                     47 pts
2 Karl Menzies (Aus) Bicycle Superstore                       39
3 Ben Brooks (Aus) McGee - NSW Institute Of Sport             33
4 Simon Gerrans (Aus) Jayco                                   28
5 Dean Downing (GBr) Bendigo                                  27
6 Scott Guyton (NZl) Bicycle Superstore                       26
7 Jonas Ljungbald (Swe) Europcar - Pelaco                     21
8 Corey Sweet (Aus) Latrobe City                              20
9 Kieran Page (GBr) Bendigo                                   17
10 Jeremy Hunt (GBr) Latrobe City                             16
11 Eric Wohlberg (Can) Active For Life                        15
12 Luke Roberts (Aus) Latrobe City                            14
13 Tony Mann (Aus) Argon 18 Bikes - Caravello                 13
14 Glen Mitchell (NZl) Active For Life                        12
15 Phillip Thuaux (Aus) Jayco                                 12
16 Mark Roland (Aus) Victorian State Home Loans               10
17 Rob Sharman (GBr) Sungold Milk - Warrnambool               10
18 Robert McLachlan (Aus) Argon 18 Bikes - Caravello           9
19 Matthew Goold (Aus) Active For Life                         9
20 Matthew Rex (Aus) CGU Insurance                             8
21 Rhys Pollock (Aus) Uno Clothing                             7
22 Chris Sutton (Aus) McGee - NSW Institute Of Sport           7
23 Mateusz Mroz (Pol) Europcar - Pelaco                        7
24 Chrisophe Le Mevel (Fra) Provincial Victoria                5
25 Bart Heirewegh (Bel) Half Mile Creek                        5
26 Trent Wilson (Aus) Subaru                                   5
27 Steve Cunningham (Aus) CGU Insurance                        5
28 Dominique Perras (Can) Active For Life                      5
29 Dermot Nally (Irl) Sungold Milk - Warrnambool               4
30 Peter Milostic (Aus) Argon 18 Bikes - Caravello             4
31 Kristian House (GBr) Bendigo                                4
32 Jonathan Cantwell (Aus) Half Mile Creek                     4
33 Ashley Baines (Aus) CGU Insurance                           4
34 William Walker (Aus) Jayco                                  4
35 Hilton Clarke (Aus) Half Mile Creek                         3
36 Matthew Lloyd (Aus) Mitchell Building Supplies              3
37 David Harrigan (Aus) Latrobe City                           3
38 Hans De Clercq (Bel) Bicycle Superstore                     3
39 Anthony Challinor (Aus) Argon 18 Bikes - Caravello          3
40 Richard England (Aus) Mitchell Building Supplies            3
41 Russell Van Hout (Aus) Subaru                               3
42 George Vallins (Aus) Uno Clothing                           3
43 Thomas Gronqvist (Swe) Europcar - Pelaco                    2
44 Tomas Buchacek (Cze) Latrobe City                           2
45 Daniel Newnham (Aus) Mitchell Building Supplies             2
46 Ben Johnson (Aus) Malaysia Airlines                         1
47 Richard Moffatt (Aus) McGee - NSW Institute Of Sport        1
48 Jonathon Clarke (Aus) Jayco                                 1
49 Jorge Libonatti (Uru) Active For Life                       1
50 David Tanner (Aus) McGee - NSW Institute Of Sport           1
51 Benoit Poilvet (Fra) Provincial Victoria                    1
52 Steven De Decker (Bel) Half Mile Creek                      1
53 Christian Lademann (Ger) Half Mile Creek                    1
54 Andrew Graham (Aus) Uno Clothing                            1
 
Mountains classification
 
1 Phillip Thuaux (Aus) Jayco                                  39 pts
2 Dominique Perras (Can) Active For Life                      24
3 Luke Roberts (Aus) Latrobe City                             16
4 Jonas Ljungbald (Swe) Europcar - Pelaco                     14
5 Trent Wilson (Aus) Subaru                                   10
6 Tomas Buchacek (Cze) Latrobe City                            8
7 Eric Wohlberg (Can) Active For Life                          8
8 Simon Gerrans (Aus) Jayco                                    7
9 Scott Guyton (NZl) Bicycle Superstore                        5
10 Ben Brooks (Aus) McGee - NSW Institute Of Sport             5
11 Kieran Page (GBr) Bendigo                                   5
12 Jeremy Hunt (GBr) Latrobe City                              3
13 William Walker (Aus) Jayco                                  3
14 Karl Menzies (Aus) Bicycle Superstore                       3
15 Bart Heirewegh (Bel) Half Mile Creek                        3
16 Kristian House (GBr) Bendigo                                3
17 Craig McCartney (Aus) Provincial Victoria                   3
18 David Tanner (Aus) McGee - NSW Institute Of Sport           3
19 Glen Mitchell (NZl) Active For Life                         2
20 Nathan Jones (Aus) CGU Insurance                            2
21 Ruber Marin (Col) Subaru                                    2
22 Robert McLachlan (Aus) Argon 18 Bikes - Caravello           2
23 David McKenzie (Aus) Bicycle Superstore                     2
24 Thomas Liese (Ger) Malaysia Airlines                        1
25 Chrisophe Le Mevel (Fra) Provincial Victoria                1
 
Criterium Championship
 
1 Dean Downing (GBr) Bendigo                                  28 pts
2 David McKenzie (Aus) Bicycle Superstore                     24
3 Richard England (Aus) Mitchell Building Supplies            19
4 Matthew Rex (Aus) CGU Insurance                             18
5 Karl Menzies (Aus) Bicycle Superstore                       14
6 Jonas Ljungbald (Swe) Europcar - Pelaco                     13
7 Mark Roland (Aus) Victorian State Home Loans                11
8 Luke Roberts (Aus) Latrobe City                             10
9 Ben Brooks (Aus) McGee - NSW Institute Of Sport             10
10 Jonathan Cantwell (Aus) Half Mile Creek                     9
11 Artur Krzeszowiec (Pol) Europcar - Pelaco                   7
12 Robert McLachlan (Aus) Argon 18 Bikes - Caravello           6
13 Damian Forster (Aus) Uno Clothing                           6
14 Glen Mitchell (NZl) Active For Life                         6
15 Kristian House (GBr) Bendigo                                3
16 Eric Wohlberg (Can) Active For Life                         2
17 Andrew Graham (Aus) Uno Clothing                            1
18 David Tanner (Aus) McGee - NSW Institute Of Sport           1
 
Provincial Victoria Under 23 Award
 
1 Kieran Page (GBr) Bendigo                                     
2 David Tanner (Aus) McGee - NSW Institute Of Sport             
3 Jonathan Cantwell (Aus) Half Mile Creek                       
 
Leading Australian Based Rider Award
 
1 David McKenzie (Aus) Bicycle Superstore                       
2 David Tanner (Aus) McGee - NSW Institute Of Sport             
3 Matthew Goold (Aus) Active For Life                           
4 Domenic Gatto (Aus) Victorian State Home Loans                
5 Richard England (Aus) Mitchell Building Supplies              
6 Matthew Lloyd (Aus) Mitchell Building Supplies