Malaysia Airlines Herald Sun Tour of Provincial Victoria - 2.3
Australia, October 14-24, 2004
Main Page Results Previous Stage Next Stage
Stage 3 - October 15: Werribee - You Yangs, 77.7 km
Cooke does the double
By Rod Morris in the You Yangs
Baden Cooke (Team Subaru)
Photo ©: Shane Goss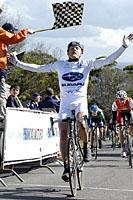 Ace Victorian Baden Cooke turned up the heat in the kitchen that is the Malaysia Airlines Herald Sun Tour of Provincial Victoria in today's second day, which included two stages. Cooke, riding for the powerful Subaru team won both stages, a 36 km criterium in Werribee and a 77 km climb from Werribee to the nearby You Yangs.
It had tour veterans heading for the record books, trying to recall the last rider to win two stages on the same day. Whilst no such records have been maintained, popular theory narrowed it down to either the great Barry Waddell, who dominated the old Sun Tour from 1964-68, Canberra's Ken Evans in the 1970s or John Trevorrow, who won three tours in 1975, 1977 and 1979.
Regardless of past history, Baden Cooke is on this earth establishing his own record books. Cooke won the HST in 2002 after surviving tough climbs up Mt Hotham and Mt Baw Baw, this year's event doesn't include the former, but next Saturday will see the field tackle Baw Baw again.
"If I can get through that climb again, I might still be a chance, but gee there's a long way to go before I even start thinking about that," Cooke said.
The Benalla born bikie etched into overnight leader Karl Menzies' lead of 1.51 minutes, winning substantial bonuses for his two stage wins. He his however still more than a minute behind the big Tasmanian, who is warming to his new favourite race colour...yellow! Menzies was safely tucked away in the peloton in both of today's races and didn't lose a lot of time to his main challengers, although its not as substantial as day one.
Luke Roberts (Latrobe City)
Photo ©: Shane Goss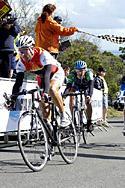 Tough little Englishman Dean Downing enhanced his glowing reputation even further, running second to Cooke in the morning criterium and then fighting his way back from an early afternoon puncture to finish in the bunch. In the end, Downing chopped his deficit of 32 seconds to Menzies to just 9 seconds and assumed the No. 2 position from Menzies' teammate David McKenzie, who decreased his deficit to Menzies from 29 to 27 seconds.
Cooke has overcome sciatic nerve problems in his leg this year and is using the HST to ride himself back into form. "I'm not going to make any bold predictions as to what may happen over the coming week, but I'm riding well and just as importantly I'm getting pretty solid support from my Subaru teammates," he said. "Thursday's opening stage was a little bit of suck it and see, trying to gauge what the other teams and some individual riders wanted to do. Now that we're heading out into the open roads, the race story will become clearer.
"I'm certainly not disappointed to be in fourth position this early in the race and only being a minute down shouldn't pose too many problems over the week ahead, but really its still Bicycle Superstore (Menzies and McKenzie) who are in control of the race, they're the ones out in front, we have to catch them," he added.
How it unfolded
The afternoon road stage was similar in the fact that high placed General Classification riders weren't allowed to dictate terms. Team domestiques had their orders on who to watch and who to stop and in the main, acted accordingly.
Rhys Pollock (Uno Clothing) made a charge about 15 km from the finish and was soon joined by Stephen Cunningham (CGU Insurance) and Peter Milostic (Argon 18 Bikes - Caravello) and at one stage held a 24 second lead over the chasing bunch. But by Lara and 5 km from the finish, the peloton reeled the triumvirate in as it invariably does in road races.
Karl Menzies (BicycleSuperstore)
Photo ©: Shane Goss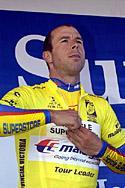 Cooke decided to keep attacking and in a bold chase up the You Yangs held on to win from Luke Roberts (La Trobe City) and Sweden's Jonas Ljungblad (Europcar-Pelaco). Ljungblad looms as a real danger to Menzies, Cooke and Co. as he has now moved into outright fifth and is just 1'21 from the lead. With some undulating road stages to come, the Swede may cause a few headaches to the Australians.
The Herald Sun Tour continues tomorrow with a 117 km stage at Portarlington, 30 km out of Geelong and on the same circuit once used for the Australian Open Road Championships. The tour will climax next weekend at Traralgon.
Photography
Images by Shane Goss/www.licoricegallery.com
Results
1 Baden Cooke (Aus) Subaru                                1.52.02 (41.61 km/h)
2 Luke Roberts (Aus) Latrobe City                                
3 Jonas Ljungblad (Swe) Europcar - Pelaco                        
4 Simon Gerrans (Aus) Jayco                                      
5 Artur Krzeszowiec (Pol) Europcar - Pelaco                  0.02
6 Timo Scholz (Ger) Malaysia Airlines                            
7 Corey Sweet (Aus) Latrobe City                                 
8 Jamie Burrow (GBr) Europcar - Pelaco                           
9 Ben Brooks (Aus) McGee - NSW Institute Of Sport                
10 Hans De Clercq (Bel) Bicycle Superstore                       
11 Eric Wohlberg (Can) Active For Life                           
12 Glen Mitchell (NZl) Active For Life                       0.04
13 Ruber Marin (Col) Subaru                                      
14 Chrisophe Le Mevel (Fra) Provincial Victoria                  
15 Mateusz Mroz (Pol) Europcar - Pelaco                          
16 David Tanner (Aus) McGee - NSW Institute Of Sport             
17 Craig McCartney (Aus) Provincial Victoria                     
18 Kieran Page (GBr) Bendigo                                     
19 David McKenzie (Aus) Bicycle Superstore                       
20 Ben Johnson (Aus) Malaysia Airlines                           
21 Bart Heirewegh (Bel) Half Mile Creek                          
22 Kristian House (GBr) Bendigo                                  
23 Richard England (Aus) Mitchell Building Supplies              
24 Dominique Perras (Can) Active For Life                        
25 Karl Menzies (Aus) Bicycle Superstore                         
26 Mark Roland (Aus) Victorian State Home Loans                  
27 Jorn Reuss (Ger) Malaysia Airlines                            
28 Felix Odebrecht (Ger) Malaysia Airlines                       
29 Domenic Gatto (Aus) Victorian State Home Loans                
30 Rob Sharman (GBr) Sungold Milk - Warrnambool                  
31 Jeremy Hunt (GBr) Latrobe City                                
32 Tomas Buchacek (Cze) Latrobe City                             
33 William Walker (Aus) Jayco                                    
34 Phillip Thuaux (Aus) Jayco                                    
35 Benoit Poilvet (Fra) Provincial Victoria                      
36 Dean Downing (GBr) Bendigo                                    
37 Scott Guyton (NZl) Bicycle Superstore                         
38 Robert McLachlan (Aus) Argon 18 Bikes - Caravello             
39 Trent Wilson (Aus) Subaru                                     
40 Thomas Liese (Ger) Malaysia Airlines                          
41 Matthew Lloyd (Aus) Mitchell Building Supplies                
42 Richard Moffatt (Aus) McGee - NSW Institute Of Sport          
43 Jonathon Clarke (Aus) Jayco                                   
44 Jonathan Cantwell (Aus) Half Mile Creek                       
45 Chris Bradford (Aus) CGU Insurance                            
46 Russell Van Hout (Aus) Subaru                                 
47 Scott Lyttle (NZl) Mitchell Building Supplies                 
48 Thomas Gronqvist (Swe) Europcar - Pelaco                      
49 Hilton Clarke (Aus) Half Mile Creek                           
50 Matthew Goold (Aus) Active For Life                           
51 Nathan Jones (Aus) CGU Insurance                              
52 Nick Kiraly (Aus) Victorian State Home Loans                  
53 Anthony Challinor (Aus) Argon 18 Bikes - Caravello        0.21
54 Jorge Libonatti (Uru) Active For Life                     0.24
55 Nigel Dunstone (Aus) Argon 18 Bikes - Caravello               
56 Peter Milostic (Aus) Argon 18 Bikes - Caravello               
57 George Vallins (Aus) Uno Clothing                             
58 Steven De Decker (Bel) Half Mile Creek                        
59 Chris Sutton (Aus) McGee - NSW Institute Of Sport         0.30
60 Damian Forster (Aus) Uno Clothing                             
61 Ashley Baines (Aus) CGU Insurance                         0.36
62 Andrew Graham (Aus) Uno Clothing                          0.38
63 Philip Finnegan (Irl) Sungold Milk - Warrnambool              
64 Paul Healion (Irl) Sungold Milk - Warrnambool             0.40
65 Daniel McConnell (Aus) Victorian State Home Loans         0.46
66 Christian Lademann (Ger) Half Mile Creek                      
67 Daniel Newnham (Aus) Mitchell Building Supplies           0.49
68 Kieran Cameron (Aus) McGee - NSW Institute Of Sport       0.52
69 Mark Renshaw (Aus) Subaru                                 0.56
70 Rhys Pollock (Aus) Uno Clothing                               
71 Brian Kenneally (Irl) Sungold Milk - Warrnambool              
72 Trent Stevenson (Aus) Provincial Victoria                 1.00
73 Joel Pearson (Aus) Provincial Victoria                    1.18
74 Steve Cunningham (Aus) CGU Insurance                      1.26
75 James Meadley (Aus) Mitchell Building Supplies                
76 Stephen Cummings (GBr) Bendigo                            1.29
77 Henk Vogels (Aus) Bicycle Superstore                      1.38
78 Matthew Rex (Aus) CGU Insurance                           1.56
79 David Harrigan (Aus) Latrobe City                         7.18
80 Dermot Nally (Irl) Sungold Milk - Warrnambool             7.25
81 Russell Downing (GBr) Bendigo                             8.35
82 David Pell (Aus) Uno Clothing                             9.11
83 Tony Mann (Aus) Argon 18 Bikes - Caravello               28.47
84 Simon Walker (Aus) Victorian State Home Loans                 
85 Ashley Hutchinson (Aus) Jayco                            29.33
 
Sprints
 
Sprint 1 - Little River Earth Sanctuary
 
1 Bart Heirewegh (Bel) Half Mile Creek                          3 pts
2 Corey Sweet (Aus) Latrobe City                                2
3 Eric Wohlberg (Can) Active For Life                           1
 
Sprint 2 - Staughton Vale 
 
1 Jeremy Hunt (GBr) Latrobe City                                3 pts
2 Ashley Baines (Aus) CGU Insurance                             2
3 Jonathon Clarke (Aus) Jayco                                   1
 
Sprint 3 - Anakie Primary School
 
1 Simon Gerrans (Aus) Jayco                                     3 pts
2 Mateusz Mroz (Pol) Europcar - Pelaco                          2
3 Mark Renshaw (Aus) Subaru                                     1
 
Sprint 4 - H.M. Barwon Prison
 
1 Rhys Pollock (Aus) Uno Clothing                               3 pts
2 Steve Cunningham (Aus) CGU Insurance                          2
3 Peter Milostic (Aus) Argon 18 Bikes - Caravello               1
 
Sprint 5 - Pass Benjamin Drive
 
1 Peter Milostic (Aus) Argon 18 Bikes - Caravello               3 pts
2 Steve Cunningham (Aus) CGU Insurance                          2
3 Rhys Pollock (Aus) Uno Clothing                               1
 
Hill Climbs
 
Climb 1 - Cat.4, Mocka 33
 
1 William Walker (Aus) Jayco                                    3 pts
2 Trent Wilson (Aus) Subaru                                     2
3 Thomas Liese (Ger) Malaysia Airlines                          1
 
Climb 2 - Cat.3, Mocka 70
 
1 Baden Cooke (Aus) Subaru                                      5 pts
2 Luke Roberts (Aus) Latrobe City                               3
3 Jonas Ljungblad (Swe) Europcar - Pelaco                       2
 
General classification after stage 3
 
1 Karl Menzies (Aus) Bicycle Superstore                   3.23.22
2 Dean Downing (GBr) Bendigo                                 0.07
3 David McKenzie (Aus) Bicycle Superstore                    0.27
4 Baden Cooke (Aus) Subaru                                   1.01
5 Jonas Ljungblad (Swe) Europcar - Pelaco                    1.21
6 Simon Gerrans (Aus) Jayco                                  1.22
7 Ben Brooks (Aus) McGee - NSW Institute Of Sport            1.23
8 Luke Roberts (Aus) Latrobe City                            1.33
9 Jonathan Cantwell (Aus) Half Mile Creek                    1.36
10 Richard England (Aus) Mitchell Building Supplies          1.37
11 Glen Mitchell (NZl) Active For Life                           
12 Robert McLachlan (Aus) Argon 18 Bikes - Caravello         1.41
13 Felix Odebrecht (Ger) Malaysia Airlines                   1.43
14 Artur Krzeszowiec (Pol) Europcar - Pelaco                 1.44
15 Eric Wohlberg (Can) Active For Life                           
16 Corey Sweet (Aus) Latrobe City                            1.45
17 Timo Scholz (Ger) Malaysia Airlines                       1.46
18 Mark Roland (Aus) Victorian State Home Loans              1.47
19 Hans De Clercq (Bel) Bicycle Superstore                       
20 Mateusz Mroz (Pol) Europcar - Pelaco                      1.49
21 Kristian House (GBr) Bendigo                                  
22 Jamie Burrow (GBr) Europcar - Pelaco                      1.50
23 Ben Johnson (Aus) Malaysia Airlines                           
24 Jeremy Hunt (GBr) Latrobe City                                
25 Kieran Page (GBr) Bendigo                                 1.51
26 Rob Sharman (GBr) Sungold Milk - Warrnambool              1.54
27 William Walker (Aus) Jayco                                    
28 Trent Wilson (Aus) Subaru                                     
29 Hilton Clarke (Aus) Half Mile Creek                       1.55
30 Bart Heirewegh (Bel) Half Mile Creek                          
31 Scott Guyton (NZl) Bicycle Superstore                         
32 Russell Van Hout (Aus) Subaru                             1.56
33 Thomas Liese (Ger) Malaysia Airlines                      1.57
34 Jonathon Clarke (Aus) Jayco                                   
35 Tomas Buchacek (Cze) Latrobe City                             
36 Matthew Lloyd (Aus) Mitchell Building Supplies            1.58
37 Domenic Gatto (Aus) Victorian State Home Loans                
38 Craig McCartney (Aus) Provincial Victoria                     
39 Chrisophe Le Mevel (Fra) Provincial Victoria                  
40 Benoit Poilvet (Fra) Provincial Victoria                      
41 Thomas Gronqvist (Swe) Europcar - Pelaco                      
42 Jorn Reuss (Ger) Malaysia Airlines                            
43 Matthew Goold (Aus) Active For Life                           
44 Dominique Perras (Can) Active For Life                        
45 Phillip Thuaux (Aus) Jayco                                    
46 Ruber Marin (Col) Subaru                                      
47 Scott Lyttle (NZl) Mitchell Building Supplies             2.07
48 Nathan Jones (Aus) CGU Insurance                              
49 Peter Milostic (Aus) Argon 18 Bikes - Caravello           2.14
50 Anthony Challinor (Aus) Argon 18 Bikes - Caravello        2.15
51 Chris Bradford (Aus) CGU Insurance                        2.18
52 George Vallins (Aus) Uno Clothing                             
53 Nigel Dunstone (Aus) Argon 18 Bikes - Caravello               
54 Steven De Decker (Bel) Half Mile Creek                        
55 Chris Sutton (Aus) McGee - NSW Institute Of Sport         2.21
56 David Tanner (Aus) McGee - NSW Institute Of Sport         2.22
57 Andrew Graham (Aus) Uno Clothing                          2.24
58 Paul Healion (Irl) Sungold Milk - Warrnambool             2.27
59 Ashley Baines (Aus) CGU Insurance                         2.37
60 Christian Lademann (Ger) Half Mile Creek                  2.40
61 Daniel Newnham (Aus) Mitchell Building Supplies           2.41
62 Kieran Cameron (Aus) McGee - NSW Institute Of Sport       2.46
63 Rhys Pollock (Aus) Uno Clothing                               
64 Joel Pearson (Aus) Provincial Victoria                    3.05
65 Brian Kenneally (Irl) Sungold Milk - Warrnambool          3.06
66 James Meadley (Aus) Mitchell Building Supplies            3.13
67 Steve Cunningham (Aus) CGU Insurance                      3.16
68 Stephen Cummings (GBr) Bendigo                            3.23
69 Matthew Rex (Aus) CGU Insurance                           3.27
70 Henk Vogels (Aus) Bicycle Superstore                      3.32
71 Jorge Libonatti (Uru) Active For Life                     3.39
72 Damian Forster (Aus) Uno Clothing                         3.52
73 Mark Renshaw (Aus) Subaru                                 4.50
74 Richard Moffatt (Aus) McGee - NSW Institute Of Sport      5.27
75 Philip Finnegan (Irl) Sungold Milk - Warrnambool          5.37
76 Daniel McConnell (Aus) Victorian State Home Loans         6.16
77 Trent Stevenson (Aus) Provincial Victoria                 6.23
78 David Harrigan (Aus) Latrobe City                         9.05
79 Nick Kiraly (Aus) Victorian State Home Loans             10.19
80 Russell Downing (GBr) Bendigo                            10.27
81 David Pell (Aus) Uno Clothing                            11.05
82 Dermot Nally (Irl) Sungold Milk - Warrnambool            14.16
83 Simon Walker (Aus) Victorian State Home Loans            30.24
84 Tony Mann (Aus) Argon 18 Bikes - Caravello               30.39
85 Ashley Hutchinson (Aus) Jayco                            36.38
 
Kr Castlemaine Foods Sprint Championship
 
1 David McKenzie (Aus) Bicycle Superstore                      26 pts
2 Dean Downing (GBr) Bendigo                                   26
3 Karl Menzies (Aus) Bicycle Superstore                        23
4 Simon Gerrans (Aus) Jayco                                    11
5 Jeremy Hunt (GBr) Latrobe City                                8
6 Robert McLachlan (Aus) Argon 18 Bikes - Caravello             5
7 Rhys Pollock (Aus) Uno Clothing                               4
8 Peter Milostic (Aus) Argon 18 Bikes - Caravello               4
9 Rob Sharman (GBr) Sungold Milk - Warrnambool                  4
10 Steve Cunningham (Aus) CGU Insurance                         4
11 Scott Guyton (NZl) Bicycle Superstore                        3
12 Bart Heirewegh (Bel) Half Mile Creek                         3
13 Kristian House (GBr) Bendigo                                 3
14 Chris Sutton (Aus) McGee - NSW Institute Of Sport            3
15 Hilton Clarke (Aus) Half Mile Creek                          3
16 Corey Sweet (Aus) Latrobe City                               3
17 Ashley Baines (Aus) CGU Insurance                            2
18 Trent Wilson (Aus) Subaru                                    2
19 Glen Mitchell (NZl) Active For Life                          2
20 Russell Downing (GBr) Bendigo                                2
21 Tony Mann (Aus) Argon 18 Bikes - Caravello                   2
22 Mateusz Mroz (Pol) Europcar - Pelaco                         2
23 Daniel Newnham (Aus) Mitchell Building Supplies              2
24 Russell Van Hout (Aus) Subaru                                2
25 Jonas Ljungblad (Swe) Europcar - Pelaco                      2
26 Ben Brooks (Aus) McGee - NSW Institute Of Sport              2
27 Tomas Buchacek (Cze) Latrobe City                            1
28 Baden Cooke (Aus) Subaru                                     1
29 Mark Renshaw (Aus) Subaru                                    1
30 William Walker (Aus) Jayco                                   1
31 Jonathon Clarke (Aus) Jayco                                  1
32 Eric Wohlberg (Can) Active For Life                          1
33 Ben Johnson (Aus) Malaysia Airlines                          1
34 Andrew Graham (Aus) Uno Clothing                             1
35 Jonathan Cantwell (Aus) Half Mile Creek                      1
 
First National Real Estate King Of The Mountain Championship
 
1 Baden Cooke (Aus) Subaru                                      5 pts
2 William Walker (Aus) Jayco                                    3
3 Luke Roberts (Aus) Latrobe City                               3
4 Jonas Ljungblad (Swe) Europcar - Pelaco                       2
5 Trent Wilson (Aus) Subaru                                     2
6 Thomas Liese (Ger) Malaysia Airlines                          1
 
Active For Life - Criterium Championship
 
1 Dean Downing (GBr) Bendigo                                   18 pts
2 Ben Brooks (Aus) McGee - NSW Institute Of Sport              10
3 Karl Menzies (Aus) Bicycle Superstore                        10
4 Baden Cooke (Aus) Subaru                                     10
5 Matthew Rex (Aus) CGU Insurance                               8
6 David McKenzie (Aus) Bicycle Superstore                       8
7 Richard England (Aus) Mitchell Building Supplies              7
8 Jonathan Cantwell (Aus) Half Mile Creek                       7
9 Glen Mitchell (NZl) Active For Life                           6
10 Robert McLachlan (Aus) Argon 18 Bikes - Caravello            6
11 Simon Walker (Aus) Victorian State Home Loans                5
12 Felix Odebrecht (Ger) Malaysia Airlines                      4
13 Jonas Ljungblad (Swe) Europcar - Pelaco                      3
14 Kristian House (GBr) Bendigo                                 3
15 Mark Roland (Aus) Victorian State Home Loans                 2
16 Eric Wohlberg (Can) Active For Life                          2
17 David Tanner (Aus) McGee - NSW Institute Of Sport            1
 
Emu Spirit Aggressive Rider Awards
 
1 Robert McLachlan (Aus) Argon 18 Bikes - Caravello             4 pts
2 David McKenzie (Aus) Bicycle Superstore                       2
3 Karl Menzies (Aus) Bicycle Superstore                         1
4 Dean Downing (GBr) Bendigo                                    1
 
Leading Under 23 Rider
 
1 Jonathan Cantwell (Aus) Half Mile Creek                        
 
Leading Australian Based Rider
 
1 David McKenzie (Aus) Bicycle Superstore                        
 
Team Classification
 
1 Bicycle Superstore                                     10.13.47
2 Bendigo                                                    1.07
3 Active For Life                                            1.50
4 Subaru                                                     1.55
5 Malaysia Airlines                                          1.57
6 Europcar - Pelaco                                          1.59
7 Victorian State Home Loans                                     
8 Latrobe City                                               2.00
9 Jayco                                                      2.02
10 Mcgee - Nsw Institute Of Sport                            2.04
11 Half Mile Creek                                           2.06
12 Provincial Victoria                                           
13 Mitchell Building Supplies                                2.09
14 Cgu Insurance                                             2.38
15 Argon 18 Bikes - Caravello                                2.50
16 Sungold Milk - Warrnambool                                3.25
17 Uno Clothing                                              3.26