109th Melbourne to Warrnambool Classic - 1.5
Victoria, Australia, October 9, 2004
2003 Results Results Photo gallery Past winners
Will wins "The Warny"
By Anthony Tan
William Walker (Jayco/VIS) wins
Photo ©: Shane Goss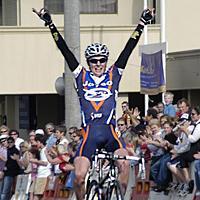 18 year-old cycling sensation from Victoria, William Walker, has won the 109th edition of the Melbourne to Warrnambool Classic.
128 starters took to the start line at 7.30 am this morning at Kooringal Golf Club, Altona, for the longest bike race on the UCI calendar. At 299 kilometres - extended by 32 kilometres this year due to safety reasons - coupled with a 7 kilometre neutral section, those that were racing (or hoping) to finish would in fact cover a total distance of 306 kilometres.
The luck of the Irish
Photo ©: Shane Goss

Early leaders Trent Wilson and Tomas Buchacek
Photo ©: Shane Goss

David McKenzie (R) and Karl Menzies
Photo ©: Shane Goss

David Pell (Team UNO) grabs third place
Photo ©: Shane Goss

The podium
Photo ©: Shane Goss

After the halfway mark, a group of four riders went clear and built a maximum lead of just over a minute and a half. Then, with 110 kilometres remaining, another five riders came across to create a nine-man lead group that included William Walker, Jonathan Clarke, David Pell, Russell Van Hout, Hilton Clarke, Peter Milostic, Dominic Gatto, Andy Graham and Richard England. From this point on, the breakaway steadily increased their advantage to over three and a half minutes, and never looked like relinquishing their lead.
VIS team-mates Walker and Clarke attacked a visibly tired lead group with eight kilometres to go and stayed away to finish in that order, the fast-finishing Walker gapping his 19 year-old team-mate 400 metres from the line to take a superb victory in front of a home crowd.
"It's a really good feeling and it's a categorised UCI race, so it feels really good to win this one," said a delighted but physically shattered Walker to Cyclingnews after his win.
"I wasn't feeling that good at the start, so I just rode small gears all day and rode myself into it a bit - I was really aiming for a top 10 finish. A lot of the good guys didn't make the split, so that made things a bit easier - they were probably all getting off the plane and all a bit tired," he surmised.
Asked if his move with team-mate Clarke was a premeditated one, the precociously-talented 18 year-old said it was luck more than anything else: "We both counterattacked somebody else's attack at the same time and happened to ride away together," he said. "Then I went with about 400 metres to go; I don't think anybody had fresh legs - it was just a big grunt to the finish and I managed to take him [Clarke] for the win."
Another Victorian, David Pell from Bendigo & District Cycling Club, won a seven-up sprint for third place, with South Australian Russell Van Hout fourth and Team Cyclingnews' Hilton Clarke fifth. Both the distance and windy conditions took its toll on almost half the field, with just 68 riders finishing "The Warny".
Added Walker wryly when asked if his confidence-boosting ride bodes well going into next week's Herald Sun Tour, "For sure; it's good to know I can ride 299 k - the Sun Tour's 1000 k over 10 days, so that's something... "
Photography
Images by Shane Goss/www.licoricegallery.com
Results

1 William Walker (Aus) Jayco-VIS/Brunswick CC                  7.59.22
2 Jonathan Clarke (Aus) Jayco-VIS/Carnegie Caulfield CC           0.05
3 David Pell (Aus) Bendigo & District CC                          1.05
4 Russell Van Hout (Aus) Colombia-Selle Italia
5 Hilton Clarke (Aus) Cyclingnews.com
6 Peter Milostic (Aus) Penrith Panthers CC
7 Dominic Gatto (Aus) Brunswick CC
8 Andy Graham (Aus)
9 Richard England (Aus)
10 Jonas Ljungblad (Swe) Amore & Vita Beretta                     4.55

Past winners

2004 William Walker (Aus) 
2003 Simon Gerrans (Aus) Team Ringerike/Carnegie Caulfield CC      
2002 Jamie Drew (Aus) iTeamnova.com
2001 David McKenzie (Aus)
2000 Hilton Clarke (Aus) Carnegie
1999 Jamie Drew (Aus)
1998 Bart Heirewegh (Aus)
1997 Daniel Schnider (Swi)
1996 Chris White (Aus)
1995 Brendan McAuliffle (Aus)
1994 Gavin Parsonage (Aus)
1993 Dean Woods (Aus)
1992 Peter Besanko (Aus)
1991 Andrew Stirling (Aus)
1990 Robert Jordan (Aus)
1989 Peter Besanko (Aus) 
1988 Barry Burns (Aus) 
1987 Paul Rugari (Aus) 
1986 Michael Lynch (Aus) 
1985 Brad Leach (Aus) 
1984 Peter Besanko (Aus) 
1983 Andrew Lindsay (Aus) 
1982 David Allan (Aus) 
1981 Peter Cox (NZl)
1980 John Hine (Aus) 
1979 David Allan (Aus) 
1978 Dennis Shaw (Aus) 
1977 Not Held
1976 David Allan (Aus) 
1975 Mario Giramondo (Aus) 
1974 John Bylsma (Aus)


Past winners by Mario Stiehl, www.world-of-cycling.com