Recently on Cyclingnews.com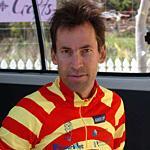 John Lieswyn
Photo: © Barry Harcourt
The John Lieswyn Diary
Cyclingnews diarist John Lieswyn is a regular at the Tour of Southland, winning the event in 2002. Usually a rider for the US Health Net presented by Maxxis team, John is riding Southland as part of the powerful Southland Times squad, alongside New Zealanders Scott Guyton, Greg Henderson, Glen Mitchell and Tim Gudsell. Their aim, of course, is another victory for the team.
Tour of Southland, New Zealand, November 1-6, 2004
All about the team
Stage 8 - November 5: Winton - Te Anau, 163.6km
Stage 9 - November 6: Te Anau - Lumsden, 79 km
Stage 10 - November 6: Winton - Invercargill, 64.4km
All good in the end
Photo ©: Barry Harcourt

I never got reports written on these stages, sorry! After handing a disc with this entry to a TV news crew to file for me (no internet access for a couple days) and finding out they never did it, I'm now finally getting at least this report filed many days late. I'll just say about the overall win... it was a team win first and foremost, with as much owed to Tim, Greg, Scott and Glen (or more) as to my own aggressive riding.
I look back on stage 3 as the biggest mistake of the tour in that it took the yellow from Glen but in hindsight it did allow us to stack the overall 1-2-3. The greatest feeling of the week was the four man leadout we performed in the final circuits of the final stage for Greg Henderson. We did it well enough that not only did Greg easily take the stage but Scott Guyton finished third behind Roulston. To those persons who think that Glen was trying to take yellow, he could have easily done so at any point. I'd promised not to chase him, and we'd agreed as a team that the goals were to preserve the overall positions and go for stages. Glen worked hard in the final stage to lead out Greg instead of saving something to attack for yellow. Next year the Southland Tour will be interesting as I'll be going to address some of the criticisms, and try to win in a different way!
Stage 8 Results
Stage 9 Results
Stage 10 Results
The Southland Times Team
Teams winners too
Photo ©: Barry Harcourt

One question asked of me after the last entry was "how is it that Australian and New Zealand races always have composite teams under local sponsors, and who puts these together?" The answer is that for continental or US sponsors there is little to no benefit, advertising wise, to having a team competing in Australasia. American and European riders coming down here either pay their own way or receive a subsidy from a local team sponsor towards their air ticket. Local riders with connections to the foreigner usually help set up the teams, or the race director may have a hand in it as well.
My connection to the Southland Tour started in 2001 with Graeme Miller, who asked me to be part of his "Calder Stewart Roofing" team that year. In 2002 my then 7UP teammate Hayden Godfrey got me into our winning "Winton's Middle Pub" team. For 2003 I couldn't make the financials work and I was pretty exhausted after the US season anyway. This year I again switched teams thanks to the hard work of Glen Mitchell, who has long been a part of the Southland Times squad for this tour.
Our team is much more than just the five riders (Olympians Tim Gudsell, Greg Henderson, Sierra Nevada's Glen Mitchell and now businessman, rider and manager of D2 Indonesian team Wismiliak Scott Guyton).
Physio: Paul. Expert in acupuncture, massage therapy, electrostim. NZ Olympic staff.
Soigneur duties: my wife DD and a (temporarily) ex-rider Mark, who was on the team last year but is battling a heart condition. Bottles, feeding, washing, etc.
Mechanic: CSC mechanic Craig. Top notch, as you'd expect from someone who works professionally for one of the best teams in the world.
Manager: Rod. He rides too. Unfortunately he broke his elbow in the K2 last week. A detective on the police force, and has organization and cooking down to a science.
On top of all that we also have fresh baked muffins and goodies, sometimes entire meals, prepared by the wife of a Southland Times managing director.
John
Additional photos by John Lieswyn
Email John at jlieswyn@cyclingnews.com