Recently on Cyclingnews.com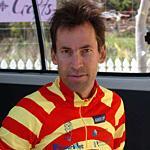 John Lieswyn
Photo: © Barry Harcourt
The John Lieswyn Diary
Cyclingnews diarist John Lieswyn is a regular at the Tour of Southland, winning the event in 2002. Usually a rider for the US Health Net presented by Maxxis team, John is riding Southland as part of the powerful Southland Times squad, alongside New Zealanders Scott Guyton, Greg Henderson, Glen Mitchell and Tim Gudsell. Their aim, of course, is another victory for the team.
Tour of Southland, New Zealand, November 1-6, 2004
The joker is you
Stage 6 - November 4: Balfour - Riversdale Time Trial , 15km
Stage 7 - November 4: Riversdale - Invercargill , 127.3km

Sufferfest!
Photo ©: Barry Harcourt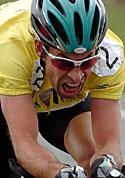 I'm writing this as we drive to stage 8, and there won't be time to give a full description of the day. Suffice it to say that while we went 2, 3, and 4 in the time trial and third in the afternoon stage, the vaunted Southland Times team did not win a stage today. The afternoon was particularly embarrassing since we had three riders in a dozen and we still couldn't pull off a decent leadout for Glen. The two riders who made the Olympic team ahead of him placed 1 and 2 after missing quite a few turns of work in the finale, and that was our fault... I should have hit out with 2km to go in the fierce sidewinds with Scott and Glen in tow, but I missed seeing the little signs for distance to go.
It's funny now that the press is misquoting me and assuming problems within the team. Today's paper quotes me as saying that I admitted to a mistake in letting Glen and Rollie go in stage 7, when in fact I'd said that I waited too long in the leadout FOR Glen at the finish.
New Zealanders can hold a very straight face while they joke, and there is a joke on the press and the rest of the field. If in fact I'm wrong and the joke is on the Yank, then I'm not worried about that either. As long as one of us wins the stage today and we can maintain our 1-2-3 stack (whichever order we are in), all is good. Part of me does want the final yellow, but I have it on because Glen didn't chase me on stage 3, and I will not chase him in the final 3 stages. In stage 7, I was conflicted to the point of taking a single turn (out of hundreds taken by the riders who chased) but finally I realized the pettiness of even worrying about it. My competition is not Glen or Scott, but all those riders who will do their best to scrape out a stage win or even make inroads into our lock-down of the GC.
That was a hard paragraph to write clearly, and as I look back on it I realize that our little tour battle here will mean that anyone involved in it (and reads my entry) will see confirmation of whatever they believe. Sort of like statistics and the election, eh?
Stage 6 Results
Stage 7 Results

Email John at jlieswyn@cyclingnews.com