Recently on Cyclingnews.com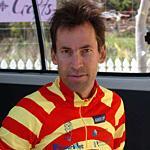 John Lieswyn
Photo: © Barry Harcourt
The John Lieswyn Diary
Cyclingnews diarist John Lieswyn is a regular at the Tour of Southland, winning the event in 2002. Usually a rider for the US Health Net presented by Maxxis team, John is riding Southland as part of the powerful Southland Times squad, alongside New Zealanders Scott Guyton, Greg Henderson, Glen Mitchell and Tim Gudsell. Their aim, of course, is another victory for the team.
Tour of Southland, New Zealand, November 1-6, 2004
Sprung a leak
Stage 3 - November 2: Invercargill - Tuatapere , 113.8km
Glen Mitchell flats
Photo ©: Barry Harcourt

Our well-oiled machine sprung a leak, literally. Yellow-clad Glen Mitchell flatted just as we lined up the whole five-man team in a full-out crosswind attack. It was early in the stage yet but destined to splinter the bunch for a while at least. We fanned out across the road while Glen went back to change wheels, but the attacks weren't long in coming. I tried calling for a yellow jersey exemption but instead found myself tagged onto the back of a breakaway duo. It was the first of a couple errors I made today...
This threesome became four when Hayden Roulston (ex Cofidis and now onto Discovery) bridged across alone, but "Rollie" didn't want to work. Soon we were a dozen or so, with Tim the only other Southland Times rider. Tim runs into the back of a rider in a moment of inattention, crashes out and suddenly the dynamic is changed: with him there I was comfortable sitting on, confident that between the two of us we could handle any attacks to come. Soon after losing him, the attacks begin and I'm having to keep my eye on any of a dozen riders. Every one of them sees a target on my back, being on the team with all the pre-race hype and being a former overall winner. After chasing or closing the gap a bunch of times, I'm really wishing Glen and Scott were up here. Hayden Roulston goes hard up the right side on a small berg, and I've got to respond to that. It takes me twenty seconds or so but I'm able to close the gap, and we're away. A gale force headwind has blown up out of nowhere. At one point the press helicopter is so close to us that while I'm not sure if it is really to blame, I wave furiously at it, hoping that the rotor wash is the reason I feel like I'm dragging a tree trunk behind me.
Mistake two, and by far the more serious one: I work with him. It might have been Rollie 60 percent, me 40, but still I should have throttled way back once we were clear of the remnants of the break. Thanks to this mistake, Rollie was able to roll me for the stage win, and propelled himself ahead of Glen Mitchell in the overall. I was now in yellow, but feeling very sheepish about my miscalculation. Many outsiders would assume that I worked with Rollie out of selfish desire to leapfrog Glen, and I know it's nearly indefensible, but I really was only thinking of stacking more Southland Times riders in the top 3. I had a feeling we'd be able to get rid of Rollie on the ascent of Crown Range tomorrow anyway, and in that at least I called it right...
Email John at jlieswyn@cyclingnews.com