Recently on Cyclingnews.com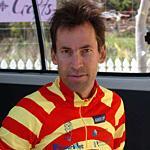 John Lieswyn
Photo: © Barry Harcourt
The John Lieswyn Diary
Cyclingnews diarist John Lieswyn is a regular at the Tour of Southland, winning the event in 2002. Usually a rider for the US Health Net presented by Maxxis team, John is riding Southland as part of the powerful Southland Times squad, alongside New Zealanders Scott Guyton, Greg Henderson, Glen Mitchell and Tim Gudsell. Their aim, of course, is another victory for the team.
Tour of Southland, New Zealand, November 1-6, 2004
Reprazent!
Sponsors were given a few minutes to speak to the assembled teams, staff, and media. Next up we had a talking to from the affable and enthusiastic police chief. During the presentation I thought again about the way cycling sells itself. The following may have nothing to do with the Southland Tour per se, but puts to paper general thoughts… Our sport has an opportunity to phrase sponsorship in a way that reiterates our value.
1. Sponsors are crucial, but they are not "generous". Even if they are in truth generous beyond the quantifiable benefit, the sport must sell itself as providing a service to the sponsor, whether it is a return on investment through advertising or a vehicle for corporate sponsor's employee excitement and community involvement.
2. When we offer profuse thanks to communities that "let" us bring our "circus" to town, we have set up town officials and media to think of us in that way. In fact, the race brings attention/money to the towns and gives the media a unique event to cover.
3. Police escort is a huge deal; without it there is even less chance of a successful tour than without sponsors. It's very welcome when the police actually get into the race. In a windy race such as the Southland Tour, the real tactical story is dictated by the forces of the wind, and escort challenges are easily predicted. If you want to know when the riders will be crossing the yellow line, look at the trees! As soon as we take a 90 degree corner, the peloton will switch direction and provide a place for vehicles to pass. This may be obvious to the caravan and escort of the Tour de France, but less so in the lower category stage races that I make my living at…
Stage 1 - November 1: Team time trial Invercargill, 8.3km
Two laps around the Invercargill Park, unlike previous years when we raced a downtown criterium. We've just assembled this team but we worked like a well oiled machine. None of us was clearly stronger than the others, so our pulls were even and smooth, netting us first in 9:46, with Zookeepers Café (winners of the best team name award, in my book) taking second at 0:10. Henderson crossed the line first for us so he's in yellow, while our Tim took the U23 pink leader's jersey for best young rider. Schools had turned out for the event… I'm sure the students were excited to have any reason to get out of class and enjoy what must be a rarity in springtime around here, the perfect sunny and warm day.
Stage 2 - November 1: Invercargil-Bluff, 78.3km
We covered some of the same roads in our neutral rollout for the afternoon stage to Bluff, and the same kids and more were out again cheering us on. It would be really cool if there were more of a parade for them…a la the big tours where a publicity and sponsors caravan precedes the race, tossing out goodies to the kids. It wouldn't take much, maybe half a dozen trucks or vans plastered with the sponsors' names and a little art design work to dress them up a bit. I felt bad that we swept by in a couple of seconds when they'd clearly been waiting quite a while to see us. It's one thing when you are a die hard cycling fan knowing the stars of the peloton and informed about what you are seeing via live TV feed. I wanted to stick out my hand for a slap contact all the way down the line, but thought the better of it as we're embarking on a 1000km tour with plenty of chances to pick up sickness without opening myself up to more.
The afternoon stage had unbelievably fine weather, nearly no wind. It seemed that many teams were keying off us and only us. Time and again we seemed to get behind the eight ball and end up playing defense, but it all worked out. Henderson took over the front from about 8km out and drilled a large second group back into the fold, so we only had to sweep up the break. Those four had been away for a while and were tired, in fact recently un-retired and now green sprint jersey wearing Gordon McCauley had to get off his bike and walk off cramps on the steepest pitches of Bluff. I didn't realize we'd caught the entire break, so I kept the throttles at 'maximum' instead of 'warp speed' and ended up coming in just behind Glen and Heath for what turned out to be fourth. That description is trying to convey what Horner is quoted saying in the recent Bicycling Magazine ad about having "another gear".
Thanks to the strong work from Hendy and Glen delivering a knockout on the climb, we chalked up another stage win for the team. If we're going to be marked by the rest of the peloton we might as well try to maximize our results as long as we can!
This year the sky was so bright blue clear that I took time for panoramic pictures at the Bluff summit. Riding down was fun excepting the new brake pads that are supposed to work especially well with carbon wheels but at the moment are squealing pretty loud. We have a top class mechanic here in the person of Craig, who works for CSC during the season. I'm sure he'll sort it out. Down in Bluff I rolled around slowly, admiring the 1860s houses (Bluff was one of the first towns settled in NZ) and stopping at the historical display at the end of the main business thoroughfare. The town has many distinctions, including the southernmost railroad station and access point for Stewart Island, the southern most inhabited town in the world excepting the research station on Antarctica.
John
Email John at jlieswyn@cyclingnews.com