Recently on Cyclingnews.com
US Elite Championships & Olympic trials - NE
Redlands, CA, USA, June 16-19, 2004
Nationals results National champions summary
Main Page Live report Results Previous Race
Race 7 - June 19: Men's Team Selection Race, 190km
McCartney surprises himself and heads for Athens
By Kristy Scrymgeour
Triumphant winner Jason McCartney (Health Net/Maxxis)
Photo ©: Jason Elhardt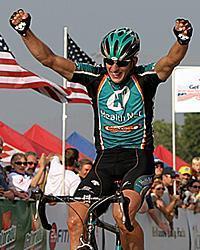 In an action packed final three laps of the US Men's Olympic Trials, Jason McCartney (Health Net p/b Maxxis) took out the win with a very timely late move, riding solo to victory and towards Athens as a member of Olympic team. McCartney joins George Hincapie and Lance Armstrong (US Postal Service p/b Berry Floor), Tyler Hamilton (Phonak Hearing Systems) and Bobby Julich (CSC) in the five member team who will line up in Athens in August.
McCartney, who started racing again six years ago after having a few years off the bike, has proved himself this year to be a classy rider with a talent for making the most of timely opportunities. His victory in stage five of Tour de Georgia earlier this year, earned him a name as a strong and gutsy rider and today's effort confirmed it. At the end of the race, he couldn't believe the way things panned out for him today. "Maybe a month from now it will sink in that I'm going to the Olympics."
To top it off, McCartney suffered bad luck during the race and wasn't feeling like today was his day at all. "I had a broken spoke during the race and my brakes were rubbing so I thought my race was over," he said. "Towards the end after cramping and having the chase back on after mechanicals, I wasn't feeling too good. I told John [Lieswyn] that I didn't have it today so I was going to try to set it up for him. I went once and he came with me, then when I went again, they hesitated and I just kept going. It wasn't until 2km to go that I thought I could win it."
Chris Horner, who was considered a strong favourite after his early season success, was very upset with the tactics at play during the race. "It was total luck that he won today," he said. "Any of the riders in the group at the time could have won because when he went, he just rolled off the front and everyone let him go. We rode at the front all day with none of the other teams helping us. Finally I had to pull my guys off the front. I can't have them completely devastated for the finish. None of the other teams would work, even at the end, Postal had every reason to help the chase but they did nothing. I was willing to work, Freddy [Rodriguez] was willing to work but they still wouldn't work.
"If I was 100% I would have just gone on the hills myself," he continued, "but I've been sick and I am only at 90%, you also have to remember that I had to bridge alone to get up to the group in the first place and that takes a lot of out of you. I'm not saying he's not a good rider, he's a great rider. But today was just a luck move.
"I really wanted to go to the Olympics," said a disappointed Horner, "and I know I was the best guy out there today."
How it unfolded
The men set out for one 7km start loop followed by ten laps of 18.2 kilometers. By the end of the first main lap a break had formed that would stay out there for eight laps only to be swallowed up in the final stages of the race. In the break were Chris Baldwin (Navigators), Will Frishkorn (Colavita Olive Oil) and Doug Ollerenshaw (Jelly Belly/Aramark).
Chasing them from the word go were another three riders including Ryan Dewald (Snow Valley), Lawrence Perera (Sharper Image/Mathis Brothers) and recently crowned National Collegiate Champion, Marc Collard (Red Edge Cycling). By the fourth lap the break had 4'30" on the first chase group and 5'42" on the peloton, which was being led by Webcor.
By lap five Perera and Dewald started feeling the effect of the constant climbing and the heat and were dropped from Collard and absorbed by the bunch and Collard too starting falling back. The original three leaders still led by almost six minutes with the gap still growing. It wasn't until lap seven of ten that attacks from the peloton caused the gap to the leaders to come down. Webcor started attacking and on the climbs in the early part of the lap the field was totally split apart with a chase group of eight forming at 3'15" from the leaders followed by a smaller group of five who eventually joined them.
Eventually the first chase group was 13 riders in size at 2'45" behind the leaders, with Horner sitting in the next group at 3'57". As McCartney and Andrew Bajadali (Ofoto) became active in the first chase group, Horner made one swift move and bridged solo from his group to the first chase group, putting himself back into the race. At two laps to go the three leaders were finally caught after a long day in the saddle. From this point, riders such as Lieswyn, Kirk O'Bee (Navigators), Fred Rodriguez (Aqua Sapone) and Antonio Cruz (US Postal), David Zabriskie and Adam Bergman were all very aggressive in the bunch and the situation constantly changed up front.
With almost a lap to go, McCartney attacked to try to set the race up for his teammate, Lieswyn and found himself off the front. Chasing him was Ollerenshaw who had been in the break of three all day, followed by a group of 13 riders. More attacks out of the chase group saw a group of three catch Ollerenshaw. In the group were Adam Bergman (Jelly Belly), Lieswyn and Bajadali again. They sat at 1'09 behind McCartney with a group of nine chasing them.
Bergman was dropped and Horner, O'Bee and Rodriguez attacked. Coming into the finish with 5km to go McCartney still held a gap of 1'20 from Bergman who had chased back on, Bajadali, Ollerenshaw, Lieswyn, Rodriguez and Horner with another small group closing in.
In a nail biting finish, McCartney managed to finish solo with Bergman fighting back to take second place, 1'01" down, shortly followed by Zabriskie, Rodriguez and Antonio Cruz. Having an excellent day to finish sixth was Ollerenshaw, with his breakaway partner Frischkorn finish in the front bunch in 12th place. Tenth place rider Chris Walker, will also have been happy with his performance this week, placing tenth today after taking out the Amateur National Road Race on Wednesday.
Photography
Images by Kristy Scrymgeour
Oh man, I'm going to Athens! - Jason McCartney (Health Net/Maxxis) still can't believe it, while his team-mate John Lieswyn is visibly delighted for him.
The men's podium - (L to R) Fred Rodriguez (Aqua Sapone-Caffe Mokambo, 4th), Adam Bergman (Jelly Belly/Aramark, 2nd), Jason McCartney (Health Net/Maxxis, 1st), David Zabriskie (US Postal/Berry Floor, 3rd), and Antonio Cruz (US Postal/Berry Floor, 5th).
And the final Olympic spots go to - (L to R) Kristin Armstrong (T-Mobile), Jason McCartney (Health Net/Maxxis), and Christine Thorburn (Webcor Builders).
Images by Jason Elhardt/www.jasonelhardt.com
Images by Russ & Nancy Wright/www.AbbiOrca.com
Results

1 Jason McCartney (Health Net p/b Maxxis)                  5.09.57
2 Adam Bergman (Jelly Belly/Aramark)                          1.01
3 David Zabriskie (US Postal - Berry Floor)                   1.05
4 Fred Rodriguez (Aqua Sapone-Caffe Mokambo)                  1.07
5 Antonio Cruz (US Postal - Berry Floor)                          
6 Doug Ollerenshaw (Jelly Belly/Aramark)                          
7 John Lieswyn (Health Net p/b Maxxis)                            
8 Evan Elken (Broadmark Capital)                                  
9 Andrew Bajadali (Ofoto)                                     1.08
10 Chris Walker (Labor Power)                                     
11 Chris Horner (Webcor Builders)                                 
12 Will Frishkorn (Colavita Olive Oil)                            
13 Kirk O'bee (Navigators Insurance)                              
14 Jacob Rosenbarger (Jittery Joes)                           3.53
15 Jason Lokkesmoe (Health Net p/b Maxxis)                    7.13
16 Peter Baker (Team Snow Valley)                                 
17 Kirk Albers (Jelly Belly/Aramark)                              
18 Philip Zajicek (Navigators Insurance)                          
19 Steve Mlujeak (US Armed Forces)                           13.47
20 Bryan Smith (Endeavour Cycling Team)                           
21 Steve Tilford (Dura Ace)                                       
22 Ted Huang (Webcor Builders)                                    
23 Bartek Fidelus (Team Ranchos)                             13.48
24 Barkley Robinson (Rio Grande)                                  
25 Garrett Peltonen (Endeavour Cycling Team)                      
26 Carl Decker (Broadmark Capital)                                
27 Jon Tarkington (Vitamin Cottage/DEAN)                          
28 Peter Penzell (US Armed Forces)                                
29 James Mattis (Webcor Builders)                            13.49
30 Geoffrey Rapoport (Minute Maid/Dasani-Lagrange)           13.50
31 Ben Raby (ABD Cycling Team)                               18.24
32 Ryan Blickem (Aidas/Zeta Gas)                             21.32
33 Ian Dille (Team Snow Valley)                              21.33
34 Drew Miller (White Mtn Road Club)                              
35 Ian Prichard (Rio Grande)                                 26.13