Recently on Cyclingnews.com
Tour of Hungary - 2.6
Hungary, July 26-August 1, 2004
Main Page Results Previous Stage
Stage 6 - August 1: Gyöngyös - Budapest, 110 km
Remák confirms in yellow
Cyclingnews' Stevenson wins final stage
By Roland Gombkötő
Zoltan Remak
Photo ©: Tour of Hungary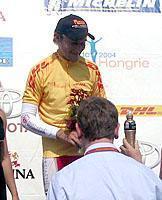 Zoltán Remák has become the third rider in the history of the Tour de Hongrie to win back to back editions, after László Vida and Győző Török in the past. Remák was able to claim the overall victory today after six stages, with the final stage in Budapest being won by Cody Stevenson (Cyclingnews.com).
The 31st Tour de Hongrie started in Veszprém last Monday, and after almost 850 kilometres the field arrived in Budapest on Sunday afternoon. There were breakaway attempts on the last day, but finally a group of three (Aurél Víg, Gergely Ivanics and Csaba Steig) managed to get away. The peloton did not give them more than 1'30, and the gap decreased to half a minute when they reached Budapest.
Through the final kilometres in the three finishing laps, the peloton caught the break, so the public - which came to follow the final battles of the race - saw a real field sprint. The stage was won by Cody Stevenson (Cyclingnews.com), and Zoltán Remák kept the yellow jersey after the last day. This is his second victory of Tour de Hongrie after his success in 2003.
Cody Stevenson
Photo ©: Tour of Hungary

"Saturday was the hardest stage for me, many of the competitors tried to gain the yellow jersey, but I managed to keep my advantage compared to my main rivals," Remák said. "I am very happy that I can wear the yellow jersey for the second time in this tour, as this race is the most important competition for me. My team is satisfied as well, because besides the yellow we took the red jersey as well for the best team."
Ferenc Gyurcsány, the Hungarian Youth and Sport Minister, and Jean-Marie Leblanc, director of the Tour de France, attended the final ceremony.
Photography
Images by Tour of Hungary
Images by Gabor Radovics
Results
1 Cody Stevenson (Aus) Cyclingnews.com                  3.07.11
2 Morten Christiansen (Nor) CykelCity.se                       
3 Daniel Strauch (Ger) Team RSH                                
4 Attila Árvai (Hun) P-Nívó Betonexpressz - FTC 2              
5 Cor Van Lueeuwen (Ned) Noordelijke Groeningen                
6 Robert Glajza (Svk) CK ZP SportPodbrezova                    
7 Jean-Pierre Guillin (Fra) CSM Puteaux                        
8 Bálint Szeghalmi (Hun) Baranya Region Team                   
9 Florian Smits (Ned) Amsterdam Combination                    
10 Gábor Arany (Hun) P-Nívó Betonexpressz - FTC 2              
11 Cristoph Kerschbaum (Aut) Austrian National Team            
12 Philip Schulz (Ger) Team Profiline                          
13 Kacper Sowinski (Cze) Favorit                               
14 Gregor Zajc (Slo) Puris-Camen Pazin                         
15 Robert Österling (Swe) CykelCity.se                         
16 Viktor Specziár (Hun) Postás SE                             
17 Dániel Zsombok (Hun) Békéscsaba U23 Mix                     
18 Roman Kononenko (Ukr) Ukrainen Track Team                   
19 Attila Szóka (Hun) Békéscsaba U23 Mix                       
20 Vasyl Yakovlev (Ukr) Ukrainen Track Team                    
21 András Szabó (Hun) Pécsi KSE                                
22 Josef Kugler (Aut) Austrian National Team                   
23 Adriaan Helmantel (Ned) Noordelijke Groeningen              
24 Thomas Buchacek (Cze) Favorit                               
25 Nathan Russel (Aus) Cyclingnews.com                         
26 Péter Kusztor (Hun) Békéscsaba U23 Mix                      
27 Georg Hausbacher (Aut) Austrian National Team               
28 Balázs Rónaszéki (Hun) Postás SE                            
29 Jakub Svoboda (Cze) Favorit                                 
30 Lyubomyr Polatayko (Ukr) Ukrainen Track Team                
31 Gergely Ivanics (Hun) Pécsi KSE                             
32 Cameron Jennings (Aus) Cyclingnews.com                      
33 Markus Junnerholt (Swe) CykelCity.se                        
34 Csaba Szekeres (Hun) P-Nívó Betonexpressz - FTC 1       0.07
35 Leon Burger (Ned) Amsterdam Combination                     
36 Tamás Büttner (Hun) P-Nívó Betonexpressz - FTC 2            
37 Anatolij Varvaruk (Ukr) Puris-Camen Pazin                   
38 Radek Blahut (Cze) Favorit                                  
39 Matthias Schnapka (Ger) Team Profiline                      
40 Barnabás Vízer (Hun) P-Nívó Betonexpressz - FTC 2           
41 Viktor Temesi (Hun) Békéscsaba U23 Mix                      
42 Matthias Schröger (Aut) Austrian National Team              
43 Aurél Víg (Hun) P-Nívó Betonexpressz - FTC 1                
44 Christian Serisier (Fra) CSM Puteaux                        
45 Volodymyr Dyudya (Ukr) Ukrainen Track Team                  
46 Jan Jobánek (Cze) Favorit                                   
47 Róbert Nagy (Svk) P-Nívó Betonexpressz - FTC 1              
48 Evert Veldkamp (Ned) Noordelijke Groeningen                 
49 Hervé Rivoalen (Fra) CSM Puteaux                            
50 Pim Van Den Berg (Ned) Noordelijke Groeningen               
51 Gábor Lengyel (Hun) Baranya Region Team                     
52 Ard Aling (Ned) Amsterdam Combination                       
53 Zoltán Csomor (Hun) Pécsi KSE                               
54 Andreas Graf (Aut) Austrian National Team                   
55 Zoltán Remák (Svk) CK ZP SportPodbrezova                    
56 Bence Szuromi (Hun) Pécsi KSE                               
57 Gábor Kiskó (Hun) P-Nívó Betonexpressz - FTC 1              
58 Jan Mattson (Swe) CykelCity.se                          0.11
59 Áron Kovalóczy (Hun) Postás SE                              
60 Darko Blazevic (Cro) Puris-Camen Pazin                      
61 Udo Müller (Ger) Team RSH                                   
62 Phillip Thuaux (Aus) Cyclingnews.com                        
63 Christian Bach (Ger) Team Profiline                         
64 Jonatán Rück (Hun) Baranya Region Team                      
65 David Demanuele (Cro) Puris-Camen Pazin                     
66 Lukas Heinrich (Cze) Favorit                                
67 Volodymyr Rybin (Ukr) Ukrainen Track Team               0.15
68 Anders Gerhardsson (Swe) CykelCity.se                       
69 Erwin Goenga (Ned) Amsterdam Combination                0.21
70 Csaba Steig (Hun) Baranya Region Team                   0.30
71 Marian Hecl (Svk) CK ZP Sport Podbrezova                0.41
72 Gyula Nagy (Hun) Békéscsaba U23 Mix                     0.53
73 Martin Prazdnovsky (Svk) CK ZP Sport Podbrezova             
74 Ákos Haiszer (Hun) Békéscsaba U23 Mix                       
75 Seppe Hoogzaad (Ned) Amsterdam Combination                  
76 Balázs Szórádi (Hun) Postás SE                              
77 Tamás Baumgartner (Hun) Postás SE                           
78 Alexandre Terrasson (Fra) CSM Puteaux                       
79 Cristian Lener (Aut) Austrian National Team                 
80 Richard Demming (Ger) Team RSH                              
81 Matthew Rice (Aus) Cyclingnews.com                      1.33
82 Vitaliy Popkov (Ukr) Ukrainen Track Team                2.00
83 Alexandre Roger (Fra) CSM Puteaux                           
84 László Garamszegi (Hun) P-Nívó Betonexpressz - FTC 1    2.02
85 Radovan Husar (Svk) CK ZP SportPodbrezova               2.07
86 Martin Keliar (Svk) CK ZP SportPodbrezova                   
87 Arnaud Rivoalen (Fra) CSM Puteaux                       5.06
DNF Zoltán Bebtó (Hun) P-Nívó Betonexpressz - FTC 2            
DNF Heike Van Der Woerd (Ned) Amsterdam Combination            
DNF Roland Siegbert (Ger) Team Profiline                       
DNF Christian Helm (Ger) Team RSH                              
DNF Jens Wilk (Ger) Team RSH                                   
DNF Johan Procee (Ned) Noordelijke Groeningen                  
DNF Thomas Hebestreit (Ger) Team Profiline                     
 
Points
 
1 Cody Stevenson (Aus) Cyclingnews.com                       10 pts
2 Morten Christiansen (Nor) CykelCity.se                      6
3 Daniel Strauch (Ger) Team RSH                               4
4 Attila Árvai (Hun) P-Nívó Betonexpressz - FTC 2             3
5 Cor Van Lueeuwen (Ned) Noordelijke Groeningen               2
6 Robert Glajza (Svk) CK ZP SportPodbrezova                   1
 
Mountains
 
Szirák - 15. kilométerkő - Cat. 3, 37,0 km
 
1 Attila Árvai (Hun) P-Nívó Betonexpressz - FTC 2             3 pts
2 Udo Müller (Ger) Team RSH                                   2
3 Christian Bach (Ger) Team Profiline                         1
 
Galgamácsa - bekötő út - Cat. 3, 74,2 km
 
1 Aurél Víg (Hun) P-Nívó Betonexpressz - FTC 1                3 pts
2 Csaba Steig (Hun) Baranya Region Team                       2
3 Gergely Ivanics (Hun) Pécsi KSE                             1
 
Sprints
 
Budapest - A38-as hajó, 124,5 km
 
1 Aurél Víg (Hun) P-Nívó Betonexpressz - FTC 1                3 pts
2 Gergely Ivanics (Hun) Pécsi KSE                             2
3 Csaba Steig (Hun) Baranya Region Team                       1
 
Teams
 
1 Cykelcity.Se                                          9.21.33
2 Cyclingnews.com                                              
3 Austrian National Team                                       
4 Békéscsaba U23 Mix                                           
5 Favorit                                                      
6 Ukrainan Track Team                                          
7 P-Nívó Betonexpressz - Ftc 2                             0.07
8 Noordelijke Groeningen                                       
9 Pécsi Kse                                                    
10 Postás Se                                               0.11
11 Amsterdam Combination                                   0.14
12 Csm Puteaux                                                 
13 Puris-Camen Pazin                                       0.18
14 Team Profiline                                              
15 Tamási - Pottospec Team                                     
16 P-Nívó Betonexpressz - Ftc 1                            0.21
17 CK ZP Sport Podbrezova                                  0.48
18 Team RSH                                                1.04
 
Final general classification
 
1 Zoltán Remák (Svk) CK ZP SportPodbrezova             20.03.26
2 Phillip Thuaux (Aus) Cyclingnews.com                     2.06
3 Martin Prazdnovsky (Svk) CK ZP Sport Podbrezova          2.23
4 Thomas Buchacek (Cze) Favorit                            4.30
5 László Garamszegi (Hun) P-Nívó Betonexpressz - FTC 1     5.03
6 Robert Glajza (Svk) CK ZP SportPodbrezova                5.04
7 Csaba Szekeres (Hun) P-Nívó Betonexpressz - FTC 1        5.18
8 Aurél Víg (Hun) P-Nívó Betonexpressz - FTC 1             6.09
9 Udo Müller (Ger) Team RSH                                6.19
10 Vasyl Yakovlev (Ukr) Ukrainen Track Team                6.44
11 Lyubomyr Polatayko (Ukr) Ukrainen Track Team            7.55
12 Radek Blahut (Cze) Favorit                              8.25
13 Cristoph Kerschbaum (Aut) Austrian National Team        9.13
14 Jan Jobánek (Cze) Favorit                              10.44
15 Vitaliy Popkov (Ukr) Ukrainen Track Team               10.48
16 Gábor Kiskó (Hun) P-Nívó Betonexpressz - FTC 1         11.06
17 Volodymyr Rybin (Ukr) Ukrainen Track Team              11.32
18 Bálint Szeghalmi (Hun) Baranya Region Team             13.00
19 Gergely Ivanics (Hun) Pécsi KSE                        13.13
20 Cameron Jennings (Aus) Cyclingnews.com                 14.04
21 Roman Kononenko (Ukr) Ukrainen Track Team              14.11
22 Attila Szóka (Hun) Békéscsaba U23 Mix                  14.30
23 Morten Christiansen (Nor) CykelCity.se                 14.44
24 Bence Szuromi (Hun) Pécsi KSE                          16.09
25 Dániel Zsombok (Hun) Békéscsaba U23 Mix                16.31
26 Anatolij Varvaruk (Ukr) Puris-Camen Pazin              16.49
27 Matthias Schröger (Aut) Austrian National Team         16.56
28 Georg Hausbacher (Aut) Austrian National Team               
29 Alexandre Roger (Fra) CSM Puteaux                      17.10
30 Josef Kugler (Aut) Austrian National Team              17.41
31 Nathan Russel (Aus) Cyclingnews.com                    17.46
32 Adriaan Helmantel (Ned) Noordelijke Groeningen         18.00
33 Leon Burger (Ned) Amsterdam Combination                18.32
34 Péter Kusztor (Hun) Békéscsaba U23 Mix                 18.40
35 Jan Mattson (Swe) CykelCity.se                         19.09
36 Zoltán Csomor (Hun) Pécsi KSE                          19.28
37 Kacper Sowinski (Cze) Favorit                          19.42
38 Gábor Arany (Hun) P-Nívó Betonexpressz - FTC 2         20.33
39 Balázs Rónaszéki (Hun) Postás SE                       21.28
40 Martin Keliar (Svk) CK ZP SportPodbrezova              21.46
41 Cristian Lener (Aut) Austrian National Team            22.13
42 Robert Österling (Swe) CykelCity.se                    22.57
43 Volodymyr Dyudya (Ukr) Ukrainen Track Team             23.08
44 Christian Serisier (Fra) CSM Puteaux                   23.34
45 András Szabó (Hun) Pécsi KSE                           24.12
46 Jonatán Rück (Hun) Baranya Region Team                 25.38
47 Anders Gerhardsson (Swe) CykelCity.se                  26.22
48 Balázs Szórádi (Hun) Postás SE                         27.01
49 Jakub Svoboda (Cze) Favorit                            27.12
50 Róbert Nagy (Svk) P-Nívó Betonexpressz - FTC 1         28.26
51 Daniel Strauch (Ger) Team RSH                          29.18
52 Philip Schulz (Ger) Team Profiline                     30.18
53 Tamás Büttner (Hun) P-Nívó Betonexpressz - FTC 2       33.08
54 Matthew Rice (Aus) Cyclingnews.com                     33.12
55 Markus Junnerholt (Swe) CykelCity.se                   33.23
56 Seppe Hoogzaad (Ned) Amsterdam Combination             33.29
57 Attila Árvai (Hun) P-Nívó Betonexpressz - FTC 2        33.59
58 Ákos Haiszer (Hun) Békéscsaba U23 Mix                  34.26
59 Richard Demming (Ger) Team RSH                         34.41
60 Erwin Goenga (Ned) Amsterdam Combination               34.51
61 Radovan Husar (Svk) CK ZP SportPodbrezova              35.13
62 Cor Van Lueeuwen (Ned) Noordelijke Groeningen          35.17
63 Gábor Lengyel (Hun) Baranya Region Team                35.59
64 Evert Veldkamp (Ned) Noordelijke Groeningen            36.26
65 Florian Smits (Ned) Amsterdam Combination              36.43
66 Barnabás Vízer (Hun) P-Nívó Betonexpressz - FTC 2      37.04
67 Marian Hecl (Svk) CK ZP Sport Podbrezova               37.47
68 Ard Aling (Ned) Amsterdam Combination                  38.58
69 Gregor Zajc (Slo) Puris-Camen Pazin                    39.39
70 Cody Stevenson (Aus) Cyclingnews.com                   39.50
71 Lukas Heinrich (Cze) Favorit                           40.06
72 Viktor Specziár (Hun) Postás SE                        41.52
73 Jean-Pierre Guillin (Fra) CSM Puteaux                  42.05
74 Christian Bach (Ger) Team Profiline                    42.16
75 Pim Van Den Berg (Ned) Noordelijke Groeningen          43.15
76 Andreas Graf (Aut) Austrian National Team              44.35
77 Viktor Temesi (Hun) Békéscsaba U23 Mix                 47.23
78 Csaba Steig (Hun) Baranya Region Team                  49.32
79 Hervé Rivoalen (Fra) CSM Puteaux                       50.27
80 Matthias Schnapka (Ger) Team Profiline                 52.57
81 Áron Kovalóczy (Hun) Postás SE                         55.40
82 Alexandre Terrasson (Fra) CSM Puteaux                  56.55
83 Darko Blazevic (Cro) Puris-Camen Pazin                 59.01
84 David Demanuele (Cro) Puris-Camen Pazin              1.02.21
85 Gyula Nagy (Hun) Békéscsaba U23 Mix                  1.04.58
86 Arnaud Rivoalen (Fra) CSM Puteaux                    1.20.05
87 Tamás Baumgartner (Hun) Postás SE                    1.24.54
 
Sprints classification
 
1 Martin Prazdnovsky (Svk) CK ZP Sport Podbrezova            21 pts
2 Udo Müller (Ger) Team RSH                                  19
3 Morten Christiansen (Nor) CykelCity.se                     14
4 Phillip Thuaux (Aus) Cyclingnews.com                       13
5 Cor Van Lueeuwen (Ned) Noordelijke Groeningen              14
6 Zoltán Remák (Svk) CK ZP SportPodbrezova                   13
7 Robert Glajza (Svk) CK ZP SportPodbrezova                  12
8 Anatolij Varvaruk (Ukr) Puris-Camen Pazin                  11
9 László Garamszegi (Hun) P-Nívó Betonexpressz - FTC 1       11
10 Cody Stevenson (Aus) Cyclingnews.com                      10
11 Volodymyr Dyudya (Ukr) Ukrainen Track Team                 9
12 Aurél Víg (Hun) P-Nívó Betonexpressz - FTC 1               7
13 Lukas Heinrich (Cze) Favorit                               7
14 Thomas Buchacek (Cze) Favorit                              6
15 Daniel Strauch (Ger) Team RSH                              4
16 Markus Junnerholt (Swe) CykelCity.se                       4
17 Vasyl Yakovlev (Ukr) Ukrainen Track Team                   4
18 Marian Hecl (Svk) CK ZP Sport Podbrezova                   4
19 Attila Árvai (Hun) P-Nívó Betonexpressz - FTC 2            3
20 Gábor Lengyel (Hun) Baranya Region Team                    3
21 Jens Wilk (Ger) Team RSH                                   3
22 Gergely Ivanics (Hun) Pécsi KSE                            2
23 Csaba Szekeres (Hun) P-Nívó Betonexpressz - FTC 1          2
24 Zoltán Csomor (Hun) Pécsi KSE                              2
25 Radek Blahut (Cze) Favorit                                 2
26 Alexandre Terrasson (Fra) CSM Puteaux                      2
27 Csaba Steig (Hun) Baranya Region Team                      1
28 Nathan Russel (Aus) Cyclingnews.com                        1
29 Jan Jobánek (Cze) Favorit                                  1
30 Gábor Kiskó (Hun) P-Nívó Betonexpressz - FTC 1             1
 
Mountains classification
 
1 László Garamszegi (Hun) P-Nívó Betonexpressz - FTC 1       42 pts
2 Udo Müller (Ger) Team RSH                                  40
3 Phillip Thuaux (Aus) Cyclingnews.com                       30
4 Zoltán Remák (Svk) CK ZP SportPodbrezova                   29
5 Anatolij Varvaruk (Ukr) Puris-Camen Pazin                  27
6 Robert Glajza (Svk) CK ZP SportPodbrezova                  17
7 Aurél Víg (Hun) P-Nívó Betonexpressz - FTC 1               15
8 Gábor Kiskó (Hun) P-Nívó Betonexpressz - FTC 1             13
9 Thomas Buchacek (Cze) Favorit                              10
10 Gábor Lengyel (Hun) Baranya Region Team                    7
11 Radek Blahut (Cze) Favorit                                 7
12 Martin Prazdnovsky (Svk) CK ZP Sport Podbrezova            6
13 Lukas Heinrich (Cze) Favorit                               5
14 Marian Hecl (Svk) CK ZP Sport Podbrezova                   5
15 Attila Árvai (Hun) P-Nívó Betonexpressz - FTC 2            4
16 Csaba Szekeres (Hun) P-Nívó Betonexpressz - FTC 1          4
17 Csaba Steig (Hun) Baranya Region Team                      2
18 Anders Gerhardsson (Swe) CykelCity.se                      2
19 Vasyl Yakovlev (Ukr) Ukrainen Track Team                   2
20 Gergely Ivanics (Hun) Pécsi KSE                            1
21 Christian Bach (Ger) Team Profiline                        1
22 Alexandre Roger (Fra) CSM Puteaux                          1
 
Teams classification
 
1 CK ZP Sport Podbrezova                               58.30.23
2 P-Nívó Betonexpressz - Ftc 1                             2.47
3 Favorit                                                 10.53
4 Ukrainan Track Team                                     11.53
5 Cyclingnews.com                                         21.02
6 Austrian National Team                                  22.06
7 Békéscsaba U23 Mix                                      30.38
8 Pécsi Kse                                               32.50
9 Cykelcity.Se                                            36.11
10 Csm Puteaux                                            51.01
11 P-Nívó Betonexpressz - Ftc 2                           51.38
12 Team RSH                                               53.58
13 Tamási - Pottospec Team                                54.31
14 Amsterdam Combination                                1.08.52
15 Postás Se                                            1.12.44
16 Noordelijke Groeningen                               1.13.10
17 Team Profiline                                       1.26.07
18 Puris-Camen Pazin                                    1.27.11