Recently on Cyclingnews.com
Tour of Hungary - 2.6
Hungary, July 26-August 1, 2004
Main Page Results Previous Stage Next Stage
Stage 2 - July 28: Balatonfüred - Pecs, 167 km
Funky Phil in yellow
By Roland Gomböktö
Phil Thuaux (cyclingnews.com)
Photo ©: Tour of Hungary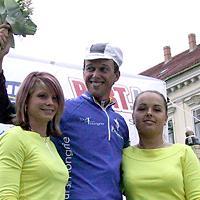 Phil Thuaux (Cyclingnews.com) has taken the yellow jersey in the Tour of Hungary after winning the second stage in a solo breakaway. The Australian had crashed earlier in the stage but did not give up in spite of his injuries. In fact, it seemed that his tumble increased his power, as he won by over a minute ahead of last year's winner Zoltán Remák. It was the first time in the history of the Tour of Hungary that an Australian rider has finished in first place. The win also gave Thuaux the yellow jersey.
The stage started with an unexpected breakaway attempt from 14 riders (Zoltán Remák was among them), which attacked right after the start in Balatonföldvár. The time gap of the break was more than six minutes, and they kept it until they reached the first slopes in Baranya. Remák attempted to ride away from the break in Orfu (like in last year's crucial stage), but László Garamszegi from P-Nívó Betonexpressz - FTC kept pace with him until he broke down.
It seemed that the stage would be a repeat of last year when Remák won in Pécs, but Phil Thuaux (Cyclingnews.com) caught Remák, and what's more, overtook him and took the lead in the first circuit in Pécs. The Australian won the stage of 1'06 from Remák, while the peloton increased its speed in the last laps in Pécs with Martin Prazdnovsky (CK ZP Sport Podbrezova) taking third and Tamás Lengyel the best placed Hungarian in fifth.
Phil Thuaux (cyclingnews.com)
Photo ©: Tour of Hungary

Although Thuaux holds a handy lead, the competition is still very open, and the ranking should change in tomorrow's time trial in Békéscsaba (South-East Hungary).
Photography
Images by Tour of Hungary
Results
1 Phillip Thuaux (Aus) Cyclingnews.com                 3.59.09
2 Zoltán Remák (Svk) CK ZP SportPodbrezova                1.06
3 Martin Prazdnovsky (Svk) CK ZP Sport Podbrezova         3.01
4 Udo Müller (Ger) Team RSH                                   
5 Tamás Lengyel (Hun) P-Nívó Betonexpressz - FTC 1            
6 Thomas Buchacek (Cze) Favorit                               
7 László Garamszegi (Hun) P-Nívó Betonexpressz - FTC 1        
8 Robert Glajza (Svk) CK ZP SportPodbrezova               4.39
9 Gergely Ivanics (Hun) Pécsi KSE                         4.40
10 Aurél Víg (Hun) P-Nívó Betonexpressz - FTC 1           4.41
11 Csaba Szekeres (Hun) P-Nívó Betonexpressz - FTC 1          
12 Radek Blahut (Cze) Favorit                             4.46
13 Gábor Arany (Hun) P-Nívó Betonexpressz - FTC 2         5.35
14 Lyubomyr Polatayko (Ukr) Ukrainen Track Team           5.38
15 Morten Christiansen (Nor) CykelCity.se                 6.00
16 Vasyl Yakovlev (Ukr) Ukrainen Track Team               6.01
17 Gábor Kiskó (Hun) P-Nívó Betonexpressz - FTC 1         6.15
18 Vitaliy Popkov (Ukr) Ukrainen Track Team               6.23
19 Martin Keliar (Svk) CK ZP SportPodbrezova              6.42
20 Cristian Lener (Aut) Austrian National Team            6.59
21 Dániel Zsombok (Hun) Békéscsaba U23 Mix                7.01
22 Cristoph Kerschbaum (Aut) Austrian National Team           
23 Matthias Schröger (Aut) Austrian National Team             
24 Nathan Russel (Aus) Cyclingnews.com                        
25 Jakub Svoboda (Cze) Favorit                                
26 Adriaan Helmantel (Ned) Noordelijke Groeningen             
27 Georg Hausbacher (Aut) Austrian National Team              
28 Attila Szóka (Hun) Békéscsaba U23 Mix                      
29 Jan Mattson (Swe) CykelCity.se                         7.05
30 Cameron Jennings (Aus) Cyclingnews.com                     
31 Alexandre Roger (Fra) CSM Puteaux                          
32 Bálint Szeghalmi (Hun) Baranya Region Team             7.41
33 Kacper Sowinski (Cze) Favorit                          7.55
34 Jan Jobánek (Cze) Favorit                                  
35 Volodymyr Rybin (Ukr) Ukrainen Track Team              8.07
36 Erwin Goenga (Ned) Amsterdam Combination               9.23
37 Viktor Specziár (Hun) Postás SE                        9.35
38 Daniel Strauch (Ger) Team RSH                          9.50
39 Barnabás Vízer (Hun) P-Nívó Betonexpressz - FTC 2     10.00
40 Seppe Hoogzaad (Ned) Amsterdam Combination            10.12
41 Leon Burger (Ned) Amsterdam Combination                    
42 Balázs Szórádi (Hun) Postás SE                        10.17
43 Bence Szuromi (Hun) Pécsi KSE                              
44 Roman Kononenko (Ukr) Ukrainen Track Team             10.52
45 Róbert Nagy (Svk) P-Nívó Betonexpressz - FTC 1        11.00
46 Radovan Husar (Svk) CK ZP SportPodbrezova                  
47 Lukas Heinrich (Cze) Favorit                               
48 Volodymyr Dyudya (Ukr) Ukrainen Track Team                 
49 Hervé Rivoalen (Fra) CSM Puteaux                      11.13
50 Josef Kugler (Aut) Austrian National Team                  
51 Andreas Graf (Aut) Austrian National Team                  
52 Matthew Rice (Aus) Cyclingnews.com                    11.15
53 Péter Kusztor (Hun) Békéscsaba U23 Mix                     
54 Christian Serisier (Fra) CSM Puteaux                  11.17
55 Alexandre Terrasson (Fra) CSM Puteaux                 11.41
56 Anatolij Varvaruk (Ukr) Puris-Camen Pazin             11.49
57 Tamás Büttner (Hun) P-Nívó Betonexpressz - FTC 2      11.56
58 Cor Van Lueeuwen (Ned) Noordelijke Groeningen         12.07
59 Gregor Zajc (Slo) Puris-Camen Pazin                   12.08
60 Jonatán Rück (Hun) Baranya Region Team                12.12
61 Evert Veldkamp (Ned) Noordelijke Groeningen                
62 Anders Gerhardsson (Swe) CykelCity.se                 12.13
63 Pim Van Den Berg (Ned) Noordelijke Groeningen         12.17
64 András Szabó (Hun) Pécsi KSE                          12.21
65 Zoltán Csomor (Hun) Pécsi KSE                         12.24
66 Gábor Lengyel (Hun) Baranya Region Team                    
67 Balázs Rónaszéki (Hun) Postás SE                           
68 Richard Demming (Ger) Team RSH                        12.27
69 Cody Stevenson (Aus) Cyclingnews.com                       
70 Attila Árvai (Hun) P-Nívó Betonexpressz - FTC 2       12.30
71 Markus Junnerholt (Swe) CykelCity.se                  13.22
72 Robert Österling (Swe) CykelCity.se                   13.23
73 Roland Siegbert (Ger) Team Profiline                  13.25
74 Zoltán Bebtó (Hun) P-Nívó Betonexpressz - FTC 2            
75 Ákos Haiszer (Hun) Békéscsaba U23 Mix                 13.34
76 Christian Helm (Ger) Team RSH                         13.58
77 Thomas Hebestreit (Ger) Team Profiline                14.00
78 Zvonimir Pokupec (Cro) Puris-Camen Pazin              14.01
79 Marian Hecl (Svk) CK ZP Sport Podbrezova              15.36
80 Gyula Nagy (Hun) Békéscsaba U23 Mix                   15.52
81 Jens Wilk (Ger) Team RSH                              16.05
82 Ard Aling (Ned) Amsterdam Combination                 16.16
83 Darko Blazevic (Cro) Puris-Camen Pazin                     
84 Johan Procee (Ned) Noordelijke Groeningen                  
85 Csaba Merő (Hun) P-Nívó Betonexpressz - FTC 2              
86 Florian Smits (Ned) Amsterdam Combination                  
87 Philip Schulz (Ger) Team Profiline                    16.28
88 Jean-Pierre Guillin (Fra) CSM Puteaux                 17.22
89 Viktor Temesi (Hun) Békéscsaba U23 Mix                17.29
90 Áron Kovalóczy (Hun) Postás SE                        17.32
91 András Berkesi (Hun) Pécsi KSE                        17.42
92 David Demanuele (Cro) Puris-Camen Pazin               18.00
93 Heike Van Der Woerd (Ned) Amsterdam Combination       18.54
94 Arnaud Rivoalen (Fra) CSM Puteaux                          
95 Csaba Steig (Hun) Baranya Region Team                 19.10
96 Christian Bach (Ger) Team Profiline                   21.14
97 Matthias Schnapka (Ger) Team Profiline                21.23
98 Tamás Baumgartner (Hun) Postás SE                     23.09
99 Gerben De Vries (Ned) Noordelijke Groeningen               
100 Zoltán Vanik (Hun) Pécsi KSE                         24.24
 
Points
 
1 Phillip Thuaux (Aus) Cyclingnews.com                      10 pts
2 Zoltán Remák (Svk) CK ZP SportPodbrezova                   6
3 Martin Prazdnovsky (Svk) CK ZP Sport Podbrezova            4
4 Udo Müller (Ger) Team RSH                                  3
5 Tamás Lengyel (Hun) P-Nívó Betonexpressz - FTC 1           2
6 Thomas Buchacek (Cze) Favorit                              1
 
Sprints
 
Tab - COOP áruház, 21,9 km
 
1 Volodymyr Dyudya (Ukr) Ukrainen Track Team                 3 pts
2 Zoltán Remák (Svk) CK ZP SportPodbrezova                   2
3 Phillip Thuaux (Aus) Cyclingnews.com                       1
 
Tamási - Dám Hotel, 53,4 km
 
1 Volodymyr Dyudya (Ukr) Ukrainen Track Team                 3 pts
2 László Garamszegi (Hun) P-Nívó Betonexpressz - FTC 1       2
3 Jan Jobánek (Cze) Favorit                                  1
 
Dombóvár - Vörösmaty u., 89,0 km
 
1 Volodymyr Dyudya (Ukr) Ukrainen Track Team                 3 pts
2 Radek Blahut (Cze) Favorit                                 2
3 Zoltán Remák (Svk) CK ZP SportPodbrezova                   1
 
Mountains
 
Lapis tető - Cat. 1, 134,7 km
 
1 Zoltán Remák (Svk) CK ZP SportPodbrezova                  15 pts
2 Phillip Thuaux (Aus) Cyclingnews.com                      12
3 László Garamszegi (Hun) P-Nívó Betonexpressz - FTC 1       9
4 Radek Blahut (Cze) Favorit                                 6
5 Gábor Kiskó (Hun) P-Nívó Betonexpressz - FTC 1             4
6 Anders Gerhardsson (Swe) CykelCity.se                      2
 
Pécsi Kemping - Cat. 2, 149,9 km
 
1 Phillip Thuaux (Aus) Cyclingnews.com                       7 pts
2 Zoltán Remák (Svk) CK ZP SportPodbrezova                   5
3 László Garamszegi (Hun) P-Nívó Betonexpressz - FTC 1       3
4 Radek Blahut (Cze) Favorit                                 1
 
Pécsi Kemping - Cat. 2, 160,5 km 
 
1 Phillip Thuaux (Aus) Cyclingnews.com                       7 pts
2 Zoltán Remák (Svk) CK ZP SportPodbrezova                   5
3 László Garamszegi (Hun) P-Nívó Betonexpressz - FTC 1       3
4 Udo Müller (Ger) Team RSH                                  1
 
Teams
 
1 CK ZP Sport Podbrezova                              12.06.13
2 P-Nívó Betonexpressz - Ftc 1                            1.57
3 Cyclingnews.com                                         5.20
4 Favorit                                                 6.02
5 Ukrainan Track Team                                     9.16
6 Austrian National Team                                 12.15
7 Békéscsaba U23 Mix                                     16.31
8 CykelCity.se                                           16.32
9 Team RSH                                                    
10 Pécsi Kse                                             18.32
11 P-Nívó Betonexpressz - Ftc 2                          18.45
12 Csm Puteaux                                           20.49
13 Amsterdam Combination                                 21.01
14 Noordelijke Groeningen                                22.34
15 Postás Se                                             23.30
16 BARANYA REGION TEAM                                   23.31
17 Puris-Camen Pazin                                     29.12
18 Team Profiline                                        35.07
 
General classification after stage 2
 
1 Phillip Thuaux (Aus) Cyclingnews.com                 8.14.11
2 Zoltán Remák (Svk) CK ZP SportPodbrezova                0.42
3 Martin Prazdnovsky (Svk) CK ZP Sport Podbrezova         2.37
4 Tamás Lengyel (Hun) P-Nívó Betonexpressz - FTC 1        2.46
5 László Garamszegi (Hun) P-Nívó Betonexpressz - FTC 1    3.32
6 Udo Müller (Ger) Team RSH                               3.42
7 Thomas Buchacek (Cze) Favorit                           3.44
8 Aurél Víg (Hun) P-Nívó Betonexpressz - FTC 1            5.12
9 Robert Glajza (Svk) CK ZP SportPodbrezova               5.14
10 Csaba Szekeres (Hun) P-Nívó Betonexpressz - FTC 1      5.15
11 Radek Blahut (Cze) Favorit                             5.16
12 Gergely Ivanics (Hun) Pécsi KSE                        5.21
13 Morten Christiansen (Nor) CykelCity.se                 5.39
14 Vasyl Yakovlev (Ukr) Ukrainen Track Team               5.55
15 Gábor Arany (Hun) P-Nívó Betonexpressz - FTC 2         6.21
16 Lyubomyr Polatayko (Ukr) Ukrainen Track Team           6.26
17 Gábor Kiskó (Hun) P-Nívó Betonexpressz - FTC 1         6.53
18 Vitaliy Popkov (Ukr) Ukrainen Track Team               7.00
19 Martin Keliar (Svk) CK ZP SportPodbrezova              7.17
20 Nathan Russel (Aus) Cyclingnews.com                    7.27
21 Jakub Svoboda (Cze) Favorit                            7.35
22 Adriaan Helmantel (Ned) Noordelijke Groeningen         7.40
23 Cameron Jennings (Aus) Cyclingnews.com                 7.41
24 Matthias Schröger (Aut) Austrian National Team             
25 Cristoph Kerschbaum (Aut) Austrian National Team       7.42
26 Cristian Lener (Aut) Austrian National Team            7.43
27 Dániel Zsombok (Hun) Békéscsaba U23 Mix                7.47
28 Attila Szóka (Hun) Békéscsaba U23 Mix                  7.55
29 Georg Hausbacher (Aut) Austrian National Team          7.56
30 Bálint Szeghalmi (Hun) Baranya Region Team             8.21
31 Kacper Sowinski (Cze) Favorit                          8.27
32 Alexandre Roger (Fra) CSM Puteaux                      8.31
33 Jan Mattson (Swe) CykelCity.se                         8.33
34 Jan Jobánek (Cze) Favorit                              8.39
35 Volodymyr Rybin (Ukr) Ukrainen Track Team              8.40
36 Erwin Goenga (Ned) Amsterdam Combination              10.11
37 Daniel Strauch (Ger) Team RSH                         10.38
38 Volodymyr Dyudya (Ukr) Ukrainen Track Team            10.56
39 Leon Burger (Ned) Amsterdam Combination               11.02
40 Seppe Hoogzaad (Ned) Amsterdam Combination            11.12
41 Roman Kononenko (Ukr) Ukrainen Track Team             11.33
42 Radovan Husar (Svk) CK ZP SportPodbrezova             11.36
43 Bence Szuromi (Hun) Pécsi KSE                         11.51
44 Péter Kusztor (Hun) Békéscsaba U23 Mix                12.04
45 Andreas Graf (Aut) Austrian National Team             12.08
46 Matthew Rice (Aus) Cyclingnews.com                    12.10
47 Christian Serisier (Fra) CSM Puteaux                  12.13
48 Josef Kugler (Aut) Austrian National Team             12.20
49 Anatolij Varvaruk (Ukr) Puris-Camen Pazin             12.28
50 Evert Veldkamp (Ned) Noordelijke Groeningen           12.44
51 Cor Van Lueeuwen (Ned) Noordelijke Groeningen              
52 Anders Gerhardsson (Swe) CykelCity.se                 12.45
53 Balázs Rónaszéki (Hun) Postás SE                      13.02
54 Zoltán Csomor (Hun) Pécsi KSE                              
55 Cody Stevenson (Aus) Cyclingnews.com                  13.04
56 Gregor Zajc (Slo) Puris-Camen Pazin                   13.08
57 András Szabó (Hun) Pécsi KSE                          13.12
58 Jonatán Rück (Hun) Baranya Region Team                13.56
59 Richard Demming (Ger) Team RSH                             
60 Zoltán Bebtó (Hun) P-Nívó Betonexpressz - FTC 2       13.58
61 Robert Österling (Swe) CykelCity.se                   14.06
62 Ákos Haiszer (Hun) Békéscsaba U23 Mix                 14.30
63 Balázs Szórádi (Hun) Postás SE                        14.34
64 Christian Helm (Ger) Team RSH                         15.00
65 Marian Hecl (Svk) CK ZP Sport Podbrezova              15.31
66 Tamás Büttner (Hun) P-Nívó Betonexpressz - FTC 2      16.18
67 Thomas Hebestreit (Ger) Team Profiline                16.30
68 Jens Wilk (Ger) Team RSH                              16.45
69 Gábor Lengyel (Hun) Baranya Region Team               16.59
70 Florian Smits (Ned) Amsterdam Combination             17.14
71 Ard Aling (Ned) Amsterdam Combination                 17.24
72 Roland Siegbert (Ger) Team Profiline                  17.37
73 Jean-Pierre Guillin (Fra) CSM Puteaux                 18.04
74 Philip Schulz (Ger) Team Profiline                    18.11
75 Viktor Temesi (Hun) Békéscsaba U23 Mix                18.28
76 Róbert Nagy (Svk) P-Nívó Betonexpressz - FTC 1        18.29
77 András Berkesi (Hun) Pécsi KSE                        18.34
78 Heike Van Der Woerd (Ned) Amsterdam Combination       19.48
79 Csaba Steig (Hun) Baranya Region Team                 20.27
80 Pim Van Den Berg (Ned) Noordelijke Groeningen         21.27
81 Christian Bach (Ger) Team Profiline                   21.47
82 Barnabás Vízer (Hun) P-Nívó Betonexpressz - FTC 2     23.21
83 Lukas Heinrich (Cze) Favorit                          25.13
84 Zoltán Vanik (Hun) Pécsi KSE                          25.14
85 Markus Junnerholt (Swe) CykelCity.se                  26.32
86 Attila Árvai (Hun) P-Nívó Betonexpressz - FTC 2       26.34
87 Viktor Specziár (Hun) Postás SE                       27.16
88 Zvonimir Pokupec (Cro) Puris-Camen Pazin              28.17
89 Matthias Schnapka (Ger) Team Profiline                29.11
90 Johan Procee (Ned) Noordelijke Groeningen             30.31
91 Darko Blazevic (Cro) Puris-Camen Pazin                30.38
92 Csaba Merő (Hun) P-Nívó Betonexpressz - FTC 2         30.46
93 Hervé Rivoalen (Fra) CSM Puteaux                      32.44
94 Alexandre Terrasson (Fra) CSM Puteaux                 33.01
95 Gyula Nagy (Hun) Békéscsaba U23 Mix                   33.50
96 Áron Kovalóczy (Hun) Postás SE                        35.27
97 David Demanuele (Cro) Puris-Camen Pazin               39.28
98 Tamás Baumgartner (Hun) Postás SE                     44.38
99 Arnaud Rivoalen (Fra) CSM Puteaux                     44.54
100 Gerben De Vries (Ned) Noordelijke Groeningen         48.58
 
Mountains classification
 
1 Phillip Thuaux (Aus) Cyclingnews.com                      26 pts
2 Zoltán Remák (Svk) CK ZP SportPodbrezova                  25
3 László Garamszegi (Hun) P-Nívó Betonexpressz - FTC 1      15
4 Radek Blahut (Cze) Favorit                                 7
5 Gábor Kiskó (Hun) P-Nívó Betonexpressz - FTC 1             4
6 Marian Hecl (Svk) CK ZP Sport Podbrezova                   3
7 Anders Gerhardsson (Swe) CykelCity.se                      2
8 Vasyl Yakovlev (Ukr) Ukrainen Track Team                   2
9 Udo Müller (Ger) Team RSH                                  1
10 Morten Christiansen (Nor) CykelCity.se                    1
 
Sprints classification
 
1 Martin Prazdnovsky (Svk) CK ZP Sport Podbrezova           15 pts
2 Zoltán Remák (Svk) CK ZP SportPodbrezova                  13
3 Phillip Thuaux (Aus) Cyclingnews.com                      11
4 Volodymyr Dyudya (Ukr) Ukrainen Track Team                 9
5 Morten Christiansen (Nor) CykelCity.se                     8
6 Udo Müller (Ger) Team RSH                                  5
7 Robert Glajza (Svk) CK ZP SportPodbrezova                  5
8 Tamás Lengyel (Hun) P-Nívó Betonexpressz - FTC 1           4
9 Vasyl Yakovlev (Ukr) Ukrainen Track Team                   4
10 Marian Hecl (Svk) CK ZP Sport Podbrezova                  4
11 Cor Van Lueeuwen (Ned) Noordelijke Groeningen             3
12 Radek Blahut (Cze) Favorit                                2
13 László Garamszegi (Hun) P-Nívó Betonexpressz - FTC 1      2
14 Thomas Buchacek (Cze) Favorit                             1
15 Jan Jobánek (Cze) Favorit                                 1
 
Teams classification
 
1 CK ZP Sport Podbrezova                              24.50.51
2 P-Nívó Betonexpressz - Ftc 1                            3.13
3 Cyclingnews.com                                         6.55
4 Favorit                                                 8.08
5 Ukrainan Track Team                                    10.12
6 Austrian National Team                                 14.48
7 CykelCity.se                                           17.56
8 Team RSH                                               19.01
9 Békéscsaba U23 Mix                                     19.06
10 Pécsi Kse                                             20.50
11 Amsterdam Combination                                 23.49
12 Csm Puteaux                                           24.15
13 P-Nívó Betonexpressz - Ftc 2                          24.37
14 Noordelijke Groeningen                                24.53
15 BARANYA REGION TEAM                                   27.14
16 Team Profiline                                        40.16
17 Puris-Camen Pazin                                     45.32
18 Postás Se                                             46.32