6th Jacob's Creek Tour Down Under - 2.3
Australia, January 20-25, 2004
Home Live report Results Previous Stage Next stage
Stage 4: Friday Jan 24, Unley - Hahndorf, 141 km
Jonker hangs tough as McEwen takes second win
Robbie McEwen (Lotto-Domo)
Photo ©: Mark Gunter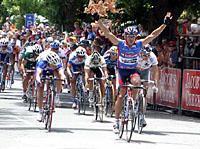 By Gabriella Ekström in Adelaide
Jacob's Creek Tour Down Under race leader Pat Jonker (UniSA) kept his lead as he finished the fourth stage between Unley and Hahndorf in the peloton. The stage was won by Robbie McEwen (Lotto-Domo), who took out his second stage win of the tour in thrilling fashion, triumphing in what seemed to be an unlikely bunch sprint in the picturesque town of Hahndorf. McEwen profited when the peloton decided to chase down a 13 man breakaway group, only catching the last rider - Jaan Kirsipuu (Ag2r) - within 50 metres of the line.
How it unfolded
Patrick Jonker (UniSA)
Photo ©: Mark Gunter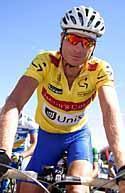 The morning in Unley was lovely and warm, and a lot of riders hoped that they would have an easy day ahead of them. Robbie McEwen, third on the GC after yesterday's stage, explained to Cyclingnews his desire to sit in the peloton to get at least one day of recovery. Despite their hopes, most riders realised that it was a stage made in heaven for those who wished to jump ahead of the peloton.
As the riders left the neutral zone behind and started the long climb along the deep fried South-Eastern Freeway, the front riders scattered all over the road. Navigators Ciaran Power launched one of the first attacks, and kept trying despite being chased down several times. On the long descent that followed the initial climb, six riders attacked and formed the first real breakaway. In the group sat Jaan Kirsipuu (Ag2r), Benoît Poilvet (Credit Agricole), Gert Steegmans (Lotto-Domo), Bernhard Eisel (FDJeux.com), Addy Engels (Bankgiroloterij) and Simon Gerrans (Team Australia). Behind them, Robbie McEwen suffered a puncture, on top of the attacks but was able to get back to the peloton shortly afterwards.
More and more riders tried to bridge across, and for a while it looked like a steady group would form with Kirsipuu, Erki Putsep (Ag2r), Francesco Secchiari and Massimiliano Mori (Domina Vacanze), Matthew Wilson and Mark Renshaw (FdJeux.com), Kirk O'Bee and Philip Zajicek (Navigators), Jose Pecharroman (Quickstep), Allan Davis (Team Australia) and Steve Cunningham (UniSA), but their respite was over when Pat Jonker bridged up to them. The peloton wouldn't let the yellow jersey get into a break that easily, and brought them all back.
After 47 kilometres, a break finally went away as a thirteen rider group started to work on creating a gap. 2003 JCTDU champion Mikael Astarloza was joined by Ag2r teammate Jaan Kirsipuu, Geoffroy Lequatre and Eric Leblacher (Credit Agricole), Lorenzo Cardellini and Francesco Secchiari (Domina Vacanze), Thomas Lövkvist (FDJeux.com), Nick Gates and Gert Steegmans (Lotto-Domo), Frederic Amorison (Quick.Step), Addy Engels (Bankgiroloterij), Hilton Clarke (Team Australia) and once again Ciaran Power (Navigators). After 50 kilometres of racing, they had built a lead of 32 seconds over the still active peloton.
A horse
Photo ©: Mark Gunter
Shortly afterwards, as the riders passed Oakbank, a red horse made an unwelcome appearance on the road, and refused to swerve even after being told by the police to do so. The break, and later on also the rest of the peloton, was able to avoid an accident, but a policeman on a motorcycle almost called it a day after coming inches from colliding with the horse.
When they reached the bottom of the Fox Creek Rd climb the gap had grown to two minutes, and Cardellini and Gates took advantage of their fresh legs as they left the others behind over the summit. The chasers brought them back as they flew down the back side of the steep climb, and for a while it was status quo between the riders in the breakaway and the peloton. As the riders passed through Hahndorf to head out on a final 37 kilometre lap, Nick Gates launched a powerful attack that might have surprised a few riders, since Gates had just been chasing back after a bike change due to pedal problems. Jaan Kirsipuu was right on his wheel, and they regrouped for a short while.
With only 30 kilometres left to race, Mikel Astarloza, Gert Steegmans, Francesco Secchiari and the very same Nick Gates attacked again, and broke the bunch into pieces. Jaan Kirsipuu, Eric Leblacher, Thomas Lövkvist, Addy Engels and Hilton Clarke chased with a passion and were finally able to rejoin the first group with no more than fifteen kilometres to go. Jaan Kirsipuu then surprised everyone, including himself when he attacked with eleven kilometres to go, only to explain after the stage that he thought he was closer to the finish than what he actually was.
Jaan Kirsipuu (Ag2r)
Photo ©: Mark Gunter

Behind Kirsipuu, FDJeux.com's young rider Thomas Lövkvist attacked twice without getting away, and behind the first chasing group, the peloton was galloping to try and catch the breakaway before the line. With two kilometres to go, it looked like top sprinter Kirsipuu would actually take home the stage thanks to his solo ride, but like so many other times, the peloton finally caught the lone rider who already had the line in sight.
Despite not getting the easy day he yearned for, Robbie McEwen (Lotto-Domo) was able to take out the final sprint in front of Quick.Step rider Aurelien Clerc and FDJeux's Baden Cooke. Pat Jonker finished inside the peloton and kept his yellow jersey, now more confident that he could keep it to the end.
"I was a bit worried at first, because the group that went up the road was quite large, meaning that they could more easily build up a five minute lead, which would have been enough for me to lose the yellow jersey," Patrick told Cyclingnews after the stage. "However, my boys in the team worked really well, and they were pretty much in control during the race. Me having a lot of experience in arranging a good chase probably helped out too."
Tomorrow's stage around Willunga is considered to be the hardest one, but Jonker seemed fairly content that he could keep the jersey. "The jersey could be lost over the Willunga Hill, but I have ridden there since I was twelve, so I feel pretty secure, even if I do think that it will all be played about between the top ten riders on the GC on that climb."
What a day.
Photo ©: CN

Stage winner Robbie McEwen was happy with his win, but admitted that his ideas of an easy day had been washed down he drain early during the stage. "I've worked hard today, that's for sure," said McEwen. "This morning, I didn't feel so good, and I just wanted to finish with the peloton to get myself into a good position for tomorrow's stage. I was in the right position at the end though, and ended up winning the stage. I see this win as a bonus, because I would have been glad to see one of our boys in the break win. We made sure to get a couple of riders in the break, so that we didn't have to spend all our energy on chasing the break down later in the day."
Although McEwen hoped for another stage win on Sunday, he was more modest about his overall chances. "I don't even consider catching Pat in the GC. I just want a nice massage and a night's sleep to rest up for tomorrow's stage."
Photography
Images by Mark Gunter/Cyclingnews/www.pbase.com/gunterphotograph
Images by Karen Forman/Cyclingnews
Results
1 Robbie McEwen (Aus) Lotto-Domo                          3.18.51 (42.5 km/h)
2 Aurelien Clerc (Swi) Quick.Step-Davitamon                      
3 Baden Cooke (Aus) FDJeux.com                                   
4 Allan Davis (Aus) Team Australia                               
5 David McKenzie (Aus) Navigators Insurance Cycling Team         
6 Erki Putsep (Est) Ag2r Prevoyance                              
7 Julian Dean (Nzl) Credit Agricole                              
8 Mark Scanlon (Irl) Ag2r Prevoyance                             
9 Rudi Kemna (Ned) Bankgiroloterij                               
10 Antonio Fisher Murillo (Bra) Domina Vacanze                   
11 Graeme Brown (Aus) Panaria-Margres                            
12 Massimo Giunti (Ita) Domina Vacanze                           
13 Andy Flickinger (Fra) Ag2r Prevoyance                         
14 Aart Vierhouten (Ned) Lotto-Domo                              
15 Mark Renshaw (Aus) FDJeux.com                                 
16 Alexandre Botcharov (Rus) Credit Agricole                     
17 David McPartland (Aus) Team Australia                         
18 Giuliano Figueras (Ita) Panaria-Margres                       
19 Kevin Hulsmans (Bel) Quick.Step-Davitamon                     
20 Bernard Sulzberger (Aus) United Water                         
21 Philip Zajicek (USA) Navigators Insurance Cycling Team        
22 Remco Van Der Ven (Ned) Bankgiroloterij                       
23 Mark Jamieson (Aus) United Water                              
24 Ben Day (Aus) Team Australia                                  
25 Gene Bates (Aus) UniSA                                        
26 Massimiliano Gentili (Ita) Domina Vacanze                     
27 Luke Roberts (Aus) UniSA                                      
28 Patrick Jonker (Aus) UniSA                                    
29 Matthe Pronk (Ned) Bankgiroloterij                            
30 Nicolas Inaudi (Fra) Ag2r Prevoyance                          
31 Paolo Valoti (Ita) Domina Vacanze                             
32 Philippe Gilbert (Bel) FDJeux.com                             
33 Benoit Poilvet (Fra) Credit Agricole                          
34 Mads Kaggestad (Nor) Credit Agricole                          
35 Paolo Tiralongo (Ita) Panaria-Margres                         
36 Massimiliano Mori (Ita) Domina Vacanze                        
37 Christophe Le Mevel (Fra) Credit Agricole                     
38 Russell Van Hout (Aus) UniSA                                  
39 Ashley Humbert (Aus) United Water                             
40 Lorenzo Cardellini (Ita) Domina Vacanze                       
41 Hans De Clercq (Bel) Lotto-Domo                               
42 Wim Vansevenant (Bel) Lotto-Domo                              
43 Laszlo Bodrogi (Hun) Quick.Step-Davitamon                     
44 Piotr Wadecki (Pol) Lotto-Domo                                
45 Siro Camponogara (Ita) Navigators Insurance Cycling Team      
46 Jose Pecharroman Fabian (Spa) Quick.Step-Davitamon            
47 Inigo Chaurreau (Spa) Ag2r Prevoyance                         
48 Glenn D'Hollander (Bel) Lotto-Domo                            
49 Nicolas Portal (Fra) Ag2r Prevoyance                          
50 Simon Gerrans (Aus) Team Australia                            
51 Nicholas Vogondy (Fra) FDJeux.com                             
52 Thomas Lövkvist (Swe) FDJeux.com                               
53 Pedro Horrillo (Spa) Quick.Step-Davitamon                     
54 Alain Van Katwijk (Ned) Bankgiroloterij                       
55 Eric Leblacher (Fra) Credit Agricole                          
56 Kirk O'Bee (USA) Navigators Insurance Cycling Team        0.09
57 Sergio Marinangeli (Ita) Domina Vacanze                       
58 Burke Swindlehurst (USA) Navigators Insurance Cycling Team    
59 Laurens Ten Dam (Ned) Bankgiroloterij                         
60 Matthew Wilson (Aus) FDJeux.com                               
61 James Hannam (Aus) UniSA                                      
62 Steve Cunningham (Aus) UniSA                                  
63 Jose Garrido Lima (Spa) Quick.Step-Davitamon                  
64 Allan Iacuone (Aus) Team Australia                            
65 Ciaran Power (Irl) Navigators Insurance Cycling Team          
66 Mikel Astarloza (Spa) Ag2r Prevoyance                         
67 Bernhard Eisel (Aut) FDJeux.com                           0.23
68 Adrian Laidler (Aus) UniSA                                0.25
69 Geoffroy Lequatre (Fra) Credit Agricole                   0.29
70 Fabio Gilioli (Ita) Panaria-Margres                       0.38
71 Hilton Clarke (Aus) Team Australia                            
72 Frederic Amorison (Bel) Quick.Step-Davitamon              0.46
73 Frank Van Dulmen (Ned) Bankgiroloterij                    0.52
74 Addy Engels (Ned) Bankgiroloterij                             
75 Julien Smink (Ned) Bankgiroloterij                        1.10
76 Scott Davis (Aus) Panaria-Margres                         1.12
77 Jaan Kirsipuu (Est) Ag2r Prevoyance                       1.16
78 Nick Gates (Aus) Lotto-Domo                               1.25
79 Jeff Louder (USA) Navigators Insurance Cycling Team           
80 Francesco Secchiari (Ita) Domina Vacanze                  1.40
81 Gert Steegmans (Bel) Lotto-Domo                           2.36
82 Brett Lancaster (Aus) Panaria-Margres                     9.52
83 Cedric Herve (Fra) Credit Agricole                            
84 Peter Dawson (Aus) United Water                               
85 Richard Moffat (Aus) United Water                             
86 Ryan Sullivan (Aus) United Water                              
87 Sergey Matveyev (Ukr) Panaria-Margres                         
DNF Guillermo Bongiorno (Arg) Panaria-Margres                    
ELIM Aaron Kemps (Aus) United Water                              
DISQ Matthew Rex (Aus) UniSA                                     
 
Sprints
 
Adelaide Road at Institute, Echunga - 26.0 km
 
1 Benoit Poilvet (Fra) Credit Agricole                          6 pts
2 Simon Gerrans (Aus) Team Australia                            4
3 Addy Engels (Ned) Bankgiroloterij                             2
 
Main Street at Balhannah Hotel, Balhannah - 95.6 km
 
1 Eric Leblacher (Fra) Credit Agricole                          6 pts
2 Geoffroy Lequatre (Fra) Credit Agricole                       4
3 Frederic Amorison (Bel) Quick.Step-Davitamon                  2
 
Mount Barker Road, Hahndorf - 141 km - Finish
 
1 Robbie McEwen (Aus) Lotto-Domo                                8 pts
2 Aurelien Clerc (Swi) Quick.Step-Davitamon                     6
3 Baden Cooke (Aus) FDJeux.com                                  4
 
Mountains
 
Fox Creek Road near Croft Road - 77 km
 
1 Lorenzo Cardellini (Ita) Domina Vacanze                      16 pts
2 Nick Gates (Aus) Lotto-Domo                                  12
3 Hilton Clarke (Aus) Team Australia                            8
4 Mikel Astarloza (Spa) Ag2r Prevoyance                         6
5 Addy Engels (Ned) Bankgiroloterij                             4
 
General classification after stage 4
 
1 Patrick Jonker (Aus) UniSA                             11.33.05
2 Robbie McEwen (Aus) Lotto-Domo                             1.38
3 Philippe Gilbert (Bel) FDJeux.com                          1.39
4 Gene Bates (Aus) UniSA                                     1.44
5 Antonio Fisher Murillo (Bra) Domina Vacanze                1.46
6 Baden Cooke (Aus) FDJeux.com                                   
7 Giuliano Figueras (Ita) Panaria-Margres                    1.47
8 Luke Roberts (Aus) UniSA                                       
9 David McKenzie (Aus) Navigators Insurance Cycling Team     1.48
10 Alexandre Botcharov (Rus) Credit Agricole                     
11 Massimo Giunti (Ita) Domina Vacanze                           
12 Kevin Hulsmans (Bel) Quick.Step-Davitamon                     
13 David McPartland (Aus) Team Australia                     2.17
14 Aurelien Clerc (Swi) Quick.Step-Davitamon                 4.01
15 Eric Leblacher (Fra) Credit Agricole                      4.05
16 Simon Gerrans (Aus) Team Australia                        4.06
17 Erki Putsep (Est) Ag2r Prevoyance                         4.08
18 Massimiliano Gentili (Ita) Domina Vacanze                     
19 Matthe Pronk (Ned) Bankgiroloterij                            
20 Nicolas Portal (Fra) Ag2r Prevoyance                          
21 Ben Day (Aus) Team Australia                                  
22 Paolo Valoti (Ita) Domina Vacanze                             
23 Paolo Tiralongo (Ita) Panaria-Margres                         
24 Aart Vierhouten (Ned) Lotto-Domo                              
25 Philip Zajicek (USA) Navigators Insurance Cycling Team    4.15
26 Frederic Amorison (Bel) Quick.Step-Davitamon              4.53
27 Gert Steegmans (Bel) Lotto-Domo                           7.47
28 Cedric Herve (Fra) Credit Agricole                       14.00
29 Mark Jamieson (Aus) United Water                         29.08
30 Ciaran Power (Irl) Navigators Insurance Cycling Team     29.30
31 Bernhard Eisel (Aut) FDJeux.com                          29.31
32 Mads Kaggestad (Nor) Credit Agricole                     31.23
33 Laszlo Bodrogi (Hun) Quick.Step-Davitamon                     
34 Glenn D'Hollander (Bel) Lotto-Domo                            
35 Massimiliano Mori (Ita) Domina Vacanze                        
36 Wim Vansevenant (Bel) Lotto-Domo                              
37 Jose Pecharroman Fabian (Spa) Quick.Step-Davitamon            
38 Mikel Astarloza (Spa) Ag2r Prevoyance                    31.32
39 Jose Garrido Lima (Spa) Quick.Step-Davitamon                  
40 Kirk O'Bee (USA) Navigators Insurance Cycling Team            
41 Alain Van Katwijk (Ned) Bankgiroloterij                  33.48
42 Mark Scanlon (Irl) Ag2r Prevoyance                       35.34
43 Allan Davis (Aus) Team Australia                              
44 Russell Van Hout (Aus) UniSA                                  
45 Nicholas Vogondy (Fra) FDJeux.com                        35.41
46 Hans De Clercq (Bel) Lotto-Domo                               
47 Thomas Lövkvist (Swe) FDJeux.com                               
48 Laurens Ten Dam (Ned) Bankgiroloterij                    35.50
49 Matthew Wilson (Aus) FDJeux.com                               
50 Hilton Clarke (Aus) Team Australia                       36.12
51 Jaan Kirsipuu (Est) Ag2r Prevoyance                      36.50
52 Nick Gates (Aus) Lotto-Domo                              37.39
53 Sergey Matveyev (Ukr) Panaria-Margres                    45.33
54 Inigo Chaurreau (Spa) Ag2r Prevoyance                  1.02.24
55 James Hannam (Aus) UniSA                               1.02.33
56 Benoit Poilvet (Fra) Credit Agricole                   1.02.46
57 Rudi Kemna (Ned) Bankgiroloterij                       1.02.49
58 Mark Renshaw (Aus) FDJeux.com                                 
59 Graeme Brown (Aus) Panaria-Margres                            
60 Remco Van Der Ven (Ned) Bankgiroloterij                       
61 Andy Flickinger (Fra) Ag2r Prevoyance                         
62 Bernard Sulzberger (Aus) United Water                         
63 Lorenzo Cardellini (Ita) Domina Vacanze                       
64 Christophe Le Mevel (Fra) Credit Agricole                     
65 Nicolas Inaudi (Fra) Ag2r Prevoyance                          
66 Piotr Wadecki (Pol) Lotto-Domo                                
67 Pedro Horrillo (Spa) Quick.Step-Davitamon                     
68 Julian Dean (Nzl) Credit Agricole                             
69 Siro Camponogara (Ita) Navigators Insurance Cycling Team      
70 Ashley Humbert (Aus) United Water                             
71 Allan Iacuone (Aus) Team Australia                     1.02.58
72 Steve Cunningham (Aus) UniSA                                  
73 Sergio Marinangeli (Ita) Domina Vacanze                       
74 Burke Swindlehurst (USA) Navigators Insurance Cycling Team    
75 Adrian Laidler (Aus) UniSA                             1.03.14
76 Geoffroy Lequatre (Fra) Credit Agricole                1.03.16
77 Fabio Gilioli (Ita) Panaria-Margres                    1.03.27
78 Frank Van Dulmen (Ned) Bankgiroloterij                 1.03.40
79 Addy Engels (Ned) Bankgiroloterij                             
80 Julien Smink (Ned) Bankgiroloterij                     1.03.59
81 Scott Davis (Aus) Panaria-Margres                      1.04.01
82 Jeff Louder (USA) Navigators Insurance Cycling Team    1.04.14
83 Francesco Secchiari (Ita) Domina Vacanze               1.04.29
84 Peter Dawson (Aus) United Water                        1.12.41
85 Richard Moffat (Aus) United Water                             
86 Brett Lancaster (Aus) Panaria-Margres                         
87 Ryan Sullivan (Aus) United Water                              
 
Sprints classification
 
1 Robbie McEwen (Aus) Lotto-Domo                               24 pts
2 Aurelien Clerc (Swi) Quick.Step-Davitamon                    18
3 David McPartland (Aus) Team Australia                        16
4 Patrick Jonker (Aus) UniSA                                   16
5 Philippe Gilbert (Bel) FDJeux.com                            14
6 Mark Renshaw (Aus) FDJeux.com                                10
7 Alain Van Katwijk (Ned) Bankgiroloterij                      10
8 Eric Leblacher (Fra) Credit Agricole                          6
9 Benoit Poilvet (Fra) Credit Agricole                          6
10 Gene Bates (Aus) UniSA                                       6
11 Rudi Kemna (Ned) Bankgiroloterij                             6
12 Antonio Fisher Murillo (Bra) Domina Vacanze                  4
13 Baden Cooke (Aus) FDJeux.com                                 4
14 Simon Gerrans (Aus) Team Australia                           4
15 Bernhard Eisel (Aut) FDJeux.com                              4
16 Mads Kaggestad (Nor) Credit Agricole                         4
17 Geoffroy Lequatre (Fra) Credit Agricole                      4
18 Giuliano Figueras (Ita) Panaria-Margres                      2
19 Luke Roberts (Aus) UniSA                                     2
20 Frederic Amorison (Bel) Quick.Step-Davitamon                 2
21 Graeme Brown (Aus) Panaria-Margres                           2
22 Addy Engels (Ned) Bankgiroloterij                            2
23 Guillermo Bongiorno (Arg) Panaria-Margres                    2
 
Mountains classification
 
1 Paolo Tiralongo (Ita) Panaria-Margres                        16 pts
2 Alain Van Katwijk (Ned) Bankgiroloterij                      16
3 Lorenzo Cardellini (Ita) Domina Vacanze                      16
4 Russell Van Hout (Aus) UniSA                                 14
5 Patrick Jonker (Aus) UniSA                                   12
6 Massimiliano Gentili (Ita) Domina Vacanze                    12
7 Nick Gates (Aus) Lotto-Domo                                  12
8 David McPartland (Aus) Team Australia                         8
9 Hilton Clarke (Aus) Team Australia                            8
10 Mads Kaggestad (Nor) Credit Agricole                         6
11 Mikel Astarloza (Spa) Ag2r Prevoyance                        6
12 Kevin Hulsmans (Bel) Quick.Step-Davitamon                    4
13 Addy Engels (Ned) Bankgiroloterij                            4
14 Gene Bates (Aus) UniSA                                       4
 
U23 classification
 
1 Philippe Gilbert (Bel) FDJeux.com                      11.34.44
2 Mark Jamieson (Aus) United Water                          27.29
3 Thomas Lövkvist (Swe) FDJeux.com                          34.02
4 James Hannam (Aus) UniSA                                1.00.54
5 Mark Renshaw (Aus) FDJeux.com                           1.01.10
6 Bernard Sulzberger (Aus) United Water                          
7 Ashley Humbert (Aus) United Water                              
8 Peter Dawson (Aus) United Water                         1.11.02
9 Richard Moffat (Aus) United Water                              
10 Ryan Sullivan (Aus) United Water                              
 
Most aggressive rider classification 
 
1 Jaan Kirsipuu (Est) Ag2r Prevoyance

Teams classification
 
1 UniSA                                                  34.42.59
2 FDJeux.com                                                 1.52
3 Domina Vacanze                                             4.00
4 Crédit Agricole                                            6.20
5 Lotto-Domo                                                 6.27
6 Quick Step-Davitamon                                           
7 Team Australia                                             6.59
8 Ag2R Prevoyance                                            8.40
9 Navigators Insurance Cycling Team                         31.40
10 Panaria-Margres                                          37.53
11 Bankgiroloterij                                        1.09.59
12 United Water                                           2.31.02