Tales from the peloton, January 23, 2004
The right car at the right time: A day in the UniSA team car
The cavalcade of team cars
Photo ©: Karen Forman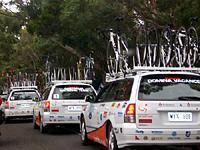 There's a saying that goes, "being at the right place at the right time". When Cyclingnews' Karen Forman found herself in the UniSA team car on Stage 3 of the Tour Down Under, she was not only in the right place at the right time, but in the right car.
Today was certainly the right day of the 2004 Jacobs Creek Tour Down Under to be riding in the UniSA team car with manager Michele Primavo. With soon-to-retire professional Patrick Jonker second on the sprint and also the king of the mountain ladders, second on the general classification, and in contention for the yellow jersey, it was bound to be a busy day for both riders and their handlers as they set out on the 150km stage from Goolwa to Victor Harbor.
While Jonker, Matthew Rex, Luke Roberts, Gene Bates, Steve Cunningham, Russell Van Hout, Adrian Laidler and James Hannan were doing their stuff out on the road, Primaro and team mechanic Steve Nash had their work cut out, following them in the team car providing support, refreshments and tactical advice. (Other members of the support team include two masseurs, Malcolm Morris and Paul deBroughe, and a driver, Richard Alen, but only Primaro and Nash were in the team car cavalcade, whose order is decided by ballot prior to each stage.)
Being invited to ride in a team car during a tour is a privilege because it gives a journalist or a sponsor or other guest the rare opportunity see the race from the inside, out. As part of the cavalcade of support vehicles, you are up close to the action in the bunch. You can see the tactics being played out. Listen to them. Feel them. Smell them (uugh!). You can listen to the team director offering advice and giving instructions to his riders by radio. Hear the communications between the commissaires and the other vehicles, which include those closest to ones far away, commissaires, team cars, media vehicles, guest vehicles, a doctor and then the spares vans, as well as a number of motorcycles for course marshals and photographers.
UniSA team manager Michele Primaro
Photo ©: Karen Forman

Italian-born Adelaide resident Primaro was happy to have Cyclingnews on board for the 2 hour, 28 minutes and 50 seconds stage, particularly when the race reached a point where he was almost certain Jonker would take the yellow jersey.
As Jonker predicted in his daily TDU column for Cyclingnews last night, today turned out to be a day of attacks and breakaways, with some tough hills to climb and a challenging 10 kilometre section of dirt thrown in to add to the excitement.
UniSA isn't a permanent racing team. It was formed four years ago specifically for the JCTDU and has enjoyed quite a lot of success. Luke Roberts won a stage in the first year, and Jonker was third overall the following year and seventh overall last year. This year, Jonker will retire from professional cycling after the final stage. He has chosen the JCTDU because he is from Adelaide and he considers it his home race. If he could go out on top, that would only make it an even more precious an experience.
"The first year we had a team of riders from other states, but for the past three years it has just been South Australian riders," says Primaro, who still holds dual Australian-Italian residency and often works for cycling teams in Europe (he managed division three team Maestro Nella in Italy last year). "UniSA sponsors the team which means paying for it to enter the Tour and providing the clothing and other bits and pieces."
The riders are chosen by Australian head coach Shayne Bannan, race director Mike Turtar and Primaro, who also runs a team in the Herald Sun Tour in Victoria and the Tour of Queensland.
"I've always been involved in the TDU," he says. "I love it, it's a great event."
Some sustenance
Photo ©: Karen Forman

Born in Italy, he arrived with his family into Australia when he was 11 and started cycling at 15. He returned to Italy to race as an amateur in 1994-95 and then got involved in managing cycling teams. As well, he manages a bike shop in Adelaide, which he says allows him time to go away to work with teams. Next week he will head to Malaysia to work with Columbia Selle Italia, a Division II team, on the Tour de Langkawi, for the fourth year running.
Today, however, he's concentrated on the UniSA boys. Bates has been suffering with a sore back since yesterday, when he complained that his legs were numb after stage two. Primaro had him with the physio earlier today and it seems that he has a sciatic nerve problem.
Then there was Laidler, who crashed yesterday after having problems with his pedals and cleats. Today, Nash explains, he has changed to SPD-R pedals and Shimano cleats to try to rectify the problem.
This team is serious about the TDU. Its goal is to win the tour. "It's Pat's last race," says Primaro. "He deserves to win, especially after he has been here so many times."
He says he'd also like to win the teams classification and perhaps the King of the Mountains jersey with Van Hout.
The race gets underway without incident and soon we are on the road. Primaro and Nash use the early minutes of the race to discuss the rider's needs for the day, grab something to eat and chat idly. Once the breaks start to appear, there won't be much time for chatting.
Nash likes to tell the story of one of his funniest moments as a bike mechanic. He actually started riding at the age of 30 and then fell into the job of mechanic because of his background as a fitter and turner. He cites his funniest moment as being in one race in a car with the child lock on and not being able to get the door open to pass a new wheel to a rider in trouble.
"I had to push the rear wheel out of the window!" laughs Nash.
We pass in convoy through the first intermediate sprint and the guys are delighted when Roberts places third. "That would have lifted him 20 or so places," says Primaro. "He'll be officially fourth now. He's smart. He knows that, too."
A little while later, the car is called up by the commissaires to help out Hannam, whose chain has come off. He manages to get it back on himself without getting off the bike, but Steve gets out of the car and gives him a shove back onto the road. Still, the youngster struggles up the climb. Primaro is helpful, driving up next to him: "C'mon James, c'mon mate. You can do it."
Pat Jonker fans line the course
Photo ©: Karen Forman

At the King of the Mountain sprint, Van Hout comes in third. He'll get eight points for the effort, moving him up to third place overall on the KOM classification. Things are looking good for the team. A breakaway has formed of 19 riders and it includes three from UniSA - Bates, Roberts and Jonker. Primaro is delighted, especially when Nash tells him that they are one of three teams with three riders in the break - Robbie McEwen (Lotto Domo) has two Lotto riders with him and Quickstep also has three.
But at the back of the chase group, Hannam has dropped off. "Oi, oi, oi," mutters Primaro. He is in radio contact with Jonker and Van Hout, but not the others. The breakaway group is joined by some more riders, but to the team manager's disappointment, Van Hout has missed the attack and hasn't made it into the group. "I am actually disappointed Russell hasn't made it," he says. "He made the break yesterday, but I guess it is a long way to the finish and anything can happen."
We continue to follow as the race progresses and the breakaway's lead grows to 1'14 by the 80km mark. With another climb looming, Nash says he's glad that most of the riders (all but Bates) are now using 10 speed cassettes. "They have clusters of 11/23 and we don't need to change them much. It's made things a lot easier."
Primaro keeps a close watch on his riders and seems happy with their performance. "They are just racing each day, we are not riding to starts or warming up," he says. "They don't need it. They just get a rub in the morning and the neutral zones are good, they get a chance to roll over their legs then."
He reckons stage five will be the defining stage of the Tour because it includes Willunga Hill… which Jonker likes. "It is looking like he will definitely be in yellow in the morning," he said. "We didn't really want him in the leader's jersey yet. It is difficult to defend so early in the series."
Gene Bates
Photo ©: Karen Forman

Meanwhile, Bates is suffering and Nash predicts he "is going to pop any moment". His back is acting up. Closer to the finish, Primaro gets on the radio and advises Bates to attack about four kilometres from the finish to give him a chance to get away from two of the world's best sprinters, Australians McEwen (Lotto-Domo) and Cooke (FdJeux.com). And that's precisely what he does.
Unfortunately for the team, a young rider by the name of Philippe Gilbert is on the ball - and on his wheel within seconds. Jonker goes chasing after them, but is swamped by the chasing group and finishes 12th. Gilbert is the winner with Bates second and McEwen third. Uni has done well with Bates in second and Roberts has finished eighth.
It means that Jonker has the yellow going into stage four and is third in the sprints classification while Van Hout is third in the KOM. Hannam has hung on for fourth in the under 23 classification ahead of Rex in fifth and the whole team leads the overall team classification. It's been a great day and Primaro has a broad smile: "I am really happy that Gene was second and Patrick is in yellow. Now we just have to look towards tomorrow and see what that brings."
After driving pretty quickly after the lead group into the straight, he pulls into a car park next to all the other team cars to greet his riders, who are looking for food, drink and a wash.
This journalist is looking for a bathroom. It has been a long day in the car, and who has time to stop when nature calls when you're smack bang in the middle of a bike race, eh?