Tales from the peloton, January 24, 2004
A day at the beach with Quick.Step-Davitamon
Aurelien Clerc was looking good in the early break
Photo ©: Mark Gunter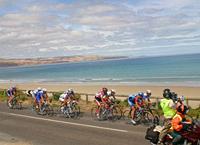 Despite being a little sleep deprived, as soon as Cyclingnews Gabriella Ekström stepped into the team car of Quick.Step-Davitamon on the fifth stage of the Tour Down Under, she was wide awake. After all, she went driving with a directeur-sportif loaded with Red Bull!
"It's a nice day today. Maybe a bit too nice," QuickStep's directeur-sportif Alvaro Crespi told me before the start of the fifth stage around Willunga. "We would have liked it a bit more windy, that is better for us." He points towards Hendrik Redant who is the sport director of Lotto-Domo. "It would have been better for them too," he nods.
As the gun goes off, we dive into the car, and follow the peloton as they turn left and ride away from the Willunga Hill climb that awaits them at the end of stage. The car speeds up to sixty kilometres an hour without getting much closer to the riders. "They have the wind in their back. This start is very fast," Alvaro concurs. Deprived of sleep, I wouldn't mind a fast stage, but as Alvaro puts it, maybe it is not a problem of too long days, but too short nights.
As I lean out the window, I notice that the glass in the side view mirror is gone. "Yes, I know. I crashed it a little bit against another car." Alvaro glares at the mirror and shrugs his shoulders. "I can't believe it, I only crashed it a little!"
Ahead of us, a break forms just as most riders expected it would. From my team car perspective, Quickstep's Aurelien Clerc is the man to watch. "At our team meeting this morning I told him to get in to the first break, and to go for both intermediate sprints. He is only six points behind Robbie McEwen, and if he wins both sprints, he'll be in a pretty good position. Robbie then would have to finish first or second in order to keep the jersey." Unfortunately Team Australia's David McPartland is also part of the break, and that immediately generates a long oozing row of Italian obscenities, which I have no problems understanding at all. "If a GC rider is in that break, they won't get very far," Alvaro says, in case I didn't get his earlier statements.
We watch the race from behind as the riders approach a smaller hill, and one of the younger riders get dropped. "This is a good race to start the season with, but I'm starting to think that it's a bit too hard for the really young riders," Alvaro tells me. "I remember what this race looked like two years ago, and those stages were real killers." We pass the peloton in order to drive up to Aurelien for some water as well as some encouraging words. After the water has been handed out, we stop at the roadside to wait for the peloton again, and Alvaro uses the opportunity to take a picture of Aldinga Beach.
Once tucked in behind the bunch in seventh position, I ask him if he found it hard to adapt to the left hand side traffic in Australia when he got here, but Alvaro feels confident that he has: "I don't find it very hard now, but maybe a little before I got used to it. The only dangerous thing is that your instinct instantly tells you to go to the right in case something happens." Ex-rider Bart Leysens, who is now working as a team mechanic, is quick to guarantee that he has no problems adapting to the left hand side traffic. "I have a very fast car in Europe, so I spend most time overtaking other people on the left side of the road anyway," he jokes.
Having worked with cycling off the bike for a long time, Alvaro explains how he suddenly found himself in the position of a team manager. "I was working with a team called Eldor, but it wasn't going very well, and we had problems with the sponsors, so I was asked to see if I could find a better solution. We had heard about this owner of a big company who was really interested in cycling, so I went to see him in an attempt to maybe put a team together under a new sponsor. The man turned out to be signor Squinzi, and his company was Mapei!"
"With only two weeks before the start of the 1993 Giro d'Italia, we worked flat-out to make the team come true. We finally succeeded, but the riders had to start the race in cyclotourist jerseys!" So, how did they go? "Horrible! We only had one win in that year. I think it was Stefano Della Santa who won Trofeo Melinda."
By this time, we are back behind the breakaway, just in time to see Aurelien Clerc ease past the other riders to take out the sprint. Alvaro is clearly excited: "Sometimes I'll get really nervous when following a race, but I'm not very nervous right now. The reason is that I don't think this break will last. Had we been in the last ten kilometres, maybe I would have felt differently."
The break nears its end
Photo ©: Mark Gunter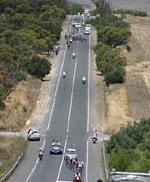 "Sometimes we end up having a bit of a race behind the race too. As the racing gets more nervous, so do the riders, and so do we in the cars. We'll be battling it out for good positions where we can feed and talk to our riders." Alvaro hands me a Red Bull, which I decline. "I think it is pericoloso (dangerous)," I explain to him, and he laughs a little before having a sip of his own bottle. "Well then, I might become a bit pericoloso now," he says with a wry smile.
Once again, we find our way to the front group to hand out another blue bottle of water to Aurelien. Fellow Belgian Remco Van Der Ven (Bankgiroloterij) gets one too. (After all, Quickstep is a Belgian based team.) Shortly after, Aurelien wins the second sprint despite being a bit closed in with a hundred metres to go. The blue ribbons tied to every lamppost at the beach are now flapping in the wind, and the peloton has started to pick up some time on the break. Aurelien is told not to waste any more energy, since the break will shortly be caught.
It is clear that the final selection up Willunga Hill will be hard as the riders start to drop off even before the climb. "The boys are waiting for the climb now. We rode up this climb before the start of Tour Down Under. It's a good climb with the hardest part in the first section. Another danger is that there's no immediate descent after the summit, but a long and windy flat. If it hasn't broken up yet, it will split there."
The riders groups up in different bunches depending on their climbing speed, and we surge past them to see where all the Quickstep boys ended up. 'Bodro' (Laszlo Bodrogi), Jose Pecharroman and Jose Garrido are all together in a group that doesn't seem to be going too bad. Another thirty seconds ahead of them, we come across Kevin Hulsmans, who seems to have the best climbing legs of the day. They are all offered bottles, but most decline, too breathless to even think about water.
The winning break has already been made, and although no Quickstep riders are in it, there's still a race going on behind the leaders. We drive along, alternating between the second and the third chase group when a hard brake stops us from hitting last year's winner Mikel Astarloza as he makes a face plant after riding over another fallen rider. Ouch! That has got to hurt, but they were both back on their bikes within seconds. My ribs might take a little longer to heal.
As we drive the last couple of hundred metres to the line, Robbie McEwen sprints across the line as the winner of the bunch gallop behind stage winner Ben Day, and Aurelien Clerc looses the virtual grip he had on the sprinters jersey. Alvaro sums it up for me: "Not a particularly good day for Quickstep, heh?"