Tales from the peloton, January 24, 2004
French flair with FdJeux.com
Nicolas Vogondy
Photo ©: Karen Forman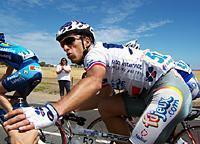 Seemingly one of the most cohesive teams in the peloton, Cyclingnews Karen Forman decided to join FdJeux.com on the fifth stage of the Jacob's Creek Tour Down Under to find out what makes them tick.
Tour Down Under resolution for 2004: Learn to speak French. Why? Because next time I am in a team car with FDJeux.com staff, I want to be able to understand their jokes!
While driving a team car and looking after a team in a race like the Jacobs Creek Tour Down Under is obviously an extremely important and serious job, there are times, in between attacks and breakaways and feedzones, that team directors and mechanics and guests (like journalists and sponsors) need some light relief.
That came today in the form of some pretty neat jokes, in French. Unfortunately, because I don't know much more French than what I learnt in year eight at school (i.e. a VERY long time ago), I couldn't understand any of them. I just know they were funny.
Of course, it would also be useful to learn French to understand some of the directions FDJeux.com manager Marc Madiot was giving his riders, Nicolas Vogondy (France), Thomas Lovkist (Sweden), Mark Renshaw (Australian), Philippe Gilbert (Belgium), Matt Wilson (Australia) and Bernhard Eisel (Austria). Geeze, even the Aussie guys speak (and more importantly, understand!) French.
At least with some Italian I could chat to the mechanic, Jacques Verret - a little. Jacques is a French guy married to an Italian and he says they communication quite well in half French-half Italian. We chatted about life in general, but he still wouldn't share those jokes with me. Next year!
Austrian Bernhard Eisel receives instructions
Photo ©: Karen Forman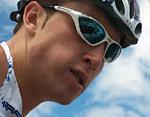 Like my trips in the Panaria, Team Australia and UniSA team cars in the previous stages of this year's JCTDU, I had a fun day today as we followed the boys from Willunga to Willunga, which meant four circuits of an oversized crit course through the extremely tantalising vineyards of McLaren Vale (didn't I see that name on a wine bottle somewhere?) and then an offshoot trip up what I and a lot of other people called a bloody testing mountain (the Italian guys at the finish scoffed at this for some reason), Old Willunga Hill, before returning to the delightful township of … Willunga!
I last rode with FDJeux.com two years ago - also in the JCTDU - and I have to say that nothing has changed when it comes to the professionalism and teamsmanship (not to mention the jokes) of these guys.
You can see why the boys on the road present as such a tight, professional unit. Because behind them, they have a tight, professional management and support team.
Marc has been director of the team since 1997. He's a former rider who rode the Tour de France nine times during his 15 years as a professional ride, his best result an eighth in 1983 riding for Renault-Gitane.
Similar to my team car expeditions of the previous few days, we do the normal stuff - like moving forward after getting the commissaire's nod to give Vogondy a bidon of water. The guys break out some Red Bulls and offer me one. "What is it?" I ask. "Well, maybe you better not," answers French journalist Jeff Quenet, in the front seat. "It will make you excited."
As we reel (that means at French speed) around this particularly scenic course, we see a house decorated (read TOTALLY COVERED) with French flags and FDJeux.com signs and insignias - and a heap of French-minded folk sipping wine (French, we hope) on the large balcony, watching the race.
Informed and assured, Eisel's on his way
Photo ©: Karen Forman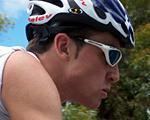 Marc comments on it. I don't exactly know what he says, but it sounds fairly complimentary. I have brought my French phrase book with me and I rush to open it. Unfortunately the Lonely Planet guide, while fantastic when you're on holiday (and young and out for some romance, perhaps) opens itself up to the "how to pick up in a nightclub" section. No help at all…
Ahem. It's time for some serious stuff. I decide to ask Marc some questions about the team
Will you win the Tour de France this year? "Maybe, we will see." Will an Australian will the Tour? "Non."
We continue up. The boys share some more jokes. We feed some more riders, moving forward to the breakaway, where Bernhard Eisel and Vogondy are, and back again to Wilson and Renshaw, in the chasing bunch.
It's a well-oiled machine and stuff happens almost on auto-pilot.
Marc is pretty cool, calm and collected throughout the race, but when the final sprint comes up he does get a little excited, mouthing instructions to his riders who are out there doing their best for a manager they have a lot of respect for.
Hmm. Wonder if he tells them those jokes… Merde!