An interview with David McPartland - January 21, 2003
All part of the plan
All part of the plan for David McPartland
Photo: © Mark Gunter/CN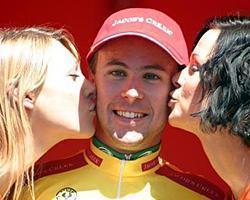 For 23 year old David McPartland, today's win was incredible, but it was all part of a plan to exploit the strength of his composite Australian team, Team Australia. Anthony Tan speaks to the new leader of Jacob's Creek Tour Down Under.
"Dave said: 'We came here to race; we need to race aggressively - we have an advantage in that the Aussie riders have more kilometres in our legs.'"
These were the wise words of Team Australia manager and Victorian Institute of Sport (VIS) road coach, Dave Sanders, timely delivered at their team meeting held at the Adelaide Hilton this morning. Acting somewhat as a father-figure to this group of eight men, whose experience ranges from McPartland, the youngest rider on the team at 23 years-old, to their oldest, Allan Iacuone, who turns 31 this year, it turned out to be the youngster from Albury who took Sanders' words most seriously.
"He didn't actually say specifically which riders should go in the breaks - it depended on which riders went up the road," McPartland says. "But I'm suited to a small breakaway, and once I got into that break, I was probably one of the better riders from the national team to be there, because we want to keep guys like Simon Gerrans and Allan Davis pretty fresh for the next few days.
"I felt confident; I've been feeling really good in the legs the last few weeks - I haven't got any results up until today - but the game plan was to race aggressively."
McPartland hardly had time to think before he committed himself to be what became the race-winning move. Local hero Patrick Jonker attacked shortly after the start of the stage, next went Dutch rider Alain Van Katwijk (Bankgiroloterij), and when Team Australia's McPartland bridged across and looked over his shoulder, they were gone. With local knowledge favouring Jonker, the break timed their move to perfection along the twisty roads out of Kapunda: "With Pat's local knowledge, we were flying through the corners while the bunch was riding six abreast," says McPartland.
Asked if he was worried about an unknown quantity in the form of Van Katwijk, who showed his strength on the climb of Checker Hill at the 27.5 kilometre mark, taking maximum points and a three second time bonus, McPartland says he wasn't worried in the slightest, with Sanders' words echoing in the background. "I knew he'd [Van Katwijk] come from Europe and we'd seen more kilometres in our legs than most of those guys; I also knew Paddy Jonker was experienced and strong, but I knew if we could stay away, I was in with a good chance of winning the stage. And I was confident I could beat the Dutch rider in a sprint, because of the fact that we're right into our season."
At Checker Hill, the lead group's advantage was teetering on six minutes, but with 130 kilometres to go, the certainty that the trio would finish ahead of the peloton was anything but assured. They kept pushing, but so did the peloton. Once again, McPartland found himself calling upon the advice and experience of an elder.
"For sure, it was a long day to be out there, though once we got eight minutes, I knew we were going to take all the intermediate sprints and KOMs. But with about 20k to go, it was coming down to about two or three minutes and I thought, 'They're going to pull us back'. With Paddy's experience, he told us to keep pushing. So we did, and I had good enough legs to keep doing good turns, and with 10k to go, I was really confident... then with 5k to, I knew we had it."
"All day I made sure I looked after myself, so if it [the break] did make to the finish, I'd be good enough," recalls McPartland about the finish. "Towards the end, I still made sure I was drinking and eating because it was a long day, but I had a good off-season with good kilometres in my legs, so I was confident."
The kilometres paid off: McPartland's finishing speed was far superior to Jonker and Van Katwijk, and in his first year and first race as a professional, the Victorian scored the biggest win of his career. While he names his more experienced team-mates Allan Davis and Simon Gerrans as the ones to watch, the three breakaway riders are almost two minutes ahead of the field, and he's not going to give in without a fight.
"I feel really good - I still feel fresh, but today was a taxing day, so I'm not going to be disappointed if I don't retain the [leader's] jersey because we have guys like Allan and Simon who have good legs at the moment and they've been looking after themselves. So in the national team, we've got a few cards to play... of course, I'll still hold on [to the lead] for as long as possible, but we've got those other two guys ready."
Being a neo-pro with Italian-based Division II team Tenax, McPartland was not expecting victory so soon, but winning bike races is certainly something he can live with. "I'm still reasonably young, so I just want to keep stepping up so I can ride the major Tours in a couple of years in a strong team," he says.