An interview with Gordon Fraser, April 20, 2004
"It's right up there"
Signed, sealed, delivered: John Lieswyn takes Gord Fraser (second wheel) to the line
Photo: © Cyclingnews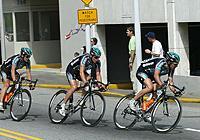 Longtime professional cyclist Gord Fraser has a lot of wins to relish over his 10 years in the peloton. But today in Macon, Georgia, he added one more to the top of the list, and as far as he's concerned, "it's right up there" with his very best wins. Story by Mark Zalewski.
"This is right up there with one of my very best wins of my career," said Fraser. "Especially since I am getting a little long in the tooth. I showed I can still sprint at a very high level and [it is] very rewarding for myself and my Health Net/Maxxis team. It's right up there."
Fraser tucked himself between two teammates in the final corners around the downtown finishing circuit, and was delivered to the line by another veteran racer John Lieswyn.
"Obviously when we got into the circuits, that bricked climb was a great launching pad for any rider who wanted to do a last minute attack. Honestly, I didn't see much because I was a little cross-eyed - I was struggling to stay near the front - but I crested the last climb maybe in twentieth, and I had a couple of team-mates there. They encouraged me to buck-up and get back to the front.
"I really didn't see much other than my own team-mates rear-ends really. I knew they would get me there. I was focusing staying with my team, and we got [to the front] right at 300 meters to go. It was a little touch and go for us, but they did a great job getting me back to the sprint.
Fraser's Health Net team has proven to be one of the best in the U.S., but facing European teams that race exponentially more kilometers would prove to be a bigger challenge.
"[U.S. based riders] don't usually cover this distance very often throughout the year, and it will be more of an advantage for the European teams. They race 120 miles every day - we race 120 miles maybe once a month!" laughs Fraser.
But Fraser will use today's win as a confidence builder for his team in the upcoming stages.
Taking a back seat
Photo: © Jon Devich

"We've proven that we could win a stage. We kind of took a back-seat today and let other teams control the tempo, because they had a bigger reputation. Now that we have the jersey it will be our... maybe 'duty', to defend the jersey with a bit of honor, and invest some of my team-mates on the front to help control the pace to ensure another sprint finish tomorrow. Hopefully I can do the same and keep the jersey."
Adding a little insight into the complex inner-workings of a professional cycling team, Fraser explained the reasoning behind his sprint for the one-second time bonus out on the course.
"Having two riders up there, there was still a second [time bonus] left. I went to do the intermediate sprint to test my legs and to get a [time bonus] so that no matter what happened in the sprint in the end, I would be a little further up on the general classification, and give our team director a better start order in the caravan," he laughs again.
"Directors don't like being the last car in the caravan. I didn't really want to do it, but Jeff [Corbett] is the 'big cheese' and I do what I am told!