Sea Otter Classic - 2.5/2.9.2
Monterey, California, USA, April 15-17, 2004
Prologue - April 15: Laguna Seca Time Trial, 1.7 miles (M/W)
Godfrey and Armstrong fastest down the hill
Kristin Armstrong (T-Mobile)
Photo ©: Colin Meagher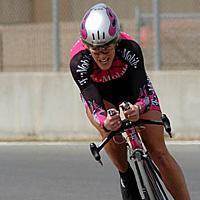 Hayden Godfrey (Health Net presented by Maxxis) and Kristin Armstrong (T-Mobile) were the fastest over three kilometers today and will go into tomorrow's circuit race in the leaders jersey. The 3km course, that was predominantly down hill, started at the top of what is known as the corkscrew on Laguna Seca Raceway and wound down the hill and around the race track with just one small uphill drag mid way around. The strong wind was a big factor in wheel choice for the riders and in addition, many riders opted not to ride with time trial bars because of the wind and the short distance.
The women started first with Lauren Franges holding the fastest time for the majority of the day. It was when the final riders came through that her time was beaten putting her in 5th place. Eventually it was Armstrong who clocked the fastest time to win her second time trial for the season.
Armstrong was happy with her race and her decision to ride a rear disc. "I was up in the air about it before the race," she said, "as a lot of other riders were advising me not to use it because of the cross wind on the corkscrew. I decided to go with the disc and just use my bullhorns on the corners."
Armstrong is confident now that her and her team can ride well enough together to win the tour from here on in. "Six seconds is six seconds and even though there are time bonuses and hard climbs over the next couple of days, I think we have the mental advantage and a strong enough team to be able to win."
Armstrong's teammate Stacey Peters who took third in the prologue, agreed that they have a good chance this weekend. "We have a lot of work cut out for us with Lyne [Bessette]. She has good form and is riding really well on the climbs."
Stacey was happy with her ride to third position. "It went by so fast. It just seemed like I took one long breath and it was over," she said. "I honestly didn't think I did a good time though. I navigated the turns well, but going over that small pinch I really died."
Second placed rider Tina Pic (Genesis Scuba), was all smiles as usual and just thankful that she got to the finish. "I had a disc wheel on, which was fine in practice, but the wind had picked up and by the time I got to the bottom of the climb I was so busy making sure I stayed up that I was forgetting to pedal. Luckily I pulled it together."
Pic also thinks her team is riding well enough to win the race this weekend. "I think we have a chance. I haven't seen the road course but I've heard it's pretty hard."
Race winner Hayden Godfrey
Photo ©: Colin Meagher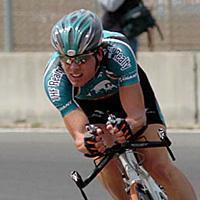 In the men's race it was Health Net who came out on top, pleasing their title sponsor in their own backyard. Hayden Godfrey, coming straight from the Manchester track world cup took the win from his teammate, Gord Fraser and Eric Wohlberg (Sierra Nevada).
Godfrey was modest about his result, emphasizing the fact that his win today does not mean he will be racing to win the tour. "I don't think today's result has any effect on the overall," he said. "All our guys are up there on GC now and we'll be going for the tour win."
Godfrey enjoyed the course, especially after his training lately has been specifically for short efforts. "It's good," he said, "when you can go from zero to 40km/hr that quickly and then it's all over."
Fraser too, had a smile on his face after the race. "It's nice to be able to start a stage race without giving Horner a minute lead on the rest of us. It's a miracle just beating Horner in any event at the moment."
Fraser admits tomorrow's 27 lap circuit race will be a bit harder for him than in the past. "I've won it a couple of times, but the only reason I have been able to survive it is because of the large fields we have had here. I was able to drift back in the climbs and still keep contact. Now with only 70 riders in the field it is going to be harder."
"It's nice to get some results for the team, especially here at Sea Otter," Fraser added. "After Redlands where we didn't get any results, and not for lack of trying, it will be nice to put that behind us."
Wohlberg, who is known for his time trial strength, said he was surprised to make the podium on such a short course. "I really needed another 38km to win this race," he joked.
Photography
Images by Colin Meagher
Results

Women
 
1 Kristin Armstrong (USA) T-Mobile                          3.02
2 Tina Mayolo-Pic (USA) Genesis Scuba                       0.05
3 Stacey Peters (USA) T-Mobile                              0.06
4 Laura Van Gilder (USA) Genesis Scuba                      0.07
5 Lauren Franges (USA) Victory Brewing                      0.08
6 Melissa Sanborn (USA) Wells Fargo Ragats                  0.09
7 Mari Holden (USA) T-Mobile                                0.10
8 Lyne Bessette (Can) Quark                                     
9 Catherine Powers (USA) La Grange                          0.11
10 Rook Campbell (USA) Genesis Scuba                            
11 Christina Ruiter (USA) Basis                             0.12
12 Jenny Eyerman (USA) Red 5 Racing                             
13 Amy Moore (Can) Quark                                        
14 Erin Mirabella (USA) Red 5 Racing                        0.14
15 Nicole Demars (Can) Victory Brewing                      0.15
16 Laura Downey (USA) La Grange                                 
17 Meredith Miller (USA) SATS                                   
18 Audrey Lemieux (Can) Quark                                   
19 Emma Rickards (Aus) Victory Brewing                      0.16
19 Nicole Brandt (USA) La Grange                                
21 Katherine Maher (USA) Basis                              0.17
22 J. Kele Hulser (USA) Basis                               0.18
23 Lara Kroepsch (USA) T-Mobile                                 
24 Brenda Lyons (USA) Sycip/McGuire                             
25 Kristin Durmm-Collins (USA) Morgan Stanley/Specialized       
26 Jane Despas (USA) Wells Fargo Ragats                     0.19
27 Jennifer Stevens (USA) Red 5 Racing                          
28 Rebecca Broeder (USA) Wells Fargo Ragats                     
29 Christine Vardaros (USA) Velo Bella                          
30 Felicia Greer (Can) Webcor Builders                          
31 Bridget Evans (Aus) Dewar's Racing                       0.20
32 Hiroko Shimada (Jpn) MABRA                                   
33 Karen Bockel (Ger) TDS/Schwalbe                          0.21
34 Rebecca Much (USA) Acme Racing                           0.22
35 Nichole Wangsgard (USA) Acme Racing                          
36 Johanna Buick (NZl) Victory Brewing                          
37 Anne Samplonius (Can) TDS/Schwalbe                           
38 Betsy Bloom - Galenti (USA) La Grange                        
39 Christine Thorburn (USA) Webcor Builders                 0.23
40 Katherine Sherwin (USA) Kenda Tire                           
41 Carla Hukee (USA) Kenda Tire                                 
42 Beverley Harper (USA) LGBRC                                  
43 Catherine Malone (USA) Webcor Builders                       
44 Stefanie Graeter (USA) Webcor Builders                   0.24
45 Liz Begosh (USA) Velo Bella                              0.25
46 Kristin Johnson (USA) Basis                                  
47 Martina Patella (USA) LGBRC                                  
48 Gabriella Gonzalez De Ferrat (Mex) Velo Bella                
49 Mary Rudy (USA) Acme Racing                                  
50 Cindy Carroll (USA) Dewar's Racing                           
51 Kimberley Cunningham (USA) Morgan Stanley/Specialized    0.26
52 Megan Monroe (USA) TDS/Schwalbe                          0.27
53 Jana Roberts (USA) Sycip/McGuire                             
 
Men
 
1 Hayden Godfrey (NZl) Health Net/Maxxis                    2.43
2 Gordon Fraser (Can) Health Net/Maxxis                     0.03
3 Eric Wohlberg (Can) Sierra Nevada                         0.04
4 Jason Lokkesmoe (USA) Health Net/Maxxis                   0.06
5 Charles Dionne (Can) Webcor Builders                      0.08
6 Chris Horner (USA) Webcor Builders                        0.09
7 Dan Schmatz (USA) Health Net/Maxxis                       0.10
8 Matt Dubberley (USA) Sierra Nevada                        0.11
9 Michael Jones (USA) Health Net/Maxxis                     0.12
10 Brice Jones (USA) Health Net/Maxxis                          
11 Scott Kasin (USA) Lucky Lounge                               
12 Glen Mitchell (NZl) Sierra Nevada                        0.13
13 Gordon McCauley (NZl) Monex                                  
14 John Reed (USA) Lucky Lounge                                 
15 Roman Kilun (USA) McGuire                                    
16 Jason Waddell (USA) Sharper Image/Mathis Bros            0.15
17 Mike Taylor (USA) McGuire                                    
17 Trent Klasna (USA) Sierra Nevada                             
19 Nicklaus Kiernan (USA) Sharper Image/Mathis Bros             
20 Neil Shirley (USA) Seasilver                             0.16
21 Ben Jacques-Maynes (USA) Sierra Nevada                       
22 Daniel Ramsey (USA) Seasilver                                
23 John Kelly (USA) Webcor Builders                         0.17
24 Justin England (USA) Webcor Builders                         
25 Devon Vigus (USA) McGuire                                    
26 Cory Lange (Can) Canadian national team                      
27 Davide Frattini (Ita) Monex                              0.18
28 Marc Collard (USA) The Red Edge                              
29 Alexandre Nadeau (Can) Canadian national team            0.19
30 Brian Sheedy (USA) Village Peddler                           
31 Geoff Rapoport (USA) La Grange                               
32 Matthew Svatek (USA) Sharper Image/Mathis Bros               
33 Peter Knudsen (USA) Seasilver                                
34 Aron Huerta (USA) Village Peddler                            
35 David Wenger (USA) Sharper Image/Mathis Bros                 
36 Todd Terlecki (USA) La Grange                            0.20
37 Ben Haldeman (USA) Webcor Builders                           
38 Jacob Erker (Can) Seasilver                              0.21
39 Imanol Ayestaran (Spa) Webcor Builders                       
40 Josh Klikna (USA) McGuire                                    
41 Andrew Touchstone (USA) Lombardi Sports                  0.22
42 Stuart Press (USA) La Grange                                 
43 Dean Laberge (USA) Lombardi Sports                           
44 Mike Herdman (USA) Monex                                     
45 Dennis Guikema (USA) The Red Edge                            
46 Patrik Carro (USA) Monex                                     
47 Kevin Schleuter (USA) La Grange                              
48 Tim Granshaw (USA) Lombardi Sports                           
49 Steven Cate (USA) Sharper Image/Mathis Bros                  
50 Adam Myerson (USA) Sharper Image/Mathis Bros             0.23
51 William Innes (USA) Lombardi Sports                      0.24
52 Patrick Briggs (USA) The Red Edge                            
53 James Hibbard (USA) Lombardi Sports                      0.25

General classification after prologue
 
Women
 
1 Kristin Armstrong (USA) T-Mobile                          3.02
2 Tina Mayolo-Pic (USA) Genesis Scuba                       0.05
3 Stacey Peters (USA) T-Mobile                              0.06
4 Laura Van Gilder (USA) Genesis Scuba                      0.07
5 Lauren Franges (USA) Victory Brewing                      0.08
6 Melissa Sanborn (USA) Wells Fargo Ragats                  0.09
7 Mari Holden (USA) T-Mobile                                0.10
8 Lyne Bessette (Can) Quark                                     
9 Catherine Powers (USA) La Grange                          0.11
10 Rook Campbell (USA) Genesis Scuba                            
11 Christina Ruiter (USA) Basis                             0.12
12 Jenny Eyerman (USA) Red 5 Racing                             
13 Amy Moore (Can) Quark                                        
14 Erin Mirabella (USA) Red 5 Racing                        0.14
15 Nicole Demars (Can) Victory Brewing                      0.15
16 Laura Downey (USA) La Grange                                 
17 Meredith Miller (USA) SATS                                   
18 Audrey Lemieux (Can) Quark                                   
19 Emma Rickards (Aus) Victory Brewing                      0.16
19 Nicole Brandt (USA) La Grange                                
21 Katherine Maher (USA) Basis                              0.17
22 J. Kele Hulser (USA) Basis                               0.18
23 Lara Kroepsch (USA) T-Mobile                                 
24 Brenda Lyons (USA) Sycip/McGuire                             
25 Kristin Durmm-Collins (USA) Morgan Stanley/Specialized       
26 Jane Despas (USA) Wells Fargo Ragats                     0.19
27 Jennifer Stevens (USA) Red 5 Racing                          
28 Rebecca Broeder (USA) Wells Fargo Ragats                     
29 Christine Vardaros (USA) Velo Bella                          
30 Felicia Greer (Can) Webcor Builders                          
31 Bridget Evans (Aus) Dewar's racing                       0.20
32 Hiroko Shimada (Jpn) MABRA                                   
33 Karen Bockel (Ger) TDS/Schwalbe                          0.21
34 Rebecca Much (USA) Acme Racing                           0.22
35 Nichole Wangsgard (USA) Acme Racing                          
36 Johanna Buick (NZl) Victory Brewing                          
37 Anne Samplonius (Can) TDS/Schwalbe                           
38 Betsy Bloom - Galenti (USA) La Grange                        
39 Christine Thorburn (USA) Webcor Builders                 0.23
40 Katherine Sherwin (USA) Kenda Tire                           
41 Carla Hukee (USA) Kenda Tire                                 
42 Beverley Harper (USA) LGBRC                                  
43 Catherine Malone (USA) Webcor Builders                       
44 Stefanie Graeter (USA) Webcor Builders                   0.24
45 Liz Begosh (USA) Velo Bella                              0.25
46 Kristin Johnson (USA) Basis                                  
47 Martina Patella (USA) LGBRC                                  
48 Gabriella Gonzalez De Ferrat (Mex) Velo Bella                
49 Mary Rudy (USA) Acme Racing                                  
50 Cindy Carroll (USA) Dewar's racing                           
51 Kimberley Cunningham (USA) Morgan Stanley/Specialized    0.26
52 Megan Monroe (USA) TDS/Schwalbe                          0.27
53 Jana Roberts (USA) Sycip/McGuire                             
54 Kendra Wenzel (USA) Wells Fargo Ragats                       
55 Penny Avril (USA) Sycip/McGuire                              
56 Grace Fleury (USA) Genesis Scuba                         0.28
57 Starr Falk (USA) LGBRC                                   0.29
58 Pat Ross (USA) MABRA                                         
59 Mette Fischer-Andersen (Den) SATS                            
60 Troy Watson (USA) Dewar's Racing                             
61 Betsy Sellers (USA) MABRA                                0.30
62 Kristin Caldwell (USA) Morgan Stanley/Specialized            
63 Kate Landau (USA) LGBRC                                  0.31
64 Michelle Beltran (USA) Red 5 Racing                          
65 Crystal Yap (USA) Kenda Tire                                 
66 Karina Louise Sorensen (Den) SATS                        0.33
67 Carol Lynn Neal (USA) Kenda Tire                             
68 Leah Tingley (USA) Acme Racing                               
69 Sarah Bamberger (USA) Sycip/McGuire                      0.34
70 Shawn Heidgen (USA) TDS/Schwalbe                             
71 Ginger Buller (USA) Velo Bella                               
72 Christina Peick-Andersen (Den) SATS                      0.39
73 Yukie Nakamura (Jpn) Dewar's Racing                      0.40
74 Megan Elliott (USA) Quark                                0.45
75 Aimee Vasse (USA) MABRA                                  0.46
76 Lisa Hunt (USA) Morgan Stanley/Specialized               1.17
 
Men
 
1 Hayden Godfrey (NZl) Health Net/Maxxis                    2.43
2 Gordon Fraser (Can) Health Net/Maxxis                     0.03
3 Eric Wohlberg (Can) Sierra Nevada                         0.04
4 Jason Lokkesmoe (USA) Health Net/Maxxis                   0.06
5 Charles Dionne (Can) Webcor Builders                      0.08
6 Chris Horner (USA) Webcor Builders                        0.09
7 Dan Schmatz (USA) Health Net/Maxxis                       0.10
8 Matt Dubberley (USA) Sierra Nevada                        0.11
9 Michael Jones (USA) Health Net/Maxxis                     0.12
10 Brice Jones (USA) Health Net/Maxxis                          
11 Scott Kasin (USA) Lucky Lounge                               
12 Glen Mitchell (NZl) Sierra Nevada                        0.13
13 Gordon McCauley (NZl) Monex                                  
14 John Reed (USA) Lucky Lounge                                 
15 Roman Kilun (USA) McGuire                                    
16 Jason Waddell (USA) Sharper Image/Mathis Bros            0.15
17 Trent Klasna (USA) Sierra Nevada                             
17 Mike Taylor (USA) McGuire                                    
19 Nicklaus Kiernan (USA) Sharper Image/Mathis Bros             
20 Neil Shirley (USA) Seasilver                             0.16
21 Ben Jacques-Maynes (USA) Sierra Nevada                       
22 Daniel Ramsey (USA) Seasilver                                
23 John Kelly (USA) Webcor Builders                         0.17
24 Justin England (USA) Webcor Builders                         
25 Devon Vigus (USA) McGuire                                    
26 Cory Lange (Can) Canadian national team                      
27 Davide Frattini (Ita) Monex                              0.18
28 Marc Collard (USA) The red Edge                              
29 Alexandre Nadeau (Can) Canadian national team            0.19
30 Brian Sheedy (USA) Village Peddler                           
31 Geoff Rapoport (USA) La Grange                               
32 Matthew Svatek (USA) Sharper Image/Mathis Bros               
33 Peter Knudsen (USA) Seasilver                                
34 Aron Huerta (USA) Village Peddler                            
35 David Wenger (USA) Sharper Image/Mathis Bros                 
36 Todd Terlecki (USA) La Grange                            0.20
37 Ben Haldeman (USA) Webcor Builders                           
38 Jacob Erker (Can) Seasilver                              0.21
39 Imanol Ayestaran (Spa) Webcor Builders                       
40 Josh Klikna (USA) McGuire                                    
41 Andrew Touchstone (USA) Lombardi Sports                  0.22
42 Stuart Press (USA) La Grange                                 
43 Dean Laberge (USA) Lombardi Sports                           
44 Mike Herdman (USA) Monex                                     
45 Dennis Guikema (USA) The red Edge                            
46 Patrik Carro (USA) Monex                                     
47 Kevin Schleuter (USA) La Grange                              
48 Tim Granshaw (USA) Lombardi Sports                           
49 Steven Cate (USA) Sharper Image/Mathis Bros                  
50 Adam Myerson (USA) Sharper Image/Mathis Bros             0.23
51 William Innes (USA) Lombardi Sports                      0.24
52 Patrick Briggs (USA) The red Edge                            
53 James Hibbard (USA) Lombardi Sports                      0.25
54 Keith Szolusha (USA) The Red Edge                        0.26
55 Dominique Perras (Can) Canadian national team            0.27
56 Matthew Sadauckas (USA) Seasilver                            
57 John Hackman (USA) La Grange                                 
58 Patrick Dunaway (USA) McGuire                                
59 Drew Deters (USA) Seasilver                                  
60 Troy White (USA) Sierra Nevada                               
61 Colin Beardsley (USA) McGuire                            0.28
62 Omer Kem (USA) Lucky Lounge                              0.29
63 Russell Walther (USA) Lucky Lounge                           
64 Tim Gernitis (USA) Village Peddler                       0.30
65 Bart Fidelus (USA) Lucky Lounge                              
66 Matt Bromen (USA) La Grange                                  
67 Lucas Euser (USA) The Red Edge                           0.31
68 Aliaksandr Ivavou (Blr) The Red Edge                         
69 Patrick Fetzer (USA) Monex                               0.32
70 Daniel Hopley (USA) Village Peddler                      0.33
71 Danny Kaukola (USA) Lucky Lounge                         0.34
72 Rich Del Valle (USA) Lombardi Sports                     0.35
73 Roberto Gaggioli (Ita) Monex                             0.43
73 Alexandre Lavalee (Can) Canadian national team