Vuelta News for September 13, 2003
Edited by Chris Henry & Jeff Jones
Rabobank breaks the drought
Rasmussen and Osa
Photo: © Unipublic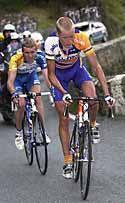 Michael Rasmussen's win in the seventh stage of the Vuelta a España has broken a victory drought for the Rabobank team, which has not won a World Cup race or a Grand Tour stage so far this season. The 29 year old Dane formed part of the breakaway on the Col d'Aubisque, but when it was caught he launched himself off the front again with Aitor Osa (iBanesto.com). Rasmussen surged away from Osa on the last climb to Cauterets, and held off the nearest chasers by a minute to win the stage.
Rasmussen's win could not have come at a better time, as Rabobank has been under pressure of late to perform in the big races. Their hopes of finishing on the podium in the GC had been resting on Levi Leipheimer, who clearly has not recovered from his crash in the Tour and has lost too much time already. Rasmussen is now up to ninth on GC thanks to his ride today, and if he continues climbing like this could move up even further.
That is a secondary objective now, according to Rabobank team director Frans Maassen. "You're better off winning a stage than finishing ninth in the final classification," he was quoted by ANP. "That we really needed. Rasmussen is a climber. I'm sure that we can win another stage here."
As for the man himself, Rasmussen declared this his Vuelta stage was "the most important victory of my career," which is a telling comment given his 1999 cross-country win at the 1999 World MTB Championships.
Rasmussen echoed Maassen's comments somewhat, saying "My team came here with the objective of two top 10 places and a stage win, and now we have attained one of those aims."
Vandenbroucke running on empty
Belgian Frank Vandenbroucke abandoned the Vuelta a España on Friday, suffering due to poor condition. For Vandenbroucke the inability to adequately has proven a frustration, and something of a mystery.
"For the past three days I haven't been able to get over that day's race," he explained. "This is strange because I haven't been suffering with any specific ailment. My legs felt empty today. I started off the Vuelta in discreet conditions bearing in mind that I had had to slow down my training sessions a couple of times before the race due to a few problems."
With the Vuelta as preparation, VDB was once more being listed among the possible protagonists of the Belgian team for the world championships in October. Friday's Vuelta withdrawal does not bode well for a top performance in Hamilton.
"It's a shame. I'm leaving the race with a bit of bitterness, but honestly, my legs just wouldn't do what I wanted them to do today," Vandenbroucke added.
After returning to Belgium Friday evening, Vandenbroucke will undergo a physical examination in an effort to determine a cause for his fatigue.
(All rights reserved/Copyright Knapp Communications Pty Limited 2003)