Vuelta News forAugust 29, 2003
Edited by Jeff Jones & Chris Henry
Vuelta to Domina Vacanze: Cipo or nothing
Photo: © Sirotti

Vuelta a España organiser Unipublic has let its intentions be known concerning the status of the Domina Vacanze team: bring world champion Mario Cipollini to Spain, or don't come at all. The team, one of the wild card selections for the Vuelta, was invited based on the expected participation of Cipollini, who has not raced since the Giro d'Italia, apart from a few criteriums after the Tour de France. The team once again finds itself on the verge of missing out on a grand after it failed to earn a spot in the Tour de France.
"If Cipollini doesn't come, don't bother coming to Gijón," Unipublic's Víctor Cordero said to Domina Vacanze in Friday's Marca. The Vuelta organisation has left its options open as to whether it would invite a replacement team for Domina Vacanze or start the race with only 21 teams. Domina Vacanze's manager Vincenzo Santoni, feeling slighted once more, has asked UCI president Hein Verbruggen to intervene. However, being a discretionary invite for the Vuelta, Domina Vacanze has little chance of a helping hand from the UCI.
Unipublic noted that it wishes to avoid a situation similar to last year, when the Italian Alexia team was invited solely for the purpose of including 2002 Giro d'Italia winner Paolo Savoldelli, who retired early from the race - along with several teammates - after a sub-par start to his Vuelta. Cipollini has confirmed that he plans to race the world championships in Hamilton, Canada in October, but unlike last year Cipo appears unlikely to use the Vuelta as preparation.
Pecharromán will start
José Antonio Pecharromán, winner of this year's Bicicleta Vasca and Volta a Catalunya, will start the Vuelta a España. The Paternina-Costa de Almeria rider, who recently signed a contract with Patrick Lefevere's Quick.Step-Davitamon team for 2004, has not been in the good graces of his team director since his decision to leave. Paternina had threatened not to give Pecharromán a start in the Vuelta, noting also his lack of racing and results in the past months, but ultimately he has been given his place on the team.
"I can't think of the podium with my current level [of fitness]," Pecharromán told Marca, "but I hope I can race for a stage win."
Phonak for Vuelta
Alex Zülle
Photo: © C.Henry/CN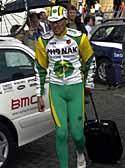 The Swiss Phonak Hearing Systems team will send a team to the Vuelta a Españ, ostensibly built around two-time Vuelta winner Alex Zülle (1996, 1997). The Swiss veteran has made the Vuelta a key objective, having noted that without a competitive performance, he will likely retire from cycling, despite having a contract with Phonak through 2004.
Up and coming Spaniard Oscar Pereiro, third place in this year's Tour de Suisse, will also give Phonak a shot at a position in the general classification, while Alexandre Usov will be the team's man for the sprints.
The full Phonak roster includes Zülle, Niki Aebersold, Gonzalo Bayarri, Cyril Dessel, Juan Carlos Dominguez, Bert Grabsch, Oscar Pereiro, Santiago Perez, and Alexandre Usov.
(All rights reserved/Copyright Knapp Communications Pty Limited 2003)
Recently on Cyclingnews.com