58th Vuelta a España - Spain, September 6-28, 2003
An interview with Alejandro Valverde
The killer instinct
Valverde enjoys winning a lot
Photo: © Unipublic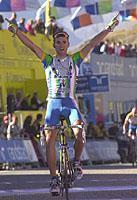 Apart from ONCE-Eroski's Isidro Nozal, the other rookie sensation of this year's Vuelta España is certainly Alejandro Valverde (Kelme-Costa Blanca). Valverde seems to have that "killer instinct" only the great champions have in their blood, and has demonstrated it by winning two stages so far in this Vuelta. Hernán Alvarez Macías found out a little more about this promising young Spanish rider.
Cyclingnews spoke to Valverde before the start of the 18th stage in the town of Las Rozas. He seemed to be in high spirits and enjoying this sweet moment of his career, and he gladly conceded a few minutes to us for a "tête-à-tête" chat.
When we asked Alejandro about his younger years in cycling, he just mentioned his victories and achievements in numbers. That's a sign he just things about winning: coming second or not making the podium is not the same. After Sevilla's back-to-back failures in 2001 and 2002, maybe now is the time for a leadership change in Kelme.
Cyclingnews: How can you describe your victory in La Pandera?
Alejandro Valverde: It was a very good victory for me. We worked very hard, Oscar Sevilla as well as me; we were very close to Roberto (Heras) and Félix (Cárdenas) and in the final metres I did my best, I was able to catch Heras and Cárdenas and I could win the stage.
CN: What is the difference between this and the triumph in Andorra?
AV: The difference is that Andorra's win was the first one in a major race and one feels very, very happy. The second victory is also a reason for joy, but I enjoyed the first stage win in Envalira [Andorra] more.
CN: You have a nickname, "El Imbatido" (the unbeatable), how does it come up?
AV: Well, when I began racing I was second in the first competition and first in the second race. And from then on, I obtained many victories and they call me "El Imbatido" [the right word in Spanish would be "El Invicto" because "El Imbatido" doesn't exist].
CN: How was your amateur career?
And again...
Photo: © AFP

AV: In my first year I was a Banesto rider and I got three victories, then in my second year I moved to the amateur Kelme-Costa Blanca team and I won six victories, and in the last year I got 13 victories including the Spanish Championship, the Spanish Cup, the Federation ranking and I was third in the Mediterranean Games in Tunisia.
CN: What do you think about Vicente Belda's decision of having two leaders, Oscar Sevilla and you, for the next season?
AV: I'm very proud of being the leader of the team together with Oscar Sevilla. It's very, very good in sporting terms and in terms of motivation.
CN: Some say you are a very good climber as well as a time trialist, but it seems the mountain is your perfect place right now, doesn't it?
AV: Yes, the truth is I'm very well suited to the climbs and we hope to keep going well in the future.
CN: In these years the time trial specialists are prevailing over the climbers in the Grand Tours. Do you think some mountain specialist is able to win in the next major races?
AV: I think so. In the major races you must be always up in the peloton, always ready and aware and if there are enough climbs, I think a climber can win.
CN: You are in the fifth position right now in the overall positions. Is it difficult to get to the podium in Madrid?
AV: It's rather difficult. I'm closer to the fourth position [Manuel Beltrán (US Postal) who is fourth is only 4 seconds ahead of him in the GC], but we will keep on fighting. We have nothing to lose and we'll see if we have enough strength in the days left in the Vuelta.
Sevilla and Valverde
Photo: © Unipublic

CN: What's your opinion about Oscar Sevilla's performance in the Vuelta?
AV: It's true that Oscar is going pretty well. He had bad luck with the crush [3rd stage in Santander], but this last week everybody is watching, he is so very strong and I hope he gets a stage victory.
CN: When you won in La Pandera some people thought you got the most of Cárdenas and Heras's efforts to win and those people say it wasn't fair. There are some non-written rules between riders, aren't there? Do you consider those rules?
AV: Rules? Right now, you have to respect your rival; of course you can't jump on your rivals' heads. The best must win always without getting out of the current cycling rules.
CN: You have a pretty good position in the UCI ranking. Do you consider that or do you prefer to win a major race?
AV: I care a lot about the points related to the team I'm on, because there are the first and the second division. So, it's important too. But also winning is also very, very important. I think both things are essential.
CN: Do you think you live the normal life of a 23 year old guy?
AV: It's rather different. It's a different job comparing to most of them. I don't know, it's a 24 hour job, but it's a job and a hobby at the same time.
CN: Maybe you can't go out as many times as a normal guy of 23...
AV: Yes, one has to take care of oneself more. One must be careful, one can go out sometimes in the winter, but one has to take care of oneself during the season, eating well, not going out. One must sacrifice oneself on those aspects. But in the end, I'm doing what I like, they pay me very well and I'm very content.
CN: If you weren't a cyclist, what would you have been?
AV: I don't know actually. I would have thought about that.
CN: What is your father's job?
AV: He is a truck driver, he has a company. I like mechanics very much. Maybe I would have been working with him.