Tour de France News for July 26, 2003
Edited by Jeff Jones & Chris Henry
Pablo Lastras: "I'm equally bad at everything"
By Gabriella Ekström in Saint-Maixent-l'Ecole
Pablo Lastras
Photo: © AFP

When pointing towards the sky after crossing the line in Saint-Maixent-l'Ecole, Pablo Lastras honoured his mother Rosa who died four months ago. "Because of her death, the start of this season was very hard for me. The emotions I felt in the last metres today were unbelievable. Today would have been her birthday, and I dedicate my victory to her. I came to the Tour full of illusions, but the race has been so very long. I know my role and my job is to help my team, and once I have done that, they will give me the possibility to do something for myself. After three weeks of racing, I was very tired but I think all are equally tired, and therefore I knew I had a chance today.
Click here for the full interview
Second fastest Tour stage ever
Stage 18 winner Pablo Lastras (iBanesto.com) has put his name to one of the fastest ever Tour de France road stages, averaging 49.938 km/h between Bordeaux and Saint-Maixent-l'Ecole to take the victory ahead of Carlos da Cruz. Lastras surpassed Johan Bruyneel's 49.417 km/h, the average speed of the sixth stage of the 1993 Tour. However the Spaniard was just short of Mario Cipollini's 50.355 km/h between Laval and Blois in 1999.
Fastest Tour stages
1. 1999, Stage 4: Mario Cipollini 194,5 km at 50,355 km/h
2. 2003, Stage 18: Pablo Lastras, 203,5 km at 49,938 km/h
3. 1993, Stage 6: Johan Bruyneel, 158 km at 49,417 km/h
4. 1988, Stage 16: Adri van der Poel, 38 km at 48,927 km/h
5. 1998, Stage 12: Tom Steels, 205,5 km at 48,764 km/h

Every second counts in battle of Centenary Tour titans
By Tim Maloney, European editor in Saint-Maixent-l'Ecole
Close rivals
Photo: © AFP

Lance Armstrong couldn't have picked a better title for his new book. "Every Second Counts" is coming out in October, but Armstrong will live the reality of that fact tomorrow, when the four time Tour de France winner will try and wrap up his fifth straight win on Saturday in Nantes. Next to last of the six original 1903 Tour stops, the port city at the mouth of the Loire welcomes the penultimate stage of the Centenary Tour De France, and Stage 19 will be the biggest showdown for the podium in this most closely fought Tour of the last 15 years.
A focused Armstrong told French TV after the long, boring ride of Stage 18 that, "Right now, tomorrow's time trial will be the most important of my career. I'm feeling relaxed and confident because in the last four years, I've never lost the final TT of the Tour. I'm focused and ready to ride my race tomorrow."
When asked about the closeness of this year's Tour and how it compares with the 1989 Tour, Armstrong was noncommittal. "I wasn't around to see the LeMond-Fignon match (in 1989), but I certainly hope the outcome tomorrow isn't like that."
Lance Armstrong currently has a 1'05" lead on his relentless challenger Jan Ullrich, who has said since Armstrong won the stage to Luz Ardiden on Monday that the "The Tour isn't over yet."
Evidently not, as Ullrich went gained 0'02 on the American by sprinting for an intermediate time bonus on Stage 18.
Saturday's TT will be a drag race on a wide open, flat and non-technical parcours, and Saturday's weather could have a major impact. The forecast is for cool, windy, rainy weather, with a strong southwest wind. Armstrong's analysis of Stage 19, a course he's tried a number of times already is clear. "Tomorrow's parcours is flat, straight and not technical. There should be a tailwind and it could be one of the fastest time trials in Tour history."
Armstrong will have a secret weapon of sorts: he'll use a special 36mm TT bar that Trek's Scott Daubert explains that "Right now this is a prototype bar; most of the TT bar uses OCLV Carbon so its light weight doesn't affect its stiffness or its ride comfort." Armstrong used a 42mm version of this bar in the Gaillac TT and has trained on the special narrow bar, but has never used the super-low cx rig in competition.
Armstrong v. Ullrich in Tour TT's
Graphic: © AFP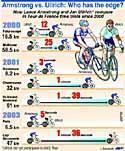 Stormy weather or not, Armstrong will be looking for a strong performance in this final individual time trial to seal his fifth straight Tour win. And in the blue corner, Jan Ullrich will be looking to grab his second time trial stage win of this year's Tour and take the Maillot Jaune. With 65 seconds difference between first and second, Jan Ullrich can absolutely not be counted out. He'll have to gain 1.3 seconds per kilometre on Lance, and Ullrich is certainly capable of that kind of ride.
Bianchi director Alain Gallopin said of Jan Ullrich that "Jan has been in great shape for the last 10 days and I think he will ride very, very well tomorrow in the time trial." Ullrich will used his enormous power and superb form to pound a 56x11 Saturday in search of Tour de France glory.
Hey! Don't count American Tyler Hamilton (CSC) out yet of a podium shot. If he has recovered from his 95km solo romp to Bayonne on Wednesday, Hamilton should be able to move past Euskaltel riders Zubeldia and Mayo into fourth, but passing third place Alex Vinokourov (Telekom) is another matter. 3'50" is a big gap and Tyler would have to race almost 5 seconds/km faster to pass Vino. Tyler lost 37 seconds to Vino in the Gaillac TT but it's a different Tyler now. At this year's Centenary Tour, one can never say never!
Ullrich and Armstrong still have a friendly rivalry. Jan and Lance usually exchange "good mornings" at the start of each stage, but tomorrow, on the 49km of Stage 19's Individual TT from Pornic-Nantes, the world will witness the best duel for the Maillot Jaune in almost two decades. Let the best man win!
McEwen snatches green lead from Cooke
Robbie McEwen
Photo: © J.Devich/CN

Robbie McEwen (Lotto-Domo) today moved a step closer to a successful defence of the Tour de France sprinter's crown when he snatched back the lead in the green jersey competition from compatriot Baden Cooke, 24, (FDJeux.com). McEwen now has 178 points and Cooke 176.
At the start of today's 203 kilometre stage north from Bordeaux to Saint Maixent L'Ecole Cooke was in green with a six point lead over McEwen, but at the first intermediate sprint of the day at 50 kilometres McEwen attacked to win the sprint and erase Cooke's advantage.
"I didn't expect the race to still be together at the sprint and it had been very disorganised heading into it," explained McEwen back in the green jersey he wore for most of the first week of the race. "My team wanted to hold it together which is how we ended up with four guys in the early break but they came back just before the sprint."
"I was then able to get through a gap on the right hand side and I popped out and saw no one following me," he said. "Then I saw Armstrong and Ullrich starting to sprint and when I passed them I knew I'd take maximum points."
Cooke missed it
Photo: © Yuzuru Sunada

Baden Cooke missed the move, explaining, "He jumped and got through it (the gap) but my teammate got pushed and it shut the gate," said Cooke. "I had two choices; either hit him or hit the brakes so I hit the brakes and by the time I got round him Robbie had about fifty metres on me. I chased but it was only 250 metres to go so I lost all six points in one go."
McEwen's win put him equal on points with Cooke but behind on a count-back since his Victorian rival has a stage win to his credit this year and McEwen has yet to claim a win.
"It's taken me days and days to peg back a couple of points and then suddenly...I can't deny it's a boost to get six points in one go, but I had to keep my mind on the job and beat him at finish as well."
"It was really important as that sprint was for me to get the jersey and I couldn't let him (Cooke) take a point off me," said McEwen. "He followed me and I let a few riders in front of me, kept watching Baden and waited for my moment. I left it late because there was a headwind and then made the jump and passed everybody," he said.
Cooke couldn't get around six time green jersey winner Germany's Erik Zabel (Team Telekom) and conceded two points to McEwen. "I felt good today and it's amazing the day could be so bad since I felt so good," said Cooke who though disappointed to lose the jersey lead is still confident that, if he feels the way he did today on Sunday, he can win it back during the final stage into Paris. "Almost every year it comes down to Paris and we'll race it like it's any other stage, try and win and if we do, well we get the jackpot."
Nipping at the heels of the Australians is Zabel, who now has 165 points, 13 behind McEwen. "Zabel keeps saying he's not going for the sprints but that doesn't stop him sprinting for all of them," said McEwen who hasn't ruled out a late challenge from the German champion but will now play the defenders game in a bid to secure back to back green glory."
"If I win with one point or two points it's still okay," said McEwen who has twice (1999 and 2002) won the final stage on the Champs Elysées. "I'd love to be able to win the stage but first and foremost I will defend the jersey."
Cooke going for €100,000
One of the most valuable prizes in this year's Tour, apart from the yellow jersey, is the Centenaire Classification, which is awarded to the most consistent finisher in each of the six cities that were used in the original 1903 Tour (Lyon, Marseille, Toulouse, Bordeaux, Nantes, Paris). The Tour has so far visited four of those cities, and Cooke has 35 points after finishing second in Lyon, 10th in Marseille and Toulouse, and 13th in Bordeaux (placings are summed, lowest total wins). He'll have to do a good time trial tomorrow in Nantes to keep his lead in this classification, as well as finish in a high position on the Champs Elysées in Paris. His closest rival at the moment is Fabrizio Guidi, on 43 points.
Although the Centenaire classification carries a lot less prestige than the green jersey, the €100,000 prize money is approximately three times greater, so there is plenty of incentive for Cooke to do well in tomorrow's time trial. On the other hand, Jan Ullrich (102 pts) could move up tomorrow, given that he'll more than likely gain no more than two points.
Ullrich at Marcolès criterium
Jan Ullrich (Team Bianchi) will be one of the many star attractions at the Marcolès post-Tour criterium in France on August 6. The organiser is a Kelme mechanic by the name of Thierry Viaenne, and he has contracted Jan Ullrich, Alexandre Vinokourov, Richard Virenque, Christophe Moreau, Iban Mayo, David Moncoutié, Didier Rous, Sylvain Chavanel, Christophe Mengin, Jimmy Casper, Frederic Finot and Alexandre Botcharov to ride.
Stage 18 Communique
Decision of the commissaires
Gilberto Simoni (Saeco), Walter Beneteau, and Didier Rous (both Brioches La Boulangère) were fined 100 Swiss Francs for not signing in at the stage start.
Anthony Geslin (Brioches La Boulangère) was fined 50 Swiss Francs for incorrect comportment.
Medical
Viatcheslav Ekimov (US Postal): Insect bite on lower lip
Gerrit Glomser (Saeco): Left knee pain
Julian Usano (iBanesto.com): Pain in both knees
Leon Van Bon (Lotto-Domo): Breathing difficulties
Franck Renier (Brioches La Boulangère): Contusion on left hip
No fines for unbuckled helmets
The communiques issued after each stage can make for some interesting reading, to see who has been the naughtiest rider in the eyes of the commissaires. Fines are often given for holding onto or pacing behind cars, not signing in, drafting in time trials, not following the commissaire's directions or "incorrect comportment" [urinating in front of the public]. Therefore it's curious that no fines have been handed out for the incorrect wearing of helmets.
The helmet law was introduced by the UCI in May following the death by accident of Andrei Kivilev in the Paris-Nice race. However, although riders have been wearing their helmets throughout the stage (unless it finishes on a climb, in which case they are permitted to hand them to the team cars), you can't help but notice that many ride with them unbuckled, effectively rendering them useless and at the same time, more uncomfortable than a racing cap.
Cyclingnews asked a UCI representative about the lack of enforcement of the helmet rule, and we were told that the problem has been noticed, and certainly riders are expected to ride with their helmets buckled at all times, but because the mandatory helmet rule is still fairly new, the commissaires are not really pursuing punishment this year. They are taking the approach of a more gradual reaction to infractions like this, and at least in the case of the Tour, next year for sure there will be fines handed out. As for other races later this season, it's not clear whether or not this would constitute a real offense.
(All rights reserved/Copyright Knapp Communications Pty Limited 2003)