Tour de France News for July 22, 2003
Edited by John Stevenson, Anthony Tan & Jeff Jones
Hamilton survives tough five days
Tyler Hamilton, super-trooper
Photo: © Jeff Tse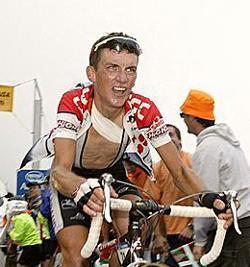 At the start of stage 15 in Bagnères-de-Bigorre, CSC's team captain Tyler Hamilton looked as though he'd been through a living hell in the last few days of the Tour. A tough time trial in the scorching heat last Friday was followed by two even tougher mountain stages in the Pyrenees, and Hamilton started to lose time to his closest rivals, slipping to seventh on GC.
The fact that he has gotten this far is remarkable, after he fractured his collarbone in the first stage of the Tour. Since then he has kept riding his bike through a combination of iron will and his team's physical therapist, who spends hours on him each day to ensure that he gets through each stage in the least possible amount of pain.
Although it could have easily all fallen apart for Hamilton on Stage 15 to Luz Ardiden, the American had a better day, hanging with the lead group until it exploded with Armstrong's attack and Ullrich's high tempo chase. Hamilton eventually finished seventh, losing 1'10 to Armstrong - far better than the three minutes he lost the previous day.
"When I look at the circumstances, I have to be satisfied," said Hamilton on CSC's website. "The stage was very tough and I feel as if I have been racing for five weeks. I am very, very tired. I tried to keep up for as long as I could, but I had to let go, when there was a hard acceleration. The stage was tough on everybody but I believe that the audience saw a good race today in the Tour de France."
When Lance Armstrong crashed near the bottom of Luz Ardiden, Hamilton helped slow the front group down to wait for the Maillot Jaune, even though it was clear that some of the riders were itching to attack. "I saw that Lance went down and all of a sudden the tempo went up in the front group. I wanted to make sure that everyone was aware that the yellow jersey had crashed. You have to show respect in a situation like that."
Top five finish from Rogers by 2005
Michael Rogers, future Tour star
Photo: © Jeff Tse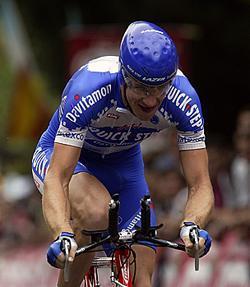 Quick Step-Davitamon directeur sportif Patrick Lefevre believes his 23 year old cycling prodigy Michael Rogers will be ready to challenge for overall honours in the Tour de France two years from now.
After a spate of successes in medium-ranked stage races including the tours of Belgium, Germany and the Route du Sud, Rogers came to the Tour in incredible form, and was tipped as a favourite for the prologue. His 19th place, 13 seconds adrift of fellow countryman Bradley McGee's winning time of 7'26.13, was by no means a disaster, but was possibly a result of stage fright in his first Tour outing. But Lefevre says that is exactly why the team brought Rogers to the Centenary Tour - to gain the experience necessary that will mould Rogers into future Tour leader.
"We brought Michael here just to discover the Tour this year," Lefevre told AFP. "He's had a brilliant season and we felt it was time he got to experience the race. Ideally, we'd be looking for him to come to the Tour challenging [for the overall] in 2005 more than in 2004."
So far, Rogers has played a significant role in allowing team-mate Richard Virenque to secure his sixth mountains jersey, most notably on last Sunday's stage to Loudenvielle, where the Canberra rider rode entirely at Virenque's disposal for over 100 kilometres. On other occasions, Rogers has also ridden for Italian Paolo Bettini, aiding the opportunistic Il Grillo during his innumerable breakaway attempts.
"To win here you've got to make a lot of sacrifices," says Rogers. "That's why Lance [Armstrong] wins - because he's prepared to make more sacrifices; he's prepared to train more and prepared to do more work than anyone else in the world. I think this year it's been a great event for me to ride. I'm now seeing what is needed to be competitive or to be able to get a place on the podium."
Having never 'owned' a serious Tour contender in Lefevre's previous role at Mapei, the Belgian struggles to contain his enthusiasm for Rogers' potential as future Tour winner, and mentions that Rogers' preparation in the coming years will most certainly be focused on the Grand Boucle: "We'll adapt his programme to really concentrate on the Tour itself, and we'd hope that by 2005 he'd get a top five finish," he says.
"I don't just go around signing guys because I can," quips Lefevre. "I think Michael has got the tools for the job. If anyone's got the mentality for it, then he has."
(All rights reserved/Copyright Knapp Communications Pty Limited 2003)