Tour de France News for July 15, 2003
Edited by Jeff Jones
Mayomania gives way to Beloki's pain
By Martin Hardie, Cyclingnews correspondent
Mayomania
Photo: © Sirotti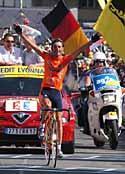 Monday's burst of Mayomania gave the Basque press a rare chance to report something so positive - the champagne and rockets in his home town of Igorre in the valley of Arratia, the tears of his girlfriend, Goretti, watching him from the throng on the Alpe after her night sleeping in a car with a friend, and the rare smile on the face of Euskaltel director Julian Gorospe. But today, along with the usual Spanish-Basque constitutional crisis, the dreadful crash of Beloki dominated the papers.
The pain of Beloki was obvious for us all to see as he lay on the side of that blind corner where his back tyre exploded after he locked up the bike on the molten asphalt of the Cote de la Rochette. Three broken bones were the result, but his pain of course is more than physical. As he lay in the hospital at Gap, he reportedly told director Manolo Saiz and his teammates "I am sorry, I am sorry, please forgive me". As his companions tried to calm him, he is reported to have sadly cried out "No, this was my Tour".
At Beloki's home in Vitoria-Gasteiz his brother Gorka and pregnant wife, Gemma were in shock, "It was a tremendous scare as the only reference we had was the television. The first few minutes were bad for us because he nearly didn't move". Gemma also related her state of shock and fright. "He gave a tremendous cry, It gave me a lot of pain, more than ever because all of his dreams and work have gone up in smoke".
Beloki's pain
Photo: © Olympia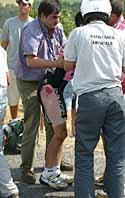 For his part Manolo Saiz said, "I am destroyed ...we have lost a complete year's work. First it was Igor, after that Vicioso, and now it is Beloki. We have been beheaded and now we have lost any opportunity in the Tour..."
But Manolo then turned his comments towards the other great Basque hope, Iban Mayo, "the Prince of Arratia - the King of Alpe d'Huez" as he has been dubbed, who up until yesterday had renounced any podium aspirations in favour of his now achieved goal of winning a stage.
"You have to applaud what Iban has done, a rider that has great explosiveness and a grand ambition, it is clear he has taken advantage of the circumstances of the race [a reference to Mayo attacking as Armstrong pulled back Beloki on Alpe d'Huez?]. From now on, Armstrong will not allow him to gain the margin he did on Alpe d'Huez", said Saiz.
"I believe that he can win the Tour and it depends upon his choice. Iban's contract finishes this season and now he must decide between his economic security and his sporting future. It is clear that he has the potential for a great sporting future, but everything depends upon what he decides: whether he chooses sport first or like we have seen with other cyclists of his character, who have opted economic security. He has to choose well his next team because I believe that Euskaltel-Euskadi is to his liking and he feels supported."
Meanwhile in Euskaltel-Euskadi they are more than content with their victory and position in the race, and in fact are looking to the future. "That was the objective when we came to the Tour," said Director Julian Gorospe, "to win a stage...we are here thanks to the invitation of the organisers and we haven't disappointed."
Having one the last two stages in the team classification, Euskaltel-Euskadi importantly now leads the overall team classification. "In a race like the Tour, it is an important position, as the team that wins it has a place secured for the next edition. We can fight for this classification, overall in the Pyrenees, but in the individual time trials we will lose time," commented Gorospe.
He continued that Iban Mayo continues not to think about the podium, " I am a little bit scared. Iban has a lot of competition and has ridden a good number of races. We will have to see how the days pass to see how he responds".
Mayo himself showed caution: "I have achieved what I sought when I came to the Tour. Neither have I ruled out anything....if the opportunity presents itself and I can take something positive I will attack, but I don't want to attack for the sake of attacking."
Regarding the time trial, Mayo said that "I am not very worried, in the Dauphine I didn't do badly. Maybe I will lose two minutes, but I didn't come to the Tour with the idea of disputing them and I am not worried...If there is something that might come, it will come, but I don't think about that."
Mayo's humility is enough to remind one of another great Basque rider from a time not that long ago when a salt of the earth humility reigned supreme in the Tour.
Lotto-Domo scrape in
Lotto-Domo directors Marc Sergeant and Christophe Sercu were waiting quite a while at the finish line in Gap for their last riders to come in. They arrived 39'31 behind stage winner Alexandre Vinokourov, with eight minutes to spare on the cut-off time.
A visibly relieved Marc Sergeant sighed when Van Bon, Gates and McEwen, the last one as pale as a ghost, struggled across the line. "We have been able to avoid a disaster like in La Plagne in '95, when five Lotto riders came in too late," Sergeant was quoted in Het Nieuwsblad. "On the Izoard, these three were already 30 min behind."
"What a torture that was," added Claude Criquielion. "After three kilometres already Robbie McEwen found himself in trouble. I didn't eat all day, but I managed to smoke a full packet of cigarettes. Luckily Van Bon and Gates got a bit better after the Izoard. Amazingly in the last hundred kilometres, they only lost nine minutes to the leaders."
"I never would have made it without the help of Van Bon and Gates," admitted an exhausted McEwen
"I'm totally f***ed," added Gates.
Wilson hanging tough
Australian rider Matthew Wilson (FDJeux.com) is lying 169th on the general classification, but is still in the Tour after three tough days in the Alps. "It was incredible," Wilson commented to SBS TV after stage 9. "It's a shame for the race about what happened with Beloki."
Wilson also gave his assessment of current Maillot Jaune Lance Armstrong, who leads Alexandre Vinokourov by 21 seconds on GC. "In my opinion, Lance Armstrong isn't the same guy we've seen for the past four years and Beloki had looked great on the Alpe d'Huez," said Wilson. "But I think that Vinokourov is the most underrated rider in the peloton. He can climb, time trial and he can attack. If Lance underestimates Vinokourov it will be a big mistake. He's completely ready to attack Lance whenever he gets the chance."
Wilson continued that "I'm not feeling too bad. The climbing has been hard but as the days went on I started to feel better."
FDJeux.com's captain Brad McGee told Cyclingnews at the start of Stage 10 that the aim is to keep Baden Cooke in Green. "For the green jersey, the priority is not always winning the stage," he said. "We sort of changed our tune a little bit. It used to be all about getting stage wins, and now the priority's the jersey. For once we're going to start to start doing the bonus sprints, which we really haven't been doing at all."
What's the Centenaire classification?
Today's stage into Marseille is the second to count toward the Centenaire (Centenary) classification, which is currently led by Baden Cooke (FDJeux.com)
This is a special award for the 100th anniversary Tour that commemorates the six stage finishes of the original 1903 event. It's simply calculated by adding up the riders' finish positions in Lyon (Stage 6), Marseille (stage 10), Toulouse (stage 11), Bordeaux (Stage 17) Nantes (stage 19) and Paris (stage 20).
Cooke leads because the winner in Lyon, Alessandro Petacchi left the race on stage 7. Stage 10's rolling, downhill course may provide another chance for Cooke to shine in the final sprint - if his and the other sprinters' teams can control the likely suicide breakaways.
Because it's not based on time or on a weighted points system (such as the 20/17/15/etc awarded for stage finishes), but on finish position in these stages, the Centenaire leader is the rider with the lowest score. Riders vying for the Centenaire classification will no doubt be grateful that they don't have to ride the original stage distances to reach these finish towns. The longest stage, the finale into Paris was 471km, and even the shortest, the 268km dash from Toulouse to Bordeaux was longer than the longest stage of the 2003 Tour.
See also: Tour de France FAQ.
Previous News Next News
(All rights reserved/Copyright Knapp Communications Pty Limited 2003)