90th Tour de France - July 5-27, 2003
The Village Départ
A paradise of freebies
Photo: © Chris Henry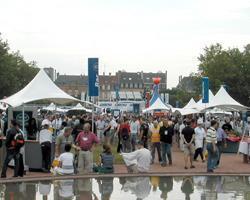 The Village-Départ is a great place to spend time before the start of the race. But as Melanie Leveau discovers, only a few accredited people are allowed to enter into this paradise of freebies, where riders enjoy great coffee and VIPs can taste the specialities of the region.
Origin
During the 1970s, Banania (a chocolate powder) was sponsoring the yellow jersey and started to offer breakfast to people at the Tour (such as Caravane drivers, journalists and Tour organisers) on long wooden tables. This was a huge success and showed the organisers a real void to fill.
So in 1988 the "Société du Tour" decided to make this daily morning meeting official, creating the Village-Départ.
The Village today
Phoning home
Photo: © Chris Henry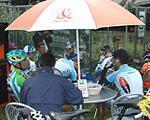 The Village is a 3,000 square metre space barricaded like "Fort Knox" where official sponsors (Club Tour de France, official partners and suppliers) have their own stands. Their privileged guests are welcomed by pretty hostesses and can taste local specialities. 1,000 crêpes, 50 kilograms of fruit salad, cheese and 80 kilos of various other meals are gobbled up every morning! Southwest French Plaimont wine-growers offer unlimited quantities of wine, and Grand'Mère Café distribute bottomless cups of coffee to those in need of that early morning wake-up.
France Télécom give the riders the opportunity to call home free of charge and PMU offers virtual horse-race gambling, with daily French and foreign newspapers also available.
Podium girls undergoing treatment
Photo: © Chris Henry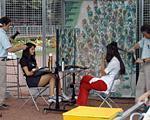 Some sponsored teams have their own stand too, and their riders spend their spare time reading newspapers, giving interviews and autographs.
A one hour live broadcasting is also conducted inside the Village. It is the opportunity to discover the city and the region, talk to past and present cyclists, local stars and also to remember the Tour de France regional legend. A really friendly atmosphere reigns in this Village with music, dancing shows and a lot of new surprises every day.
So for the lucky few, the Village-Départ is a cyclist's paradise, where riders can have a chat without being disturbed by the riff-raff and where lucky (or wealthy) accredited people can pose with former champions and also famous people between a bite of brie and a sip of champagne.
Photos
Images by Chris Henry/Cyclingnews
Cyclingnews' live coverage of the 90th Tour de France is powered by