90th Tour de France - July 5-27, 2003
Talking the talk
Pascale Schyns and the many languages of the Tour
The multinational Tour
A look at the number of riders per country in the 2003 Tour indicates just how big a job Pascale Schyns has.
Country       Riders
Spain             43
France            39
Italy             35
Germany           17
Belgium            8
Australia          7
Netherlands        7
USA                6
Russia             5
Switzerland        5
Austria            4
Denmark            4
Columbia           3
Czech Republic     2
Ukraine            2
Croatia            1
Estonia            1
Great Britain      1
Hungary            1
Kazakhstan         1
Latvia             1
Norway             1
Portugal           1
South Africa       1
Slovenia           1
Venezuela          1

Pascale Schyns in the friendly, multi-lingual interpreter that you see on TV every night of the Tour flipping effortlessly between several languages as she translates the riders' comments at post-stage press conferences. She told Gabriella Ekström about one of the Tour's more unusual jobs.
Pascale Schyns, the Tour's essential communicator
Photo: © Jon Devich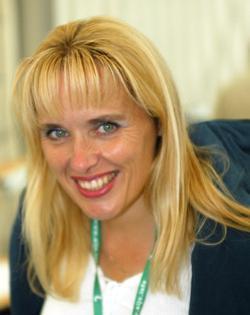 Before Lance Armstrong won the stage to Limoges in 1995, French was the one and only language spoken at le Tour, and no translations were ever made. Lance's presence that year made an impact on the sporting world, and it also led to a major improvement for the accredited media that follows the race. The English-speaking cycling community was recognised, and Pascale Schyns entered the scene in 1996 to help the Tour and the riders communicate with the increasingly-interested Anglophone media.
Not only is Pascale fluent in English and French, but she also speaks Spanish, Italian, Dutch and "gets by" in German. With riders from 26 nations raking part in the race, her help is essential to the media as she translates interviews with stage winners and jersey-holders after each stage.
After a five year break from the Tour, Pascale is back at the press conferences behind the podium. With her passion for languages and travel, and with her background as a cyclist, it is not hard to see why she has chosen to work with ASO, even if she admits that it sometimes means long days. Her days at the Tour normally start early, translating interviews with Jean-Marie Leblanc and Daniel Baal in the morning, and the riders both on and off the camera in the afternoon. As well as doing all the translations, Pascale works as a UCI commissaire and keeps on eye on the riders to make sure that they obey all the rules of the race.
It sounds hectic. "Sometimes it all gets a bit too much, but after having a few days off, I'm always keen to get back into business," Pascale says.
The best part of her work, she says, is all the people she meets, and especially the close contact with all the riders who trust her to translate their thoughts and opinions.
"Most of the riders are really nice, and it's a privilege to be right at their side after every stage. Cycling is my biggest passion, so I think I'm lucky to have such an interesting job."
Pascale started out in cycling as am amateur racer in 1979-83, but soon realized that it was very hard for a woman to earn a living from cycling, so she turned her eye to her studies instead. With a bit of studying and a lot of traveling, she picked up language after language.
"I lived in Italy for one year, and then Mexico for another year," she says, explaining where she picked up Italian and Spanish. "When I'm home in Liege, I try to listen to radio or watch TV in a different language every day, to keep my skills up to date. Being at the Tour is also good practice, because I meet so many people here who speak the languages I know. At first it is a bit hard to switch between them, but after a three-week Tour, it becomes a normal procedure."
Of all the languages she has mastered, Spanish is her favourite. "It's hard to explain why... I love Spain as a country, and I appreciate many Spanish writers, and I'm also very interested in South America, so maybe that is the reason."
Now 39 years old, Pascale has not yet learnt all the languages she would like to know. "I am currently studying Basque," she says, "and that is a language I would very much like to learn. Every year for the last ten years, I've traveled to the Basque city of Igorai, [home town of Iban Mayo - Ed) and since Basque is the language of choice there, it's a great place for me to try and pick it up. It's a very hard language to learn though, so I might need a little more time."
Cyclingnews' live coverage of the 90th Tour de France is powered by