90th Tour de France - July 5-27, 2003
An interview with Stuart O'Grady
Scratching the seven year itch
Photo: © Sirotti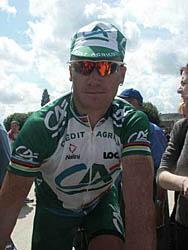 Just over a year ago, Australian Stuart O'Grady was having trouble finishing events due to a painful compressed artery in his leg. Now with fitness restored after career-saving surgery and encouraging results, such as a podium finish in the Tour of Flanders, he faces his seventh Tour de France with an itch that can only be scratched away with a green or yellow jersey win. Karen Forman reports.
Stuart O'Grady, is as ready as he'll ever be for the 2003 Tour de France.
The Australian rider, who is also an expectant first time father, is in Paris working on his final preparations for the Tour Prologue on Saturday and feeling quietly confident of a performance that might equal or even better his 2001 Tour, where he wore both yellow and green jerseys, fighting Erik Zabel in the points classification all the way to the final stage to Paris.
"I am happy with my preparation," he said tonight as Paris regaled with what he dubs "typical Tour de France chaos, with people everywhere and the same old excitement".
"Obviously it has made a huge difference not having to worry about my leg, as you saw in the Classics. I got up in the Classics and I got results."
He said the leg, which his doctor had told him had had "one of the biggest kinks he had ever seen" wasn't giving him any trouble at all and appeared to be 100 per cent repaired. O'Grady has been working this year with trainer Leigh Bryan to rebuild his strength and power.
"I am putting a lot of my good form down to the leg operation, but the training has definitely changed as well," he said.
"I have been doing a lot of motor pacing. Before I used to do a couple of hours at a steady pace, but now my speed and strength have been given a huge boost. Last week I did a fair bit of motor pace work...it gets your speed and power up in general."
This also helps his climbing, although his objective isn't just to be able to scale massive cols. "I can get through a Tour de France anyway; it's about speed and power," he says.
He says the formula for riding the race doesn't change from year to year. "I know who is going fast and it's about getting myself into position and being strong enough to hold it."
As for the main contenders, he said it will be a different TdF without Cipo, while Erik Zabel "doesn't have the big team around him". O'Grady isn't concerned that his main green jersey rivals - Robbie McEwen (Lotto), Alessandro Petacchi (Fassa Bortolo) and Baden Cooke (Fdjeux.com) - have strong lead-out riders on their side, as he has shown the ability time and again to put himself into a good position in the mad scramble for the line.
"Robbie has shown he is probably the quickest in the world and Petacchi did well in the Giro, but I don't think he has finished a Tour de France, so I would say Robbie is the one for me to watch," he says.
O'Grady's team-mate, 32 year old Frenchman Christophe Moreau, is looking to better his fourth place in the 2000 Tour after a decent but late start to this season. He won the Four Days of Dunkirk in May and followed up with a fifth place in the Dauphiné Libéré in June, where he attacked strongly in the mountains.
So is Credit Agricole aiming to get Moreau onto the podium or O'Grady into green? "Both, I guess," O'Grady said. "Once he is in the mountains, Christophe will be isolated from us because we haven't got any other climbers good enough to help him out, so we would hope at the end of it his time trial will pull him through. We will look after him in the early flatter stages, as the others look after me."
How is the Adelaide rider feeling as he prepares to test that leg in the world's toughest bike race? "I have a good vibe about it," he said. "It has been a good year so far, my form is sound and I have had good preparation. I feel good. Yeah, I am confident."
A serious injury overcome
Photo: © Sirotti

O'Grady has now recovered from the potentially career-wrecking (not to mention possibly life threatening) condition where a major artery in his left leg was blocked, causing him to cramp when pedaling. Having a leg that works properly and doesn't force him to withdraw from events certainly makes a huge difference to his ability to train and race.
There was the win in the Australian open road championships earlier in the year; a second in the Jacob's Creek Tour Down Under, a couple of stage wins in the Tour de Langkawi in Malaysia and, more recently, a podium finish in the Tour of Flanders (the first Australian since Phil Anderson).
Yet just over a year ago, O'Grady was wondering what the future held, both on the bike and off. For some years he had been noticing an annoying, painful cramp that would strike his left leg once every three months, mostly during training.
But then it started occurring during races - Like in Catalunya in 1997, when he was leading and stood a good chance at winning until cramping resulted in a 19th place finish; and the 17th Clasica de Almeria in Spain in March 2002, when he had to withdraw because he simply "couldn't pedal anymore".
Medical investigations revealed the problem was caused by a blockage in a major artery supplying blood to the legs - and suddenly, he wasn't just thinking about his career, but his life.
He was told that if he was operated on immediately, he might still be fit for last year's Tour de France. "At first it was kind of good to know this was finally the problem, it was a relief," he said at the time. "But at the same time it meant I needed surgery ASAP and that meant I had to stop the season straight away."
With his dream of an even better result than 2001 in the Tour de France of 2002 disappearing by the minute, O'Grady found a doctor in Lyon who could operate immediately. He was in surgery for four hours so the surgeons could remove the "kinked bit" and in hospital for a week.
Given the hiccup, his Tour last year was more than respectable. He finished third overall in the points chase and earned several top-ten placings, just missing that elusive stage win in Pau on what proved to be the fastest stage of the Tour.
"I suppose I shouldn't be too unhappy with my performance," said at the finish that stage. "I had two months off and only three weeks to prepare. And you can't have a super year like last year [2001] every time."
Fast-forward another year and O'Grady is in better shape, both physically and mentally, and aiming to add another green jersey to his collection, at the very least.
Other Talking Cycling Interviews
Cyclingnews' live coverage of the 90th Tour de France is powered by