90th Tour de France - July 5-27, 2003
Alessandro Petacchi: "I'm surprised I won so easily"
Green jersey at last
By Gabriella Ekström in Lyon
Now in green
Photo: © Sirotti

Alessandro Petacchi has yet to say it himself, but after his fourth stage victory today, everyone else will agree that he is indeed a fantastic sprinter. No one in Lyon were surprised when the Italian sprinter looked over the shoulder with twenty metres to go, and then almost too easily lifted his arms and rolled over the line.
Petacchi himself, however, claimed to be very surprised. Today's stage was long and hilly, and we know by now that it is not his preferred choice. "My win today comes unexpectedly. I suffered all the way and with little more than two kilometres to do, I told my team mate Marzio Bruseghin that I didn't think I would be able to take part in the sprint, but as I am always whingeing, Nicola Loda did a great job and brought me up to a top ten position with a kilometre to go and I decided I would have a go."
A crash with eight kilometres to go effectively took out both Zabel and McEwen and although McEwen was quick on his wheels again, he had lost his only chance to defend the green jersey by winning the stage. When the long break of the day was caught with less than a kilometre to go, it was all up to the sprinters again. With three hundred meters to go, Petacchi dashed across the road and made certain that no one was hiding on his wheel. On opposite sides of the road, he and Baden Cooke fought it out, but Petacchi excelled and could sit up before the line.
Petacchi suffering
Photo: © Olympia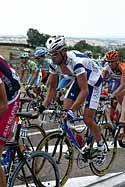 "I just caught a glimpse of the sprint on TV," he told the press behind the line, "and I realise now that I performed quite a strange, but yet remarkable sprint. I'm surprised I won so easily today!"
During the first week of the Tour, he has pointed out that he has been lacking a lot of form, and his story won't change, not even after his fourth win. "Already after the Giro I was very tired, mostly because of the bad crash I suffered during the time trial. I had a hard time getting a good night's sleep for some ten days following that incident and because of that, my condition got even worse. I've only had about twenty days of proper training after the Giro, and as everybody knows, my condition is not the best right now."
With the mountains coming up, and Petacchi suffering even on the smaller climbs, he will have a very hard time defending the green jersey that for now sits on his shoulders. "The green jersey makes today's win my most beautiful here at the Tour, because now I have had the sprinters jersey in both the Giro and at the Tour. I am very hesitant to say that I can keep it, because it is a very long way to Paris, and with the level of condition I have, I just don't know yet. It's a decision I will have to make in the back of the bunch in the coming days."
Thumbs up from Ferretti
Photo: © Yuzuru Sunada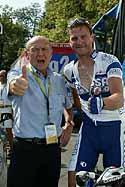 For the record keepers, Petacchi now equals Bernard Hinault's record of taking six stage wins in The Giro and then four stages in the Tour in the same year. "Yes, someone told me that. I'm glad to hear that of course, although I'm the first to admit that I'll never be a rider like Hinault, because I can never win a major Tour."
He is no Hinault, but he is still an appreciated rider in the bunch. Behind the finish, the good wishes from other riders keeps on coming.
"I think it is nice when other riders congratulate me after I have won, because I would do the same for them. After Baden Cooke won, I went to see him even though I didn't take part in the sprint myself. I was very happy for him. However, some rider told me the other day that I should go home now, so that other riders would get a chance to win."
Alessandro stops to reflect for a moment. "But he was kidding, or at least I think he was!"
Other Talking Cycling Interviews
Cyclingnews' live coverage of the 90th Tour de France is powered by