90th Tour de France - July 5-27, 2003
David Millar: "Keeping it cool"
By Gabriella Ekström in Nantes
David Millar
Photo: © Olympia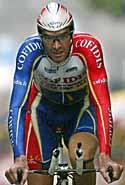 The heavy rain at the start in Pornic kept the riders in the buses for as long as they possibly could, and just before the start they were seen clustered two and two under the roof over the start ramp. The 49 kilometre course to Nantes was flat and open and the riders were fully exposed to the hard wind gusts that frequently caught their disc wheels. The last 10 kilometres in the surroundings of Nantes were a technical challenge and gave the riders a large number of white markings and tram rails before they could seek shelter at their hotels.
The most spectacular crash of the day came when Ullrich's wheel slipped while riding equally to Lance Armstrong. Another crash that was never shown on TV was when David Millar went down while approaching Nantes. Just like Ullrich, Millar got up and continued, but unlike Der Kaiser, Millar went on to win his third Tour de France stage, nine seconds behind Tyler Hamilton who put in a heroic performance, and 14 seconds ahead of Armstrong who now looks likely to be the fifth rider to join the club of five-time Tour de France winners.
"I seem to have a remarkable ability to keep my head cool in difficult situations." Millar said. "During the stage I was careful not to take any risks, and when I fell I just thought 'Oops, I fell!' I got back up and waited for my mechanic, and when we saw that the chain had broken, he got me a new bike and I went on with it. Thinking of the circumstances today, I figure probably 50% of the peloton crashed. I saw Jan Ullrich in the first kilometre, and said to myself; Man, he'll go down today!"
Pessimistic after his unfortunate prologue, where he lost his chain with less than a kilometre to go, Millar locked himself in the team's camper for two long hours before all the riders had crossed the line.
"I didn't believe anything until Armstrong had finished." David said when his wait was finally over. "I sat in the camper, and I didn't watch the race, and I didn't want any information about what was going on outside. The fun thing about my win is that I had no illusions about winning today and revenge was not on my mind. Instead I was just happy to finally be able to ride my bike without suffering as I did in the Pyrenees. I think I will have a problem going to sleep tonight though."
After going through hell in the Pyrenees, having finally reached the familiar surroundings of David's home town Biarritz, his team mates tried to convince him to target this specific stage, but David was not so sure.
Victory tastes sweet
Photo: © Sirotti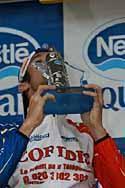 "When we got to Bayonne, I was just so tired, and I'm afraid I went pretty hard on the team doctor who is a person who has helped me a lot in the past. I kind of hoped someone would finally tell me to go home, because I was feeling so bad. Now when I stayed and after having won this stage, I obviously think I took the right decision by remaining in the race."
Millar's average speed over the 49 kilometres were a stunning 54.36 kph, and after spinning out of gears as it seemed, he was asked after the stage if he wished he had put on a bigger chainring, but the answer was a laughing no.
"I had a 55, and they don't come much bigger than that. I had a good day, and I wasn't stressed by my choice of chainring, I just rode 55 x 14 or 15 most of the time."
Other Talking Cycling Interviews
Cyclingnews' live coverage of the 90th Tour de France is powered by